Your B2B sales team plays a vital role in expanding your customer base, closing deals, and growing sales revenue. The team is responsible for proactively reaching out to new prospects. And also for engaging your existing customers with a focus on selling your product and scaling your company.
While the process of acquiring a new lead and closing the deal looks easy, it is full of challenges. From poor quality leads and lack of data visibility to the absence of internal collaboration, B2B sales teams have to tackle numerous difficulties that impact their ability to achieve sales goals.
Here are some strategies to build a B2B sales team that performs at its peak to win more deals and help your company scale to new heights of success.
Six Strategies to Build a Winning B2B Sales Team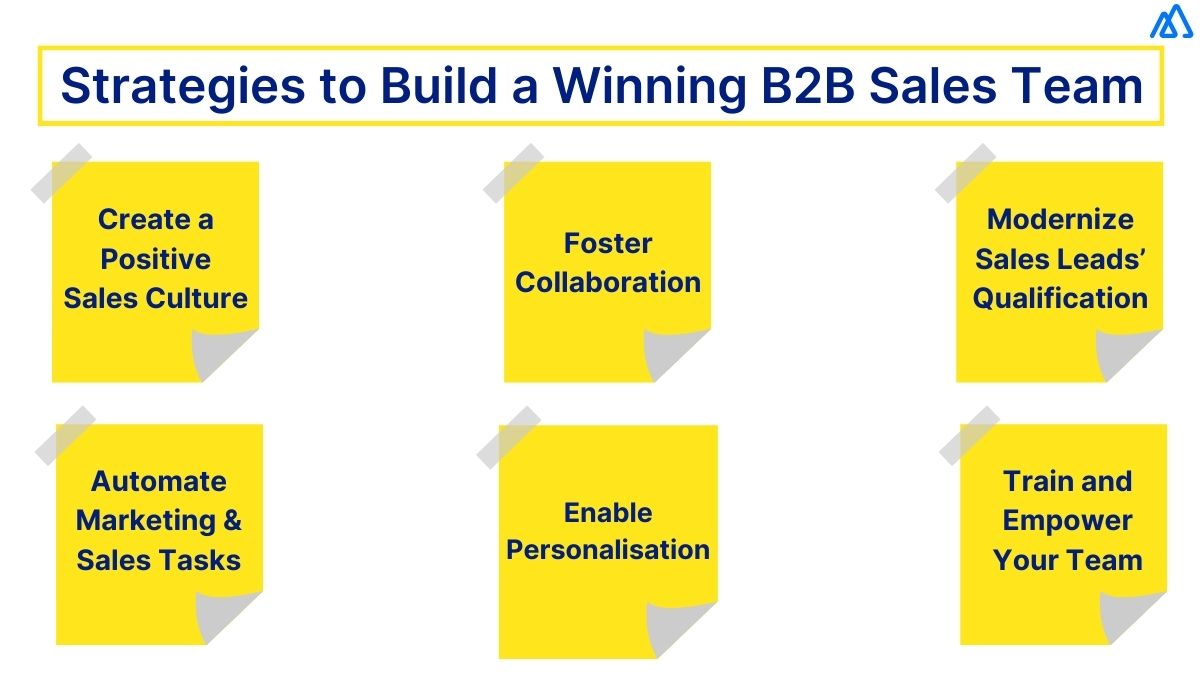 1. Create a Positive Sales Culture
Positive company culture is the secret ingredient in the formula for a high-performing B2B sales team. The sales culture quality of your company plays a central role in how the B2B sales team sells, their productivity, and how long the team stays with your company.
Developing a winning sales culture that helps create positive outcomes entails consistent work across all levels. Each member of the B2B sales team needs to understand the culture and agree with it.
A winning sales culture is one that brings the best out of your sales team. Some elements of a positive sales culture include:
Knowledge sharing and collaboration
The ability to identify sales problems and adjust as needed
Communication and trust within the team and with the company stakeholders
Ongoing learning and development
A toxic culture, on the other hand, leads to mistrust, low motivation, high turnover, and miscommunication. And other negative factors lead to an unhealthy work environment. Once established, a toxic culture can be difficult to change as new joiners. It is more likely to imbibe it instead of working against it.
---
2. Foster Collaboration
Salespeople win the deal by being competitive. It may seem like a great idea to hire highly competitive and the most aggressive sellers to win deals and boost sales. Studies, however, show that in a B2B sales team, the individual does not reign supreme.
Strong sellers not only execute their daily tasks. But engage and collaborate with their colleagues to consolidate resources, coordinate people's capabilities, and boost their team's involvement. High-performing teams use collective brainstorming, facilitate idea exchange and arrive at effective approaches to achieve sales targets.
A successful B2B sales team learns to achieve the perfect balance between an independent, competitive mentality and a team-first, collaborative culture. Joint reviews, interactive learning platforms, and sharing of customer stories are some ways reps can collaborate and contribute to the collective knowledge of the sales team.
The right CRM platform is the foundational element of such collaboration. With a smart CRM platform such as Kylas, the information individual sales team members gather gets easily captured. A unified dashboard makes it easy for everyone else in the company to access the insights.
---
3. Modernize Sales Leads' Qualification
Winning more deals and boosting sales growth is all about acquiring new, qualified leads and converting existing customers into repeat buyers. In a well-oiled B2B sales team, reps spend more time winning deals and less time chasing low-quality leads.
Yet, getting qualified leads is easier said than done. Over 50 percent of B2B marketers state that generating high-quality, high-volume leads is their top marketing challenge.
While not having new leads is bad news, so is having poor-quality leads that are a huge waste of time and resources. Bad leads occur in different forms, ranging from:
leads from an inappropriate location/source,
some leads that are not ready or interested in your offerings,
leads who have minimal or zero budget to be your target.
Bad leads not only waste time and resources but can hurt the B2B sales reps' confidence in their marketing efforts, leading to a de-motivated sales environment. Pursuing some leads who are not yet ready to buy too soon can create a negative impression that can hurt future marketing efforts.
How to Improve Lead Qualification?
A proven way to improve the quality of leads is to carry out lead validation. This involves screening all phone, in-person, and website inquiries and analyzing past transactions and deals to separate genuine sales leads from bad leads. Non-sales leads can include spam, sales solicitation, and customer service requests.
It can be time-consuming for your sales teams to examine all the lead entry points, including landing pages, web forms, and phone calls, and extract information on leads. Kylas sales CRM makes it easy for you to modernize and automate your sales lead qualification process.
It helps you to capture your leads from various sources and understand which ones to convert into deals and which ones are bad leads. From capturing leads from all sources, and importing them to analyzing, the CRM enables easy management of your sales pipeline, driving the B2B sales team's efficiency.
Kylas can do a lot more for your business too along with enhancing your lead qualification. To know more, schedule a demo now!
---
4. Automate Sales and Marketing Tasks
How much time does the B2B sales team spend actually selling? A significant part of their time is spent writing emails, entering data, attending meetings, scheduling calls, and prospecting leads.
Automating these tasks saves significant time that the reps can use to carry out high-value activities. CRMs like Kylas allows B2B sales teams to automate work processes, log call data, and create and delegate tasks with ease, enabling them to focus on selling.
From automating meeting scheduling to sending marketing emails with workflow automation, it comes with features designed to boost the efficiency of your B2B sales team.
For instance, Kylas Sales Automation helps qualify each lead before it gets passed on to the salesperson to pitch. In the absence of a smart CRM tool, this step may be skipped altogether, resulting in the sales team wasting time trying to convert poor-quality leads that were not purchase-ready.
---
5. Enable Personalization
Personalized messages and services are the keys to B2B sales success. Understanding the target customer is the foundation of personalized marketing communication.
More and more companies are focusing on building teams that specialize in industry verticals such as healthcare, entertainment, or finance instead of traditional territory-based teams. Being an expert in the specific market can give the B2B sales team deeper insights into buyers' issues and market terminology.
In addition, personalization demands thorough research into the prospect's pain points, needs, purchase history, and other trends.
Kylas lets you gain complete control of data that you can analyze with ease to gain better insights into your customers' needs, concerns, and interactions. You can leverage data visibility to design personalized marketing messages and offerings to segmented target audience groups via email, WhatsApp, or SMS.
---
6. Train and Empower Your B2B Sales Team
Sharing knowledge and resources is the best way to train your B2B sales team. Here are some ways to ensure your B2B salespeople optimize their performance:
Create a thorough sale

s playbook

with tips, tricks, and competitor analysis.
Create a call log library to enable sales reps to share and learn from bad and good calls.
Implement weekly training sprints.
Assign mentors for new joiners.
Ensure your B2B sales team members are aware of their individual goals and the company's goals.
---
Wrapping Up
As customer self-sufficiency, knowledge, and expectations grow, they increasingly seek sales channels, content, and processes to be personalized to their evolving needs. Building a long-term relationship with clients in a competitive market environment entails equipping your B2B sales team with cutting-edge CRM tools and specialized skills apart from creating a learning and collaborative culture.
Start 15-day Free Trial