Here's a scenario for all growing businesses to consider. You've trained your reps with a specific strategy and given them a complete breakdown of the activities they must perform. You mistakenly think that you've done everything to create a high-performing sales team.
But these rigid techniques won't always work for the evolving market and consumer mindsets. Instead, you need to adopt a holistic approach that helps your teams develop the right mindset, habits, and behavior for consistent and successful sales. This is the essence of sales coaching.
---
What Is Sales Coaching?
It means consistently mentoring your teams and evaluating their performance. Sales coaching needs a personalized approach, wherein you get to the depths of every salesperson's strengths and weaknesses. You can empower them to take greater ownership of their work and set them on a path of professional growth.
It's essential to understand the difference between sales coaching and training. The former emphasizes on improving performance with individual action plans. However, the latter is more generic in nature and occurs at an organization-wide level during onboarding.
For example, explaining your sales playbook to your team falls under training. But coaching entails talking to your team about the strategies and activities mentioned in the playbook that they're facing challenges with and customizing solutions to help them.
---
Advantages of Sales Coaching
1/3rd of high-performing businesses have implemented sales coaching. Hence, it's safe to assume that this process generates a lot of valuable results. It holistically targets almost every vital aspect and can transform any business into a powerhouse of productivity!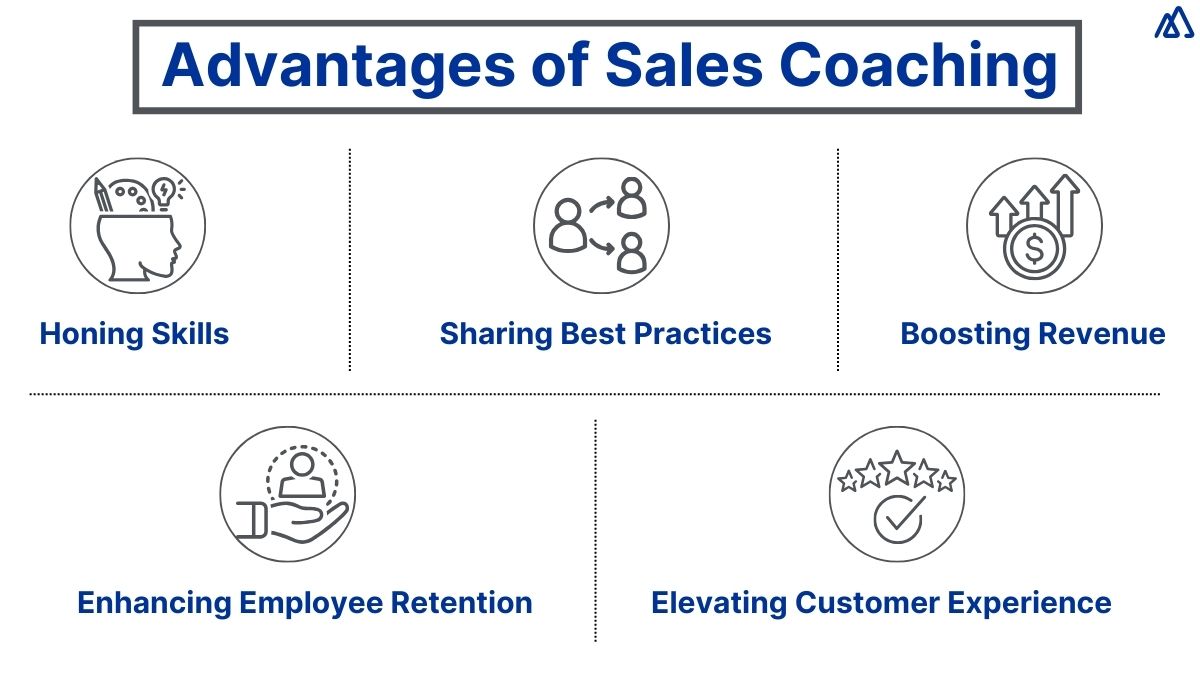 1. Honing Skills
The essence of sales coaching is dedicating time and effort to enhance the skills of your sales team. It establishes a culture of learning and improvement, which has been shown to improve performance by up to 19%.
Instead of mechanically applying a fixed set of instructions to every situation, your teams develop sharpened sales instincts. The personalized interactions taking place during sales coaching empowers them for better communication and presentations. They can also navigate the buyer's journey and engage prospects more easily.
---
2. Sharing Best Practices
55% of workers rely first on peers for their learning. You can hence leverage the best practices of your high-performing salespersons and share them with the rest of your team.
Sales coaching will give you deeper insights into the successful practices being used in your team. You can then teach the remaining members to incorporate them in their processes. Over time, these practices will be replicated by your entire team to benefit their work as well as your revenue and profitability.
---
3. Enhancing Employee Retention
Businesses are aware of the pressing need for customer retention, but employee retention is often neglected. However, it is equally crucial to keep your employees happy and well motivated with reasons that make them want to continue working for you. Good sales coaching can be one such compelling reason.  
60% of employees are likely to leave a job that does not have a coaching strategy. Hence, one of the major benefits linked to sales coaching is prevention of employee churn and creation of a reliable, loyal, and experienced workforce.
---
4. Boosting Revenue
Your sales team are at the frontline of your revenue generation efforts. Revisiting the above-cited benefits, we already know that sales coaching improves their skills for higher productivity, and ensures that they stick around with you for a long time. These factors, in turn, positively impact your revenue. 
Setting up a coaching strategy will hence be well worth the effort that you put into it. It will produce tangible benefits in the form of increased deal closures and sales. You stand to achieve up to 7% higher annual revenue growth.
---
5. Elevating Customer Experience
Every business tries to create a customer-centric culture; wherein customers are at the heart of all their operations. One of the best ways to provide a top-notch experience to your customers is empowering your teams to serve them well.
Sales coaching improves your teams' work and ensures that they bring their A-game to every customer interaction. Your customers are thus left in the hands of highly capable teams that can effectively tackle every situation.
A CRM like Kylas can also elevate the customer experience you offer. It helps you reach customers at the right touchpoints via email, WhatsApp and SMS. You can personalize your interactions and delight customers at every step.
We're sure that these benefits have convinced you too of the need to set up sales coaching for your business. But if you're unsure of how to do so, you're in the right place! We have a list of some of the most effective practices for you to consider.
---
Effective Practices for Sales Coaching
Sales coaching is not as simple as telling your team what to do. It is a more nuanced process that aims to create and instill the right approach towards selling. The following practices have been tried and tested for positive results in sales coaching: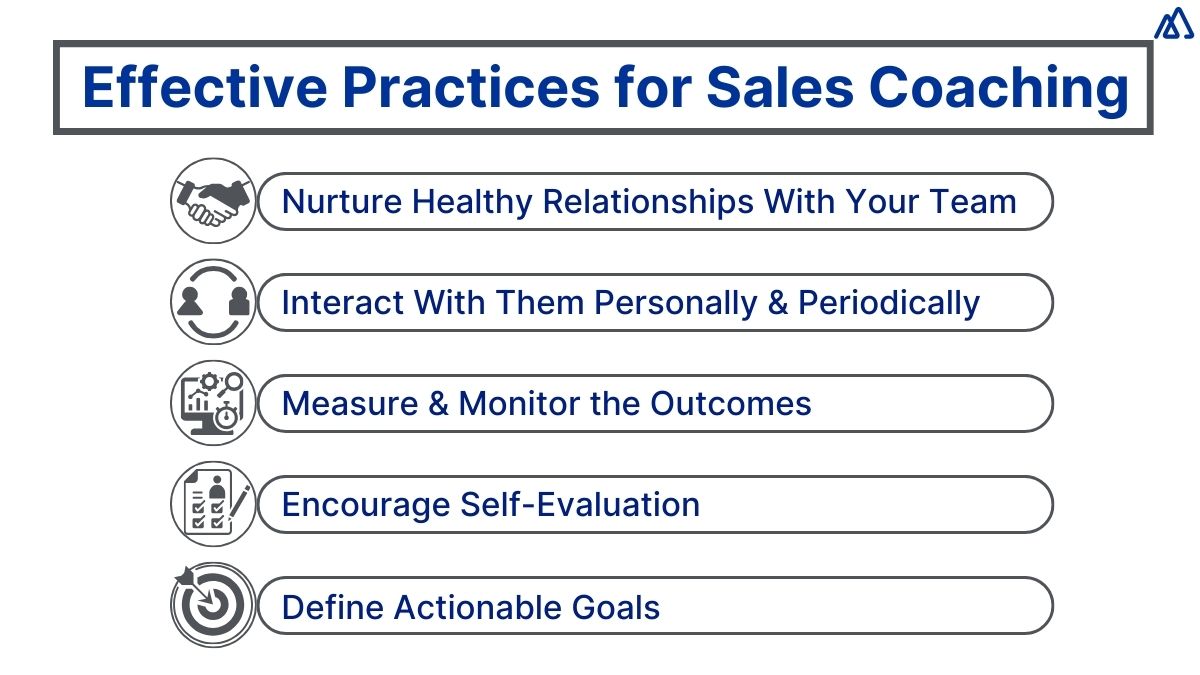 1. Nurture Healthy Relationships With Your Team
The key to well-performing and motivated teams is nurturing healthy relationships with them. It is imperative to establish a culture of trust with not just the team as a whole, but with every individual too. You must instill the belief in your sales reps that you are there to help them and have their best interests in mind. The question to ask yourself during sales coaching should be, "Will this help my sales team?" rather than, "Will this help my business?"
The working environment should be conducive towards candid and open conversations, so that your teams can open up to you. You can address their challenges only if you have a fair idea of what they are. Hence, strong relations are the foundation of sales coaching.
---
2. Interact With Them Personally & Periodically
In the chaos of daily tasks, there often remains no scope for personal interactions with teams. Although, if you want to implement effective sales coaching, you must make it happen. And it should not be a once-in-a-while practice, but rather a regular one.
One-on-one meetings with sales reps help you get to the depths of how they work. Their strengths & weaknesses, progress, etc. can be closely analyzed and accordingly acted upon. Such sessions will also encourage them to ask questions and get their problems resolved.
---
3. Define Actionable Goals
This practice is closely linked to the prior one. The time of personal interactions should also be used to define actionable goals for each salesperson. These goals should trace the growth trajectory that you have in mind for them and help them reach the eventual targets.
Since sales coaching relies heavily on customized solutions, ensure that you don't create a generic goal for every member. Tweak it as per their job profile, skillset, and personal targets. If the goals are curated in this manner, salespersons will be more motivated and successful in achieving them.
Kylas helps you set goals for your team and track their progress from within the CRM. You can customize goals, set quantifiable parameters, and auto-generate reports. To know more, schedule a demo now!
---
4. Encourage Self-Evaluation
We've established that sales coaching goes beyond instructing your teams on what to do. Going by this, the analysis of their strong points and areas that need improvement should also not be completely dictated by you. It should instead come from your teams.
Conduct self-evaluation sessions and activities through which your salespersons can reflect on their performance. Here are some questions that should be asked to bring the best results from such self-evaluation:
What were your biggest improvements this quarter?
What are some things that you could have done differently?
Are you satisfied with your work?
---
5. Measure & Monitor the Outcomes
It's not enough to simply set up sales coaching. You also need to keep track of whether it is working for you, and whether you need to make any modifications.
If your plan is going well, it will naturally produce tangible results like more closed deals, higher employee & customer satisfaction, and changes in your sales team's processes. We've identified some of the leading metrics that you should monitor, for these will reflect the true state of your sales coaching:
Attainment rates of sales targets
Customer satisfaction levels
Kylas has robust reporting and data analytics functionalities to help you keep track of all such metrics, create customizable reports, and get a complete download on your business health.
With these practices in place, your teams can exponentially improve their performance and become an unstoppable force! Your sales coaching will have a very strong framework that is bound to produce concrete results.
---
Ending Note
We understand that growing businesses already have a lot on their plate. But sales coaching is a very necessary addition to your to-do list. With smart planning and effective strategizing, you can ensure it is smoothly conducted. Then, all you need to do is wait for the exponential benefits that it brings to start rolling in!
Start 15-day Free Trial