Seth Godin truly said, "Everyone is not your customer."
Nearly every business spends a considerable amount of time and money acquiring and converting new customers with the hope of remaining profitable for years to come. But such a mindset impels marketers and salespeople into believing that a customer is a customer and any sale is a good sale. This becomes more important to understand when 79% of business buyers want their sales reps to be trusted advisors who add value.
There's no harm in dreaming of exponential growth and massive profit. What can harm your business, in reality, is not knowing who you should be trying to sell to in the first place. Try doing this and everything else will seem harder. Only 13% of customers believe a salesperson can understand their needs. If your team keeps approaching new prospects without knowing them and their needs, they don't stand a chance of selling them a solution.
Before your sales reps start approaching new prospects, there has to be a plan for how they will build a solid customer base. In a world where customers will always be omnipresent elements, a customer profile should come in handy!
There is a fine line between an ideal and less-than-ideal customer and your reps should have that at their fingertips. So, let's dig a little deeper into what an ideal customer profile should look like and how you can build one for your business.
Sales CRM Kylas takes the guesswork out of selling and helps you build an ideal customer profile. You can segment your audiences automatically and cater to their unique needs.
---
What Is an Ideal Customer Profile?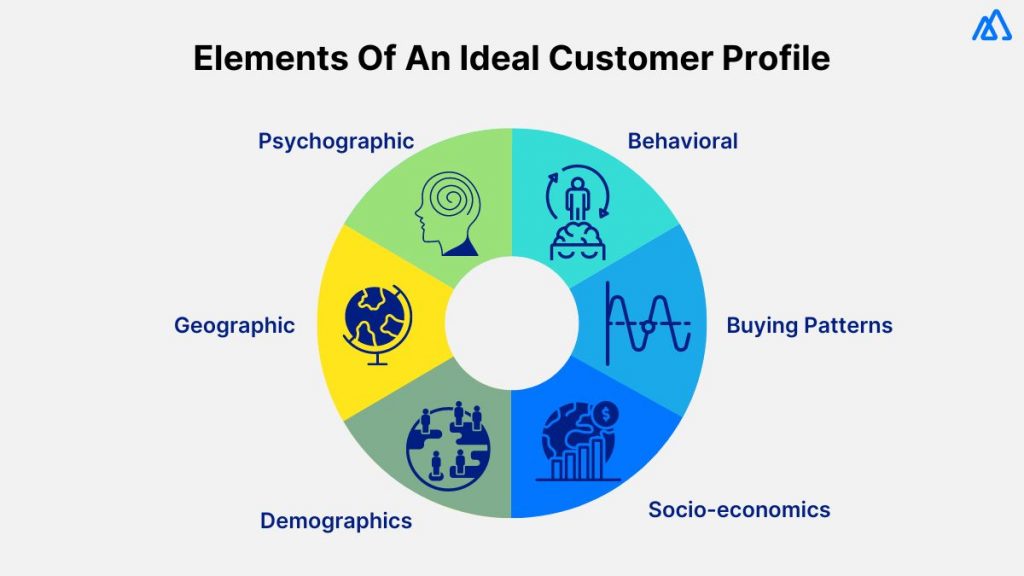 In simple terms, an ideal customer profile defines the perfect customer for the solutions you offer and in return, they provide you with significant value in return. Prospects that fit your ICP are most likely to buy from you and will continue to use your product or services. With a well-defined customer profile, your sales team would also be able to improve personalization and overall customer experience.
ICP can also help you lay out a road map to the future when you want to introduce updates or changes in your solutions. One of the major advantages of defining an ideal customer profile is that you won't be sending unwanted leads to your sales team. This would save you from wasting 71% of the leads that get generated.
A lot of people often confuse a customer profile with a buyer persona. But they are different. Let's see how they are different.
---
Difference Between an Ideal Customer Profile and a Buyer Persona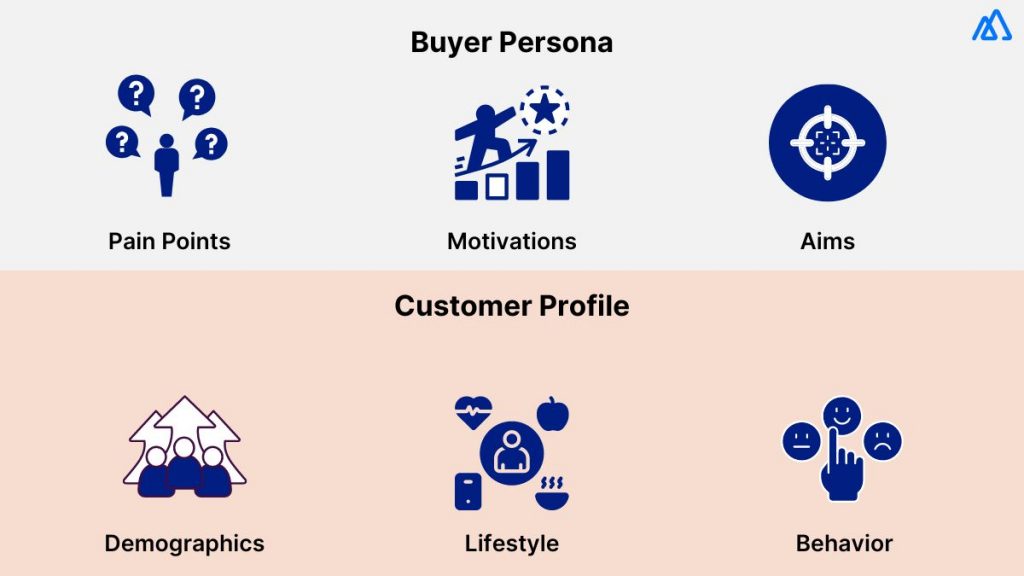 A customer profile and a buyer person may have some similarities in the way that both of them include a set of guidelines that help your sales team qualify leads. But both of these serve different purposes.
As stated above, an ideal customer profile defines a good fit for your business based on demographics, lifestyle, and behavior. On the other hand, a buyer persona represents the customers who you want to reach on the basis of qualitative data points like pain points, motivations, aims, etc.
It's true that both of these define the type of customer your reps must chase. But an ideal customer profile digs a little deeper into this to help you find the right customer and tailor your campaigns as per them.
---
How to Define Your Ideal Customer Profile?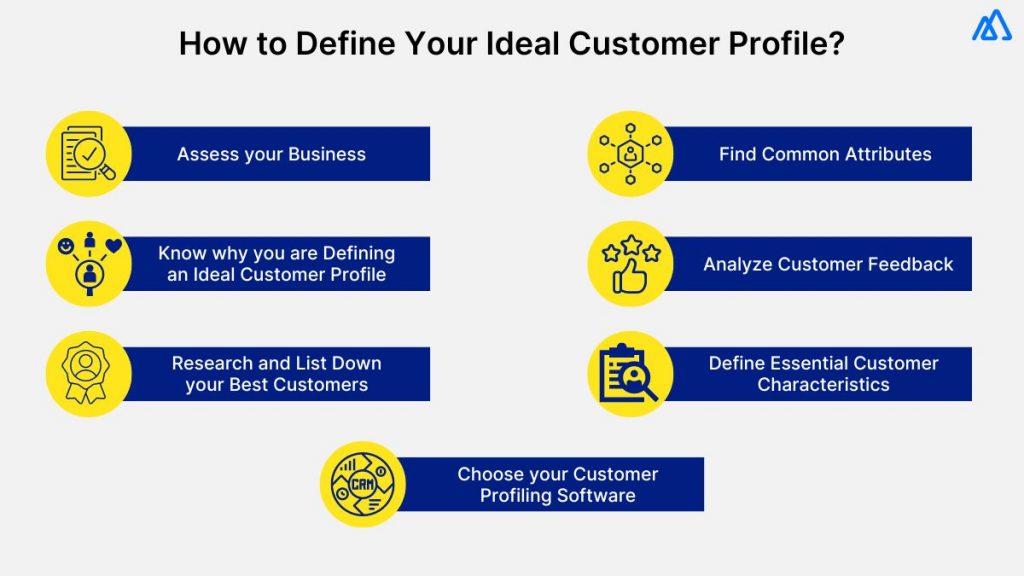 For the success of any marketing process, it's essential to define your ideal customer profile. We mean when you don't know what your target customer looks like, how you will be able to build the right strategy for your business. Starting from your sales team down to your service organization, customer profiling can have an impact on your company.
You don't have to make it a complex undertaking because ICP is all about understanding your customer better and that's all you must have in your mind. Here's how you can define your ideal customer profile.
1. Assess Your Business
First things first, ask yourself what problems your business solves. Determine how exactly your solution can solve your customer's problems. When you know what problem your business can solve, you will be able to find the customers who are facing that problem in the first place. Once you have found the answer, you will have a general picture of the type of consumers that will likely benefit from your product or service and you can sell accordingly.
2. Know Why You Are Defining an Ideal Customer Profile
You must find out what outcomes you are expecting from the buyer's profile you are defining. Customer data and profiling has numerous uses and without knowing what exactly your aim is, it won't be of any good. Set a clear goal in mind and you will be able to focus the scope and scripting of your research.
3. Research and List Down your Best Customers
If you have a running business, you must create a list of your best customers who keep coming back to you. Use them as a blueprint and look for patterns. Check sales statistics, website traffic, ad engagement, and demographics. Find out how much they are paying you and what value you are adding to their business with your solution. When everyone on your team knows the value your solution has created, they will be able to sell better.
4. Find Common Attributes
Take a look at the list and determine what they have in common. Brainstorm and do your research. Go through the customer data thoroughly and come up with their attributes. This will help you obtain important information like if they all belong to the same geographic area, if they sell to similar customers, which of their departments benefits the most from your solution, etc. Knowing as much as you can about your best customers will help you in defining your ICP.
5. Analyze Customer Feedback
Customer data is important but you cannot rely on that completely. You must engage with your customers at a personal level too to create a clear picture of your ideal customers. Either arrange phone calls or in-person meetings with your best customers to get their genuine feedback- both good and bad. This will help you uncover a lot of things about your ideal customer profile that data can't help with.
6. Define Essential Customer Characteristics
After you are done with your research and analysis, the next step is collating all that you have found. It's time to create a written ideal customer profile. You can shorten the process by downloading and using premade templates. If this doesn't sound like a good idea, you can write your own by including information like geographical location, age range, company size, budget for software, funding, annual revenue, location, etc. You can add as many custom fields as you want.
7. Choose your Customer Profiling Software
When you are profiling your ideal customer, you will have to use several types of tools. As you will have to collect data from your current base to create accurate customer profiles, a CRM like Kylas can help you with that. You can also use customer feedback software that will help you collect additional data about your customers. Also, use analytics software to keep track of the content your prospects primarily respond to.
While you may want to create the most accurate ICP for your business, you don't have to start from scratch. You can find some online templates and customize them as per your needs.
---
How to Identify an Ideal Customer Profile?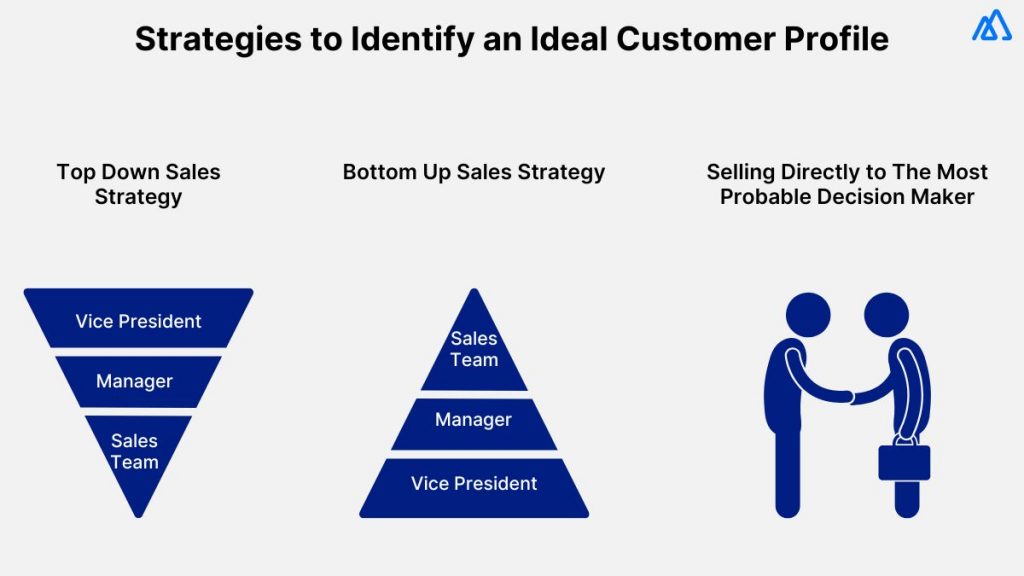 With the help of some strategies, businesses can easily identify their ideal customers and hit the right chord. But there are some basics that you need to figure out before choosing your strategy.
Find answers to these questions before you make a choice for the strategy you want to use.
What companies will benefit from your product/service?
Which companies seem to be the best fit for your business?
What products/services are they interested in?
Where are they buying them from?
How much are they spending on a product/service similar to yours?
What other solutions are they using?
Who is the sole decision-maker in their company?
Once you know the answers to these questions, you can find out which strategy would work the best for you out of the following.
1. Top Down Sales Strategy
The strategy allows you to directly get in touch with the VP or a senior person of the company through an email asking them to refer down to the person you should get in touch with. You may try convincing them about your solution but chances are that they won't have much time to listen to you. When the target customer's boss asks them to talk to you, you have a better chance of making a conversion.
2. Bottom-Up Sales Strategy
Here, you try to convince the subordinates who will do the job of convincing their seniors. If you can get enough buy-in from the bottom level, you will be able to get the top management to consider your solution more strongly. This can work great when you are trying to sell to salespeople.
3. Selling Directly to The Most Probable Decision Maker
When you know who the decision-maker is, you can access them directly. You can apply other strategies also but this will save you time and you won't even have to play any games. You can also get in touch with multiple people in the company who have the power. It might not be a good strategy for you if you are just starting out. But when you have some experience, you will know how to find your target.
Once you have chosen a strategy to take steps further, the next is to define your ideal customer profile.
---
Advantages of Building an Ideal Customer Profile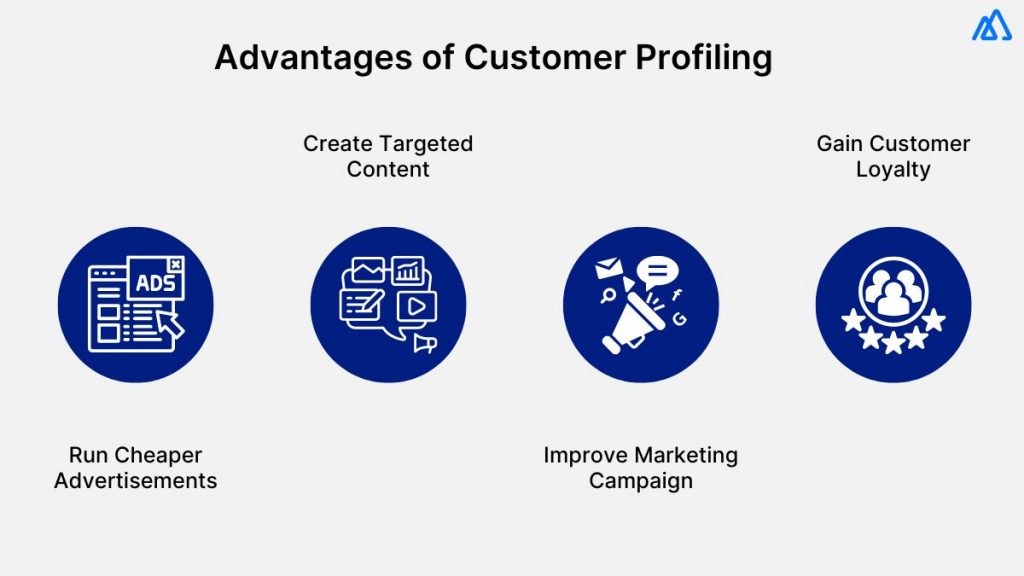 Customer profiling is a significant marketing tool that helps you make better business decisions. Your sales reps need to know the right target customers and for this, they need to have an idea of consumer behavior patterns and preferences.
But don't forget that you can't be everything to everyone. But with an ideal customer profile handy, you can do a lot better. Here are a few advantages of customer profiling that will make you do the hard work.
1. Create Targeted Content
The race to sell to as many customers as you can make you try to sell to anyone and everyone. This won't just waste your time but will also irk people. But when you know who is really going to benefit from your solution, you will be able to create tailored content for them and sell accordingly.
2. Run Cheaper Advertisements
With an ICP handy, you will know whom to chase and help you create worthy marketing campaigns. When you target the rights segment of customers, you will be able to save money by creating tailored ads. Put simply, it's quite easier and cheaper to run ads when you know where you want to reach.
3. Gain Customer Loyalty
When you know the likes and dislikes of your customers, you can engage with them on a personal level. This will automatically improve their overall experience with your company and build brand loyalty. It's been found by Customer Experience Matrix that 79% of consumers are more loyal to a business that understands them.
4. Improve Marketing Campaign
If your reps use account-based marketing (AMB) strategy, they will have to personalize their pitch as per the client they are talking to. To save their time, you can simply create a customer profile to help them identify the traits of your target accounts and customize their marketing campaigns as per that.
As a business, it is all about understanding your customer better and that's exactly what a customer profile does for you.
---
Conclusion
By now, you would have obtained a clear idea of what an ideal customer profile looks like, how you can define one for your business, and how you can benefit from it. When you create one, make sure that you share it with your sales reps to get them working as per that. This will give them a better idea of the customers they must be targeting and create better marketing campaigns.
With Kylas, you can have all your customer data in one place and use it to find your best customers. Use the data to define your ideal customer profile and sell better.
Start 15-day Free Trial