Prepare your organizations because CRM software is going to revolutionize business in the succeeding years. With capabilities that allow users to construct and execute marketing campaigns with only a few clicks, acquiring a CRM solution can create a huge difference in your company.
After all, it contains powerful tools that enable you to sync and oversee your contacts, easily send out your campaigns, and analyze your marketing efforts' performance.
As an increasing number of enterprises adopt the platform, the future of CRM is brighter than ever before. Figures show that the customer relationship management market is expected to hit $114.4 billion by 2027, with a compound annual growth rate of 14.2% during the forecast period.
With the best CRM software, you wouldn't have to worry about your business falling behind with the changing times. Instead of losing touch with your prospects and customers, you can ensure that your deliverability rate and revenue growth will skyrocket once you acquire a system of your own.
Created to address users' basic needs, you can enjoy an all-around solution for overseeing your company's engagement with your present and potential patrons. In this article, we'll tell you how it can positively affect the future scope of customer relationship management.
Looking for a CRM to supercharge your sales engine and streamline sales efforts? Try Kylas, an easy-to-use CRM, uniquely designed for growing businesses. Schedule a demo today!
Here is How CRM will Change the Way of Doing Business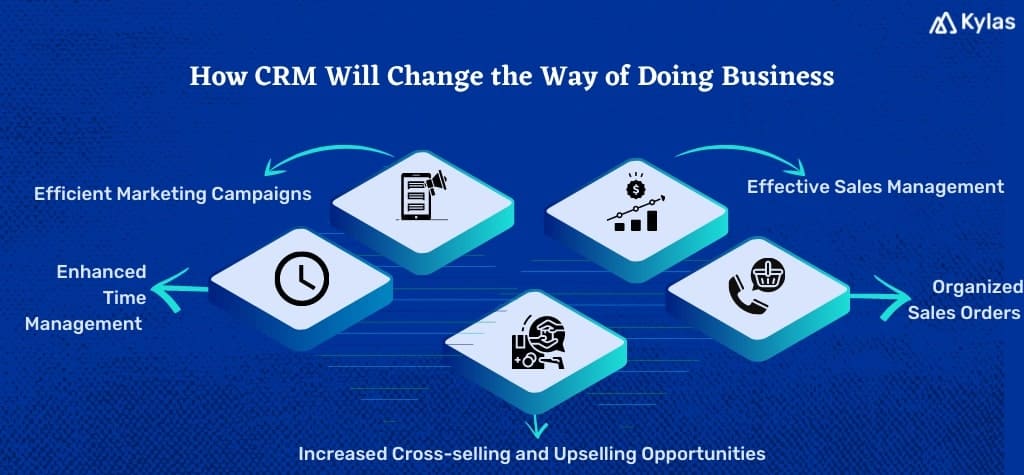 1. Efficient Marketing Campaigns
Marketing teams can count on CRM to analyze the outcome of their marketing campaigns. Marketers can also use CRM to automate communication with clients seamlessly.
By reducing time and promoting dependability, automation is the future of CRM, and with the right system, establishments create the perfect targeted marketing campaigns and deliver them to the appropriate audience. They can use the platform's tools to segregate the customer base into segments, enabling them to deliver personalized messages to each segment.
Apart from this, many CRM software examples can embed the lead capture forms from your website into their system and hand them over to your sales department for follow-throughs. Because you can monitor your buyers' activities within the platform.
You can get more meaningful insight into their purchasing behavior and develop more strategic marketing efforts that can increase sales and foster business growth.
2. Effective Sales Management
Using top CRM software, a business can actively keep an eye on its entire sales process, beginning from the primary lead or prospect phase to yielding opportunities until conversion.
By acquiring the top CRM software, you can streamline your sales process and successfully manage your sales pipeline. You can easily spot which deal promptly requires attention, which opportunity has turned threadbare, and which sales opportunity should you invest more time and effort on.
With an eagle eye on your sales pipeline, you can instantly pinpoint areas that need improvement and take action. You can also easily spot and eradicate problematic aspects that weigh your business down. Besides this, your sales team can also generate sales reports and predictions and assess the entire team's performance.
Additional functionalities also enable them to jot down notes and deliver invoices.
3. Enhanced Time Management
CRM software can also help members of your department schedule phone calls, follow-throughs, and meetings, thanks to its calendar and scheduler features. These tools can also enable them to delegate tasks, and arrange work affairs and other events that are connected to the contacts in your database.
Being able to schedule important matters in your business translates to efficient time management. With a proper time frame for your venture's tasks and efforts, you can meet deadlines and measure progress within a certain period. You can also guarantee a more structured pipeline and enforce discipline across all your departments.
Collaboration between teams is also easier with a schedule, and if teams stay connected and tasks are delegated efficiently, you can expect your staff to exhibit high engagement.
4. Organized Sales Orders
CRM tools and solutions allow organizations to generate and implement sales orders so that they can have an intervening initiative between sales quotations and invoicing. Users can also email packing vouchers and documents containing order confirmation to recipients in PDF format. They can also automatically email suppliers purchase orders originating from their sales orders.
Sales order generation via the best CRM software creates an improved customer experience since internal orders can act as the centerpiece of client interaction from the period of sale to delivery completion or incorporation.
Remember that in all your organization's aspects, building meaningful bridges with your customers is the key to success for a growing business and the secret of established enterprises.
Additionally, top CRM software contains features that offer goods pricing and discount override in the sales order generation process. Users can even opt to view a gross margin display alongside this useful functionality.

The future scope of customer relationship management also covers increased productivity in terms of the leap from sales and operation to finance. It also provides companies with a more accurate return on investment spanning their marketing activities. To have a better grasp on your finances, you can also acquire cloud accounting software for growing businesses.
5. Increased Cross-selling and Upselling Opportunities
CRM opens up more avenues for cross-selling and upselling with the point of contact. This means that with a CRM system in place, you can market your goods or services to present patrons easily.
65% of a company's business originates from existing customers. Besides this, tactics like cross-selling and upselling rake in more revenue and return on investment.
Customer success managers can easily cross-sell and upsell to existing clients using a CRM.
Throughout the entire correspondence via email or telephone, customers might drop lines indicating interest in upgraded features and other capabilities. They may also convey their desire to move in a different direction when it comes to your brand.
You can take this as a sign that your buyer is ripe for cross-selling and upselling. You can introduce new products or services that they might need to resolve these concerns.
Successfully mapping out customer journeys and boosting customer loyalty is the future of CRM. It's all about their long-standing relationship with your brand. Hence, before using your platform to distribute marketing campaigns and try to sell to existing buyers, assess your goods and services. Furthermore, you should ensure that these are aligned with your customer's journey.
By doing so, you can get an idea of what obstacles your customers usually encounter. Plus, which products or services you can supply that can act as a plausible solution? There are plenty of CRM software examples that can help you with this enriching opportunity. So be sure not to miss out.
---
Be Part of the Change
With the best CRM software, you can guarantee the establishment of long-term connections with your customers. Besides this, you can be assured that your processes are simplified and automated effectively. This will help enhance your customer service and nourish business growth and efficiency.
If you are looking for a CRM to improve customer engagement and retention, then Kylas is your best bet. Kylas is an enterprise-grade CRM designed uniquely for growing businesses. It is easy to use and offers UNLIMITED USERS and FEATURES. If that's something you are looking for then, why wait!? Schedule a Demo Today!
Start 15-day Free Trial