For any company, delivering excellent customer experience is at the top of their priority list. The change in customer buying behavior has put customers in a strong position, and their expectations are higher than ever. This requires businesses to keep up with advancements in expertise to boost their customer support arena. In fact, more than two-thirds of companies say that they compete mostly or completely on the basis of customer experience.
Many businesses have already implemented a CRM system to not only gain valuable insights into their business health but also to serve their customers better. Some businesses also integrate their communication tools and platforms to track their customer journeys more effectively. One of these useful platforms is an Interactive Voice Response (IVR) system.
IVR integration with CRM can work wonders for any business. The integration helps in personalizing greetings, intelligent call routing, and much more. Keep reading to find out the benefits of IVR integration with CRM that you may have been missing.
---
What is IVR?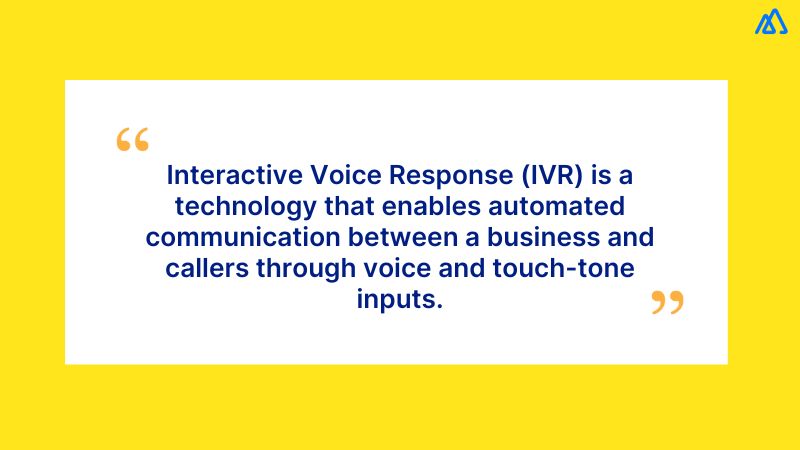 Have you ever called a business phone number that was answered by an automated greeting? Did the call proceed, and did you continue to interact with the business through pre-recorded messages? If yes, then you have a basic idea of what IVR is.
Interactive Voice Response (IVR) is a technology that enables automated communication between a business and callers through voice and touch-tone inputs. IVR systems present callers with pre-recorded voice menus and options. Based on the responses or choices obtained from the callers, they perform pre-decided actions. Be aware that 83% of consumers will stop interacting with a business after a poor IVR experience.
In case the issue is more complex, IVR routes callers to a human agent who can better handle their requirements.
---
How Does IVR Integration with CRM Work?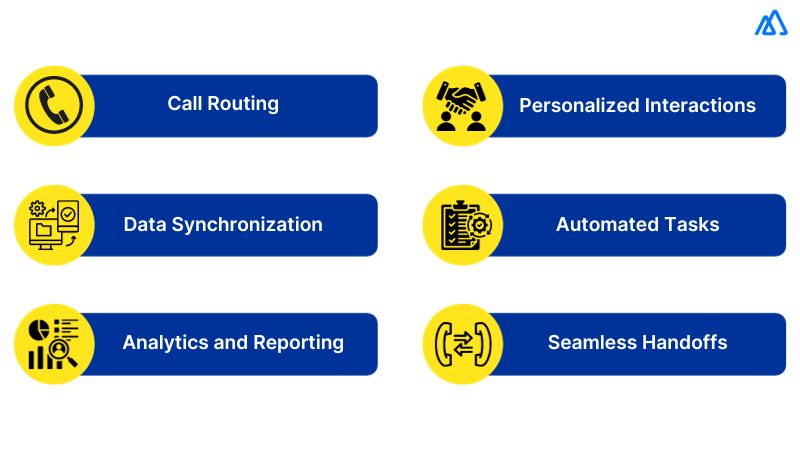 51% of consumers believe that the fastest channel to get a resolution to their problem is through a phone. IVR integration with CRM systems is a powerful technology that improves customer support and streamlines business processes.
By connecting two essential components of modern customer engagement – the IVR system (to handle incoming calls and deliver automated responses) and the CRM system (to store and manage customer data and interactions) – businesses can create a more efficient and personalized customer experience.
Let's delve a little deeper into how the IVR integration with CRM works.
1. Call Routing
When a customer calls, the IVR system identifies the caller (through caller ID or other methods) and retrieves their information from the CRM system. This information can include previous interactions, purchase history, and other relevant data.
2. Personalized Interactions
With access to CRM data, the IVR system can personalize the interaction. For example, it can greet the caller by name and offer options based on their history or preferences. This personalization enhances the customer experience and can help resolve issues more efficiently.
3. Data Synchronization
Any new information collected during the IVR interaction, such as the reason for the call or updates to customer details, is synchronized back to the CRM system in real time. This ensures that the CRM database remains up-to-date and accurate.
4. Automated Tasks
The integrated system can automate routine tasks, such as updating customer records, creating support tickets, or scheduling follow-up calls. This reduces manual data entry and human errors.
5. Analytics and Reporting
IVR-CRM integration allows for more comprehensive analytics and reporting. Companies can track the effectiveness of IVR interactions, monitor call volume, and gain insights into customer behavior to make data-driven decisions.
6. Seamless Handoffs
In cases where the IVR system cannot fully address a customer's needs, it can seamlessly transfer the call to a live agent while providing the agent with all the relevant CRM data. This eliminates the need for customers to repeat information and ensures a smoother transition.
---
What are the Benefits of Connecting IVR to your CRM?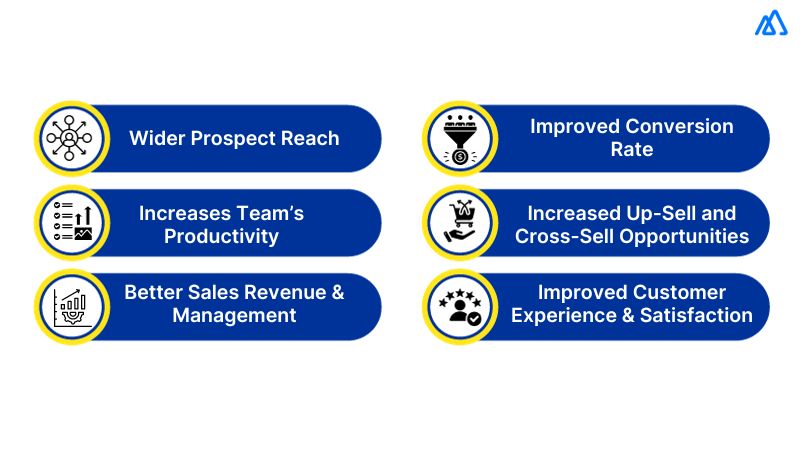 IVR-CRM integration can make your business work faster and more efficiently. 76% of businesses believe that IVR integration with CRM has improved their customer satisfaction. Here are a few other benefits of the integration that you must consider.
1. Wider Prospect Reach
The integration can help you effectively manage and respond to a large volume of incoming calls. This means that your business can engage with a wider audience of potential customers and prospects. By prequalifying and routing calls, IVR can ensure that each of your prospects gets the attention they need, even during peak call times.
2. Improved Conversion Rate
You can tailor your IVR interactions on the basis of the data stored in your CRM system, which can further improve your conversion rates. For instance, if the IVR system knows a caller's purchase history, it can offer them relevant product recommendations or promotions, increasing the likelihood of a sale.
3. Increases Team's Productivity
IVR integration with CRM also reduces the burden on your customer support or sales team by handling routine inquiries and data collection automatically. This frees up your employees to focus on more complex tasks and high-value interactions, increasing their overall productivity. 65% of businesses have reported a decrease in call handling time after integrating their IVR with CRM.
4. Increased Up-Sell and Cross-Sell Opportunities
When IVR can access CRM data, it can identify opportunities for up-selling and cross-selling. For instance, if a customer calls about a specific product, the IVR system can suggest complementary products or services based on the customer's purchase history. This boosts revenue and maximizes the value of each customer interaction.
5. Better Sales Revenue & Management
It also provides valuable insights into customer behavior and preferences. Sales teams can use this data to make informed decisions about lead prioritization, sales strategies, and customer segmentation. Additionally, it enables better tracking of sales performance and outcomes, helping organizations refine their sales processes.
6. Improved Customer Experience & Satisfaction
Personalized interactions and efficient call routing enhance the overall customer experience. Customers appreciate not having to repeat information, receiving relevant assistance, and getting their issues resolved quickly. This, in turn, leads to higher customer satisfaction and loyalty. 48% of businesses have reported an increase in customer lifetime value after integrating their IVR with CRM.
---
Choosing the Right Tools
The integration will work only if you have the right tools to support you. Kylas is an enterprise-grade CRM that can help you streamline your business operations. You can integrate various calling platforms with Kylas to communicate with your customers and prospects through calls.
Kylas lets you connect to various cloud telephony apps, including Exotel, My Operators, Tata Telephony, Airtel, Kaleyra, Ozontel, Knowlarity, Dial Desk, Caller Desk, Servetel, Mcube, and Voxbay.
You can also record your customer calls to evaluate your sales team's performance. You can use the sales call recordings to gather insights about your client's needs and challenges, personalize your sales pitch, and work on improving your team's selling skills.
---
Wrapping up
With IVR integration with CRM, you can elevate your customer service to another level. Once the integration is complete, you won't have to switch between the phone system and your CRM. You can easily track your incoming and outgoing calls and store them in your CRM.
Start 15-day Free Trial