Change is inevitable in the business world, and it's important for us to keep up. Introducing new processes and technology can be challenging for employees as they adjust to something unfamiliar. The same applies to implementing a CRM system in your business.
It's natural for employees to resist change and hold onto what's familiar, even when that resistance hinders their progress. Not all employees may welcome the idea equally, but for CRM to achieve its full potential, it must be accepted and actively used by all users.
So, how can you improve CRM user adoption and engagement? Value-selling techniques can be effective here. Try conveying the worth of CRM to your team the way you would with prospects and customers. After all, improved CRM adoption can enhance sales rep productivity and reduce sales cycle time.
Your team needs to understand the benefits of CRM and how it will make their jobs easier, such as helping them close more deals, earn higher commissions, meet sales goals, and satisfy customers. If they understand how CRM can improve their lives, they will be more inclined to learn and use it.
Kylas Sales CRM is an excellent choice to start your CRM journey. It's user-friendly and easily customizable to fit your existing processes.
---
What Does CRM User Adoption Mean?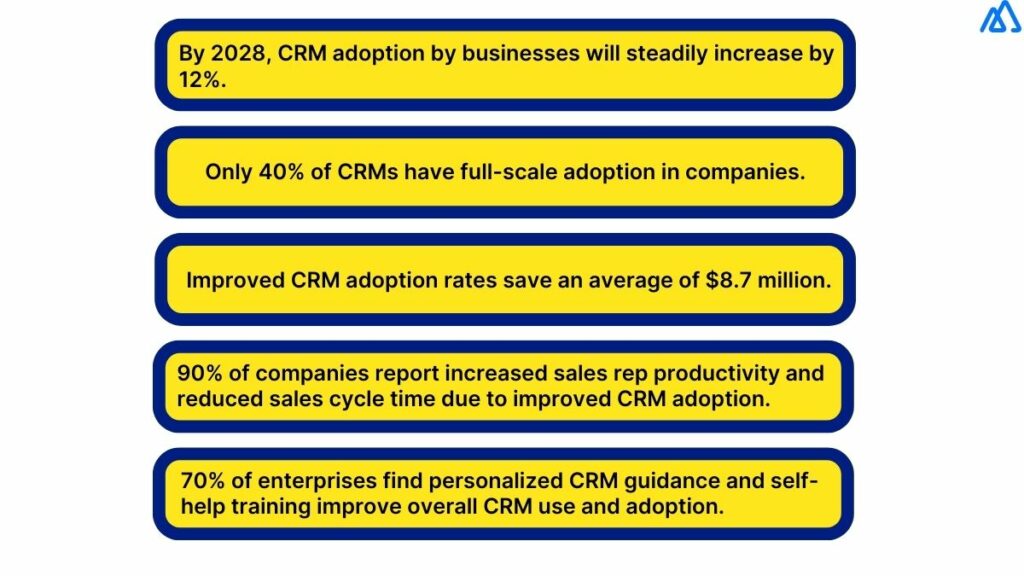 In simple terms, CRM user adoption refers to the level of acceptance, usage, and integration of a CRM system within an organization by its employees. It measures how effectively and enthusiastically individuals within an organization embrace and utilize the features offered by a CRM system in their day-to-day activities.
Successful adoption occurs when all teams actively and consistently engage with the CRM system, enter accurate and up-to-date data, and utilize its features and functionalities to manage their sales processes, marketing campaigns, customer interactions, and service. High CRM user adoption is crucial for the overall success of a CRM initiative.
It directly impacts customer data management, collaboration and communication, decision-making, and business processes, and ultimately drives customer satisfaction, sales growth, and business performance.
---
How to Improve CRM User Adoption and Engagement?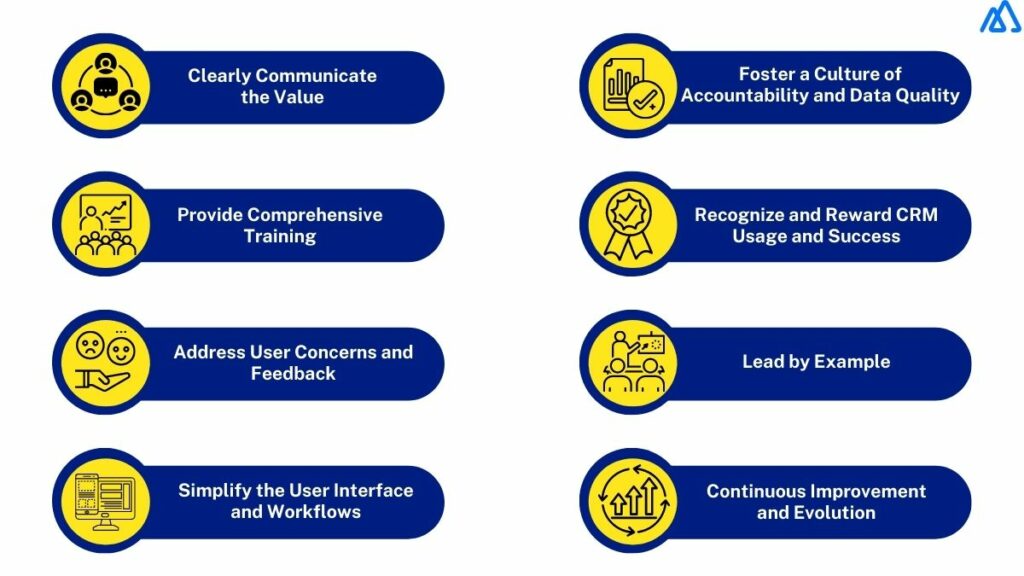 According to Merkle Group, Inc., companies that succeed in CRM adoption experience clear benefits and real business value. However, the failure rate of CRM adoption in large companies is nearly 63%. This indicates the need to follow the right strategies to ensure successful CRM user adoption.
Let's explore some proven strategies to improve CRM user adoption and engagement.
1. Clearly Communicate the Value
When introducing the CRM system, clearly communicate how it will benefit users. Help them understand how the CRM system aligns with their goals and contributes to their success.
For example, explain how it can help sales representatives streamline their lead management process, track customer interactions more effectively, and close deals faster. When you highlight specific benefits that align with individual roles, your employees are more likely to see the value in adopting the CRM system.
2. Provide Comprehensive Training
Offer thorough training programs that educate users on how to effectively use the CRM system, tailored to their specific roles and responsibilities. Ensure ongoing support and resources are available to address individual questions or challenges they may face.
Provide role-specific training sessions that focus on the functionalities most relevant to their responsibilities. Offer resources such as video tutorials, user manuals, and interactive online courses for ongoing learning and skill development.
3. Address User Concerns and Feedback
Actively listen to user concerns and feedback regarding the CRM system and take steps to address them. Promptly and transparently address their issues and make necessary adjustments to enhance the user experience. Involving users in the decision-making process and incorporating their suggestions can increase their sense of ownership and engagement.
For example, if users find certain features challenging or time-consuming, collaborate with the CRM vendor or internal IT team to explore options for customization or simplification. Regularly communicate updates and improvements based on user feedback, demonstrating that their input is valued and acted upon.
4. Simplify the User Interface and Workflows
Ensure the CRM system has a user-friendly interface that is intuitive and easy to navigate. Streamline workflows and eliminate unnecessary steps or complexities to make the system more efficient and user-friendly.
Design the user interface with a clear layout, logical navigation, and easily accessible features. Minimize the number of clicks or steps required to perform common tasks. By simplifying the user experience, employees are more likely to engage with the system and utilize its features efficiently.
5. Foster a Culture of Accountability and Data Quality
Emphasize the importance of data accuracy and consistency within the CRM system. Encourage users to take ownership of their data entry and regularly update customer information. Highlight the impact of accurate data on decision-making and the organization's overall success. Conduct regular data quality audits to identify and rectify inconsistencies or errors.
Recognize and reward employees who consistently maintain accurate and up-to-date customer records. By creating a culture that values data quality, users understand the significance of their contributions and are motivated to engage with the CRM system accordingly.
6. Recognize and Reward CRM Usage and Success
Acknowledge and celebrate users who actively engage with the CRM system and achieve positive outcomes. Provide incentives or rewards for high-quality data input, utilization of CRM features, and achieving specific goals tied to CRM usage.
Implement an "Employee of the Month" program that recognizes individuals who consistently utilize the CRM system effectively and contribute to significant sales or customer satisfaction improvements. Offer rewards such as gift cards, additional training opportunities, or public recognition to reinforce positive behaviors and encourage widespread adoption.
7. Lead by Example
Leaders and managers should actively use the CRM system and demonstrate its value in their own work. By modeling CRM adoption and engagement, they set a positive example for their teams and inspire them to follow suit.
Regularly share success stories or insights gained from using the CRM system during team meetings. By showcasing their own engagement and the positive impact it has on their work, they inspire their team members to do the same.
8. Continuous Improvement and Evolution
Regularly evaluate the CRM system's performance, user feedback, and evolving business needs. Make necessary updates and enhancements to keep the system relevant, user-friendly, and aligned with changing requirements.
Conduct surveys or hold focus groups to collect input on user experience and feature enhancements. Use this feedback to prioritize updates and enhancements, ensuring that the CRM system remains aligned with evolving business needs and user expectations.
Conclusion
By implementing these strategies, organizations can create an environment that encourages widespread CRM user adoption and engagement, leading to improved data quality, increased collaboration, enhanced customer relationships, and overall business success.
Book your demo with Kylas and learn how you can build winning sales strategies and easily streamline your sales processes.
Start 15-day Free Trial