As a business owner, you know that you have to attend to dozens of things to ensure the success of your business. Expanding your product line, promoting your business, and enhancing your brand awareness are all necessary prerequisites to attain your ultimate goal: customer satisfaction.
When customer relationships are at the core of your business, you need to make sure that you manage them well and use the information to improve their experience further. This is where you need a CRM system!
Different CRM modules help you become capable of managing your existing customer relationships while also helping you build new ones. By providing you with specific functionalities and features, these modules work together to ensure seamless sales and marketing operations. So, let's understand CRM modules in detail.
---
What is a CRM Module?
A CRM module refers to the applications that work with your CRM and enhance its functionalities. Based on your needs, you can add, customize, or remove these modules from your system. They are designed to streamline and enhance various aspects of customer relationship management.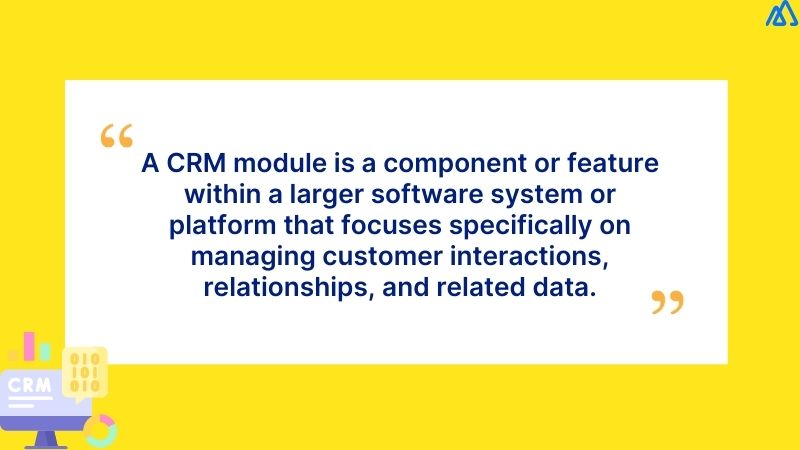 CRM modules provide businesses with the functionalities they need to effectively track, organize, and analyze customer data, interactions, and activities. With these modules, businesses can centralize customer information, such as contact details, purchase history, preferences, and communication history, in a single database or system. According to a survey, 79% of tech leaders report that over one-quarter of their business systems are SaaS.
---
Why Do Businesses Need CRM Modules?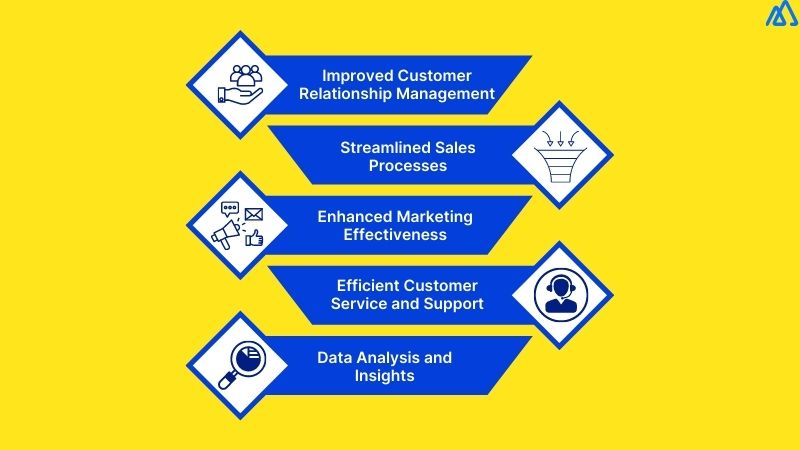 Most companies use multiple applications to run their operations. Companies with up to 50 employees use around 20-50 SaaS products, while large companies with more than 250 employees use over 100 such applications. Based on your requirements, you need to have a diversified pool of software that can help your business grow.
Here's why your business needs CRM modules.
1. Improved Customer Relationship Management
For any business, managing customer relationships is the topmost priority. CRM modules help you take a systematic approach to tracking customer interactions, preferences, and purchase history, allowing for personalized and targeted communication. When you understand your customers better, you can build stronger relationships, enhance customer satisfaction, and increase customer loyalty.
2. Streamlined Sales Processes
These modules help streamline sales processes by automating tasks, managing leads, and tracking sales activities. By providing your sales team with a centralized platform, these modules help manage their pipelines, track deals, and collaborate effectively, leading to improved sales efficiency, faster deal closures, and increased revenue.
3. Enhanced Marketing Effectiveness
CRM modules can be integrated with marketing automation tools, making it easier for businesses to create and execute targeted marketing campaigns. By segmenting customers based on their demographics, preferences, and behaviours, businesses can deliver personalized marketing messages that resonate with their target audience. This results in higher conversion rates, improved marketing ROI, and better overall marketing effectiveness.
4. Efficient Customer Service and Support
Customer satisfaction is the ultimate goal of every business. With a wide range of features for customer service and support management, CRM modules provide ticketing systems, knowledge bases, and case management tools that help businesses track and resolve customer inquiries and issues efficiently. This further helps in enhancing customer satisfaction, minimizing response times, and improving customer retention.
5. Data Analysis and Insights
With the reporting and analytics capabilities of CRM modules, businesses can gain insights from customer data. On the basis of purchase patterns, customer behaviour, and trends, businesses can identify opportunities, make data-driven decisions, and implement targeted strategies. This can help them improve their products and services, optimize their marketing efforts, and enhance customer experiences.
Businesses that use Kylas sales CRM believe that the CRM helps them streamline their business operations easily and manage customer relationships.
---
What are the Different Types of CRM Modules?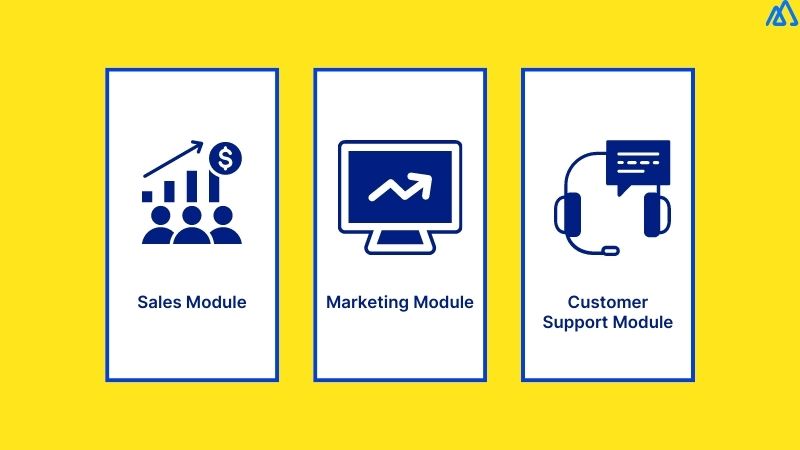 Each CRM module serves a different purpose. Some vendors adopt extra modules as a part of their product offerings while others offer third-party integrations. It's up to the business model, goals, and objectives. For instance, a blogging website would need marketing modules over sales modules to improve traffic. On the other hand, a manufacturing company would need sales modules to sell better.
Businesses can easily merge multiple modules based on their business requirements. For instance, a company using Mailchimp for marketing automation can use IndiaMart for lead generation.
Let's now take a look at how CRM modules are divided into 5 different categories, mainly,
1. Sales Modules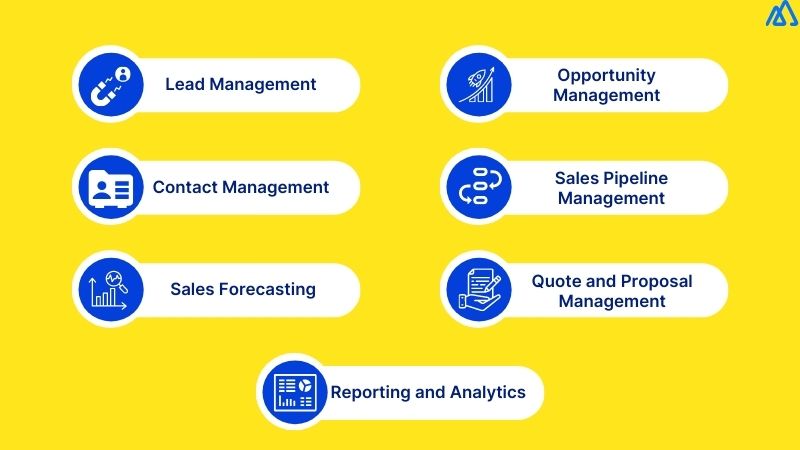 This type of CRM module is dedicated to managing the sales process and streamlining and optimising sales activities, from lead generation to deal closure. They provide sales teams with tools and functionalities to track and manage their sales pipelines, monitor opportunities, and improve overall sales effectiveness.
The most common sales modules are:
1. Lead Management
These modules allow businesses to capture, track, and manage leads. This includes lead qualification, assigning leads to sales representatives, and tracking their progress throughout the sales pipeline. Sales reps can capture leads from various sources, such as website forms or marketing campaigns, and store them in a central database. Kylas offers several tools for you to capture leads, track their journey, and identify which ones to prioritize and engage with.
2. Opportunity Management
This type of sales module enables businesses to track and manage sales opportunities. This involves monitoring the various stages of an opportunity, assigning values and probabilities, and forecasting revenue based on the sales pipeline. By having a clear view of the opportunities in the pipeline, businesses can focus on the most promising deals and allocate resources effectively.
3. Contact Management
It provides tools for managing customer and prospect contact information. This includes storing and updating contact details, keeping track of communication history, and managing multiple contacts within an organization. It ensures that sales teams have easy access to accurate and up-to-date contact information, enabling effective communication and relationship building.
4. Sales Pipeline Management
This offers visual representations of the sales pipeline, allowing sales teams to view and manage opportunities at each stage. This provides a clear overview of the sales process, identifies bottlenecks, and helps prioritize activities. It provides a holistic view of the sales process, ensuring that no opportunities fall through the cracks. Kylas helps you create multiple and fully-customizable pipelines, monitor your team's progress, and take deals to the finish line.
5. Sales Forecasting
By analyzing historical data, current opportunities, and market trends, businesses can generate forecasts of future sales revenue. This information is crucial for decision-making, resource allocation, and setting realistic sales targets. Kylas helps you get a clear picture of how much sales revenue your team can generate within a given time period and make the right business decisions.
6. Quote and Proposal Management
This module includes functionalities to create and manage sales quotes and proposals. This allows sales teams to generate professional and accurate quotes, track their status, and collaborate with other stakeholders during the negotiation process. These can be tracked, shared, and collaborated on with customers, ensuring a streamlined and efficient quoting process.
7. Reporting and Analytics
This module provides capabilities to measure sales performance, track key sales metrics, and generate insights. Sales reps and managers can generate reports on key sales metrics such as the revenue generated, conversion rates, win/loss ratios, and average deal size. This helps businesses identify trends, evaluate the effectiveness of sales strategies, and make data-driven decisions. Kylas lets you generate clean and precise reports to get a real-time picture of your business' productivity and sales progression.
2. Marketing Modules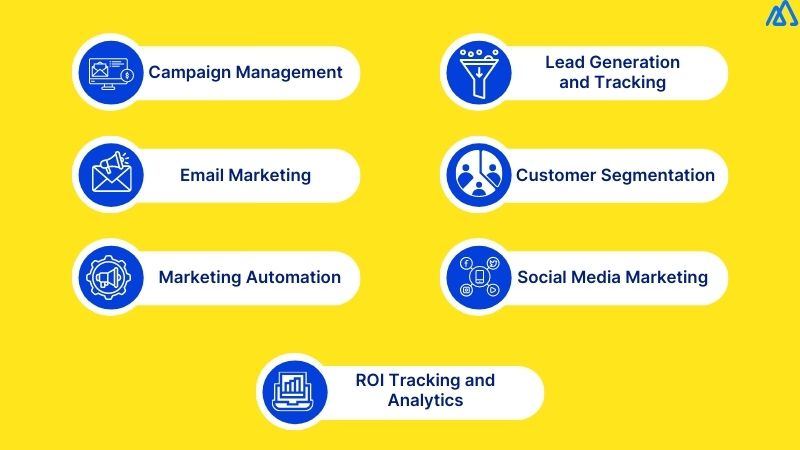 This type of CRM module refers to specific components or features designed to support marketing activities and campaigns. These modules provide businesses with tools and functionalities to effectively plan, execute, and track marketing initiatives, allowing businesses to target and engage customers more efficiently.
The most common marketing modules are:
1. Campaign Management
This type of marketing module enables businesses to plan, execute, and track marketing campaigns. This includes defining campaign goals, target audience, messaging, and desired outcomes. The module provides tools to create and manage campaigns across different channels such as email, social media, and advertising platforms.
2. Lead Generation and Tracking
It facilitates lead generation by capturing and tracking leads from various sources. This includes forms on websites, landing pages, social media, and other marketing channels. The module helps manage and categorize leads based on their source and behaviour, allowing for more targeted and personalized follow-up.
3. Email Marketing
Businesses can create and send targeted email campaigns to specific customer segments. The module may offer features such as email templates, personalization options, A/B testing, and automated email workflows to nurture leads and engage customers. Kylas helps you interact better and win more prospective clients by leveraging the power of emails.
4. Customer Segmentation
This provides tools to segment customers based on various criteria such as demographics, behaviour, purchase history, or engagement level. Segmenting customers allows businesses to deliver personalized and relevant marketing messages to specific target groups, increasing the effectiveness of marketing campaigns.
5. Marketing Automation
It supports marketing automation workflows to streamline repetitive tasks and nurture leads. Businesses can set up automated campaigns triggered by specific actions or events, such as welcome emails, abandoned cart reminders, or post-purchase follow-ups. This helps businesses engage with customers at the right time and with the right content.
6. Social Media Marketing
These modules may integrate with social media platforms to manage and schedule social media posts, track engagement, and monitor brand mentions. This allows businesses to maintain an active social media presence, interact with customers, and analyze the impact of social media efforts on marketing campaigns.
7. ROI Tracking and Analytics
These modules provide reporting and analytics capabilities to measure the success and ROI of marketing activities. Businesses can track key metrics such as campaign performance, conversion rates, lead quality, and revenue generated. This data helps businesses assess the effectiveness of marketing efforts and make data-driven decisions for future campaigns.
3. Customer Service Modules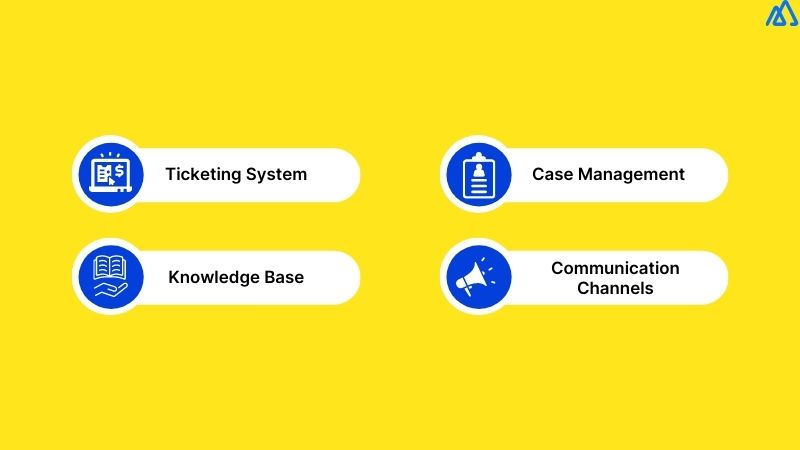 A customer service module is It is designed to streamline and optimize customer service operations, allowing businesses to provide efficient and effective support to their customers.
The most common customer service modules are:
1. Ticketing System
These modules often include a ticketing system that allows businesses to manage and track customer inquiries, issues, and support requests. Each inquiry is assigned a unique ticket number, making it easier to track and prioritize customer interactions.
2. Case Management
The module provides tools to manage customer cases or incidents. It allows customer service representatives to create, update, and track cases throughout the resolution process. Relevant information such as customer details, case history, and associated interactions are stored within each case for easy reference.
3. Knowledge Base
These modules often include a knowledge base or a repository of articles, FAQs, troubleshooting guides, and other self-service resources. This allows customers to access relevant information and find answers to common questions, reducing the need for repetitive support requests.
4. Communication Channels
This type of customer service module supports various communication channels, such as phone, email, live chat, and social media. They enable customer service representatives to receive and respond to customer inquiries across multiple channels, ensuring consistent and timely support.
---
What are the Other Types of CRM Modules that Enhance Business Operations?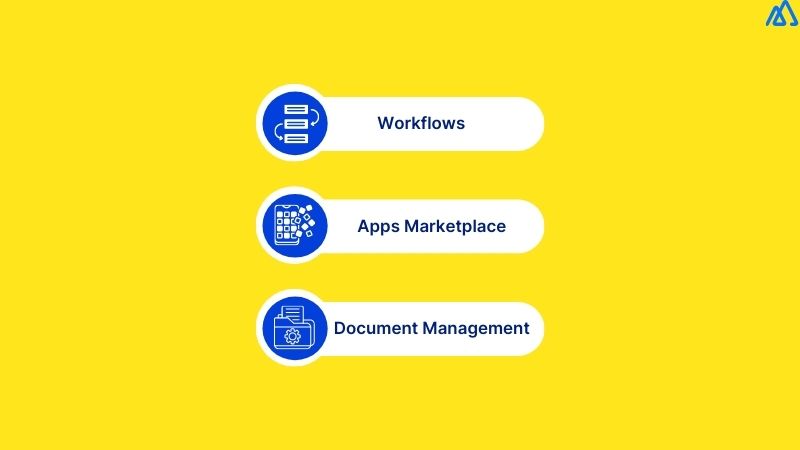 Apart from the above-mentioned modules, there are other types of CRM modules too that help businesses improve their operations.
1. Workflows
The Workflows module automates your sales, marketing, and customer service tasks, eliminating manual work and repetitive activities. It uses if/else conditions to create tailored sequences based on customer behaviour. For instance, leads who open and engage with emails receive a customized sequence, while those who don't open emails follow a different sequence. Put your business processes on autopilot and save time with this module.
2. Apps Marketplace
The Integration module is essential in CRM software, enabling seamless connections with third-party applications to enhance functionality. These integrations facilitate data transfer and synchronization between the CRM platform and other apps. Creating a unified database enables performance tracking and campaign analysis, providing a comprehensive view of your business operations.
Kylas helps you integrate easily with your go-to business tools. Our marketplace offers you an ever-expanding selection of apps to connect with.
3. Document Management
The Document Management module helps organize and categorize all your documents, ensuring easy access for team members whenever needed. It enables efficient document inventory by utilizing categories and filters, making it simple to locate and retrieve specific files. This module streamlines document accessibility and promotes effective collaboration within the team.
---
What Are The Right CRM Modules for Your Business?
The right CRM modules for your business depend on your specific needs and requirements. A B2B brand with 1,000 contacts would need different modules than a B2C brand with 1,000 subscribers. So, it's best to carefully evaluate these modules and identify the best ones that align well with your business needs and goals.
Start 15-day Free Trial