"Customer is king", is a common business saying. It now seems truer than ever when every customer out there already knows a lot about what he or she wants from a certain product or brand.
Every sales team's focus is constantly divided into retaining existing customers and obtaining new ones. Any lead can turn into a loyal customer and knowing the past orders history can pave the way to repeat purchases.
This seems like a challenge for most ecommerce businesses because of the large amounts of customer data that need to be organized and analyzed to deliver a personalized customer experience. Where 80% of customers are willing to share their personal information with businesses in exchange for personalized experiences, a single mistake here can ruin the whole experience.
You have to move beyond your thousands of sticky notes or spreadsheets to manage customer data for your business.
Without a doubt, CRMs are the best way of handling your clientele and tracking everything, from requests to purchases. When your team gets every customer detail in one place, they can manage their customer relationships much more efficiently.
Shopify in itself is a robust ecommerce platform. Integrating your Shopify store with a CRM can give your ecommerce business a new direction. With a Shopify CRM, you can:
Address your customer's after-sales concerns
Keep reading to understand the worth of a Shopify CRM for your ecommerce business.
---
Why does your Shopify Store Need a CRM?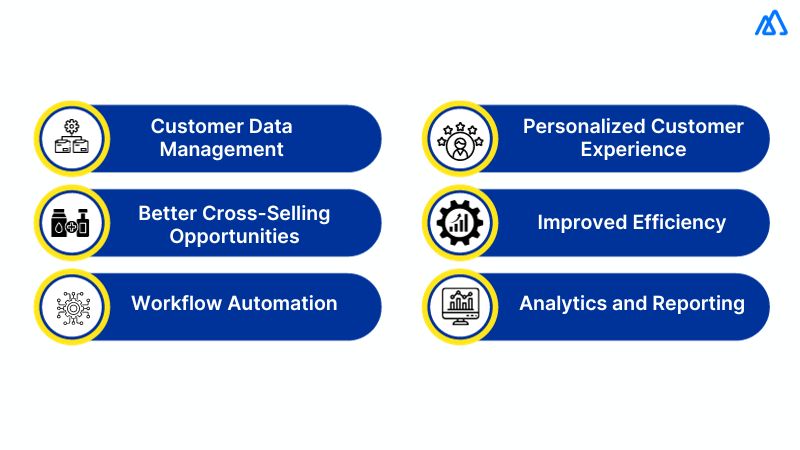 Ecommerce businesses, whether they're small startups or established giants, face the challenge of not only attracting new customers but also retaining and nurturing existing ones. A Shopify CRM serves as the digital nerve center for them.
If you are not sure why you should go for a CRM for your Shopify store, here are a few reasons that you may need to take a look at.
1. Customer Data Management
The primary benefit of a CRM for your ecommerce store is that it can help you collect, organize, and centralize customer information. From customer contact details to past interactions, you can have the data you need at your fingertips. This can further help understand your customers and tailor your marketing and sales efforts.
2. Personalized Customer Experience
A CRM can help segment your customer base on various criteria such as demographics, purchase behavior, and preferences. The segmentation helps you create personalized marketing campaigns and product recommendations.
Also, based on the customer's past engagement with your brand, you can track their inquiries, complaints, and requests to offer more efficient and personalized assistance. It also helps in ensuring that no customer falls through the cracks.
3. Better Cross-Selling Opportunities
A CRM can help you understand your customer behavior and preferences, further helping you proactively address their issues. You can use your customer purchasing habits to target your customers on their interests. This can improve conversions and average order size.
4. Improved Efficiency
When everyone in your organization uses a CRM, it becomes easier to have everyone on the same page even if the workflow changes. The information that someone enters into the system gets shared by everyone else using the CRM and helps you improve efficiency.
5. Workflow Automation
You can automate many routine tasks such as sending order confirmations, abandoned cart reminders, shipping notifications, and follow-up emails using a CRM. This helps you focus on more strategic activities.
6. Analytics and Reporting
CRMs help gain insights into your business's health through analytics and reporting features. You can track key performance indicators (KPIs) like customer acquisition cost, customer lifetime value, and conversion rates. These insights help you make data-driven decisions to improve your ecommerce business strategy.
---
What Features to Look for When Choosing a Shopify CRM?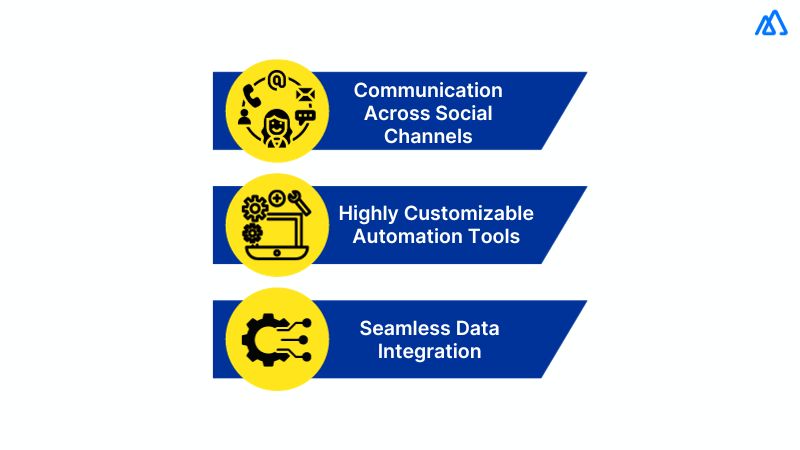 If you search around, you'll find several CRM options that integrate with Shopify. To make the right choice, identify your business needs and budget. Go for the CRM that ticks the boxes.
Not sure where to start? Here are a few important features that you must look for in your Shopify CRM.
1. Communication Across Social Channels
80% of customers expect companies to interact with them on social media. Having a CRM that can centralize and track these interactions allows you to respond promptly, engage with customers, and maintain a consistent brand presence across social channels.
2. Highly Customizable Automation Tools
In general, ecommerce businesses have diverse and evolving processes. You must choose a CRM that offers customizable automation tools to automate repetitive tasks, such as sending personalized email sequences, assigning leads to sales representatives, or triggering marketing campaigns based on customer behaviors.
3. Seamless Data Integration
Seamless data integration eliminates the need for manual data entry and data transfer between systems, reducing the risk of errors and saving time. It also enables you to make data-driven decisions with access to comprehensive, up-to-date customer information. Choose a CRM that ensures that information flows smoothly between different systems, reducing data silos and ensuring data accuracy.
---
What are the Best CRMs that Integrate with Shopify?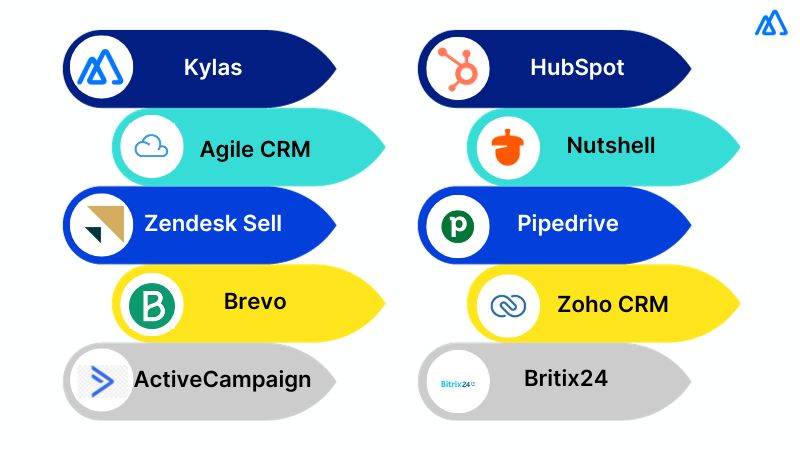 There are a number of CRMs that let you integrate with Shopify. The best ones to consider include:
1. Kylas Sales CRM
Kylas Sales CRM is a popular choice among growing businesses due to its user-friendly interface and affordability. Another reason to consider it is its Shopify integration.
You can seamlessly sync your Shopify customer data with Kylas to streamline your business processes and customer engagement. When a new customer registers on your Shopify store to make a purchase, Kylas automatically creates a lead entry, including contact details and relevant information. This enables targeted marketing efforts and personalized messages.
The integration also allows you to automatically add different deals for a single customer who makes multiple purchases. Each deal entry contains important information about the product, customer specifications, price, and the deal's status. With these deals readily available for each contact, you can better understand your customers' purchase behavior and tailor your sales strategies accordingly.
Additionally, you can track abandoned carts, identify products of interest, and target customers with personalized communication across various media. You can set up workflows to automate this entire process.
Key Features:
Sync data between the Shopify store and Kylas CRM.
Automatically capture leads when a customer signs up for your Shopify store.
Auto-create contacts and deals each time a customer adds a product to their shopping cart.
Track abandoned carts and retarget them.
To integrate Kylas with Shopify all you need to do is:
Click on the Shopify marketplace app.
Configure your Shopify app settings and start using it.
2. HubSpot
HubSpot is one of the most loved CRMs for a number of reasons. Shopify integration is another reason that can be considered to choose it as your go-to CRM. You can easily sync your Shopify customers, products, and deals into HubSpot.
The integration offers advantages like smart CTAs in content, abandoned cart email nurturing, product-specific re-engagement ads, and much more. Based on the data collected from your Shopify store, you can personalize your customer communication. You can automate your processes and ensure that no lead slips through the cracks.
With the Hubspot-Shopify integration, you can generate more traffic to your brand and increase your revenue from both new and existing customers.
Key Features:
Analyze your Shopify data in HubSpot.
Automatically sync products, contacts, and orders.
Segment contacts based on products.
Automate ecommerce campaigns.
3. Agile CRM
Agile CRM is also an excellent choice for CRM integration with Shopify. It can help improve your bottom line by increasing conversions. The Shopify integration is designed to transform your customers' browsing into actual purchases.
Once you've connected your Shopify store to the CRM, you can automate email reminders to encourage customers to complete their purchases. You can also send personalized newsletters, and follow-ups, and collect feedback to enhance your customers' shopping experience.
The integration allows you to take full advantage of data synchronization between the platforms, consolidating information related to your contacts, purchase history, and payment records in one place.
Whenever a Shopify event occurs, you can trigger automated actions based on predefined rules. If necessary, you can also automate follow-ups for all your in-store processes.
Key Features:
Trigger actions whenever a Shopify event occurs.
Automatically sync data between your Shopify store and Agile CRM.
Track your customers with advanced contact-level web analytics.
Send automated reminders to your customers.
4. Nutshell
Nutshell is a popular Shopify CRM that you should consider for your needs. Shopify integration with Nutshell enables the automatic creation of Shopify orders as leads in the CRM, along with the synchronization of product orders and customer data as they occur in Shopify.
With your Shopify orders seamlessly converted into leads and contacts, your sales reps can easily manage and track customer interactions and orders from a single platform. This integration eliminates the need for manual data entry or transfer between platforms, allowing you to focus on your core business activities. The automated data transfer keeps your sales and customer service teams in sync.
Key Features:
Automatic creation of leads and contacts in your CRM.
Automated product data transfer between the platforms.
Real-time tracking of business sales and inventory.
Improved and personalized customer experiences based on their purchase history.
5. Zendesk Sell
Zendesk Sell is a popular choice for CRM, and it's no surprise that many Shopify store owners prefer it. It helps manage leads and directs sales through various communication channels.
Sales reps can access all customer data in one platform, providing a personalized customer experience. Based on customer interactions, they can process refunds and cancellations and review customer details and Shopify orders to ensure accuracy.
By eliminating the need to switch between apps, this improves efficiency and allows reps to access order information, billing, and shipping within their CRM. This boosts productivity, enhances customer satisfaction, and ultimately increases customer lifetime value.
Key Features:
Access Shopify data in Zendesk for faster issue resolution.
Easily handle refunds and cancellations in the Support sidebar app.
Quickly access more Shopify data by clicking the Order ID.
Improve results by embedding live chat on your Shopify store.
6. Pipedrive
One of the most popular CRMs that offers Shopify integration is Pipedrive. You can easily manage sales, track inventory, and improve customer service all from one place. The integration helps improve customer service by giving your team easy access to customer purchase history and preferences.
When you are able to track your inventory in real time, it becomes easy to make informed decisions. When you connect your Shopify store with Pipedrive, data is automatically transferred, and you can always access the most updated information.
You can easily schedule actions in your CRM when there is activity on your Shopify store to save time and resources. This also reduces errors that result from manual data entry. You can create custom workflows by choosing triggers, actions, and searches according to your sales process.
From adding Shopify product information to sending product notifications, there's so much that you can do with the Pipedrive CRM. As your sales team can access the information, it becomes easier for them to track customers and assist them with their purchases.
Key Features:
Manage inventory and track sales for better customer service.
Automate product data transfer between the platforms.
Track your business sales and inventory in real time.
Improve and personalize customer experiences based on their purchasing history.
7. Brevo
Brevo, formerly Sendinblue is a common choice for many Shopify stores for building better customer relationships. It helps merchants improve customer engagement and sales. Features like email automation, advanced reporting, and customizable templates help build effective campaigns.
Also, the built-in SMS marketing and chat features help merchants connect with their customers on multiple channels. Users can also segment their audiences and integrate the platform with other apps to improve customer experience.
The integration lets you set up workflows to reach out to your customers based on their activity of your Shopify store. You can also create time-sensitive product offers for your customer segments, and automate the whole process.
Brevo lets you create embedded forms, custom landing pages, etc. to make it easy for you to grow your customer list and sync your data.
Key Features:
Seamless integration to connect with Shopify and sync customer data.
Create automated workflows for abandoned carts and more actions.
Analyze metrics and track performance with detailed reports and analytics.
Target customers based on shopping behavior, purchase history, and more.
8. Zoho CRM
Zoho CRM is also a popular choice for Shopify stores that want to keep track of customer purchases and expenses. By integrating Shopify with Zoho CRM, you can easily synchronize customers, sales, and product details between the two platforms simultaneously.
You can effortlessly transfer the list of your orders and all the associated details from your Shopify store to your CRM system. Since the widget supports multiple stores, you will no longer miss an order. Moreover, as the data is synced automatically, you don't need to make any manual updates.
Zoho CRM saves you from manual work by automating most of your Shopify-related tasks. When you add a new item to your Shopify store, it is automatically added to your Zoho Inventory. Additionally, when you make a sale, it creates a sales order and contact entry in the system automatically. The information sync between the two platforms is both time-saving and secure.
Zoho CRM's batch tracking feature allows you to monitor the movement of each item in your inventory. This ensures you never run out of stock and always offer fresh items to your customers. Zoho Inventory helps you track the stock levels of items, even if you have multiple warehouses to manage.
Key Features:
Automatically sync your Shopify customers to contacts or leads in Zoho CRM.
Enable two-way sync to choose the direction of the sync.
Manage Shopify customer records using Zoho CRM.
View all sync details consolidated on a single dashboard.
9. ActiveCampaign
Another Shopify CRM that you may want to try your hand at is ActiveCampaign. It can help you track visitors across your website and segment your leads into different categories so that you can target them the right way.
Shopify and ActiveCampaign integration help you better engage with your shoppers throughout their buying journey with your e-commerce store. This helps you create better customer experiences that make them want to come back and buy from you again.
ActiveCampaign and Shopify let you track your customers and what they have purchased so that you can recommend what they can buy in the future. By understanding their buying behavior and engaging with them in the way they want, you can turn first-time buyers into repeat customers. You can set up notifications for your buyers to show them the next steps they must take with your brand.
When you reach out to your customers in personalized ways, it helps create a connection between you and them. This is a simple way of creating brand loyalists. You can send them timely and relevant messages and emails to offer discount offers, ask them to provide reviews, and more.
Key Features:
Send personalized messages and emails to your shoppers based on their past purchases.
Schedule email campaigns based on customer segmentation.
Enter contacts into abandoned cart email automation.
Upsell and cross-sell to shoppers after they make a purchase using automation.
10. Britix24
Bitrix24 is another CRM worth considering if you are looking for Shopify integration. In addition to Shopify integration, the platform offers several collaboration, sales channels, and marketing tools that you can integrate with the CRM to manage your business operations.
Shopify integration with Bitrix24 allows you to efficiently manage orders, products, and customers through a single platform. Once you connect the platforms, customer information, products, and orders are automatically transferred. This simplifies the task of keeping all your customer data in one place and receiving notifications when new orders are created.
Any changes you make in one platform will automatically appear in the other, eliminating the need for manual data entry and saving you a significant amount of time and effort.
Tracking customers and their purchases can lead to better engagement strategies. For instance, if a customer hasn't made a purchase in a while, you can engage with them and offer incentives to encourage them to buy from you again.
You can also monitor whether all customer orders are being handled on time and assess the status of your sales processes. Identifying bottlenecks in a timely manner can help you improve your sales strategies.
Key Features:
Sync products and orders in real time between Shopify and Bitrix24.
Receive notifications when new orders are created.
Schedule actions in Bitrix24 when an order is created.
Set real-time sales alerts to stay updated with your daily sales.
---
Over to You
The right CRM boosts competitiveness by cutting costs, boosting sales, and growing market share. Avoid slowdowns with streamlined tools to prevent errors and improve results. All mentioned options are top CRM software choices, each with unique strengths. Your best pick depends on your business needs and goals.
Start 15-day Free Trial