You're watching a movie. The build-up has been spectacular. You're on the edge of your seat and you can't wait to see how the movie will end.
But then something happens. The movie suddenly takes on a strange turn, completely unlike what was previously presented. And you, who has built the ending up so much in your mind, end up utterly disappointed with the story.
You question the validity of the story and feel intense displeasure for even watching the movie in the first place.
Now imagine the movie is a sales pitch. You're being given a sales pitch by a salesperson and so far, you're impressed. But the closing phrase has been so – well, unexpected and maybe even stupid – that you're instantly turned away from the salesperson and their brand.
Would you buy a product from that salesperson? Of course not. Rather than giving that salesperson your business, you have half a mind to give them some sales closing tips instead.
---
Ending With A Big Bang – Don't Let Poor Sales Closings Blow Your Career To Smithereens
Bad sales closing phrases can have an indelible negative impact on your prospects' minds; unless of course, they choose to give you a second chance. But how often can salespeople recover from such mistakes and regain their prospects' trust and time?
The truth is, you'll probably never even realize you've messed up your sales presentation. This is because 96% of prospects never rebut or complain after a bad experience. 91% of these don't bother coming back to you.
When the odds are stacked this high against you, it's important to make sure that your closing statements are spot on.
After all, that's the last thing your prospects will hear you say and it's likely to remain in their memory longer.
So, even if your product/service is amazing, saying the wrong thing during closing can put prospects off and push them toward your competitors.
To help you out, we've compiled a list of sales closing tips that are simple and effective. These sales closing tips are excellent closing lines and phrases. You can use them to end your pitch on a high note.
---
Top 20 Sales Closing Phrases Every Sales Person Needs To Know About
1) "We're so excited to be partnering with you on your journey and can't wait to begin."
One of our best sales closing phrases has to be this one. Expressing your optimism and excitement about working with the prospect can infuse them with enthusiasm. This closing phrase lets your prospect know that you'll help them through every step of the way and that you're excited to work with them throughout their patronage of your brand.
2) "Take as much time as you need and we'll be here for you."
This closing sales phrase is an empathetic and inviting statement. Instead of pressurizing your prospects to make an immediate sale, you're letting them know that you respect their need to get some space and time to make their decision.
You're also showcasing your constancy and loyalty, by letting them know that you'll wait for them to come to you, on their terms. This can be such an encouraging message in a world, where many companies relentlessly chase prospects for a sale.
3) "So, are you ready to make the best decision of your life?"
This is one of the most successful sales closing phrases we've seen. That's mainly because it affirms to the prospect just how much you believe in your product/service.
When you don't believe in your own brand, it's hard to inspire confidence from prospects. But, saying this statement shows that you are very aware of the fact that your product/service is the best in the market and it is the best thing to happen to the prospect. This statement will ultimately increase the prospect's trust in your product/service potential, thereby increasing your growing business sales.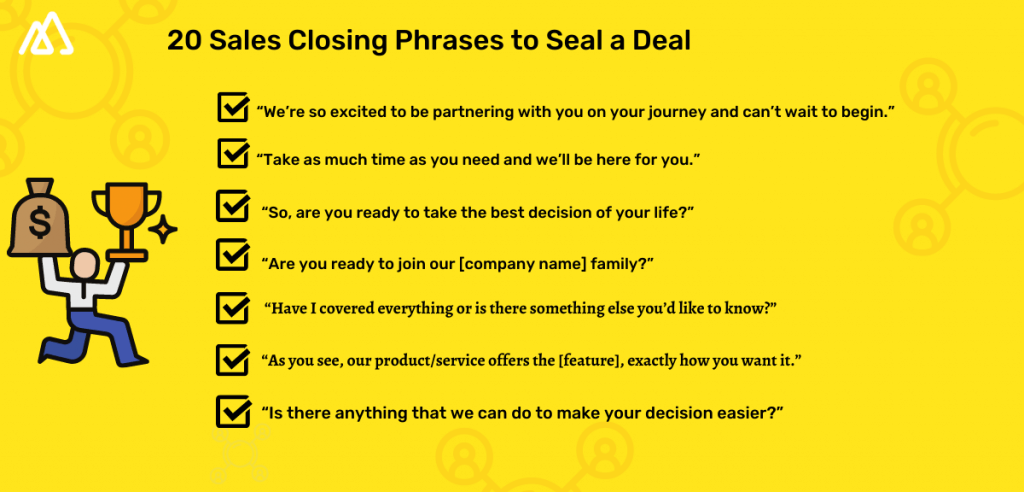 4) "Are you ready to join our [company name] family?"
Another way to successfully close a sale is to welcome the prospect into your brand family.
The fact is, you should never make your prospect feel like this deal or their experience with your company is purely transactional.
At the end of the day, you need to nurture your customer relationships, so they keep coming back to you over many years.
This can happen when you make your prospects feel like they're joining a family that cares about them and values their experiences with the company.
This is why this sales closing phrase is definitely one of our top sales closing phrases for 2023.
5) "Have I covered everything or is there something else you'd like to know?"
Here, you are ending your sales presentation by inviting the prospect to ask questions, seek clarifications, and explore your product/service the way they want to. Instead of making the sales pitch a one-way street, you open dialogue for two-way communication.
Plus, this statement shows the prospect that you're keen on customizing the product/service experience for them. By finding out what they want to know about the product/service, you can make a personalized sales pitch.
6) "As you see, our product/service offers the [feature], exactly how you want it."
This is one of the best sales closing tips particularly if your product/service possesses specific features and qualities that the prospect is looking for. You can reiterate the presence of these much-wanted features and draw the client's attention to these features again.
This statement tells the prospect that you've been paying attention to what they want and have listened to everything they've said.
And now you're helping them get the most value out of this sales pitch by showing them how the product/service can fulfill their bespoke requirements.
7) "Is there anything that we can do to make your decision easier?"
Switching brands and trying a product for the first time, can both be challenging for people. When you use this statement as your sales closing phrase, you're asking the prospect to tell you what they really need, to make their decision easier and more comfortable to bear.
It also shows how willing you are to accommodate what the prospect might need and this feels very welcoming and kind to them.
8) "If we were to give you this product/service at [X] price, what would your response be?"
This closing sales phrase works best when the prospect is driving a hard negotiation with you. Both of you have been discussing what inclusions you can offer and at what price and the prospect still seems a little unconvinced.
They may want you to either include more features at this price or bring the price down further for this product/service.
By using this statement, you provide a specific price point that's somewhere between both of your price points and which offers the product/service with some of the additional features/ inclusions asked for by the prospect, but not all. Essentially, you're trying to meet them halfway. And this can help you make headway with your sale.
9) "If you could confirm your interest in the product/service by the end of the day, I can throw in an extra [offer/discount]."
This is one of the most used sales closing tips by salespersons everywhere. It leverages the prospect's desire to get limited-time offers and deals, which may run out if they don't act fast enough.
This technique is best employed when you've almost convinced the prospect, but they're only minutely indecisive. So, you give them a slight push towards taking the deal, by offering an additional, small discount/offer.
10) "Is this product/service something you see adding value to your life?"
With this statement, you don't try to convince the prospect to buy your product/service. Rather, you lay down the facts about your offering and ask them to consider consciously the place it has in their personal/professional life.
This statement is best used for prospects who don't want to be handheld through the sales process and prefer to do independent research and take a mindful decision.
This statement is also great in situations where you aren't really sure how your product/service fits into the prospect's life. So, you let them decide whether they want to purchase the product or not.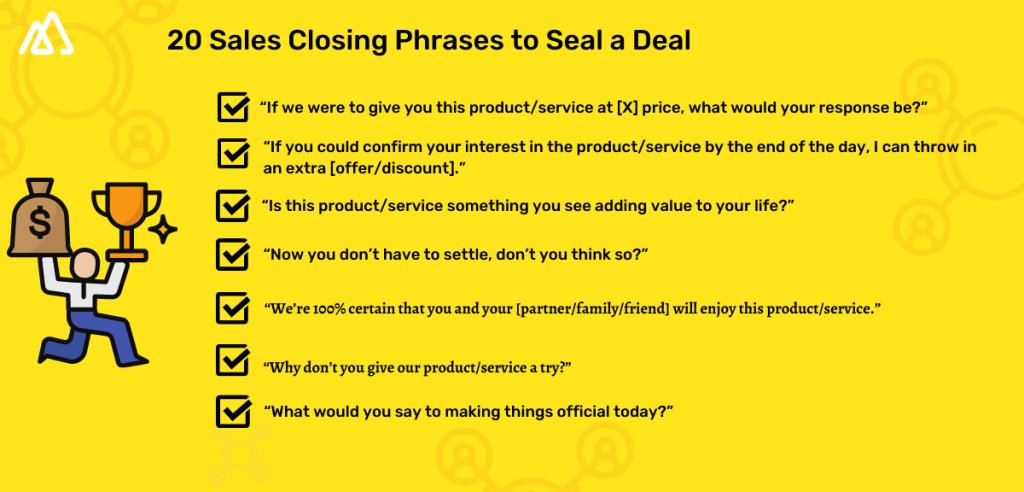 11) "Now you don't have to settle, don't you think so?"
A lot of people – especially those who don't fit into the neat little boxes of being cisgender, heteronormative, able-bodied, white/Caucasian and male – find that they need to compromise on the type of products/services they buy.
Either these items/experiences aren't designed for them at all or are so poorly designed that they're nowhere close to the quality prospects want.
Using this statement as your closing sales phrase works great when you're selling a product/service that has been designed specifically for people who are generally excluded or ignored. This statement is also excellent to show how inclusive and accessible your brand and your products are.
12) "We're 100% certain that you and your [partner/family/friend] will enjoy this product/service."
This statement is another really confident closing phrase that shows the prospect how much faith you have in your product/service.
It also indicates that you probably have served customers who fit the same/similar characteristics as the prospect before and therefore, know through experience how the product/service will benefit them.
It also assures the prospect that if they need your support later, they can trust you to deliver.
13) "Why don't you give our product/service a try?"
This is one of the best sales closing phrases to use when your product/service isn't that expensive and doesn't expose the prospect to many risks, dissonance and disappointment post-purchase.
This statement can also be used to encourage them to try a sample first and then come back to place an order. This closing phrase has a gentle, coaxing ring to it, that isn't forceful, but is still effective.
14) "What would you say to make things official today?"
If you see that your prospect is really excited to purchase your product and get started, there's no point in wasting time. Plus, if they've agreed to a negotiated price, then using this closing statement is a great way to seal the deal before they change their mind.
More importantly, this statement rides on the wave of their initial excitement. So, you can leverage this excitement to successfully convert the prospect.
15) "What can I do to make this deal a priority for you?"
Sometimes, no matter how many times you follow up with a prospect, they may try to evade your calls or they may break previously-scheduled sales appointments. In such cases, it's okay to be frank with the prospect and find out what you can offer them, that'll get them interested in your product/service.
At the end of the day, you need to talk in your prospect's lingo to make a sale. And finding out how you can get them to care about this deal, is a way to get closer to a successful conversion.
When you ask this question, approach them with a genuine desire to help. This will translate well during your meeting and will get you a step closure to your goal.
16) "Your happiness is the most important to us. Tell us, what will make you really happy?"
This is one of the best sales closing tips we have on offer. This tip is focused on letting the client know that this is more than just a sale for you. This interaction and engagement you have with them are about building a lifelong partnership with them.
You can start on the right foot by asking your prospect what their needs and wants are; and then building your own offer based on these specifications. That way, both of you will collectively create a sales offer that is mutually acceptable.
17) "If you could share your concerns or objections, maybe we can address them to your satisfaction."
Another one of our excellent sales closing phrases is to actively seek your prospect's objections, fears and questions about your product/service. Sometimes, the prospect may have a fear that is completely different from what you anticipate.
Asking them to help you help them by sharing their concerns, is a great way to nurture a mutually enriching relationship.
This statement also tells your prospect that you really want to help them – a sentiment they will find kind and supportive.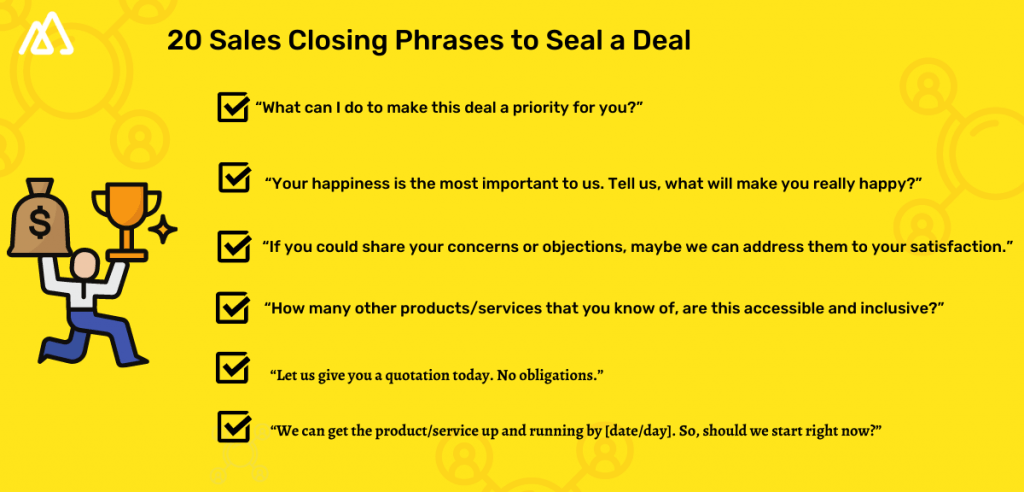 18) "How many other products/services that you know of, are these accessible and inclusive?"
Remember we were talking about how you can let your prospect know that they don't have to compromise? Well, that works only when your prospect is in agreement with you about your product/service. But what if they are still uncertain?
They may be so used to products/services not working out most of the time, that they don't want to believe that yours is a great fit for them.
In such cases, it helps to draw their attention to every inclusive and accessible feature and draw comparisons about other products in the market. Then when you close the sale with this phrase, you are reiterating the fact that your product/service is good and the prospect needs to buy it.
19) "Let us give you a quotation today. No obligations."
A no-obligation pricing/quotation is an excellent way to let the prospect explore your prices and offerings, without making any commitment. This is one of the best sales closing tips for prospects for whom price is the most important consideration. By not taking any commission from them, you offer them an opportunity to explore the possibility of working with your brand.
20) "We can get the product/service up and running by [date/day]. So, should we start right now?"
Another one of the most successful sales closing tips salespeople can use is installation and service. If your prospect is unsure about how quickly your product/service is implementable, then using this closing sales phrase can give them the encouragement they need to invest in your offering.
Plus, when you ask them if you can start right now, you're extending an invitation to not waste any more time and move towards a better future, through your product/service.
---
To stay true to your word, you can use Kylas CRM to track what your prospect needs, secure the necessary resources, and get your product/service up and running in no time. Plus, this CRM system also helps you engage customers post-sale as well, to ensure complete satisfaction.
Start 15-day Free Trial