Selling is crucial to the sustenance and success of a business. The sales strategy plan directs the sales activities of the business in alignment with the sales goal.
Why Create A Sales Strategy Plan?
Picture your sales team selling your product or service without a clear understanding of what successful selling means for the organization. What do they focus on? What are the outcomes expected from a specific sales activity? Where do they aim to get to?
A sales strategy plan provides the sales team with direction and guidance on achieving the sales goal. Without a defined sales path, a sales team is like a rudderless ship that drifts about without reaching its destination.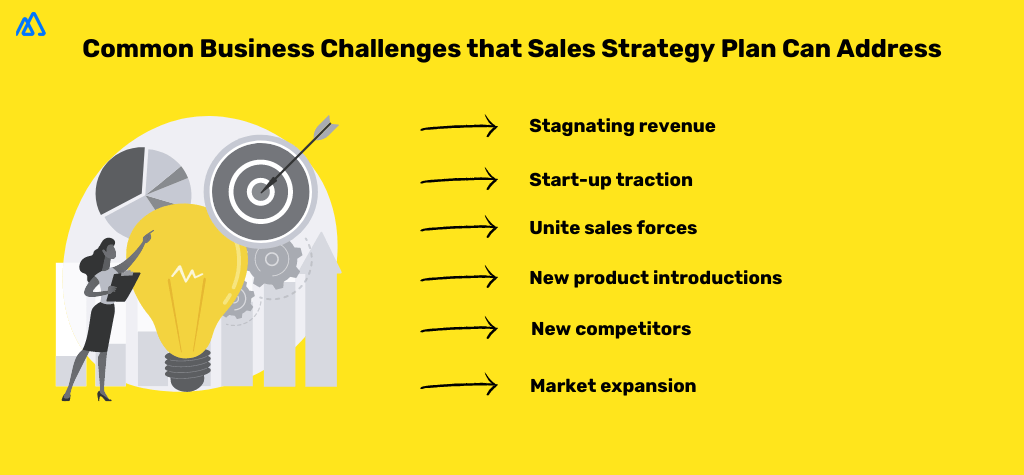 A sales strategy plan is necessary to address six common business challenges:
1. Stagnating revenue: Sales performance is a driver of consistent revenue
2. Start-up traction: A good sales strategy plan helps get a start-up business off the ground
3. Unite sales forces: Sales teams need to follow one strategy
4. New product introductions: The revenue-boosting strategy of launching new products can only fructify with a sound sales plan
5. New competitors: A successful sales strategy plan keeps the team on its toes to effectively counter the threat of new entrants
6. Market expansion: A sales strategy plan is essential when the business is expanding and diversifying into new markets
---
What Does The Sales Strategy Plan Describe?
The sales strategy plan is a blueprint for sales success. Accordingly, it describes how a business will win, retain and develop customers.
In a sales-driven organization, the plan will emphasize planning, existing knowledge and intuition, and elaborate design development. A lean start-up will include aspects of experimentation, customer feedback, and iterative design in its sales strategy plan.
A sales strategy plan is different from a marketing strategy, which deals with the company's approach to marketing its products. A marketing strategy plan focuses on building a competitive advantage by positioning and differentiating its products by managing the 7Ps (product, price, promotion, people, place, process, and physical evidence). Jointly, the sales and marketing strategies work in tandem to achieve the sales goal.
---
Building Blocks Of A Sales Strategy
A sales strategy plan – whether developed for B2C or B2B selling – has eight building blocks.
1. Goal And Objectives
A goal is a broad, long-term outcome, whereas an objective is a short-term outcome achievable through specific actions and measurable steps.
The team should have clear, planned, and trackable goals and objectives. SMART, an established tool for goal-setting, can guide their efforts in the right direction:
Specific: What exactly do you want to achieve?
Measurable: How will you measure success?
Achievable: Is it realistic and manageable, given the time, resources, and other factors
Results-oriented: Will it lead to the desired business results?
Time-bound: When will it be done and is it trackable over time?
With the goal and objectives well understood, attention can shift to defining the target market.
2. Target Market
Businesses build products or services that solve the challenges or meet the needs or desires of a specific type of customer. Going into detail about the typical customer is helpful in formulating the best possible sales (and marketing) strategies.
The sales strategy plan documents customer profiles, personas, and buying behaviors.
Customer Profile vs Persona
A customer profile and persona are different ways of describing the target market. Customer profiles contain basic information such as age range, household income, geographic location, whether the family has kids or pets, and so on. In the B2B context, the customer profile includes business information such as market services, annual sales, and the number of years in business.
Customer profiles are more commonly a part of traditional sales and marketing approaches that tend to focus on whether someone has the money to buy the product and not necessarily on whether they're interested in buying it. As a profile is made up of generic information, it doesn't do a deep dive into customers' values or the basis of their purchase decisions.
This is what the customer persona is for, it is a detailed representation of the target customer. The persona is semi-fictional and based on research of your desired or existing audience. This individual has a name, photograph, values, preferences, dislikes, and motivations – the more detailed the description, the better the customer persona.
The totality of details not only tells you what the typical customer does but why they do it and why they choose certain products over others.
Knowing who you're selling to at a granular level is important to know how to talk to them. You can ensure that all activities involved in acquiring customers are tailored to the target buyer's needs. This is true regardless of whether you're selling to a business or an individual.
3. Product
Making a sale is less challenging when you have a good product or service and deep insights into your target customer. The sales strategy plan brings these two aspects together by answering the question 'What is the sales value proposition ?' This is a statement summarizing why a customer would choose your product or service.
You can create a powerful sales value proposition and communicate it effectively with a clear understanding of:
Target user needs or pain points
Product function (what is the product able to do)
How the product addresses users' needs or pain points
Refer to the customer persona and buying behaviors you've documented to guide the framing of the value proposition for your offering.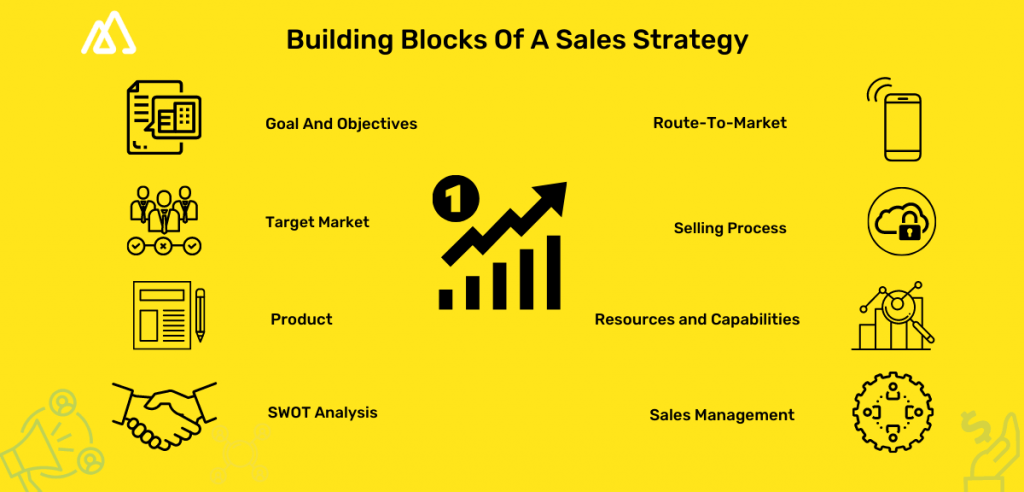 4. SWOT Analysis
Once you've built out customer personas and determined the sales value proposition, you're ready to take a look at your competitors and gauge your advantage over them. This is where SWOT analysis comes in handy.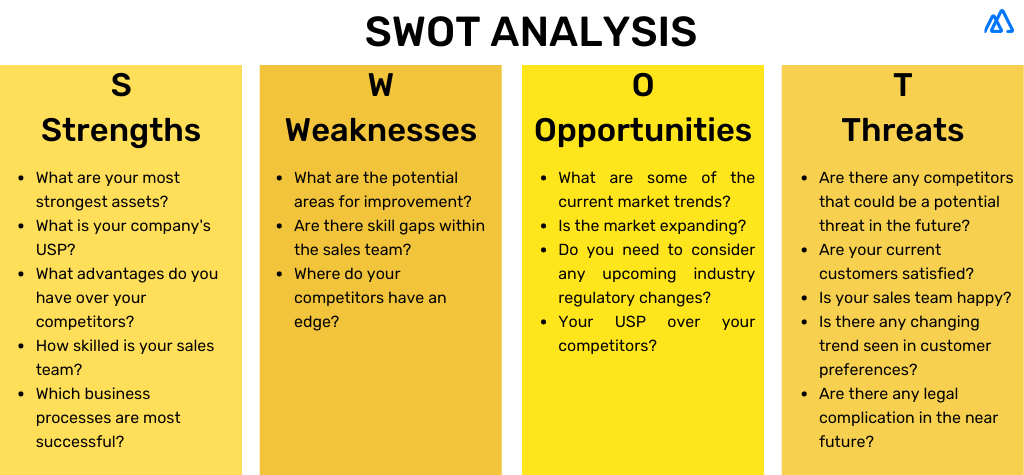 Identifying your strengths, weaknesses, opportunities, and threats (SWOT) is useful in a number of scenarios. It helps you take stock of challenges facing your organization when you're planning to enter a new market or facing a threat from increasing competition or thinking about potential future competition.
An analysis of these areas allows you to further develop strengths, reduce weaknesses, uncover new opportunities, and deal with new competitors that emerge with time.
5. Route-To-Market
Route-to-market is a strategy to make the product or service available to the customer. The purpose is to bring the right product to the right point of sales at the right time.
There are, of course, various ways to make a product available to its target market. A retailer sells directly to customers via a sales team or uses telesales or the internet. A manufacturer may use channel partners or intermediaries, such as retailers or local distributors.
Apart from offline routes, most businesses use online sales channels such as websites, social media, affiliate programs, and Google ads. Some exist exclusively online, such as e-commerce stores and SaaS providers.
The sales element of a go-to-market plan focuses on aspects such as making a sale, managing orders, developing outlets/sales channels, and money collection activities (electronically/in-person).
6. Selling Process
The selling process is how you will bring about a sale.
Generally, the process follows these steps:
Prospect –> approach –> present –> close –> determine objections –> handle objections –> close –> follow-up
There are different types of selling situations (salesperson to customer/salesperson to buyer group/sales team to buyer group/consultant selling) and sales presentation methods such as memorized (structured), persuasive (semi-structured), need-satisfaction (unstructured) and problem-solution(flexible).
The sales strategy plan contains a top-level view of the selling process. Sales managers add more particulars to the process that are tailored to the business and able to be standardized. Sales teams contribute ideas to improve the sales process, such as finding better tactics to handle objections or closing sales faster.
7. Resources And Capabilities
What are the resources (time and money) required to sell? This will depend on the size and type of organization. A services company typically has a longer sales cycle, and this reflects in the higher cost of products and services. The sales budget shows how resources should be allocated over a given period to achieve the forecasted sales.
The sales strategy plan also includes the skills and capabilities (sales planning, data analysis, product knowledge, and account management) required to sell. In addition, it lays out how will you develop sales teams' capabilities (on-the-job training/certifications/workshops/coaching).
8. Sales Management
Briefly, sales management is how a company directs and controls selling activities to achieve or surpass sales targets. It covers key areas such as: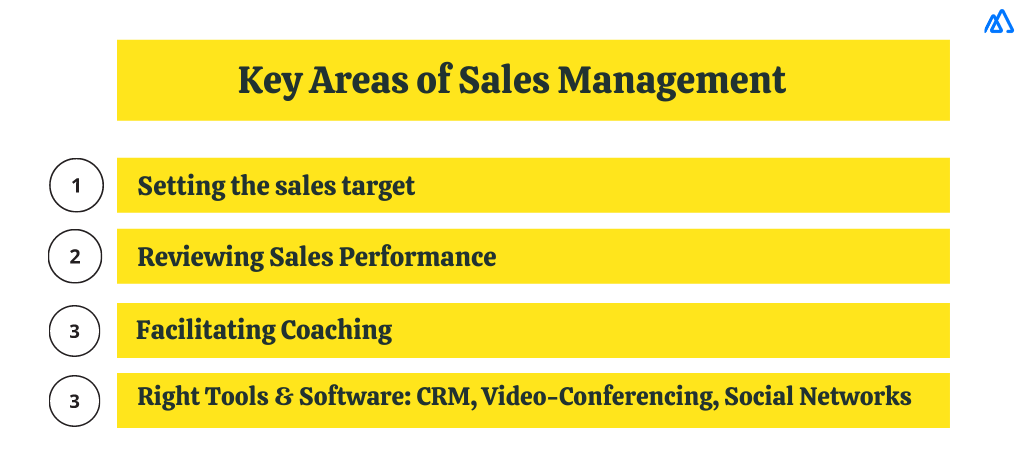 Setting The Sales Target
Is it top-down, bottom-up, or negotiated by management and sales staff? Regardless of how you establish sales targets, you need to communicate them clearly to teams and ensure that every salesperson understands them and how to go about achieving them.
Reviewing Sales Performance
The outcome of sales efforts must be measured and reviewed on an ongoing basis. The main sales measures include sales by period, sales by product, channel, new vs existing customers, sales per order, and sales by previous marketing activity such as a previous social media or search engine optimization campaign. Sales managers can communicate key points from the review at sales meetings.
Facilitating Coaching
Coaching from managers and external professionals helps salespersons polish their performance and keep up with new trends in selling. Management can plan performance incentives to motivate staff to improve continuously. Commonly, sales compensation is given as a salary plus a bonus or commission.
Right Tools And Software
Technology is a sales driver. Sales technologies help develop relationships with the ideal buyer and maintain ongoing relationships with customers in a consistent and efficient way. A sales strategy plan highlights the importance of utilizing the sales technologies vital to generating revenue, and the types of technologies to purchase for sales activation. The must-have sales technologies are:
Customer Relationship Management (CRM) Software
The basic function of a CRM is to store contacts, deals, sales opportunities, and plans in one place. In doing so, it helps salespersons effectively qualify and follow up on leads, and prioritize their sales activities.
Knowing what customers want and reaching out to them at opportune moments is at the heart of successful sales. The customer-related data stored in a CRM enables salespersons to analyze customer needs and anticipate their problems.
Growing businesses can benefit from a CRM that allows them to create multiple tailored sales pipelines, and boost customer engagement with call logging, mobile call tracker, and meeting set-ups directly from the app.
Video Conferencing
Remote sales presentations are convenient for geographically distant business clients/prospects. They became somewhat of a necessity during the COVID-19 pandemic. The next best thing to meeting potential clients in person, video-conferencing is an effective way to build rapport and trust as it attaches a face to the salesperson. Features such as screen-sharing, file-sharing and simultaneous annotation help keep discussions productive and engaging.
Social Networks
Virtually all sales strategy plans promote the use of social media sites for marketing and sales. Facebook and Instagram are common B2C sales channels while LinkedIn and Twitter are preferred for B2B sales.
Sales and marketing efforts unite on social media sites, where great content and regular conversations help build healthy sales pipelines. It goes without saying that salespersons should be conversant with social selling techniques and the ins and outs of the social networks they use for business.
With businesses moving further online, sales technologies such as chatbots and the internet of things have become ripe for adoption. A good sales strategy makes room for the addition of new sales techniques, tools, and approaches that can boost revenue.
---
Bringing It All Together
The sales strategy plan sets the direction for how a business should pursue sales. It is complete and detailed to the extent that it covers top-level information on the target market, product, route to market, competitive advantages, selling process, sales management, sales capabilities, and performance review and incentives.
Information contained in the plan can be used to create a sales strategy canvas, a visual tool conveying the key elements of the sales strategy. Sales managers can build on the various dimensions of the sales strategy canvas, describing the goals and selling activities that sales teams will follow.
With the right sales CRM software, you'll be able to automatically capture and record lead information instead of manually entering data. Not just that, a sales CRM also enables you to nurture leads through various sales campaigns, so that you can provide value to your clients by sending relevant content or promotional offers.
Are you on the lookout for an easy-to-use CRM to optimize your sales strategy? Click here to sign up for a Demo with Kylas CRM.
Start 15-day Free Trial