Whether your growing business focuses on inbound sales or outbound sales, there is one thing you will always need – the right prospects. You could collect a hundred contacts and spend hours on calls.
But if your sales prospecting is not efficient, all your efforts would go to waste. In sales, success does not come from the number of prospects you can round up but rather from the quality of prospects you choose.
The prospects you decide to invest your time in must be a good fit for the product or service you are selling.
It may be difficult to tell which leads have the potential to convert into prospects and customers until you have interacted with them for lead qualification. With a foolproof sales prospecting strategy, though, you can save a lot of effort and time while also bringing an amount of certainty to the process.
Sales prospecting is one of the most important parts of the sales process. But it is also considered one of the most challenging areas by sales professionals. To help you build better sales prospecting strategies, let us get a deeper understanding of this key sales activity.
---
---
What is Sales Prospecting?
Sales prospecting is one of the first steps in the sales process where you identify potential buyers for your products or services. The aim of sales prospecting is to identify prospects with a high potential of converting into customers and engage with them across various touchpoints until they convert.
But this entire process of guiding potential buyers through the sales funnel can be made a lot more efficient if your sales prospecting is on point.
If most of these prospects show no interest in the products/ services you are selling, imagine the amount of time wasted. Through better sales prospecting, you can identify high-potential prospects in the first place. This naturally increases your chances of converting them into revenue-generating buyers.
---
Lead Vs Prospect
People in sales might mix up two very similar words – leads and prospects – which are often used interchangeably. But there is a significant difference between the two.
In simple terms, a lead is anyone who fits your ideal customer persona and you have collected their contact information. These leads may or may not be aware of your brand or products. If they have no idea what your business is about, they are considered cold leads.
If your leads have some knowledge about the brand or its products and have shown interest, they can be considered warm leads.
As a next step, the leads need to be qualified. This is usually done by interacting with the lead through cold calls, emails, etc., or identifying leads who have expressed interest and fit the criteria set by the business.
Through the lead qualification process, your sales team should be able to tell whether a lead has the potential to convert. If it does, it is a qualified lead and a sales prospect. So, in other words, a sales prospect is a qualified lead who has expressed interest in your product/ service and matches your target customer profile.
Points To Remember
Leads are usually at the top or middle of the

sales funnel

while prospects are at the lower or middle stage.
Leads can be strangers on your call/ email list but prospects have either engaged with your business or shown interest.
A lead generally engages in one-way communication only, such as filling up a form, asking a query, or receiving a cold email. Prospects may have engaged in two-way communication in the form of personalized emails/ messages.
Leads may not necessarily have the intent to buy, while prospects have a high likelihood of purchasing your product/ service.
---
Why Is Sales Prospecting Important?
Sales prospecting is important because it helps you find potential customers who could really benefit from your product/service and so, have a better chance of converting. Top performers in sales prospecting are found to generate 2.7 times more conversions for their business than others.
Sales teams that pay more attention to sales prospecting are able to get more meetings and conversations with high-potential prospects. They can, thus, achieve significantly better outcomes.
Many growing businesses are often of the idea that buyers don't want to receive cold calls or learn about new products they are not interested in. On the contrary, buyers actually want sales teams to proactively reach out to them.
Research suggests that 71% of buyers want to hear from the business early in the sales process. This gives you an opportunity to make an impact on the prospects at an early stage in their decision-making process.
Top-performing salespeople in sales prospecting always try to make the best of the meetings they are able to score, by providing value to the prospective buyer.
---
How Effective Sales Prospecting Can Help?
An effective sales prospective process can help you –
Fill your

sales pipeline

, so your sales team knows which leads to pursue and nurture
Increase your sales team's productivity by saving them time and allowing them to have more valuable interactions with strong prospects
Gain insights on the competition in the market and how to set yourself apart, based on what prospects reveal
---
Stages Of Sales Prospecting Process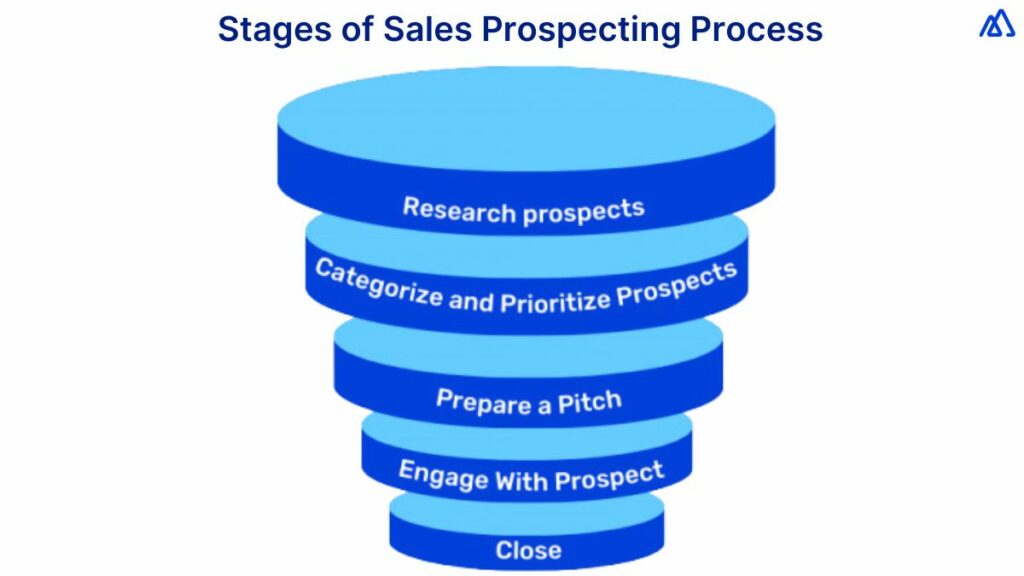 The sales prospecting process can be divided into five stages, as mentioned below.
1. Research Prospects
Research is by far the most important step in sales prospecting. Thorough research ensures that you only qualify those leads who can benefit from or have a need for your product/ service.
The research includes understanding the needs of the organization and the industry. It also involves determining if the prospect is in a decision-making position in their organization, deciding how to connect with them, etc.
By the end of the research stage, you should have gathered significant information about your most valuable leads and can begin to prioritize from here on.
Kylas's reporting features help you make sense of all the data and information you gather. It analyses the data to generate actionable and usable insights.
2. Categorize and Prioritize Prospects
Once the qualified leads or prospects are listed, you can now segregate them based on their likelihood of converting. This can be done by categorizing the prospects based on a few criteria that are most important to your business.
For example, the order value that a prospect may be able to place or the number of users you may get from a single deal, etc.
You can create your own formula to calculate a score based on these criteria and prioritize prospects depending on their scores. So, the prospects with the highest scores will have to be pursued the most and will take up a bigger portion of your time.
You can evaluate the probability that a lead or prospect will become a customer by setting qualifying criteria and effectively segregating leads with a CRM like Kylas.
3. Understand What Matters To the Prospect and Prepare a Pitch
The next step is to prepare a fail-proof pitch. For this, you will first need to have a thorough understanding of the prospect's requirements and pain points. This will again involve some research to find out what matters to the prospect. Then, decide how you can position your product/ service as an value-adding solution for their problems or pain points.
4. Engage With Prospects to Make an Impact
Lastly, find out the best way to communicate and engage with the prospect. Irrespective of whether you choose to call, email, or meet in person, your outreach has to be customized to the prospect's unique needs and goals.
Relevant, timely, and personalized communication, that adds value and does not just sell, is what they seek.
Kylas let's you automate and personalize communications to reach your customers at the right points, and on all channels such as Emails, SMS and WhatsApp to nurture lasting relations.
During your interactions with your prospects, listen to the two things:
Pain point: A prospect's business need; this is what sales reps must identify to provide value and move them farther along in the sales cycle.
Objection: A prospect's challenge that keeps them from purchasing a product or service, e.g. budget or time constraints.
5. Close
Lastly, once you know the prospect's challenges, pain points, and possible objections to purchasing the product, you can turn them into customers by convincing them of the value they're getting.
There will be two possible outcomes:
Closed-won: When the lead purchases your product or service.
Closed-lost: When the lead fails to purchase your product or service.
---
How To Identify Sales Prospects
When you are generating leads, every lead may seem valuable and worth investing in. But for effective sales prospecting it is important to identify the ones that matter the most. Here are a few tips on qualifying your sales prospects.
1. Assess the Demand
See if the product you are pitching meets the prospect's needs. This is one of the first things you would want to know because unless they have a demand for your product, they would not be interested in further communication.
2. Determine Prospect's Spending Capacity
Check if the prospect's spending capacity matches the pricing of your product. A lead may be valuable in all other respects, but if they cannot afford your product/ service they wouldn't be interested.
3. Observe Prospect's Purchasing Behaviour
Find out if the prospect's purchasing behavior lines up with your sales cycle. For instance, say your sales cycle is usually about 3 months, but the prospect's purchase history shows that they take at least 9 months to make a decision. This would mean you could be closing three deals if you found better prospects instead of pursuing this one opportunity.
4. Revisit Historical Sales Data
Go through all your historical data to see what your previous and existing customers were like. What business size, demography, geographical location, budget, etc. you usually cater to? Which customers bring you the highest revenue? This information should give you a better idea of who your ideal prospects should be.
---
How To Qualify Sales Prospects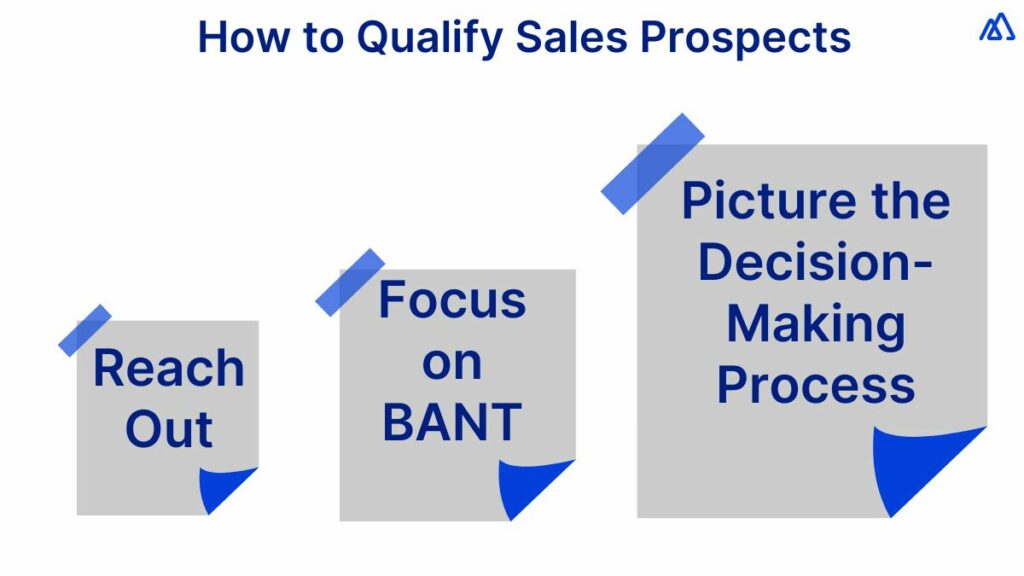 The first step here is again research. But we have already discussed how you research your prospects and understand their requirements, so we won't be going any deeper into it. Here's what you need to do after the research and lead scoring are done.
1. Reach Out
Once the high-value leads have been identified, try and engage with them. Reaching out to your leads through their preferred medium is probably the best way to qualify leads. Contrary to popular belief, research shows that most buyers are willing to receive emails and calls from new sellers/ service providers.
2. Focus on BANT
BANT is an often-used term in sales that refers to Budget, Authority, Need, and Timeframe. When you first contact a lead, you need to ask questions that will reveal all of these. Now, you can't directly ask them what their budget is or how long it would take to decide.
You will have to ask smarter questions instead to ascertain what authority they have in decision-making or gauge the urgency of their need.
Besides BANT, there is another qualification strategy that is gaining popularity. ChAMP prioritizes the Challenges of the prospect to ensure you chase those prospects whom your solution will truly help.
3. Picture the Decision-Making Process
When you communicate with a lead, try and figure out their decision-making process. Find out if there is something holding them back from making a purchase decision sooner and what you could do about it. If these roadblocks can be handled, the lead may be qualified into a prospect.
---
Sales Prospecting Tips and Best Practices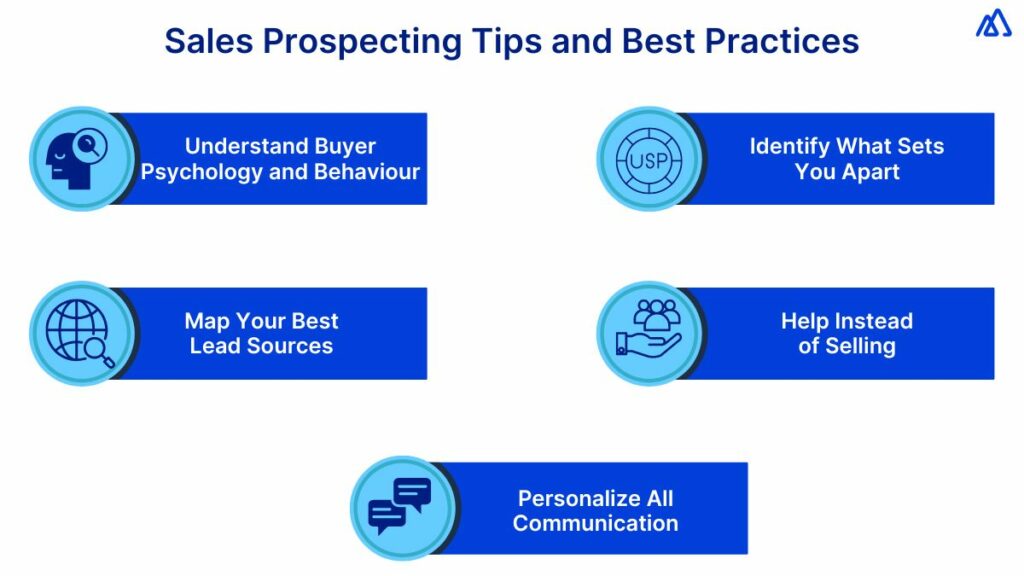 Here are a few quick tips to help improve your sales prospecting strategy.
1. Understand Buyer Psychology and Behaviour
If you are trying to identify potential buyers, you will have to think like them. Find out what emotions or needs your product can trigger in a buyer. Or figure out which leads would be most interested in the benefits that your products offer.
Also, find out what motivates your prospects to make a purchase. Understanding their buying behavior will give you a better idea of whether they are worth pursuing.
2. Identify What Sets You Apart
You can only tell if your product will be of use to a prospect if you know its USP. You need to have a value proposition that will appeal to a segment of buyers. This value proposition has to be communicated to the prospects to see if they find it useful.
3. Map Your Best Lead Sources
If you know the most common lead sources that give you the highest conversions, prospecting will become a lot easier. For example, if most of your customers come from your social media pages then the leads from these sources may be more valuable.
4. Help Instead of Selling
Prospects are not drawn in by a sales pitch but by an ideal solution. When you are engaging with your prospects, make sure to emphasize more how your solution can help them instead of focusing on selling.
5. Personalize All Communication
Whether you are cold calling or engaging through email, make personalization a priority. Prospects are likely to respond better to personalized communication compared to generic messages.
---
Sales Prospecting Tools
For effective sales prospecting and better productivity, some software is a must-have for your sales team. Here are a few you can try.
1. Kylas
Kylas is a sales CRM software where you can organize and manage all your lead, prospect, and customer information. The easy-to-use platform lets you import leads from various sources with just one click. You can manage all your contacts and deals efficiently, assign tasks to your sales team and do much more.
You can also generate customized reports to see which parts of your sales prospecting process are delivering results and what needs to be improved. Such a sales CRM can boost your business growth and significantly streamline your sales prospecting process.
Kylas comes with a rich feature set and an intuitive platform to help you identify prospects that can give your business guaranteed sales. Schedule a demo now!
2. LinkedIn Sales Navigator
LinkedIn is one of the largest professional networks online. This naturally makes it one of the best places to find and nurture prospects for your business, particularly for B2B sales. LinkedIn Sales Navigator is an offering of LinkedIn Sales Solutions that helps you identify potential buyers, gain insights on them and make personalized outreach. The platform offers lead recommendations, CRM integration, real-time updates on lead and company changes, and more.
3. AngelList
AngelList is a platform made for startups and angel investors. Though the primary purpose of the platform was to help VCs and angel investors find startups and learn more about them, it can be of good use to sales professionals too. The platform has lists of startups and companies that you can sort and filter according to company size, type, maturity, and so on. It could give you some very valuable prospects for B2B sales.
4. Outreach
Outreach is an intelligent engagement platform that can help you make better communication and improve your chances of conversion. The platform can suggest different outreach sequences across various channels including email, SMS, phone, and LinkedIn.
It can identify opportunities and help you customize your messages for better outcomes. Outreach will help automate a major part of sales prospecting, giving your sales team more time for direct calling or in-person communication.
5. Mailshake
Mailshake is an outreach automation platform that helps you automate prospecting communications via email, phone, or social. It has an AI email writer that can automatically create the first draft of your outreach emails. The Lead Catcher helps you identify the most engaged leads that have a better chance of converting.
This can be a highly useful sales prospecting tool that takes care of your cold outreach through most channels.
---
FAQs
Ideally how much time should a sales rep spend prospecting?
Most sales professionals spend at least 30 to 40% of their time every week on prospecting. With the right sales prospecting and CRM tools, though, this time can be significantly reduced.
What is the difference between B2B and B2C sales prospecting?
B2C sales prospecting implies selling to an individual, while B2B prospecting requires you to sell your product/ service to an organization. In B2C prospecting, your direct contact is the end-user themselves. In B2B, though the end users may be many, you need to find someone to engage with.
This person usually has to be someone with authority, in a decision-making position, within the organization. There may also be multiple decision-makers in B2B sales who you need to convince.
Also, the sales cycle for B2B may be longer than for B2C with several factors influencing the purchase decision.
Conclusion
Sales prospecting may be a challenging task but it doesn't have to be difficult. As long as you have the right tools and a strong sales prospecting strategy, it will be a challenge you enjoy tackling. The outcomes achieved with a strong prospecting strategy are worth every bit of time and effort you invest. With these few tips we've shared, sales prospecting should become a lot easier for your sales team.
Start 15-day Free Trial