What does your daily inflow of prospects look like? Are you sure that your prospects are going to buy from you? Is the audience you are targeting the right match for your solutions?
The answer to more such questions comes down to defining one purpose – a strong pre-sales process!
In today's world, every business is in constant pursuit to grow and reach new boundaries. But there is a reason why not all of them are able to achieve what they aim at. And it's simply because they overlook pre-sales.
The success of every task depends on how well the resources are made available to the people in their time of need. A great deal of work goes into paving a way for your potential customers to follow to your doorstep.
Where sales are directly proportional to closing deals, pre-sales activities are essential for the success of every sales opportunity and the overall organization.
As per the Harvard Business Review, it was found that companies with strong presales capabilities consistently achieve win rates of 40–50% in new business and 80–90% in renewal business- well above average rates.
For anyone new to the concept of pre-sales activities, let's dig a little deeper into it and how they are different from traditional selling activities.
To keep all your business activities on track, you must try your hands at Kylas sales CRM which can give you an overview of everything related to your business and customers in one single place.
---
What Is Pre-sales?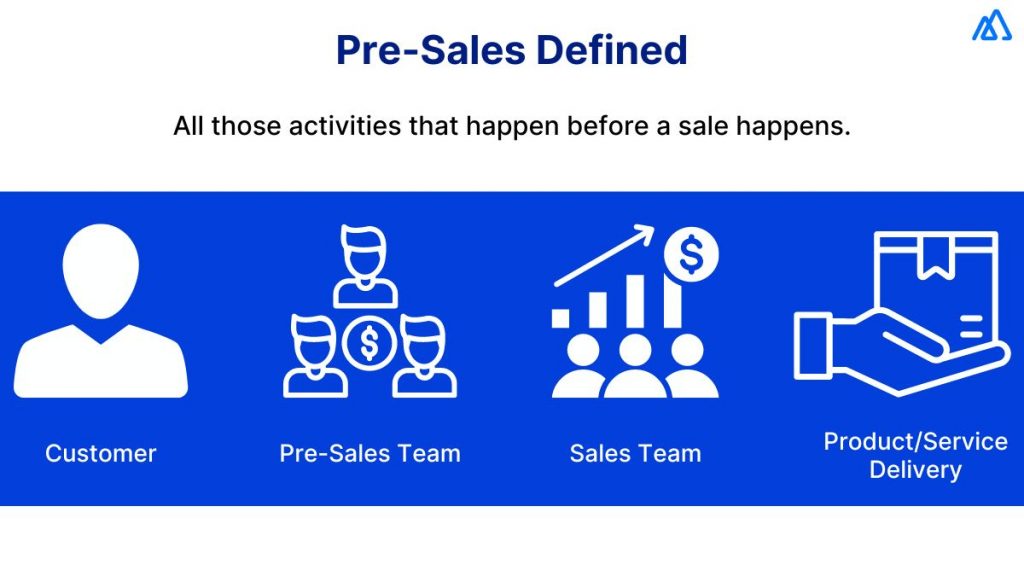 As the name suggests, pre-sales are all those activities that happen before a sale happens. You can compare pre-sales to the warm-up routine that prepares you for a sale. It lays the foundation for your sales team to do their job more efficiently and effectively.
Who doesn't know that a B2B sales process is long and complicated and that a single salesperson cannot handle it alone? A dedicated pre-sales team can take up a few tasks that save the sales team's time and lets them focus on building relationships with prospective customers.
Usually, businesses perform pre-sales activities to nourish their sales pipelines. While optimizing the workflows, pre-sales can help find & qualify leads, do market research, and analyze customer data.
With a solid pre-sales process, you can empower your sales processes for maximum productivity and output. And hence, you can enhance your chances of reaching the bottom line.
Pre-sales vs. Sales
Although pre-sales and sales serve different purposes, they must work together to ensure sales success. Where pre-sales focuses on the research, validation, preparation, and lead nurturing, sales get the attention of closing deals. After a prospect is qualified and nurtured by the pre-sales team, it is handed over to the sales team.
Here's a comparative breakdown of the two roles.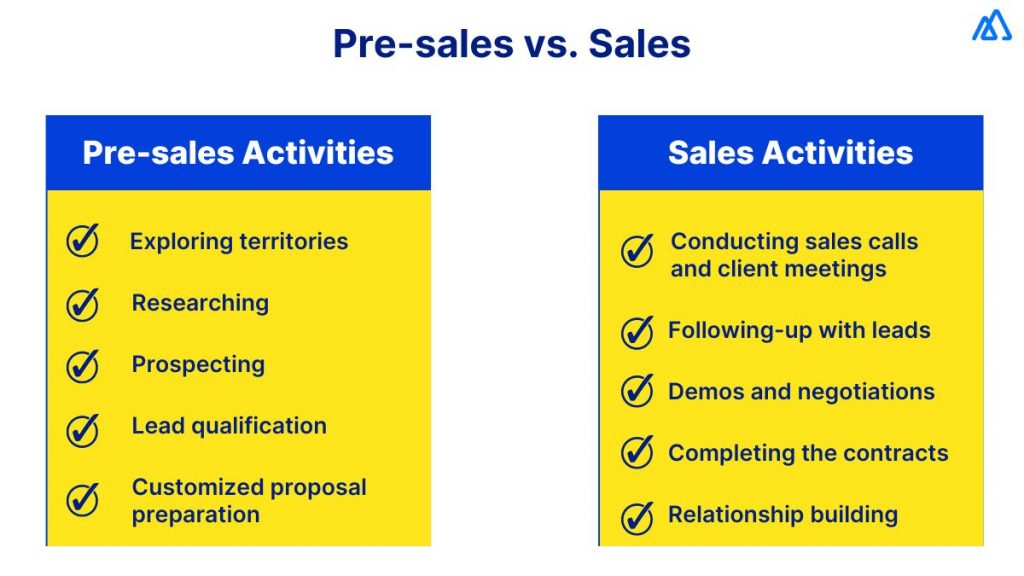 There will always be some overlap, and interaction between the two teams and the processes they get involved in. Pre-sales team takes the responsibility of collecting lead information and the hold discovery calls and the sales team continues the conversation to build lasting relationships. Both these teams need to work together to identify the strongest opportunities and close maximum deals.
Top 7 Pre-sales Activities for Your Team
It requires ideation and strategy to build a solid pre-sales process. If you are ready to multiply your sales numbers, here are a few pre-sales activities for your team to start with.
1. Prospect and Lead Qualification
Finding a lead is comparatively easy when there are tasks like building relationships as you climb the ladder. You can create a long list of prospects using endless lead-generation channels and resources. But not to forget, more leads don't mean more sales.
You have to analyze the leads and determine which ones are worth moving ahead with and which ones you can overlook. This is where your pre-sales professionals will wave a magic wand. They will engage in conversations with your prospects to understand their needs, budgets, etc., and find out if they make a good fit for your business.
Trying to convince every lead to buy from you that comes up will only waste your sales team's energy, time, and resources. With proper prospecting and lead qualification measures, the pre-sales team would clear up that murkiness and give them only those leads to proceed that qualify for the solution you offer.
2. Make Discovery Calls and Pitch
After creating a list of the qualified leads, your pre-sales team would make discovery calls to initiate conversations with the qualified leads. This would help them understand the prospects more deeply and why they would be interested in your solution.
The pre-sales team takes the responsibility of identifying each prospect's issues and requirements. When your sales team has all this information, they can use it to make effective value propositions and design personalized offers.
The pre-sales team can design the initial sales pitch within the discovery phase that answers the issues that your product/service solves. With the help of a customized pitch, you will be able to engage with your prospects in a better way.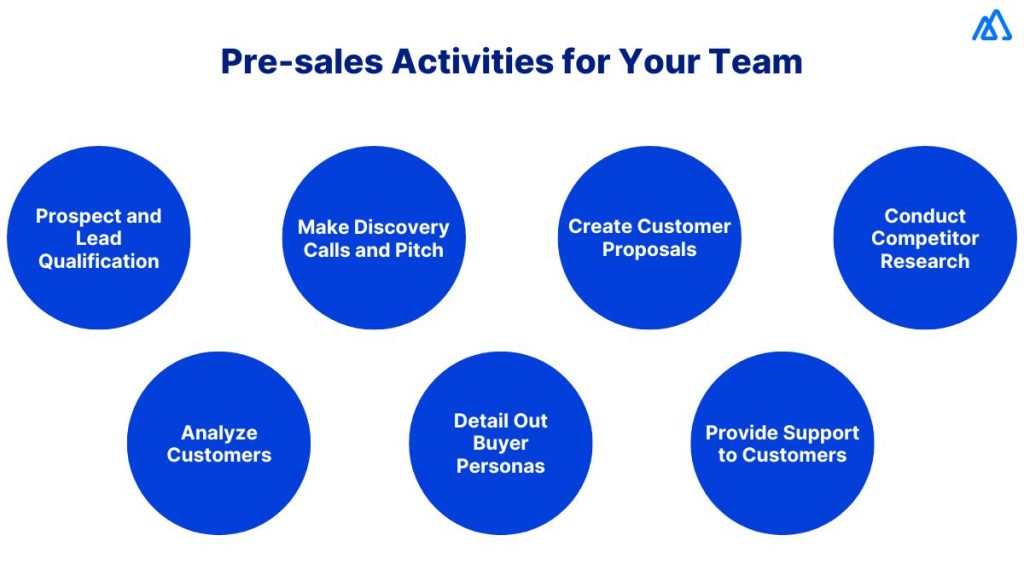 3. Create Customer Proposals
After the lead qualification and discovery phase, the pre-sales team will design proposals that summarize all the information collected about a lead so far while addressing the solutions they are looking for. They would need them to sit with the sales team to perfect this proposal.
This is an essential step that's meant to convey your customer's needs to your sales team so that they can prepare to help your prospects. It will also ensure that your sales team is providing exactly those solutions to the prospects that they are interested in.
Try to add data points and social proof to the proposal to keep the conversation in your favor. You can also consider sharing a digital business card that contains all the information regarding your business for convenience and added personalization.
4. Conduct Competitor Research
Be it the sales team or the pre-sales team, every team member must know where their company stands as compared to their competitors. You will be able to impress your prospects with your value proposition only if it is not different from others in your league.
So, let your pre-sales team research your competitors, their products/services, pricing, customer base, and sales.
5. Analyze Customers
It comes down to your pre-sales team to provide your salespeople with the information about your customers. We are talking about deep insights into who they are selling to and how they will be convinced. And yes, customer analysis is a great way of doing this!
This may include sending out surveys to your customers and even reaching out to them personally to get a better understanding of their needs and perspectives. The pre-sales team can also consider identifying the demographical trends or every other thing that will help them understand their customers a little more clearly.
6. Detail Out Buyer Personas
This is more like an extended version of customer analysis. After your pre-sales team has collected enough information about the customers you want to target, they can create detailed buyer personas.
As you sell to a lot of people who are different from each other in some way or the other. If you look closely, you will be able to find certain trends that give you information about your target buyers. These are the buyer personas that can help your sales team to mold their sales strategies as per the target audience.
7. Provide Support to Customers
In the end, all of your efforts come down to how you serve your customers. You can get your pre-sales team to nurture your relationships with your customers and retain the existing ones. The pre-sales team can get involved with the sales team to resolve customer queries.
They can also work in the background to boost customer satisfaction and find opportunities for upselling and cross-selling.
---
How to Build a Winning Pre-sales Process?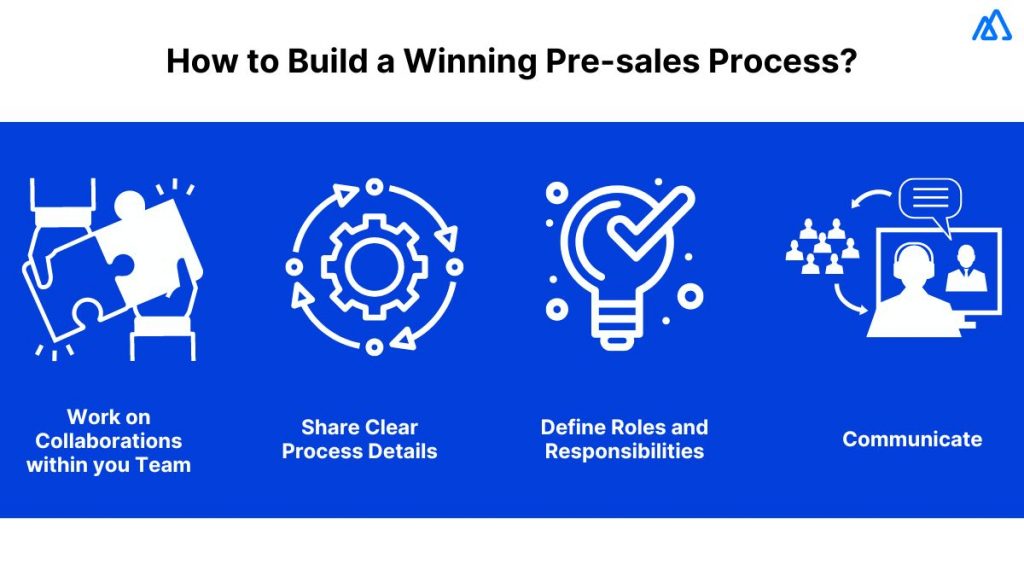 For those who are ready to build a pre-sales process in their company, here are some practices that will help you make a smooth transition and make your customers happy.
1. Work on Collaboration within your Team
When you are going to integrate pre-sales into your sales department, there needs to be an environment of mutual respect and collaboration. Both your pre-sales and sales teams have to work together and collaborate to make the most of the opportunities that come down your sales pipeline. Try to build trust between the two teams so that they can work together toward the same goal.
2. Share Clear Process Details
A pre-sales program won't become a success if there is no clear process. Each one in your team must know what they are supposed to do. With clear steps, they will be on the same page, especially in the case of complex sales processes.
3. Define Roles and Responsibilities
For a winning pre-sales process, you must define clear roles and responsibilities at each stage so that there is no misunderstanding, miscommunications, and mistakes that can slip opportunities out of your hands. Allocate resources in accordance with the talent you have in your team. This will help sales managers make better decisions.
4. Communicate
It goes without saying that no organization can work without communication. This means that your pre-sales and sales teams have to work together and communicate effectively to provide your customers with the best services they want.
---
How Is Pre-sales Important for Your Business?
Your pre-sales team would make the first contact with your customers. It means they hold the responsibility of setting a standard for the support and services the customers will receive throughout their journey with your brand.
Your pre-sales team puts effort into understanding your customers and their needs more clearly so that the sales team can pitch their brand in the best way. It can predict customer needs and provide expertise before they buy anything from you.
A pre-sales team that is well-equipped can have a lasting impression on the customers and impact how they perceive your business.
---
Conclusion
In a nutshell, pre-sales activities are not about closing a deal but taking the first step toward closing a deal. A well-run pre-sales process can boost your revenue generation strategies by identifying growth opportunities. When there is a common goal, great communication, and an aligned strategy to reach that goal, both pre-sales and sales teams can benefit the company's bottom line.
With Kylas, you can easily map out your customer's journey by visualizing your connections and making contacts. Define your pre-sales structure with Kylas and strengthen customer relationships and close deals.
Start 15-day Free Trial