If you are setting up a sales team, you may need to consider whether you want to focus on inside sales or outside sales. In fact, almost all businesses have to consider inside sales vs. outside sales because choosing the right approach can have a significant impact on your business. So, what sales structure should you go for?
There is no single answer. It depends on the customers that you cater to, your location, the type of business you run, and many more factors. Before you pick a sales structure, you should understand the difference between inside sales and outside sales. Having a better understanding of the concepts will help you identify which is a better sales structure for your business.
What is Inside Sales?
Inside sales is also sometimes called remote sales. That is because the sales rep makes sales online or over the phone. They do not come face-to-face with the customer. Inside sales reps typically work from the employer's office, using phones, emails, CRM platforms, VOIP, and other digital communication channels to make sales.
Although inside sales reps make sales from their desk, it is not the same as telemarketing. Telemarketing uses a script and can be done by anyone, even a computer. Inside sales is professional sales done remotely.
An inside sales rep goes through multiple calls or interactions because the sales process is a lot more complex than telemarketing. Also, inside sales reps target B2B (business-to-business) or high-end B2C (business-to-consumer) transactions. They are skilled salespeople using technology, such as CRM and outbound tools to close sales.
The only similarity between inside sales and telemarketing is that both use the phone to connect to prospects.
Inside sales is also a cost-efficient way for businesses to generate sales. On average, an outside sales call costs $308, whereas an inside sales call only costs $50.
---
What are Outside Sales?
Outside sales are when salespeople meet prospects in person to sell their products and services. Since outside sales reps usually don't work from the office and go out in the field, outside sales are also called field sales.
However, that may not be entirely true in today's modern setup. Outside sales reps also use a wide variety of tools, such as Zoom and Skype, to complete a large portion of their job from the office itself. 71.2% of the sales force comprises outside sales reps.
Outside sales give your customers a more personalized sales experience. When sales reps meet clients face to face, they can give a detailed product demonstration which can help close sales. Outside sales also help in relationship building because of their personalized nature.
The global pandemic has had a massive impact on outside sales. For instance, there were no, or very few trade shows happening during lockdowns. Trade shows have always been an important component of the outside sales strategy.
They introduce prospects to the company, educate customers about new and existing products, and help in effective networking. Trade shows and other in-person events may have slowed down. However, thanks to technology, sales reps have been able to transition to a remote environment efficiently.
---
Inside and Outside Sales Activities
The core job of inside and outside sales reps is the same, to make sales and generate revenue. However, the way they make sales differs.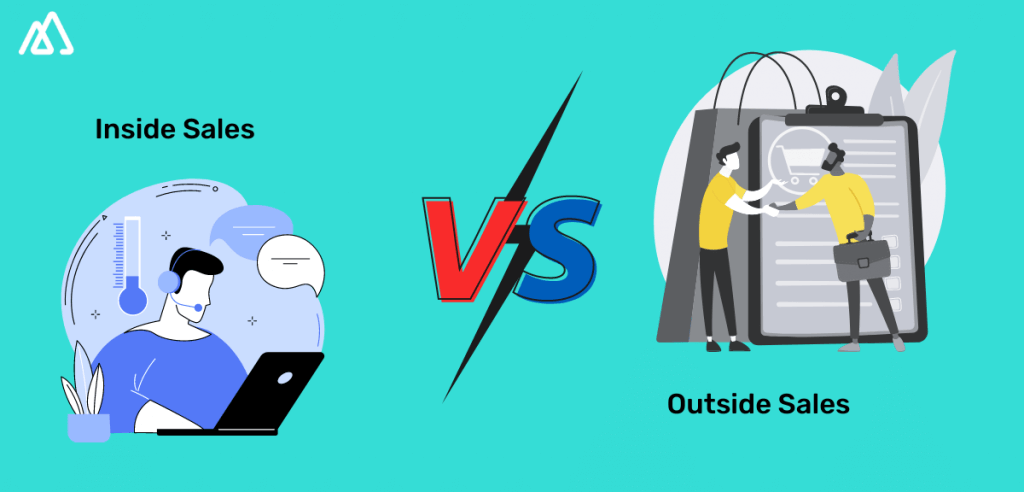 Inside sales reps sell remotely, over the phone, by email, or by video call. They focus more on the growing field of social selling. In fact, inside sales reps make 45.2% more calls than outside sales reps do. They may also have a more structured and predictable schedule than outside sales reps.
Outside sales reps spend a large portion of their time selling at trade shows, seminars, events, and conferences. They also spend a lot of time visiting customer offices. Despite a lot of travel, it may surprise you to know that outside salespeople spend a lot of time selling remotely. Statistics show that outside sales reps spend 89% more time selling remotely than they did in 2013.
Inside sales reps use two approaches for client acquisition- targeted and cold calling. For targeted sales, inside sales reps get in touch with existing customers. They help with troubleshooting, addressing clients' needs, and basically acting as the company's point of contact for the client. Inside sales reps create and maintain long-term relationships with clients, creating a steady income.
In cold calling, inside sales reps contact new prospects. It can be challenging because they may need to talk to prospects who weren't planning on making a purchase.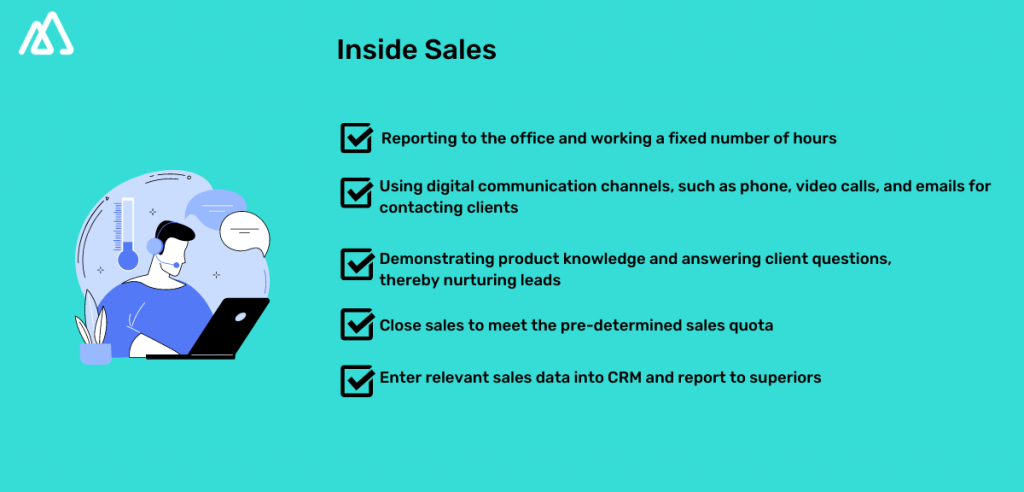 Job activities of an inside sales rep include:
Reporting to the office and working a fixed number of hours
Using digital communication channels, such as phone, video calls, and emails for contacting clients
Demonstrating product knowledge and answering client questions, thereby nurturing leads
Close sales to meet the pre-determined sales quota
Enter relevant sales data into CRM and report to superiors
Outside sales involve making sales outside the company's main location, mainly through face-to-face interactions. Sales reps involved in targeted sales are usually assigned a small territory within the company's region. The sales reps are responsible for making phone calls and visits to businesses in the territory, making sales, and building strong relationships.
Most outside sales reps work with cold leads. They are responsible for engaging with customers and collecting their contact information for follow-up.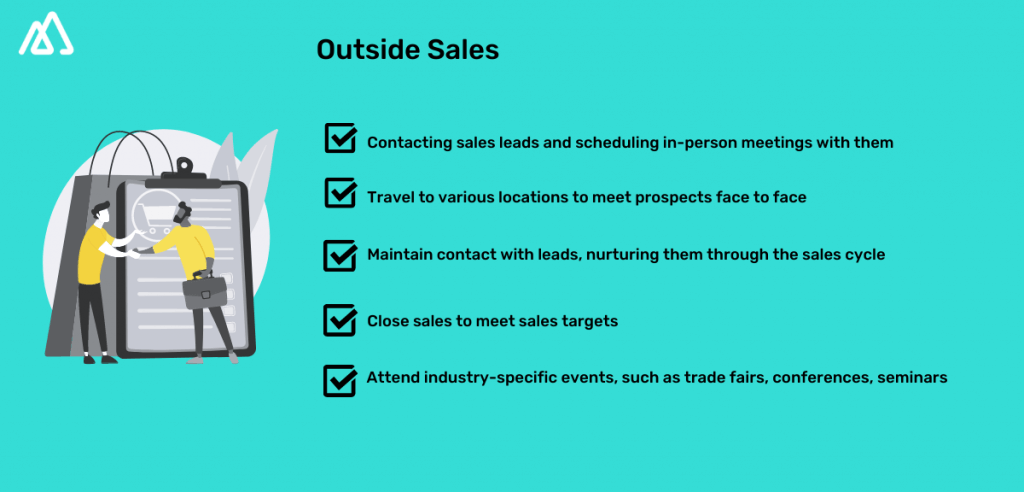 Job activities of an outside sales rep include:
Contacting sales leads and scheduling in-person meetings with them
Travel to various locations to meet prospects face to face
Maintain contact with leads, nurturing them through the sales cycle
Enter relevant sales data to CRM and report to the sales manager
Close sales to meet sales targets
Attend industry-specific events, such as trade fairs, conferences, seminars, and more
---
Should You Consider Inside or Outside Sales?
Choosing inside sales vs. outside sales is an important decision for any business. A large part of the sales force is made up of outside sales reps, but that is changing now. Compared to outside sales, inside sales are growing 15 times faster.
Various factors have to be considered before you choose a sales structure. Is your product online? Do you cater to different countries worldwide? In such cases, inside sales is a better option for your company. You should base your inside sales team's goals on the overall sales goal of the company.
For improving performance, ensure that your sales team has SMART goals– Specific, Measurable, Achievable, Relevant, and Time-Bound. The goals should be on display for improving accountability.
If your product is complex and requires a demo to be understood by your clients, you should consider the outside sales structure. For ensuring maximum productivity, you must have an effective scheduling system for your team. Each sales rep should have unique territories so that there is no overlap or confusion. You may also consider hiring local sales reps because they know the area better.
However, a hybrid approach is becoming more popular with companies these days. Most sales-focused companies are using both inside sales and outside sales because it covers more ground than a single approach. Face-to-face sales help create a personalized experience.
Many people still hesitate to make large purchases online. However, online sales are incredibly convenient. With a hybrid approach, you can target both sets of customers, those who like personalized sales experiences and those that like convenience.
---
Tools for Closing Sales
Inside sales reps and outside sales reps use a variety of tools to close sales. Some tools are common for both, such as a CRM platform, a video calling platform, and so on. Some tools may be more specific to their job responsibilities.
Since inside sales reps mostly work from their desk, they use their computers, phones, CRMs, and so on. However, outside sales reps work from the office and travel outside. Besides computers, phones, and CRM, they may also need to use rental cars and flights for client meetings.
With cloud computing and mobile devices becoming more prevalent, various aspects of inside sales can now also be seen in outside sales. Outside sales reps, like their inside sales counterparts, also use cell phones to make and receive calls and emails, and they also use and update CRM.
Looking for a CRM to supercharge your sales engine and streamline sales efforts? Try Kylas, an easy-to-use CRM, uniquely designed for growing businesses. Schedule a demo today!
---
Sales Cycle
In simple terms, a sales cycle refers to the steps or processes a sales rep goes through to convert a lead into a customer. It often refers to the average time it takes from making the first contact with a prospect to closing a deal.
The sales cycle is usually longer for outside sales. It is because the deal sizes are considerably larger, requiring buy-in from more than one decision-maker in the company. Because of the deal size, there may be more negotiations and more back and forth between the sales reps and clients.
In some industries, outside sales cycles may also be denominated in months, quarters, or even years. For instance, if you are an aerospace company dealing with government defense contracts, you should not expect to close a deal in a week. Closing million or billion-dollar contracts may take several months.
The annual contract value for inside sales teams is usually lower. For that reason, inside sales reps tend to prioritize quality over quantity. Besides lead qualification, inside sales reps spend a lot of time sending emails, making calls, and connecting with new prospects. Although they nurture leads, they do not spend as much time nurturing a single prospect as outside sales reps do.
---
Costs
Inside sales vs. outside sales-which is a better option in terms of cost? Whether you want to expand your inside sales team or outside sales team, you need to know the costs involved.
The costs will depend largely on your industry and location.
---
Scaling Capabilities
If you want to scale your sales team, you need to implement industry best practices and ensure they are followed across your company.
Implementing best practices for an inside sales team is easier. Since the sales reps work from the office, conducting training sessions or implementing new tools is a lot easier.
The success of your outside sales team depends a lot on relationship-building with clients. For that reason, it is less scalable than inside sales. Building meaningful relationships with clients takes time and takes patience and dedication from each sales rep.
A new rep will not be able to establish relationships immediately. Since outside sales reps work in different locations, it may also be difficult to establish processes and SOPs for the entire team.
---
Skills Needed for Inside Sales & Outside Sales
Inside sales reps and outside sales reps require different skills and personality traits to be successful. For instance, a successful outside sales rep has a high emotional quotient and situational awareness.
They can pick up on social cues, think on their feet, answer questions, and keep the conversation going with prospects and clients. Being on the field gives them a great deal of autonomy. Hence, good outside sales reps are motivated people who don't need constant supervision by sales managers.
Inside sales reps need more focus to be successful. They should also be able to follow instructions efficiently. Most companies provide their inside sales reps with scripts and templates, guiding them and making their workflow more efficient.
However, some skills are common for both, such as effective communication skills, confidence, and perseverance.
---
Conclusion
Now that you know the actual difference between inside sales and outside sales, you should be able to make an informed decision. If you are contemplating inside sales vs. outside sales, striking the right balance between the two is a winning recipe. Building an inside sales team costs less, and it is more scalable.
However, if you have a long sales cycle or deal with enterprise-level clients, then an outside sales team may be more feasible for you. Wherever possible, having a hybrid approach may bring more success for your business.
If you are looking for a CRM to improve your sales performance, then Kylas is your best bet. Kylas is an enterprise-grade CRM designed uniquely for growing businesses. It is easy to use and offers UNLIMITED USERS and FEATURES. If that's something you are looking for then, why wait!? Schedule a Demo Today!
Start 15-day Free Trial