If you're reading this, you're most likely to scale your businesses. As a result, you're setting up your sales function or your own inside sales department to achieve small business growth.
Undoubtedly, the need for inside sales accelerated during and post-Covid world. Since inside sales primarily involve teams to market online, many companies adopted technology that helped attain small business growth. In fact, study shows that 84% of small enterprises are now using at least one digital platform to share their products.
Setting up an independent sales team is a great indicator of small business growth. As you might know by now, there are a few types of functions in sales – not all roles involve being out in the field, meeting leads, and cracking deals. Inside sales is one such function that leads to small business growth.
Let's start from the top!
Sales collaboration can be challenging, especially when working remotely. Empower your team to work more productively and efficiently with Kylas!
What is Inside Sales and Does it Help in Small Business Growth?
Inside sales refer to sales activities conducted usually from within an office/workspace. Essentially, the salesperson(s) does not travel to meet clients in person, hold meetings with leads.
.
Selling in this case is mostly done via call or video conferencing software.
What Role Do Inside Sales Play in the Larger Sales Function for Small Business Growth?
Inside sales is the counterpart to field sales or outside sales, whichever way you call it. Between your inside sales team and your outside sales team, you handle all lead sourcing, lead management, and lead conversion activities. The role of both these teams usually ends with closure.
Then, you have the customer success and customer support teams. They play a larger role in nurturing clients that have been closed by your inside or outside sales team.
Is the Only Difference the Location?
Sometimes, yes, but not always.
Because an inside sales team is more cost-efficient (having eliminated overheads such as travel, food & beverage, etc.). In fact, many companies keep their inside sales teams spending time lead hunting, making the initial sales pitch, and qualifying leads.
Because of this, traditionally, inside sales was considered more of a grunt work role. Moreover, lesser in corporate rank than outside sales. Pay levels too, varied greatly between the two teams, with outside sales executives getting paid vastly more.
Today, however, consumers get more comfortable making buying decisions remotely. This is because technology brings greater autonomy to the hands of salespersons. It ensures inside sales teams do it all – right from lead seeking to closures.
.
In fact, as recent events cause a shift to a completely remote sales workforce, changes in approach and perception are becoming the need of the day.
As one HBR article puts it, "As selling shifts from field sales to inside sales to digital channels, the pay level for each sales role needs to adjust to match the work performed and value added."
So, you must be wondering, why do you need an inside sales team?
---
Here's How an Inside Sales Team Can Benefit Small Business Growth
1. They Know the Power of Understanding Your Customer
Inside salespersons are used to doing research into leads, as part of their homework before the initial sales pitch. This is one of the most powerful skills to have today that can directly affect small business growth.
'The customer comes first' is well known, but few people understand it better than the inside sales team.
.
They are used to having to understand their audience and their needs. Based on this, they can plan how your product will answer them because that is one of the key steps for them to be successful.
They invest time in understanding who your audience is, where they live and work, what is their biggest pain point and what they really need in terms of a solution.
When it comes to selling, that kind of understanding is pure gold.
2. They Need Minimum Training to Fulfill All Your Sales Requirements
In today's remote working scenario, you may at some point need team members who can be all-rounders.
Sales is the first department to feel the pressure of revenue in these tough times. So an all-hands-on-deck situation isn't always a farfetched idea, especially for growing businesses.
In this case, it is easier to train inside salespersons on how to close clients, than to train outside salespersons on doing in-depth research and qualifying leads.
.
Traditionally, outside salespersons are more impatient to get results. They are also more likely to follow leads that may not be completely qualified.
A few sessions on closing and some mock sessions to practice techniques train a competent inside salesperson to handle the entire funnel.
3. They Understand the Importance of a Customer Relationship
An inside sales team is used to working on customer relationships rather than just selling. They look at their role in sales as the first step to drawing in the customer. Since they spend so much time understanding the customer, they are able to create a rapport.
More importantly, they understand the impact of creating that rapport on the end sale.
.
In this day and age, consumers are the results of a company's success. So, an inside sales team takes the time to do the little things that build a relationship with customers.
This impacts the end sale and the churn rate. Customers that feel more nurtured and understood by a company are more likely to stick around.
4. They Are Used to Being Efficient and Chasing Leads with a Deadline
You'll often observe field sales executives making a rookie mistake – chasing a sale that's just not going to close, not going to bring the return on investment, or not going to stick around long term.
.
It ends up being an inefficient use of their time.
However, this isn't something you see with an inside sales team.
Because they are equipped to qualify leads on objective parameters, they tend to be more on point about investing time in leads that will work out. This makes them an ideal resource not only to qualify leads and pass them on, but also to take the conversation forward and pitch to that lead.
This also makes them ideal for small business growth – businesses that need to scale and make optimum use of resources and time, with maximum revenue realized from each sales activity.
5. They Are Used to Leveraging Technology to Do a Better Job
Working hand in hand with sales software such as a sales CRM for small business growth can be second nature to an inside sales executive if they have prior experience. This is important when you're growing – a sales CRM is an indispensable tool.
Sales CRMs are often used by inside sales teams to sort through incoming leads. It helps them mark them as qualified or unqualified and pass them on to the core sales team.
They're also in the habit of filling out lead detail fields and ensuring that lead data is thorough. This means that they're well aware of the importance of sales reporting & maintaining a line of sight using that very data.
.
While other sales executives may consider a software or tool superfluous to their responsibilities and skillsets, an inside sales executive understands that the more thoroughly you use the software, the better it can help you close a deal.
They consider it an asset to their work and career path.
This is beneficial because you won't have to struggle to get an inside sales team to use software bringing you rich data and insights without the hassle of having to maximize software usage.
Businesses need to connect with various third-party platforms and tools for their daily operations. Choose Kylas for seamless integrations and simplified sales processes.
---
3 Steps to Hiring a Great Inside Sales Team for Small Business Growth
1. Plan Your Sales Team Structure
As we mentioned earlier, an inside sales executive could – in these times – very much take care of the whole funnel. The boundaries are blurred, and responsibilities can get hazy. For the sake of your team and to bring in accountability, you need to create a clear team structure.
Here are some questions to ask yourself-
Are you going to have an inside sales team and an outside sales team? Or will your inside sales team handle the entire funnel?
.
Will you have different inside sales executives handling different parts of sales? Will a few people be responsible for outreach sales channels, while others handle incoming leads?
.
If they're only handling the top of the sales funnel, how will you structure which channels/leads are handled by which executives?
2. Hire Across the Board
Don't just start with a couple of junior executives to handle some outreach calls. Hire someone at the sales manager level. Also, someone at a senior executive level, and also at the junior executive level (the total number of people is up to your budget).
This is because you need a sales team that can truly deliver on your investment.
.
As a growing company, a couple of junior inside salespersons aren't going to cut it for long, but a well-formed inside sales team, however small, can help you reach greater heights with a lot less fuss.
Inside sales manager – handles the strategy, such as the planning of which channels to optimize and use, as well as the rest of the team. Directly reports to you and brings you insights & recommendations.
Senior inside sales executive – comes with enough experience that you don't need to train them on skills or sales best practices. This is where you see the most return on your resource investment.
Junior inside sales executive – is just starting out in the sales field and needs some support, for which they rely on the senior executives and the sales manager. These are your long-term investment – you can mold them as needed and if they're really promising, they could be heading the sales team tomorrow.
And if you are unsure on how to attract and hire the right talent, read this piece to clear all your doubts.
3. Know What You Want
The only way to measure the success of a sales team is to have a clear idea of the output you want. Know what metrics you want to measure (and we'll suggest some below), and make those a clear part of your hiring process.
For example, if your inside sales team will only be taking care of the top of the funnel, here's what you should be measuring-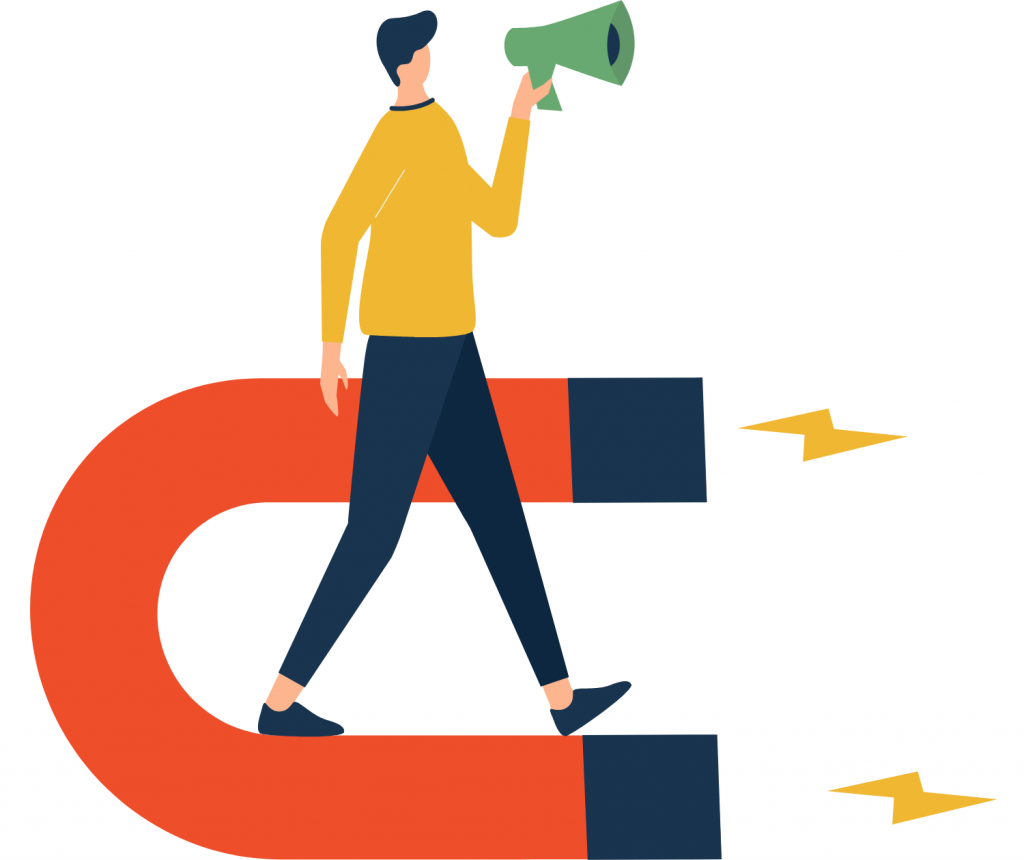 .
Meetings scheduled/pitches made
.
Number of qualified leads
.
Once you know this is what you're going to be measuring, you might want to look for junior team members who are extremely efficient (maximizing the number of outbound calls), senior team members with great customer understanding (increasing qualified leads), and so on.
Besides skills, experience, and your company culture, your success areas should directly impact whom you hire.
---
With that, we hope you're ready to jump into the world of inside sales and set up your team! With today's COVID-dominated business landscape, this may well be the only sales team you need – if you hire well.
Either way, if you have any questions about building a sales team for small business growth, we're here to answer! Just drop a line in the comments section below.
Start 15-day Free Trial