Looking for the best CRM for foodtech? From Swiggy, Zomato to others, food tech companies are using cutting-edge technologies, including Big Data and the Internet of Things, to revolutionize the way food is produced, assembled, delivered, and consumed.
Fast-growing food-tech companies need a cutting-edge CRM solution that helps them achieve their goals related to process efficiency, productivity, customer satisfaction, and sales revenue.
Understanding your business's unique challenges and requirements is the starting point for choosing the right CRM for food tech.
Food Tech Companies: Challenges and Opportunities

The food-tech industry is witnessing exponential growth thanks to the ease of ordering, discounts and the variety in cuisines companies offer. The single most crucial demographic that food tech companies typically cater to are the millennials. This demographic not only has the highest spending power but is always on the look for quick-service options when it comes to food ordering.
While there are immense growth opportunities, food tech companies also face multiple challenges in terms of:
⦁ keeping pace with the ever-changing preferences and trends,
⦁ ensuring high-quality food is delivered quickly at the best possible prices
⦁ acquiring leads, targeting and segmenting customers to personalize marketing messages
⦁ achieving process efficiency to meet peaks in demand
⦁ responding to customers in real-time
⦁ tracking sales teams' performance
⦁ making data-driven marketing decisions
Your customers expect flawless delivery and a seamless experience when ordering through your platform. Choosing the right CRM is the key to catering to these demands, building trust, and growing your business.
What to Consider When Choosing a CRM for Food Tech?

Before you start shopping for the best CRM for foodtech, it is vital to know what challenges your business is facing. Knowing your requirements is the starting point for making an informed choice when it comes to buying a CRM. This exercise will also ensure you choose a CRM that delivers the results you seek while avoiding unnecessary expenses on features that are not really required for your business.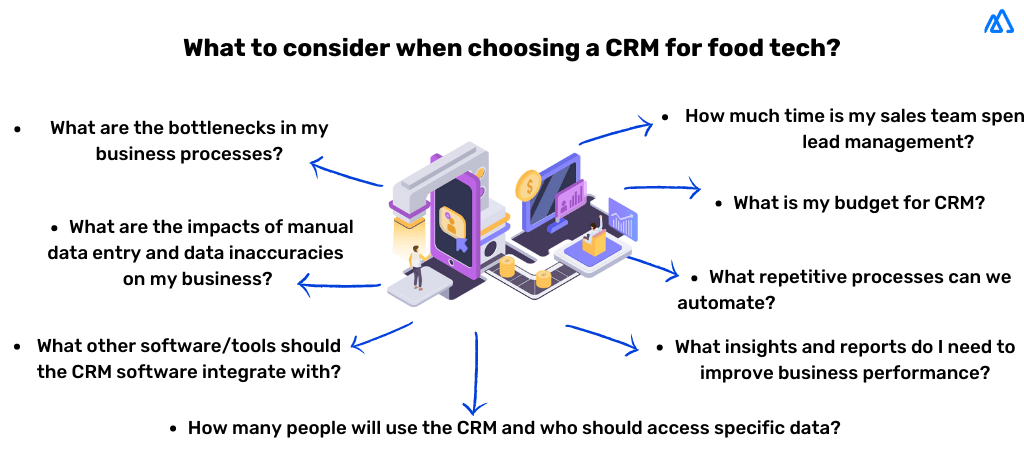 These questions can help you understand your CRM requirements:
What are the bottlenecks in my business processes?
What are the impacts of manual data entry and data inaccuracies on my business?
How much time is my sales team spending on lead management?
Which repetitive processes can we automate?
What is my budget for CRM?
What other software/tools should the CRM software integrate with?
How many people will use the CRM and who should access specific data?
What insights and reports do I need to improve business performance?
The answers to these questions can guide you to the next step of what features you should look for in a CRM for foodtech.
What to Look For in a CRM for FoodTech?
While each business's CRM needs may differ, here are the most important features to look for: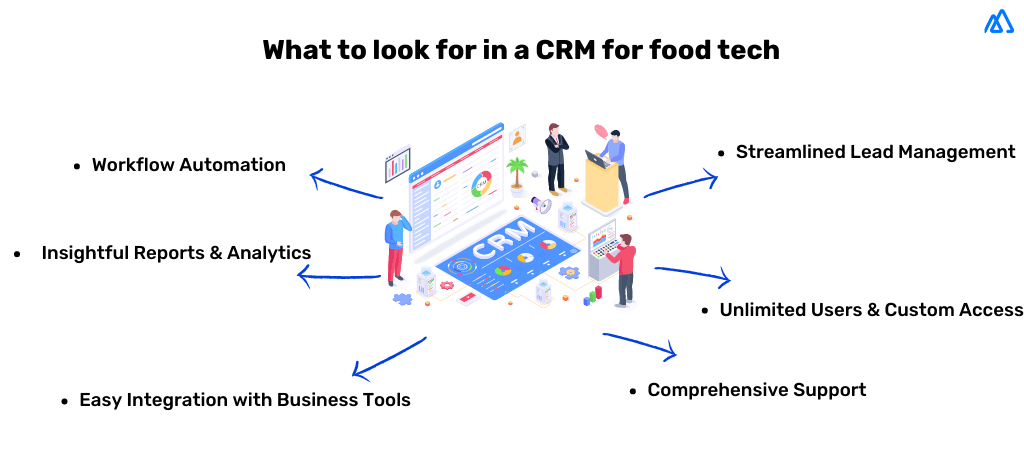 Workflow Automation
Every second counts in the food delivery business, with the speed of delivery influencing customer satisfaction and retention. A recent study shows employees spend 3 hours per day on tasks that can be easily automated.
In a food tech business, this translates to delays, errors, and inefficiency, all of which can impact the business's bottom line. Repetitive tasks are not only boring but can increase your costs by:
⦁ increasing the chances of human errors
⦁ increasing labour costs
⦁ reducing productivity
⦁ creating unpredictable workflows
⦁ causing delays
⦁ resulting in a lack of visibility
When choosing a CRM for food tech, check if it offers workflow automation to help:
⦁ Automate repetitive, time-sensitive tasks
⦁ Stay on top of tasks
⦁ Create alerts to take instant action
⦁ Streamline workflow by delegating, sharing, and collaborating on tasks
⦁ Capture, segment, and channel leads automatically
The best CRM for food tech, such as Kylas, stores and organizes all the information you need in a central place, making it easy for your teams to access the data.
A CRM that offers you a centralized database for storing and organizing customer data, their past orders, location, call history, interactions, and mode of transaction streamlines delivery.
Streamlined Lead Management
Acquiring leads is the top priority for growing businesses. However, for 65 percent of businesses, lead generation and management are the biggest marketing challenges. With the health of your food tech business depending on lead generation and management, it makes sense to choose a CRM that streamlines the process.
The best CRM for food tech enables efficient lead capture from across channels such as:
⦁ Website forms
⦁ Mobile apps
⦁ Social Media (Twitter, Instagram, Twitter)
⦁ Third-party portals
⦁ from your emails and existing CRM
Kylas goes a step above to offer easy ways to import your leads from anywhere, analyze them based on the sources and manage your leads efficiently.
Insightful Reports and Analytics
Most marketers know that what they can't measure, they cannot manage. Right from the performance of your sales teams, your sales revenue to marketing campaigns, you will need to track, measure, and analyze many aspects of your business. This will give you insights into what is working and what needs adjustment.
Evaluate if the CRM for food tech allows you to generate insightful and engaging reports.
With Kylas Sales CRM, you can generate:
⦁ Marketing and campaign reports
⦁ Sales reports
⦁ Leads and deals reports
⦁ Productivity reports
⦁ Usage reports
It is easy to filter the reports based on multiple criteria and share them with relevant stakeholders.
Unlimited Users and Custom Access
Many vendors offer access to a limited number of users in their free plan. When choosing a CRM for food tech, it is important that you not only factor in your current business needs but your expansion plans as well.
Buying a free plan may work initially, but in the long run, you might be forced to upgrade to more expensive plans when you want to add more users.
With Kylas, you can onboard unlimited users for a flat fee while defining custom access for various users.
Easy Integration with Business Tools
Your business may already be using a range of tools and apps. The CRM you choose must offer easy integration with apps including Gmail, Mailchimp, Facebook, Zapier, Outlook, and others.
While CRM, on its own, is powerful, integrating it with other tools makes your – and your sales teams' – jobs much easier. While the CRM serves as the hub of your business's sales activities, integrations with other tools make your CRM even more powerful.
For instance, CRM email integration enables you to create targeted, automated email marketing campaigns for customer segments that your CRM can help you create.
Comprehensive Support
Even the greatest of CRMs may fail to deliver results if your teams are not aware of its features and how to use them. A Gartner study shows that anywhere from 50 to 70 percent of all CRM projects fail, resulting in losses and failing to improve company performance.
According to research on the reasons behind CRM failures by Forrester, close to 38 percent of respondents said these factors impacted CRM success:
⦁ slow user adoption
⦁ inadequate training
⦁ Insufficient customized solutions
⦁ poor usability
⦁ lack of skills to implement CRM
Choosing a CRM with comprehensive support is the best way to avoid implementation and usage failures.
For instance, Kylas CRM for Foodtech offers:
⦁ Complete setup support
⦁ Customization
⦁ Training sessions – initially and on-demand for different teams
⦁ Chat, email, and phone support to address user queries
⦁ A ticketing system for requests, issues, and bug fixes, if any
While many CRM vendors offer different levels of support, they often are included in premium plans.
When a food tech company, Daalchini Technologies, was looking for a CRM solution that could be easily integrated with business, Kylas was happy to help! To learn how we helped them improve their sales productivity, internal processes, and customer engagement, read here.
Kylas CRM knows what you need! To know how Kylas offers the perfect sales CRM solution and comprehensive support to help you experience the best results in a cost-effective way, try Kylas for 15 days!
Start 15-day Free Trial