Your customer is the life force of your business. No business can exist without customers. The success of a business depends significantly on the kind of relationship they have built with its customers.
For a business to succeed and grow, earning the trust and loyalty of customers is of utmost importance. That is why more and more businesses now understand the significance of CRM for building better consumer relationships.
With buyers becoming more informed than ever, growing businesses need a tool to help them manage their customers and their high expectations. CRM software is one such tool that can help you do that. Let explore this concept, by understanding the definition of CRM.
---
What Does CRM Mean?
CRM software is a tool that helps you manage interactions and relationships with customers and prospects.
The software can help keep track of customer data, interactions, or notes about current and potential clients. The information is stored in a central database, making it easy for multiple people to access it simultaneously.
The primary objective of CRM software is to improve business relationships. It can help business owners nurture relationships with their clientele and colleagues, suppliers, vendors, and more.
Your CRM software can help you streamline sales, customer service, marketing efforts, accounting, and management. Employees can access and edit customer information depending on their buying journey, helping you deliver a personalized experience to your customers.
---
What Is CRM Software Used For?
Building a sales pipeline is essential for all businesses. Visibility into your sales pipeline helps your team monitor their progress and gives them an accurate picture of what they need to do to improve revenues.
Your marketing and sales teams put in a lot of effort to ensure that your pipeline keeps flowing with leads. As your prospects go through different stages of their buying journey, they also interact with different departments of your company. This leads to several pieces of key customer information strewn across different departments.
For instance, the calling software you use would contain call logs. Your marketing tool would have details about campaign performances. You could have details about the pipeline stored in excel sheets. Emails to and from your prospects could be available in multiple inboxes. This means that none of the departments has the complete information on your data.
When teams do not have complete customer information, it creates a very disconnected customer experience. Plus, with data strewn all over the place, you also don't have the complete information necessary to make the right business decisions.
Your CRM software ensures that all information is available in one place. It contains the entire customer history, including their interactions with your business.
The CRM software also details their purchases, appointments, and more. Since you can access all information about the customer in one place, you can deliver a much more personalized experience to your customers. Customer communication becomes consistent regardless of who the customer interacts with within your company.
Your CRM software also sends you real-time notifications about any significant activities your customers may have performed. For instance, if a customer checks the pricing page on your website, your tool will send you an alert. Your tool could be a goldmine of information for your sales and marketing teams.
CRM software can be used to increase productivity, build healthier pipelines, and create more personalized campaigns for your customers. It can also lead to better collaboration and coordination between the different departments of your company.
---
Benefits of CRM Software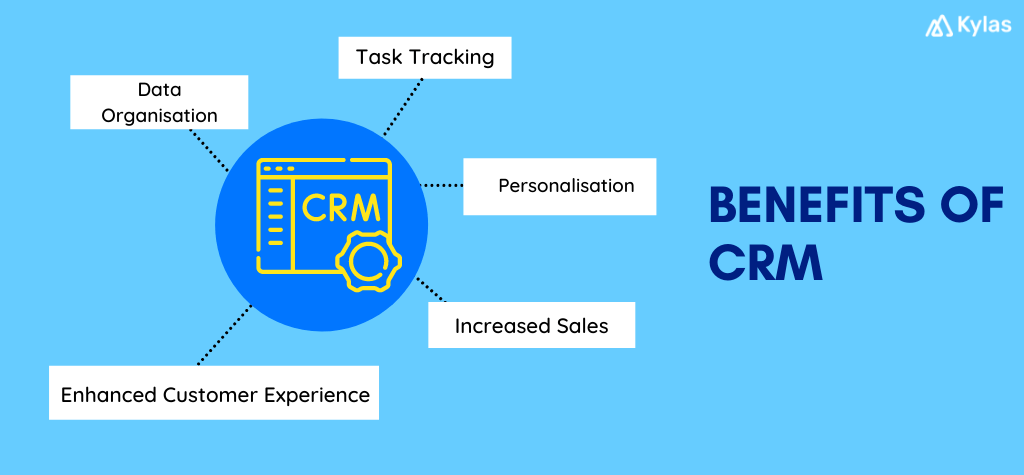 Anyone who interacts with clients in your company could benefit from CRM software. That includes your sales, marketing, customer service, and technical support teams.
1. Data Organisation
The biggest benefit of CRM software is that it keeps your data organized. Around 72% of companies have reported that using a CRM gives them better access to data.
It offers a centralized location to store all your customer information, making it accessible and convenient for all users. Since you can find all pertinent information about a customer in one place, it helps you understand them better, delivering a better quality of service.
2. Task Tracking
The CRM software integrates your daily workflow and saves time on daily tasks. You can automate mundane tasks such as creating contacts or sending welcome emails. Workflow automation provides consistency and enhances customer engagement. Consistency is essential for a positive customer experience. When customers receive mixed messages, it increases their confusion, not enthusiasm.
3. Increased Sales
Your CRM software not only holds customer information but can also be used to track purchase patterns. It can give your greater insight into trends, helping you develop targeted plans for increasing sales. Also, since you have greater visibility into customer information at all times, you can quickly identify opportunities for upselling and cross-selling.
As per a recent report, a CRM solution can help increase sales by as much as 29%.
4. Personalisation
Statistics reveal that personalized emails have six times higher transaction rates than regular emails. It also reduces your acquisition costs by almost 50%. Personalization can also increase revenue by 5% to 15%. CRM tools offer several personalization features that can be used to send personalized communications to build deeper customer relationships.
5. Enhanced Customer Experience
From the lead stage, a customer's entire journey gets captured in CRM software. This gives you a better understanding of people, empowering your to personalize their engagement with your company. You can create personalized messages and develop more targeted campaigns, helping you generate more leads, widen your customer base, and increase sales.
---
What Is the Right Time to Adopt a CRM?
Considering the meaning of CRM software and the outcomes it can generate, it is evidently very beneficial for your business. Hence, the right time to adopt one is NOW. If you are a small business with just a handful of customers, you could get away by using only spreadsheets for a little while.
However, as your customer base increases and your business grows, it will become increasingly difficult to keep track of everything using nothing but spreadsheets and sticky notes.
Storing information all over the place, such as multiple spreadsheets, could create several discrepancies. What happens if one spreadsheet is not updated? It will unnecessarily slow down things as your team struggles to consolidate the information.
Spreadsheets and other traditional software do not allow updating information in real-time. You also can't integrate them with other applications or track customer interactions. However, CRM software allows you to do all that and more.
Your CRM tool can also help you mitigate the issues that arise with employees leaving. Even if an employee leaves, you will not need to look around for information on customer interactions. It will all be updated on the software, allowing other employees to pick up the conversation from where they left.
Getting away without a CRM tool could be possible only for a little while. Modern businesses must implement CRM software to succeed in the current competitive marketplace.
---
Cloud vs. On-Premise
Companies can determine how they want to deploy their CRM system depending on their business requirements. Some organizations benefit from on-premise CRM software, while others may find cloud CRM more advantageous.
If you opt for on-premise CRM software, you would need to ensure that you purchase the license beforehand. Companies with strict security policies could benefit from such on-premise software because it gives you greater control. However, implementing on-premise software requires more time and resources. Besides, you will be entirely responsible for the maintenance and security of your CRM software.
Cloud CRM software, primarily available as a SaaS service, stores data on the service provider's servers. Since it is on the cloud, users can access it from anywhere in the world. Furthermore, another benefit of cloud CRM software is that the service provider ensures the seamless operation of the tool. They take care of the tool's maintenance, updates, and support.
Scalability is another critical benefit of cloud-based CRM software. When business requirements increase, your company can quickly expand the functionality of the software. Although, you will require a strong internet connection to access your cloud CRM software.
---
Essential Features of a CRM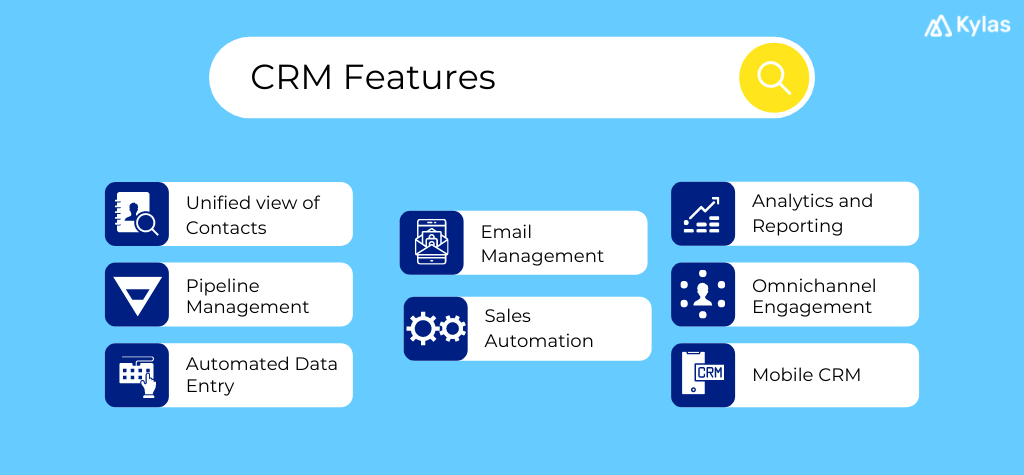 Choosing the right CRM software like Kylas can help boost sales, nurture leads, and maintain customer loyalty. The market has a wide range of software for different industries. However, how can you choose the right one for your company?
For starters, your CRM software should contain these essential features:
1. Unified View of Contacts
CRM software organizes all your contacts in one place. Thus, you don't need to maintain spreadsheets for the same because the tool comes with a dedicated interface giving you all your contact details in one place.
Besides contact details, your CRM software also contains all your customer interactions, including call recordings, emails, texts, and chats. You also get details about how your customers engage with your business, such as their activities on your website or if they have downloaded any marketing material.
The tool also contains details of emails or newsletters sent to your customers by your marketing team. You will also receive notifications about any tasks, appointments, or other notes about your customers.
Since the tool provides contextual information, it helps you create personalized communications to drive closure.
2. Pipeline Management
CRM tools are also capable of managing your deals and pipelines. You can look at your entire pipeline at a glance for more clarity on the status of your pipeline. A good CRM software will allow you to create multiple pipelines depending on your business requirements.
One look at your ongoing deals and pipeline will allow your sales and marketing teams to figure out what the day looks like. They can also prioritize customers leading to more deal closures.
Many modern CRM software is AI-driven, providing details about each stage and the best action to take. It can help you better manage your pipeline by forecasting sales, identifying roadblocks, if any, and helping you focus your efforts where you can get the maximum return.
3. Automated Data Entry
CRM software offers automated data entry, so your teams no longer have to waste time on mundane tasks. The tool automatically captures contact information received through website forms, emails, or live chat. Furthermore, you can add business profiles and social media information to better understand your prospects.
Your CRM tool can also automatically assign prospects to your salespeople, ensuring that they respond to queries quickly. Moreover, you can also segment your contact list, allowing you to target them using personalized communication.
4. Email Management
If your teams constantly switch between their emails and the software, it could be a waste of time. Hence, good CRM software comes with email integration capabilities, seamlessly integrating with Office365, Gmail, or other email clients.
Email management capabilities also allow you to create and save templates for sending standard responses.
You can also send bulk emails or schedule emails to reach your prospects at a particular time. Besides, the CRM tool can also help you measure your email campaigns' outcomes by analyzing click-through and open rates.
5. Sales Automation
You must perform several sales tasks repeatedly, such as sending invoice reminders. Furthermore, the actions are trigger-based, meaning that when the billing date is near, you send your customer a reminder email.
Thanks to its sales automation capabilities, your CRM software can perform such actions on your behalf at the required time. You can use it to automatically update the status of the deals, send reminder emails, or send welcome emails to new customers. You can also qualify leads, schedule follow-up emails, or create appointments, reminders, and other tasks.
6. Analytics and Reporting
Unless you can measure your performance, there is no way to improve it. Hence, your CRM tool gives you complete customer information in one place, you can generate various reports to make more informed business decisions.
You can generate and analyze sales and marketing reports, team performance, the performance of marketing campaigns, and more.
7. Omnichannel Engagement
CRM offers omnichannel engagement, meaning you can interact with your customers through various channels using the same tool. Thus, modern tools offer various communication channels, such as phone, email, Whatsapp, etc.
8. Mobile CRM
People nowadays use their mobiles to connect to the Internet more than any other means. Hence, the best CRM software offers a mobile app besides desktop software. With mobile CRM, your teams can always be on top of things, whether in the office or on the road.
---
Conclusion
CRM is a powerful tool that can supercharge your sales engine. Hence, now that you know its importance, it's time to take the next steps and find the right tool for your growing business.
One such CRM that can help you win more deals and keep customers happy and the sales team organized is Kylas. It is easy to use, intuitive and budget-friendly, and a complete package that can help your small business grow.
Start 15-day Free Trial