We can all agree that 'office work' in today's times is not restricted to sitting in stuffy cubicles for eight hours a day. Remote and hybrid models, flexible hours, and unconventional workplaces have transformed the landscape. Hence, the tools commonly used by working professionals have had to keep up with this change and evolve.
One of the leading examples of this evolution is that most work can now be done on mobile phones. An average smartphone user anyway spends up to 3 hours a day using the device. They can thus kill two birds with one stone by working on their mobile itself. However, will this compromise their quality of work and adversely affect the organization?
Not if you have mobile CRM! CRM is perhaps the most important tool for businesses and the best asset for all teams. Bringing the power of this software to a mobile device is a sure shot way to ensure that your teams are acing their tasks, no matter when or where they are working from. You can harness the power of mobile CRM and achieve exponential growth for your small business. We are here to help you do so, with a thorough guide on everything that you need to know about the use, case, benefits, and best choices of mobile CRMs.
Kylas is an enterprise-grade sales CRM, designed to help small businesses scale with expertise. It is easy-to-use, cost-effective, and available in both web and mobile mediums. To know more about how your business can grow with Kylas, get in touch with our experts!
What Is Mobile CRM?
Let us find the answer to this question through an example. Your sales team often needs to be out in the field to meet with clients, personally pitch to them, and try to secure a closure. They naturally cannot have every detail of the client memorized, and they will need to access some documents and data on-the-go. Besides, it is essential for them to give real-time updates to their teams regarding the status of the deal. We know that managing such tasks is one of the main capabilities of CRM platforms. Does that mean your salesperson should lug around a desktop with CRM installed on it everywhere he goes?
Mobile CRM eliminates the need for this by bringing CRM functionalities to devices like smartphones and tablets. You can gain the complete experience of using CRM while using your phone, without remaining tied to your desk. It is an application through which you can leverage the full power of your CRM setup through diverse gadgets. It is hence no surprise that the mobile CRM market is projected to grow at an annual rate of 13% between 2019-2029.
Since you now have a better understanding of the concept, some major benefits of mobile CRM become evident. It allows your teams to work irrespective of their location and ensures that your business operations carry on uninterrupted. The combination of these factors can empower you for maximum growth. Let us dive deeper into this and explore how mobile CRM boosts business growth.
---
How Does Mobile CRM Boost Business Growth?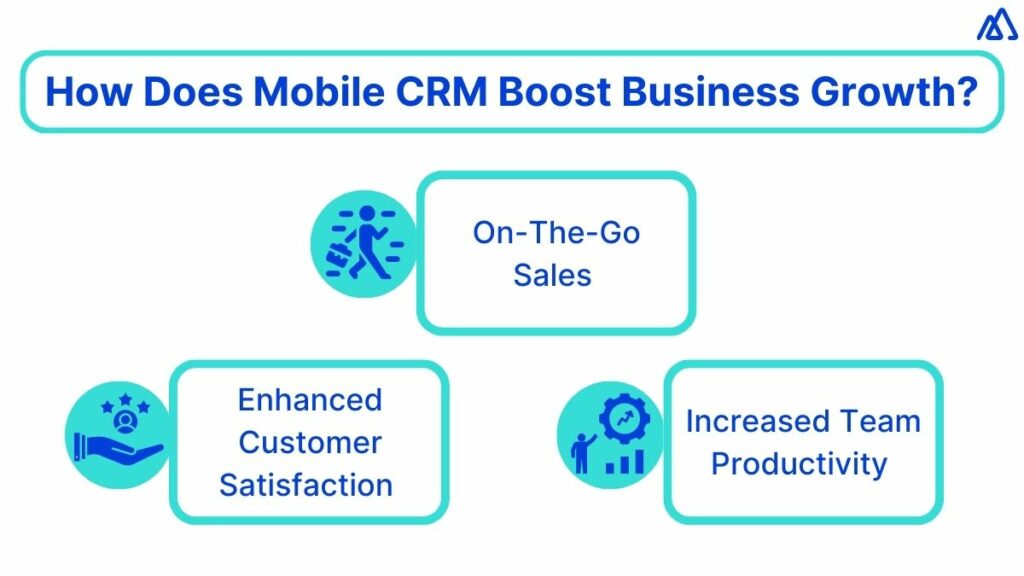 The benefits of CRM for a business are widely known and recognized. Mobile CRM can be likened to a portable, compact and convenient version of the basic software. However, it is no less than a desktop system. It comes with all the plus points linked to a CRM system, and even goes a step beyond to offer some unique benefits.
1. On-The-Go Sales
CRM helps you sell from within the four walls of your offices. But mobile CRM helps you make on-the-go sales and can increase sales productivity by almost 15%. Assume you are a sales rep out in the field and close to a sale. They ask you for a customized quote to seal the deal. Telling the prospect that you need to rush back to access your CRM and then preparing the quote might cost you the sale. Instead, mobile CRM lets you complete every task related to deal closures right then and there.
It shortens the sales cycle by eliminating delays in the execution of tasks. It empowers you to sell faster, thereby empowering you to sell more. Besides, your teams have all the necessary information to close deals at their fingertips. This also contributes to boosting your sales.
2. Enhanced Customer Satisfaction
Customers are the backbone of your business. Providing them with a top-notch experience should thus be your #1 priority. Having CRM on multiple devices ensures that your teams are always available to support your customers. You can offer quick responses and resolutions to their concerns. Such proactive measures are bound to create a positive impression of your brand and bring you repeat customers.
Additionally, you can monitor and track the entire customer lifecycle from your mobile. Such remote CRM access ensures that the specific tasks required at every touchpoint are executed without fail, thereby delighting your customers and strengthening relationships.
3. Increased Team Productivity
Having CRM on a smartphone expands its functionality. Your teams can do so much more with their phones besides using social media or taking photos! They can instead learn more about customers, track sales data, and monitor pipelines. This translates to increased team productivity and 50% of teams have experienced this benefit of mobile CRMs.
Your teams can work smarter, serve your customers better, and thereby generate optimum results. The success of a business is dictated by the success of its teams. Thus, having a highly productive workforce is in your best interests. However, your teams can also benefit from this. They can perform better, drive up their efficiency, and achieve all the targets set for them. Mobile CRM thus impacts your teams too, and we will elaborate on some of the ways in which it does so.
---
How Does Mobile CRM Empower Your Teams?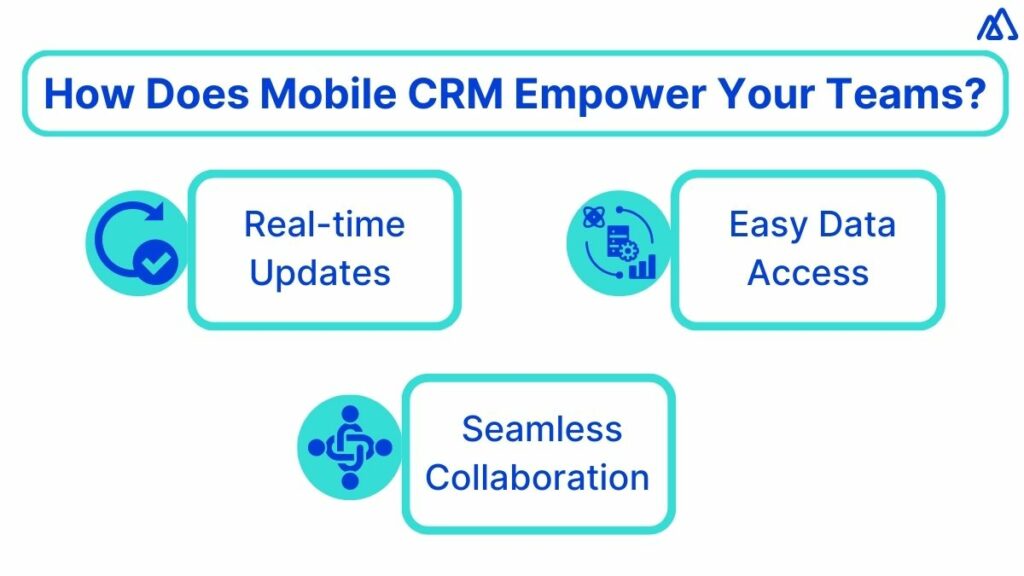 Various teams and their members are the building blocks of a business. If any software or tool benefits a business at large, it will also benefit the teams. Same goes for mobile CRM, which can transform the operations of teams and help them excel.
1. Real-time Updates
Imagine this- there's been an update in a prospect's deal, and you have a meeting scheduled with him. Your team member tries to call and message you with the update, but you unfortunately miss it. At the meeting, you will be unaware of the update and this confusion might hamper your chances of closing the sale.
That's why you need real-time updates on the status of every ongoing deal. Our mobiles are almost always with us, and crucial information from your CRM can be seen on it. Armed with these instant updates, you can organize and plan your tasks better to prevent any deals from falling through the cracks.
2. Easy Data Access
We've all heard the phrase knowledge is power. In the context of a business, your teams' knowledge stems from all the data that you collect. And it gives them the power to serve your customers better and bring in more revenue.
Mobile CRM acts as a compact, yet rich database with every bit of information that your teams might need, and which they can carry around with them. They can deliver exceptional work without being tied to their desks. Furthermore, the characteristic traits of data management in desktop CRMs, like easy storing and segmentation, are also present in the mobile version. Your teams can use this data to make better decisions.
3. Seamless Collaboration
CRM is a powerful tool for team collaboration. It creates a seamless network between all departments through which information easily flows and coordination is enabled. But does this mean that their collaboration should end when they step out of office and are no longer accessing the CRM?
This collaboration functionality is maximized by a mobile CRM. Since your teams will likely have their phones with them 24*7, it follows they can coordinate with each other all day, every day. Your teams can work together like a comprehensive unit to ensure your operations are smoothly running.
This myriad of advantages linked to mobile CRM is sure to have convinced you of the need for it. But it is not a guarantee that just about any tool will give you these benefits. You can truly transform your business only with the right software, and there are certain characteristics that can help you identify the same.
---
Characteristics of an Ideal Mobile CRM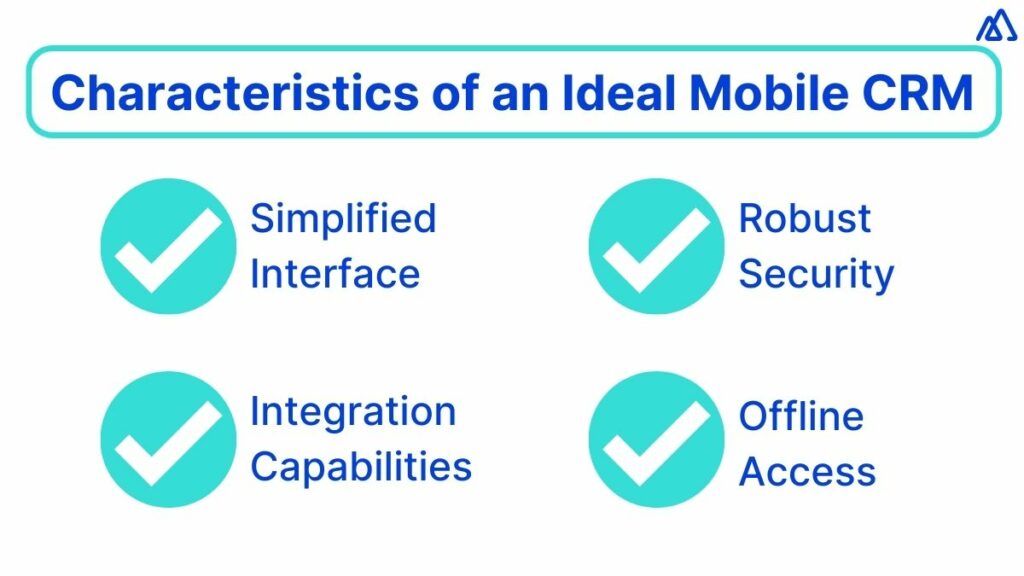 Before investing in a mobile CRM, there are some questions that you need to ask yourself.
"How comfortable will my teams be while using the software?"
"Can it offer all the capabilities of a desktop CRM?"
"Will it sync with the rest of my technology stack?"
The answers to these questions will impact your entire experience with the mobile CRM. Your business will benefit only if your teams actively use the software, and it aligns with your unique requirements. However, there are a few fundamental characteristics that are necessary for a mobile CRM, irrespective of your business type.
1. Simplified Interface
Many businesses struggle with CRM adoption because their teams simply cannot understand the software well. It becomes even more complicated when they have to navigate it on a tiny screen with numerous tabs and columns.
That's why your chosen tool must come with a simplified interface. It should be intuitive and easy to use. A complicated software deters your teams from using it, which defeats the very purpose of it. You can opt for a demo, or a free trial version of any mobile CRM that you are considering to ensure that it does not come with a steep learning curve.
2. Robust Security
What if one of your team members misplaces their phone, and valuable client data falls into the wrong hands? Attempting to explain this to your customer is sure to create a red flag in their mind against your brand.
Security is a crucial aspect even for a desktop CRM, but it assumes more importance in the case of a mobile CRM. After all, misplacing a phone or tablet is much easier than misplacing a computer. Hence, you need robust application security and encryption that can safeguard all your business secrets stored within it. Inquire with your sales representative about the data security practices and measures that they adopt to verify that you are investing in a secure product.
3. Integration Capabilities
Integrations can grow the power of your CRM multifold. Your mobile CRM too should support integration with the other software and applications used for your business processes.
Let us understand why this is important. Your CRM data will tell you that you need to send an email to a prospect. Instead of shuffling back to your desktop to execute the action, your mobile CRM should integrate with your emailing software and allow you to send mails through your phone itself. The product website can give you details on the type of integrations it supports to help in your decision-making.
4. Offline Access
If your CRM is on your mobile, lack of internet connection can be a major problem. The primary aim of having mobile CRMs is that your teams can work from anywhere. It should ideally enable them to work even without the internet, which is possible through offline access.
Your teams can fully make use of the mobile CRM only with offline compatibility. They should be able to view data, update pipelines, or raise tasks even without being connected to the internet. Reading customer reviews on various platforms like G2 or Software Suggest can give you information regarding this aspect. Alternatively, you can find out from your sales representative or the product website.
You now have a checklist ready to find the right features in your mobile CRM. To make your work even easier, we have compiled a list of the best mobile CRMs for 2023 that you can consider.
---
Best Mobile CRMs for 2023
1. Kylas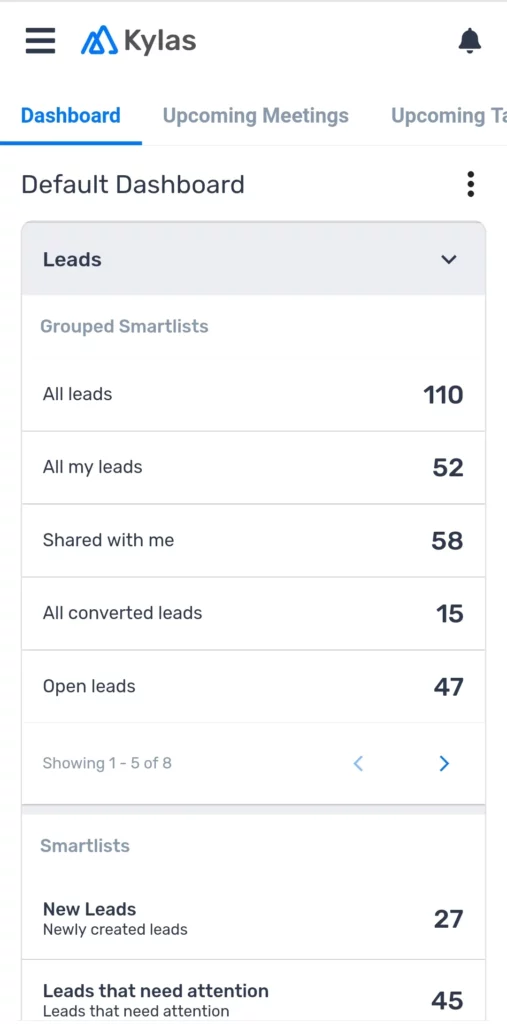 You can use the Kylas Mobile App to scale your business from your phone. It enables you to effortlessly manage your leads and deals, and access sales data while on the move. The clean and intuitive interface makes it easy for even CRM novices to use the app. Besides, all relevant functions like coordinating with teams, logging and recording calls, etc. can be accessed with a single click.
.
.
These factors will encourage your teams to use this mobile CRM more, since they do not have to dedicate long hours simply to understand it's working. A USP is that if your teams still face any challenges, Kylas's support team is there for you every step of the way.
.
.
Pricing: Elevate Plan for INR 12,999/month for unlimited users
---
2. HubSpot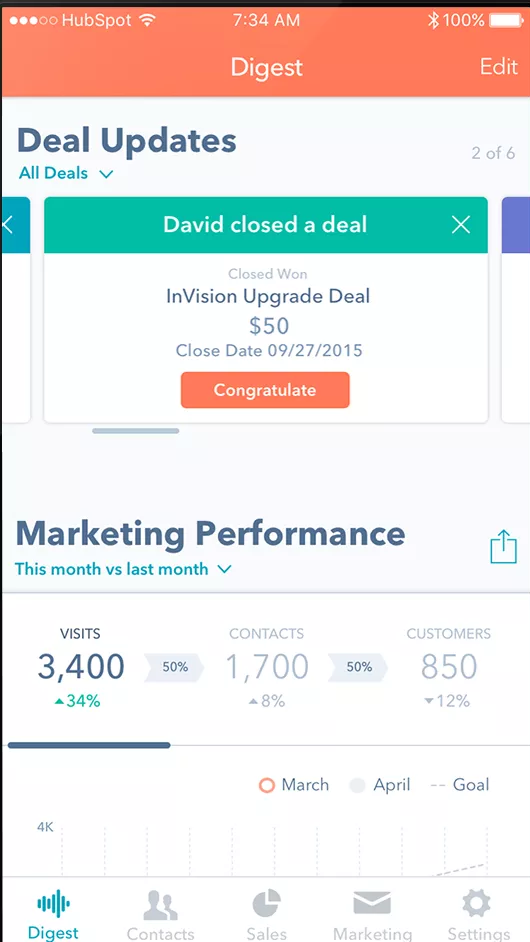 The full range of Hubspot's robust functionalities has been made available in its mobile application. It can be suitable for every department, ranging from marketing to customer support. Businesses can use this single app to streamline almost every facet of their daily processes.
.
.
It is definitely a plus point of Hubspot that it has multiple solutions on a single platform. However, this can fast become a downside when it comes to interface simplicity. Your teams can do everything from the mobile app, but it might prove to be very difficult for them to do so.
.
.
Pricing (for Sales CRM): ₹37,000/month/billed yearly for 5 users OR ₹98,000/month/billed yearly for 10 users
---
3. Sugar CRM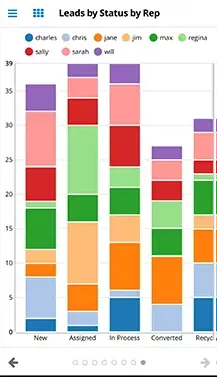 Sugar mobile CRM is an efficient way for you to stay connected without having to stay at your desk. It comes with a rich feature set for end-to-end business management. The app consolidates all these capabilities into a compact and unified platform.
.
.
This poses a challenge for the usage of the software. The user interface is complicated because it accommodates these numerous features, thereby steepening the learning curve. However, if you are looking for a highly customizable software that reflects your business's specific needs, Sugar is a viable option for you.
.
.
Pricing (for Sales CRM): ₹20,060/month/billed yearly for 5 users OR ₹40,120/month/billed yearly for 10 users
---
4. Zendesk Sell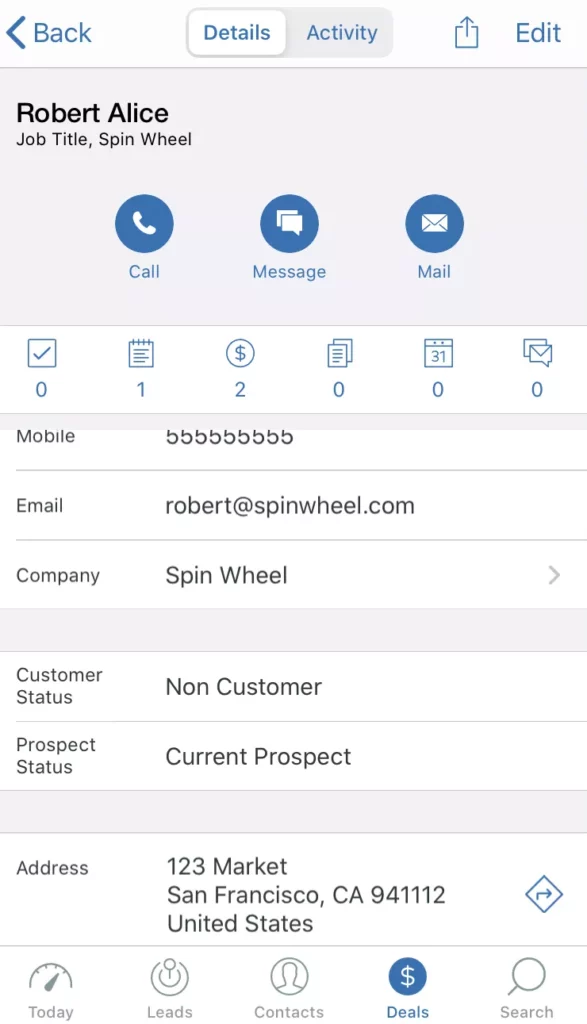 Making sales on-the-go is easier with Zendesk Sell. Designed for seamless mobility, it can empower your teams in the field. Your entire sales cycle, including specific tasks like lead, deal, meeting, and appointment management can be carried out through the platform.
.
.
Because it is sales-centric, the app comes with a more compact feature set that is easy to understand. The interface too is clean and minimalistic, thereby encouraging teams to make use of it. However, an obvious downside to this is the limited marketing and support capabilities of the app.
.
.
Pricing: ₹20,060/month/billed yearly for 5 users OR ₹40,120/month/billed yearly for 10 users
---
5. Leadsquared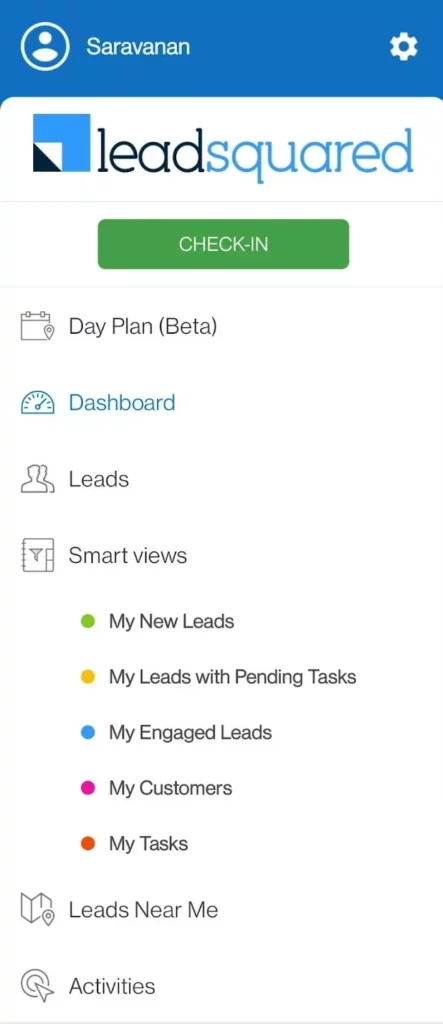 You can level up the efficiency and management of your field sales with Leadsquared. It has features especially suited to create a highly productive field force. These include automated day schedules, location history tracking, and upsell/cross sell insights.
.
.
If your business relies a lot on your teams being out in the field, this mobile CRM is your best bet. Consequently, if you are looking for an all-in-one solution to handle multiple aspects, Leadsquared's app will fall short in that respect.
.
.
Pricing: Customizable as per your requirements
---
Conclusion
As promised, we have delivered a complete guide on mobile CRMs that can make you an expert on the subject. Right from its benefits to the best options available in the market- you know it all! All you need to do now is apply this knowledge to leverage its potential for growing your business.
Start 15-day Free Trial