As your business grows, so does your database. Storing your data in random notes and spreadsheets can lead to losing track of records, which can be both time-consuming and costly. In fact, statistics show that 94% of companies that experience severe data loss never fully recover.
To avoid this potential setback, it's crucial to consider implementing a customer relationship management (CRM) system.
Admittedly, at first glance, a CRM system may appear complex due to the various options for customization. However, these options only seem confusing until you understand their purpose and how to leverage them to your advantage. Once you grasp how to effectively use CRM, you'll realize that it's precisely what your business has always needed.
Continuing reading to discover how you can effectively utilize CRM for your growing business.
Kylas sales CRM is an enterprise-grade CRM that you can consider for your business operations. It's easy to use and offers all the features that every growing business needs.
---
Know Why does your Business Need a CRM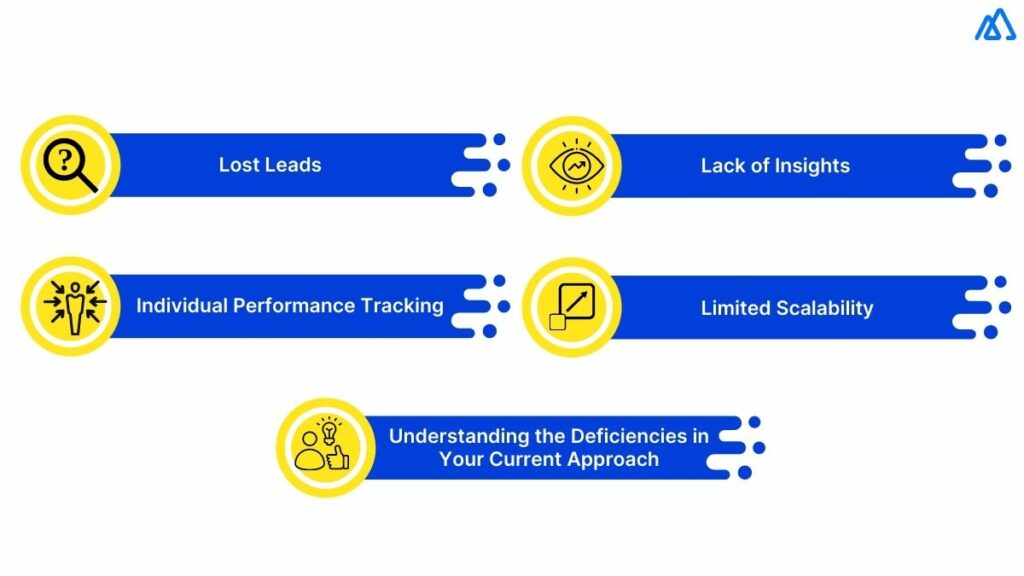 According to statistics, 57% of businesses consider CRM platforms as the most valuable software. However, some business owners may argue that spreadsheets are sufficient for their needs. They question why they should switch to a CRM, which requires learning from scratch and spending their hard-earned savings.
For these skeptical business owners, here are some compelling reasons to abandon spreadsheets and notes as soon as possible:
Lost Leads: Relying on data sheets often leads to forgetting to follow up with potential leads at the right time, resulting in missed opportunities.
Lack of Insights: Without a CRM, it becomes challenging to determine what strategies are working well for your business and identify areas that require improvement.
Individual Performance Tracking: Spreadsheets don't provide visibility into the individual performance of your sales team members, making it difficult to evaluate their effectiveness.
Limited Scalability: Scaling a business becomes increasingly challenging when relying on manual data management methods, hindering growth potential.
Understanding the Deficiencies in Your Current Approach: It becomes important to explore the benefits of using a CRM to address these issues effectively.
Now that you know your business is lacking in some areas, you probably need to know the benefits of using a CRM to be sure about it.
---
What are the Benefits of Using a CRM for Small Businesses?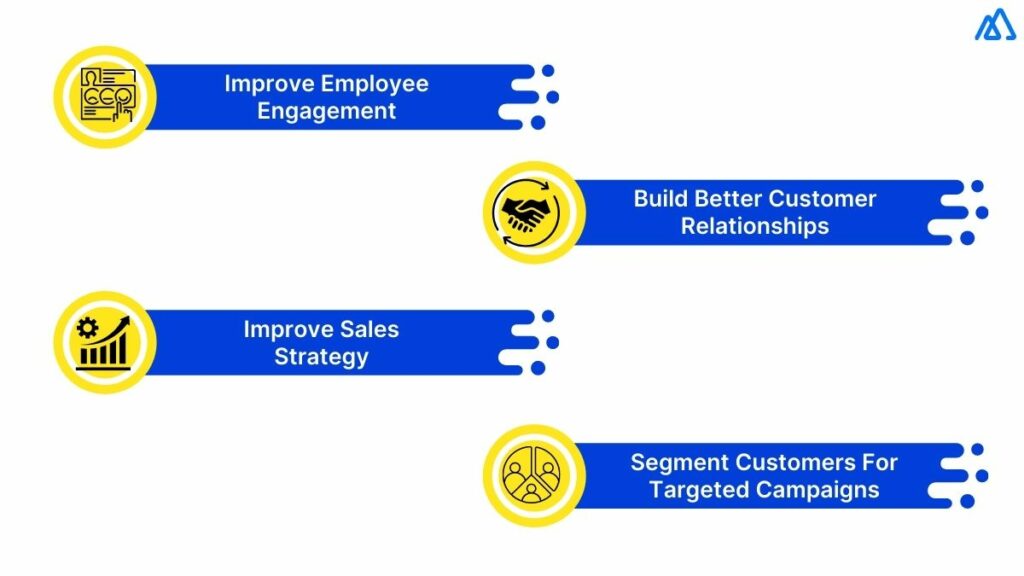 It might seem like a big investment for a business that is going to invest in a CRM for the first time. But once you know how CRM can help you manage your business and keep your customers happy, you will know that you are making the right decision.
1. It Helps Build Better Customer Relationships.
Regardless of the business size, customers are at the center of it all. A CRM tool like Kylas helps you build strong relationships with your customers by making all the customer data available at your fingertips so that you know what your customer is looking for and what you must talk to them about.
2. It Improves Employee Engagement.
As the CRM can automate all the mundane, tedious data-entry tasks, your team will be as happy and satisfied as your customers. When they will feel more valued, they will be more productive.
3. It Helps Improve Sales Strategy.
A CRM provides analytics and reporting features to give you deeper, actionable insights into your sales process. This allows you to identify the loopholes and bottlenecks in the process and modify the strategy with time.
4. It Segments Customers for Targeted Campaigns.
A CRM can help you segment your customers and leads into specific lists based on various criteria you set. Based on that, you can create targeted campaigns that will appeal to these different sections of buyers.
By now, you would have known that a CRM is not a fancy business tool that only big businesses need. But it is an important tool that small businesses require equally. So, it's time that you consider buying a CRM for your business and making the most of your leads.
---
How to Use CRM Effectively to Close More Deals?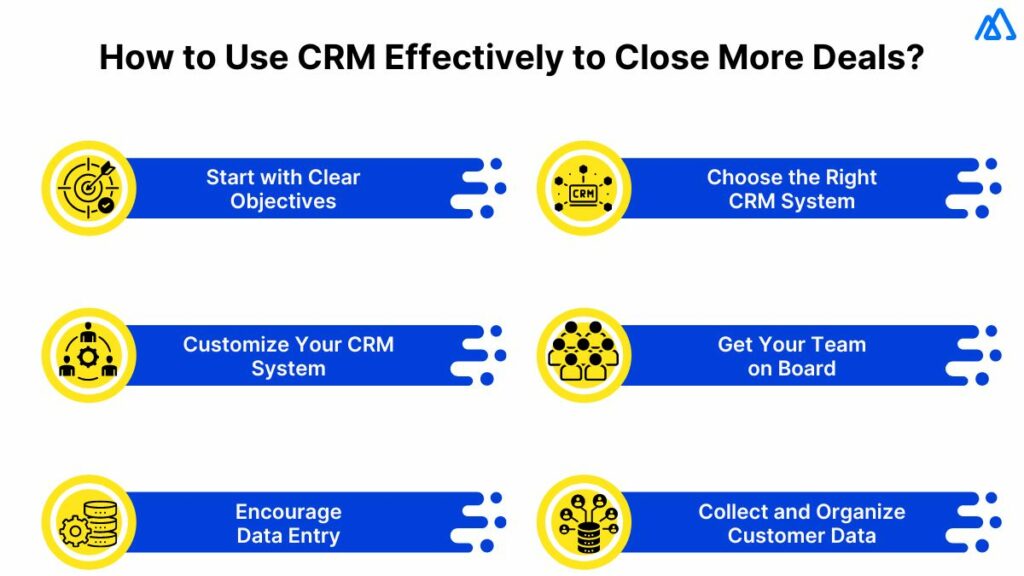 A CRM can benefit you only if you can use it to its full potential. Here is how to use CRM and put it to work effectively for your business.
1. Start with Clear Objectives
Before you start using a CRM system, it's important to have a clear idea of what you want to achieve with it. Are you looking to improve your lead generation process? Do you want to increase sales productivity? Are you aiming to improve customer retention? Identifying your goals and objectives will help you choose the right CRM system and customize it to meet your needs.
2. Choose the Right CRM System
There are many CRM systems available, and choosing the right one for your business can be overwhelming. Look for a CRM system that is user-friendly, customizable, and provides the features you need. Consider your budget and the size of your business when selecting a CRM system. You may want to start with a basic system and upgrade as your business grows.
3. Customize Your CRM System
To get the most out of your CRM system, customize it to match your business processes. For instance, with Kylas you can easily identify the data you need to track and the workflows you want to automate. You can also customize your CRM system to match your sales funnel, so you can move leads through the pipeline more efficiently. You can also create templates for emails and other communications to save time and ensure consistency.
4. Get Your Team on Board, Train Them, and Collaborate
Implementing a CRM system requires a team effort. Make sure everyone on your team understands the benefits of using a CRM system and is willing to embrace it. Provide training and support to ensure everyone knows how to use CRM effectively. Encourage your team to share customer data and insights, so you can get a complete picture of your customer interactions. Provide comprehensive training and resources on how to use the CRM effectively.
A CRM like Kylas can help you collaborate more effectively by providing a centralized platform for customer data, sales activities, and customer feedback. By sharing information and insights in real time, you can work more efficiently and improve your overall productivity.
5. Encourage Data Entry
The success of a CRM system depends on the quality and quantity of data entered into it. Encourage your team to enter data consistently and accurately, such as contact details, notes, and interactions. You can also use techniques, such as rewards or recognition, to incentivize data entry. The more accurate the data entry, the better the insights.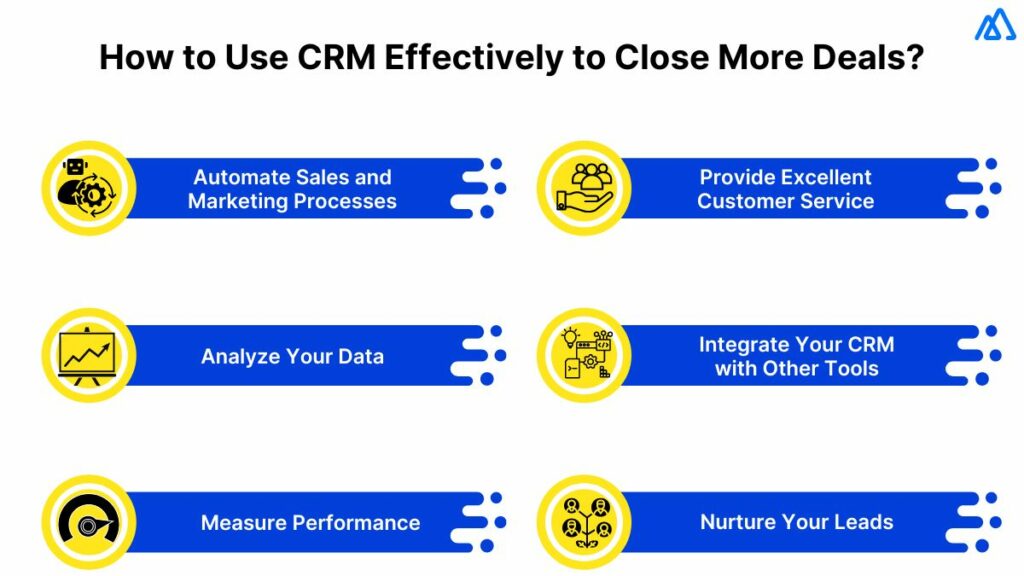 6. Collect and Organize Customer Data
The key to effective CRM is collecting and organizing customer data. This includes basic contact information, such as name, email address, and phone number, as well as more detailed data, such as purchase history, communication preferences, and social media activity. Use tags and segments to group customers by interests or behavior, so you can tailor your marketing messages to their needs.
7. Automate Sales and Marketing Processes
One of the most significant benefits of a CRM system is the ability to automate sales and marketing processes. Kylas sales CRM lets you automate lead generation, follow-up emails, and lead nurturing campaigns. Set up workflows to move leads through the sales pipeline, and automate tasks such as appointment scheduling and proposal creation. By automating these processes, you can save time and focus on closing more deals.
8. Provide Excellent Customer Service
A CRM system can help you provide excellent customer service by tracking customer interactions, resolving customer issues quickly, and providing personalized support. Use your CRM system to track customer communication and create a history of each customer's interactions with your business. Use this information to provide personalized support and anticipate customer needs.
9. Analyze Your Data
To make informed business decisions, you need to analyze your data. Use your CRM system to analyze customer data, such as sales and marketing metrics, customer engagement, and customer satisfaction. Use this data to identify trends and patterns, and make adjustments to your sales and marketing strategies accordingly.
10. Integrate Your CRM with Other Tools
To maximize the benefits of your CRM system, integrate it with other tools and platforms. This includes integrating your CRM with your marketing automation platform, email marketing software, and social media accounts. By integrating these tools, you can streamline your sales and marketing workflows and improve your overall productivity. For instance, Kylas lets you integrate Google Ads, Facebook, Just Dial, and Indiamart to capture leads automatically.
11. Measure Performance
A CRM system provides valuable insights into your sales and marketing performance. By tracking metrics like conversion rates, sales velocity, and customer lifetime value, you can assess the effectiveness of your strategies and make data-driven decisions. You can also identify areas for improvement and adjust your tactics accordingly. Moreover, you can generate reports and dashboards to visualize your data and share it with your team.
12. Nurture Your Leads
Lead nurturing is a critical component of successful sales and marketing. A CRM can help you nurture your leads by automating email campaigns, tracking customer interactions, and providing personalized content at each stage of the sales funnel. By providing valuable information and building relationships with your leads, you can increase your chances of closing more deals.
---
Conclusion
Using a CRM effectively can be a game-changer for small businesses. By centralizing customer data, automating routine tasks, improving lead management, streamlining sales processes, and personalizing communication you can achieve success in your operations.
Schedule your demo with Kylas to find out how it can help you stay aligned with your business processes and improve customer interactions.
Start 15-day Free Trial