From the technology powering our smartphones to automated driving features in cars, the progress of AI in our lives has been unnoticeable. And now, it has captured our imagination and we can't help but rely on it to keep making our lives simpler.
As the new set of generative AI applications can perform a number of tasks, most businesses see it as their productivity frontier.
The way businesses interact, create, and innovate has been overtaken by Generative AI. According to a McKinsey survey, AI adoption has more than doubled in the last five years. The use of generative AI is wide and far-reaching.
So, let's find out what generative AI is and why you should care about it if you are running a business.
---
What Is Generative AI?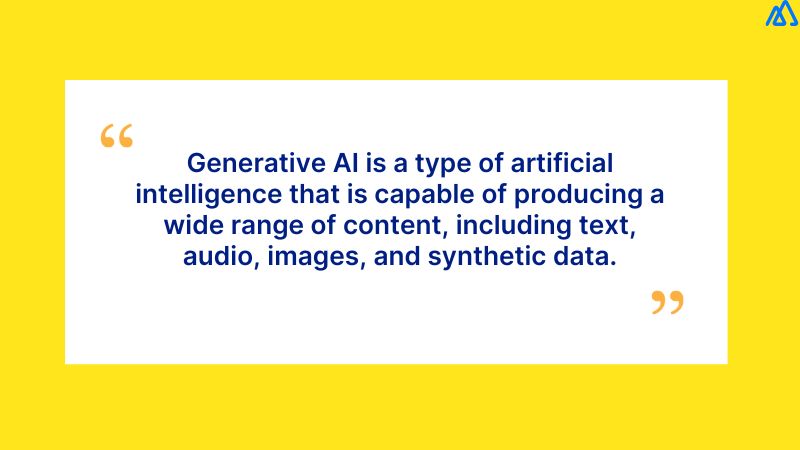 In simple terms, generative AI is a type of artificial intelligence that is capable of producing a wide range of content, including text, audio, images, and synthetic data. Unlike traditional AI systems that are dependent on predefined rules, generative AI uses complex neural networks to identify the patterns and structures within existing data sources and generate original results.
The recent buzz around generative AI is because of its simplicity in creating high-quality content in a fraction of a second. Although the technology of generative AI was introduced back in the 1960s when chatbots became popular, it was in 2014 that generative adversarial networks (GANs) were introduced to create authentic content. And by 2022, 35% of the organizations had integrated generative AI into their business models.
---
How can Generative AI Help your Business Operations?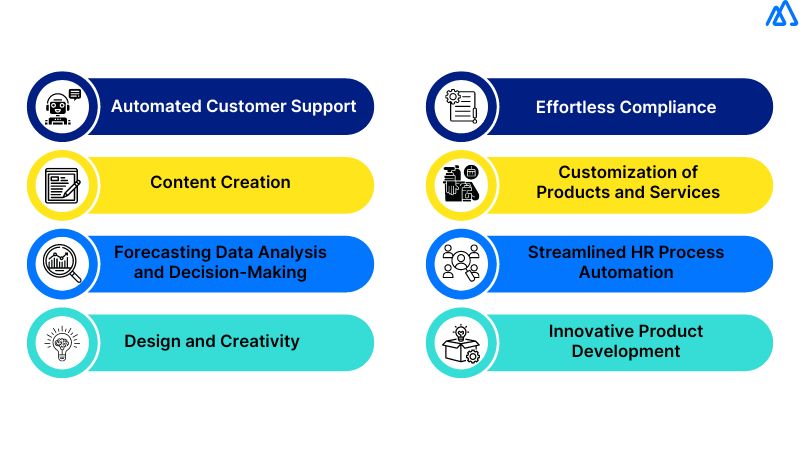 A recent McKinsey report suggests that Generative AI could contribute to an equivalent of $2.6- $4.4 trillion in productivity growth to the economy. This shows the bright future of generative AI for businesses. However, it's essential that businesses think about using beyond their capabilities to create unique content. It offers a broader set of applications that every business can utilize for their business operations.
Let's take a look at how generative AI can help you with your business operations.
1. Automated Customer Support
Generative AI can play a pivotal role in revolutionizing businesses' approach to automating customer support. It can transform how businesses interact with their customers and enhance their overall customer experience.
One of the most notable advantages is generative AI's ability to create and deploy intelligent chatbots and virtual assistants that can interact with customers in real time. These AI-driven systems can be used 24/7, which further ensures round-the-clock support and rapid responses to all types of customer queries.
Also, these generative AI-powered bots can understand and interpret a wide array of customer inquiries, from simple frequently asked questions to more complex issues. On the basis of the data available, they can troubleshoot problems, deliver immediate solutions, and even guide customers through step-by-step processes all by themselves.
When these routine interactions are automated, businesses can significantly reduce response times alleviate the burden on human customer support agents, and free them to focus on more intricate and sensitive customer concerns.
Moreover, generative AI keeps grasping from interactions and improves over time. Through natural language processing and machine learning, it becomes more adept at understanding context, refining answers, and adapting to ever-changing customer needs. The learning capability of generative AI is sure to enhance the accuracy and effectiveness of automated responses, ultimately leading to higher customer satisfaction levels.
Let us not forget how well it can keep up with consistency in service. Each customer interaction can be handled as per the predefined company policies and brand voice. It will ensure a uniform experience regardless of the time of day or volume of inquiries. After all, for every business, consistency reinforces brand identity and fosters trust among customers.
Along with this, generative AI can also help with certain aspects of lead management. For instance, AI can analyze lead data and interactions to determine the likelihood of conversion.
By combining the efficiency of AI with the finesse of human touch where needed, businesses can deliver a more efficient, responsive, and personalized customer support journey that ultimately leads to improved customer loyalty and retention.
2. Content Creation
Generative AI harnesses sophisticated algorithms and machine learning capabilities to automate the production of a wide array of textual content. This works significantly well for industries characterized by high content demands, including marketing, publishing, and e-commerce.
Generative AI accelerates content generation by producing articles, blog posts, and product descriptions at an unprecedented speed. This is far surpassing what human writers can achieve. Plus, it can create bulk content in a matter of a second, hence, ensuring a steady supply of high-quality material for platforms with extensive content needs.
Moreover, it promotes diversity by effortlessly generating content on various topics and catering to distinct audience segments. Notably, generative AI can be fine-tuned to maintain a consistent brand voice and style across all generated content, reinforcing brand identity. Liberating human writers from routine tasks and optimizes resource allocation. Consequently, they can focus on more imaginative and strategic aspects of content development.
It can also create relevant and engaging content for lead nurturing, such as personalized emails, blog posts, social media updates, and more. The personalization of content is also within reach; as generative AI seamlessly integrates user data to create tailored content pieces.
3. Forecasting Data Analysis and Decision-Making
Generative AI empowers organizations to extract valuable insights from complex datasets and make informed strategic choices. One of its primary benefits lies in the fact that it can identify patterns and trends within large volumes of data that might be challenging for human analysts to discern.
It employs advanced machine learning algorithms to analyze historical data and predict future outcomes with a degree of accuracy. This is particularly valuable in industries where precise forecasting is critical, such as finance, supply chain management, and marketing. Businesses can leverage these predictions to optimize their resource allocation, inventory management, and marketing campaigns, ultimately increasing operational efficiency.
Furthermore, generative AI provides a data-driven foundation for decision-making. Generating forecasts and insights equips business leaders with the necessary information to make well-informed decisions that align with their long-term goals. This technology reduces reliance on intuition and subjective judgments, replacing them with evidence-based decisions that carry a higher probability of success.
In addition, generative AI excels in scenario analysis, allowing businesses to simulate the potential impact of different decisions under various conditions. This "what-if" analysis aids in risk assessment and strategic planning, providing a clearer understanding of potential outcomes and helping organizations prepare for different contingencies.
However, it's important to note that while generative AI is a powerful tool, human expertise is crucial in framing the questions, interpreting the generated insights, and considering the broader context. The collaboration between AI-generated predictions and human intuition leads to more effective decision-making.
By augmenting human expertise with data-driven predictions, businesses can make more accurate forecasts and strategic decisions that drive success in an increasingly competitive landscape.
4. Design and Creativity
Generative AI introduces innovative possibilities that expand the horizons of artistic expression and design processes with the help of its computational abilities. One of its key contributions lies in aiding artists, designers, and creators in brainstorming and ideation. It can generate a plethora of unique and imaginative ideas based on input parameters and act as a wellspring of inspiration for new projects.
In addition, generative AI assists in the creation of intricate and personalized designs. It can analyze vast datasets, identify trends and preferences, and translate this information into tailor-made designs that resonate with specific target audiences. This level of customization enhances customer engagement and satisfaction by offering products and visuals that align precisely with individual tastes and preferences.
Furthermore, generative AI nurtures a collaborative environment between human designers and machines. Designers can integrate AI-generated elements into their work, refining and evolving them to fit their artistic vision. This synergy pushes the boundaries of creativity, leading to the creation of hybrid designs that meld human ingenuity with AI's algorithmic capabilities.
Generative AI's potential is particularly prominent in fields like architecture, fashion, and graphic design. It enables the production of complex patterns, architectural blueprints, and fashion concepts that push conventional limits. While AI can generate ideas and designs, human intervention remains essential to curate, refine, and select the best concepts for realization, ensuring that the final output is aligned with the brand's identity and the creator's intent.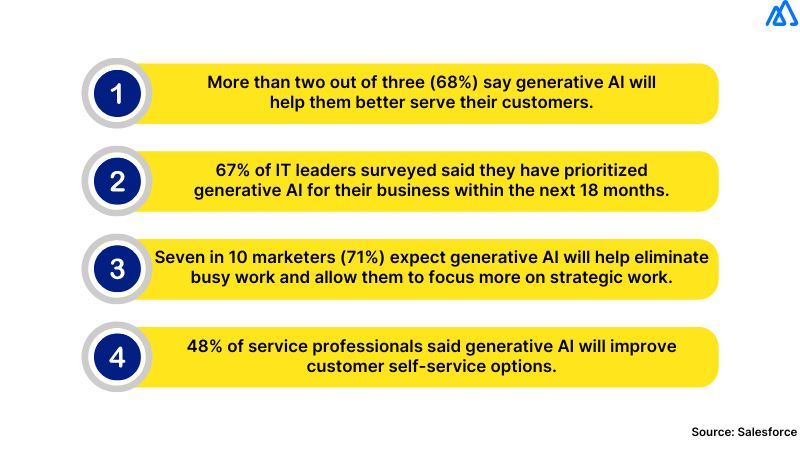 5. Effortless Compliance
Generative AI helps ensure that businesses meet compliance requirements in a streamlined and efficient manner. One of its key contributions lies in automating the generation of documents, reports, and materials that adhere to specific regulatory frameworks.
Generative AI meticulously incorporates the necessary elements and information required for compliance into the generated content. This reduces the risk of human error and ensures that documents consistently adhere to the prescribed formats and guidelines. As a result, businesses can navigate complex compliance landscapes with greater precision and reduced operational risks.
Moreover, generative AI accelerates the compliance process by rapidly producing the required materials. This is particularly valuable for industries that deal with intricate and evolving regulations, such as finance and healthcare. It enables businesses to adapt swiftly to changing compliance requirements, ensuring that they remain up-to-date and avoid potential penalties.
Furthermore, it supports internal consistency by generating materials that reflect a uniform approach to compliance across different departments and functions. This consistency enhances collaboration, communication, and alignment within the organization, minimizing discrepancies and ensuring that everyone is on the same page.
However, it's important to note that while generative AI streamlines compliance efforts, human oversight remains essential. Legal experts and compliance professionals play a vital role in defining the rules and parameters for AI-generated content to ensure that it accurately reflects the nuances of regulations and guidelines. It reduces errors, expedites the compliance process, and fosters internal consistency, ultimately helping businesses navigate regulatory challenges more effectively and with greater confidence.
6. Coding
Generative AI can analyze existing codebases and generate new code snippets that are tailored to specific requirements. This can help developers speed up their work by providing suggestions, templates, or even entire sections of code that align with the project's needs. These generated code segments can be precise, optimized, and follow best practices.
Also, by automating certain aspects of code creation, generative AI can enhance development efficiency. Developers can focus on higher-level architecture and problem-solving while letting AI handle repetitive or routine coding tasks.
Moreover, AI-powered coders can minimize the chances of human errors. The generated code is less likely to have syntax or logic errors, leading to a reduction in bugs and issues in the final product.
Additionally, AI can adapt its generated code to specific business needs, taking into account the context and requirements of the project. This customization can lead to more tailored and effective solutions. It can also help in code review and quality assurance. By analyzing code for potential issues, bugs, or vulnerabilities, AI tools can aid developers in identifying problems early in the development process, saving time and resources.
Over time, generative AI can learn from patterns in existing codebases and improve its ability to generate accurate and efficient code. This iterative learning process can lead to more advanced and sophisticated code generation.
7. Customization of Products and Services
Generative enables companies to tailor their offerings to the unique preferences and needs of individual customers using advanced algorithms and data analysis. One of its key benefits is that it analyzes vast amounts of customer data, including purchase history, behavior, and preferences, to generate personalized recommendations.
Generative AI-driven customization enhances the customer experience by providing options that align precisely with individual tastes. Whether in e-commerce, product design, or service offerings, businesses can create bespoke solutions that resonate with customers on a personal level, increasing engagement and satisfaction.
Moreover, generative AI allows for real-time adaptation. By analyzing customer interactions and feedback, businesses can continuously refine and adjust their offerings to meet evolving customer preferences. This agility fosters customer loyalty and sustains long-term relationships.
Generative AI also excels in helping businesses create unique variations of products and services. For instance, it can generate different versions of a product based on input criteria, thereby enabling customers to choose from a range of customized options.
However, it's crucial to maintain the right balance between automation and human touch. While generative AI generates recommendations, human intervention is crucial to ensure that the final customization aligns with customer expectations and brand identity.
8. Streamlined HR Process Automation
Generative AI can help transform various HR tasks into efficient and error-free processes, freeing up HR professionals to focus on strategic initiatives.
It can help in automating routine and time-consuming tasks like resume screening and candidate matching. Such systems can analyze resumes and applications and identify key qualifications and skills that match job requirements. This accelerates the recruitment process by swiftly shortlisting candidates who are the best fit for the roles. Thus, enabling HR teams to spend more time evaluating top candidates.
Furthermore, generative AI facilitates the automation of internal communications within organizations. It can generate employee onboarding documents, training materials, and announcements, ensuring that consistent and accurate information is disseminated across the company.
Moreover, generative AI enhances the efficiency of performance evaluation processes. It can assist in analyzing employee performance data, and identify trends and patterns that may not be immediately apparent. This data-driven approach provides insights for HR professionals to make informed decisions about employee development and growth opportunities.
Additionally, generative AI fosters greater accuracy in HR operations. By automating tasks like payroll processing and attendance tracking, it minimizes the potential for human error, ensuring that employees are compensated correctly and administrative tasks are handled smoothly.
However, it's essential to strike a balance between automation and the human touch. While generative AI streamlines processes, human intervention remains critical for tasks that involve empathy, nuanced decision-making, and interpersonal interactions.
9. Innovative Product Development
Generative AI is truly a game-changer that can significantly improve businesses' innovative product development processes. It can help redefine the boundaries of creativity and offer new avenues for ideation and design that no one thought about before. Idea generation may seem less challenging when businesses can get assistance in brainstorming and conceptualizing novel product concepts.
Depending on the market trends, customer preferences, and existing product data, generative AI can generate a multitude of innovative ideas. By accelerating the initial stages of product development, AI technology can spark inspiration and push companies to explore unique and cutting-edge possibilities.
In addition to this, generative AI aids in rapid prototyping. It can generate 3D models, visual concepts, and even virtual prototypes based on input criteria. This can facilitate visualization and enable businesses to iterate on designs quickly, reducing the time and costs associated with physical prototyping.
Moreover, generative AI supports iterative design processes. It can provide multiple design variations based on specific parameters, allowing designers to experiment with different options and explore design alternatives before finalizing a concept.
Generative AI also encourages cross-disciplinary collaboration. It can assist designers, engineers, and other teams in co-creating innovative products by offering input from various perspectives and generating designs that cater to multiple requirements.
However, it's important to note that while generative AI enhances innovation, human expertise remains vital. Human designers and engineers bring artistic sensibilities, domain knowledge, and critical thinking that ensure AI-generated ideas align with brand identity, user needs, and technical feasibility.
---
What Else Can Generative AI Help Businesses with?
There is undoubtedly a lot more that Generative AI can do for your business. Hear what the industry experts have to say about it.
---
Final Thoughts
The integration of generative AI into your business operations holds the potential to usher in a new era of efficiency, creativity, and strategic decision-making. With its ability to automate tasks, personalize experiences, and generate innovative solutions, generative AI can reshape the way your organization operates and interacts with customers.
Nonetheless, as with any transformative technology, it's imperative to approach its adoption thoughtfully. Balancing the benefits with ethical considerations, data security, and maintaining human oversight is key to realizing the full potential of generative AI while upholding the quality and integrity of your business processes.
By strategically planning and adapting this technology to your unique needs, you can harness the power of generative AI to drive growth, enhance customer satisfaction, and stay ahead in a dynamic and competitive landscape.
Start 15-day Free Trial