Let's visualize an average day of a salesperson. Their workday is largely comprised of making calls or sending emails for follow-ups. Additionally, they must keep track of the status of numerous leads, manually record data, and perform dozens of other administrative tasks. However, where among all this can they find the time to pitch to potential clients and make sales?
70% of employees spend 45 mins – 3 hours of their 8-hour workday on repetitive tasks. Consequently, their rate of closing deals is bound to take a hit if they simply do not have the time to focus on it. Although, what if there was a way to free up the precious bandwidth of your sales staff? The answer lies in sales automation software! It is a way to ensure that your sales workflow runs seamlessly and that your sales staff is directing their time toward closing sales. Sales automation drives productivity in your organization and is crucial for its growth.
This blog aims to give you an understanding of what sales automation software is, and why your business needs it. Besides, we have also prepared a guide for you to choose the best software for your business, and scale your growth!
Kylas is a robust sales CRM system that helps growing businesses scale with expertise. It is effective and affordable software and also automates your sales processes from end to end. 
---
What is Sales Automation Software?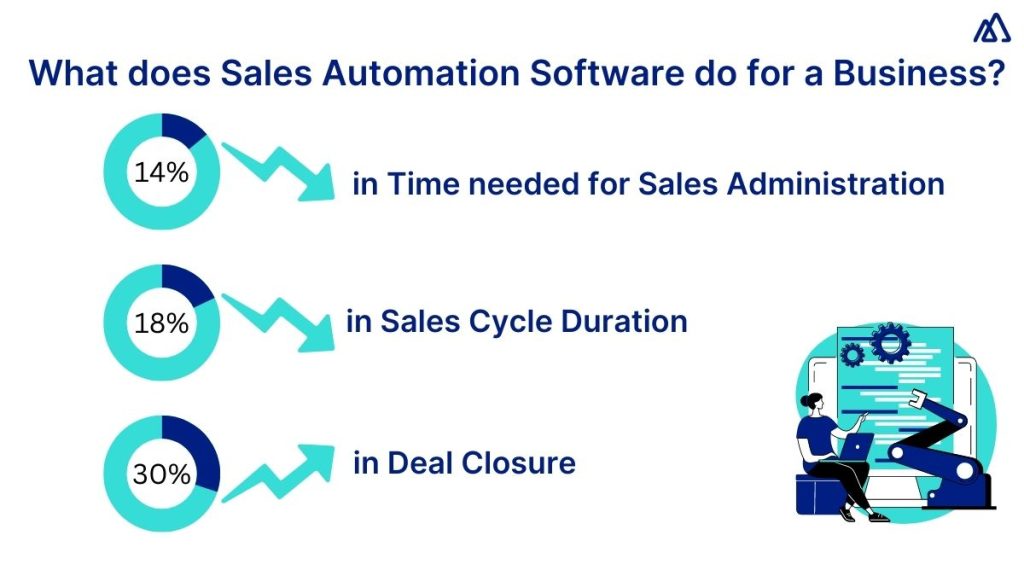 Sales automation software is a tool that enables you to automate all tasks and activities that comprise your sales process. It takes over all redundant and time-consuming tasks and streamlines them to enhance productivity. Besides increasing efficiency, it also optimizes the quality of your operations. With such software in place, all tasks are carried out in the same manner, at the same time, with no scope for human errors. Hence, it is no surprise that 76% of businesses use automation to streamline their sales processes.
Sales operations are not comprised of a single task. Instead, they have numerous processes that must work together. Sales automation software hence comes with a variety of features that align with every task included in the sales process. Let us explore these features.
---
What are the Key Features of Sales Automation Software?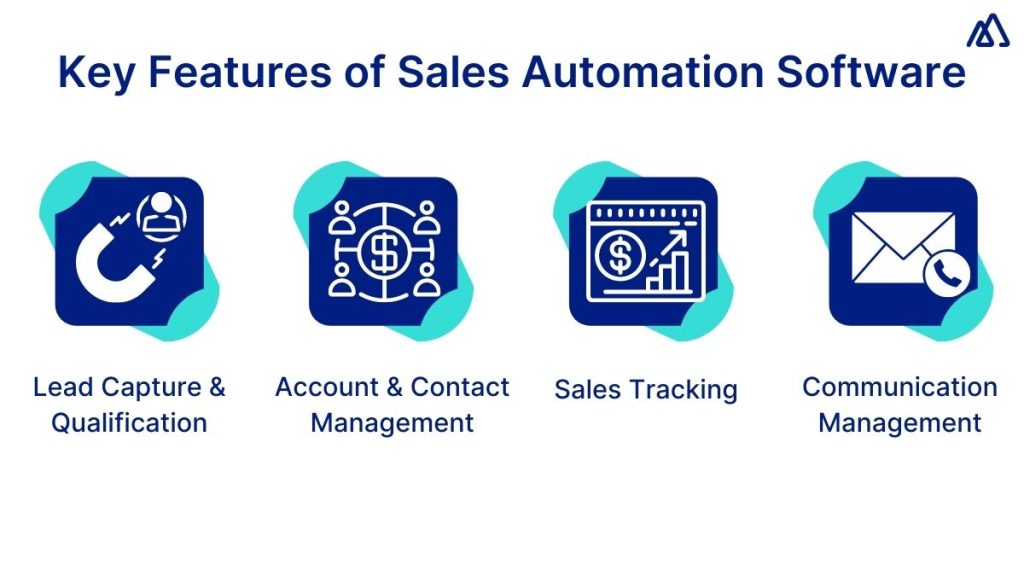 69% of the daily tasks of companies are expected to be automated by 2024. This is possible due to the wide range of features covered under automation software. Hence, no aspect of your sales cycle is left untouched, and this allows for the complete automation of your operations.  
The following are the core features offered by sales automation software:
1. Lead Capture & Qualification
Capturing leads from various sources is a tedious, yet vital task for businesses. Thereafter, it is essential to determine which is the best fit for your business and divert more resources toward nurturing them. Lead capture and qualification features offered in sales automation software ensure that no lead falls through the cracks and that the right leads are targeted.
2. Account & Contact Management
Keeping track of the data of all your clients and contacts is an important part of the sales process. This data can be leveraged to optimize your future marketing and sales efforts, and also to provide an enhanced customer experience. Hence, good sales automation software includes account & contact management.
3. Sales Tracking
Tracking your sales process is a prerequisite for optimizing it. Sales automation software helps you track every aspect of your sales, right from the time when a lead is generated, to the time that a deal is concluded.
4. Communication Management
Maintaining timely and relevant communication with prospects and existing clients is a crucial part of the sales process. It helps to nurture relations and eventually expands your customer base. With automation, important communications will never be missed.
Since you are aware of the basic features included in sales automation software, the next step is to identify a suitable tool for your business. The ultimate goal of such software is to enable you to make more sales, and we have identified some of the best options that can achieve this goal.
---
Sales Automation Software that can help you close more deals in 2023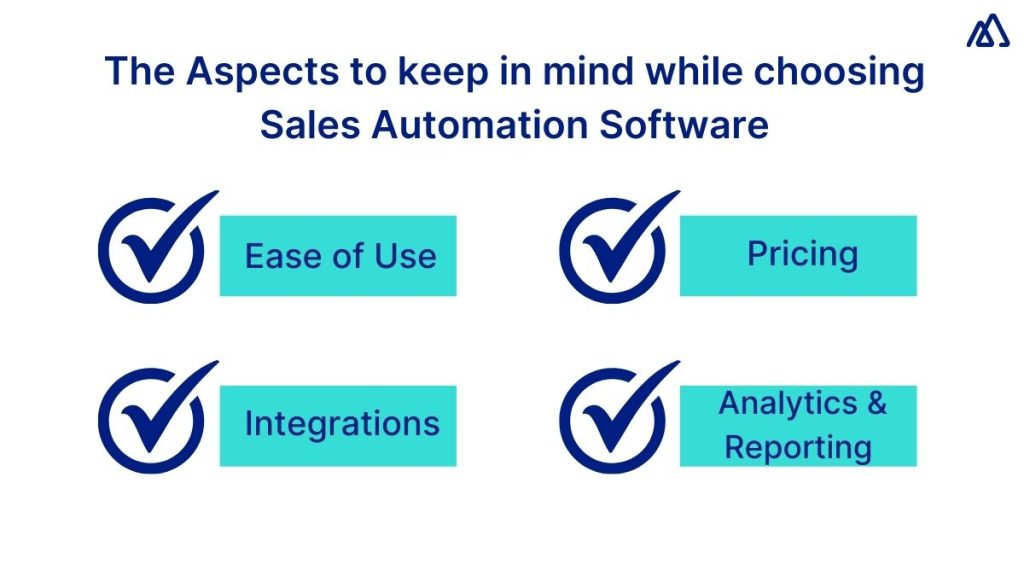 There are a lot of players in the market of automation software, and there are new brands coming in consistently. This is evidenced by the fact that the sales automation software market is expected to scale up to $26 Billion by 2025.
Among these numerous options, it can be overwhelming to find the right software for your business. However, we have compiled a list of sales automation software that can help you close more deals in 2023:
1. Salesforce
This is a leading name in the CRM industry and it is packed with features that can boost your sales. It allows you to track and monitor each new deal, nurture it efficiently, and ultimately convert it to a concluded sale. Being a sales automation software, Salesforce comes with a multitude of essential features such as:
The pricing of Salesforce begins from $25/ user/ month and provides a good return on investment.
2. Kylas
Kylas is an enterprise-grade sales CRM designed for growing businesses. It has a robust feature set that can streamline your complete sales operations. Right from lead management, to tracking and analysis of sales data, Kylas helps you stay on top of every task or action in your sales operations.  
It has a highly transparent and affordable pricing policy, at only flat INR 12,999/ month. Furthermore, for this competitive pricing, Kylas offers a feature set that can resolve every pain point of businesses.
3. Hubspot
Because it is a tool with expansive automation features for salespersons, Hubspot is another good option for sales automation software. It is a comprehensive management and automation platform. With the adoption of Hubspot, you can automate the tasks required at every stage of your sales funnel. Your sales reps can use data-driven insights in their nurturing and closing efforts and secure more conversions.
The basic plan of Hubspot costs $45/ month for two users.
4. Pipedrive
Pipedrive is a CRM tool thoughtfully designed for salespersons. It is a customizable automation software, that helps you automate any and all steps within your sales process. Besides, it also offers features that help in the strategizing of your sales, and end-to-end deal management. Additionally, some of the other features that make Pipedrive an option worth considering are:
It comes with AI-powered assistance
Smart contact data to manage client information
Pipedrive's pricing starts from $19.90/user/month and offers all basic requisite features of sales automation software.
5. Insightly
As an effective CRM tool, Insightly helps you sell smarter, and sell more efficiently. With Insightly, you can streamline all your sales operations. Besides, it also allows you to customize your sales activities and stages depending on your business's specific requirements. Additionally, a large number of integrations are also available, through which your entire operations can be conducted on a single platform.
The pricing of Insightly starts from $29/ user/ month for CRM sales automation software.
6. Copper
This is an effective sales automation software, due to its features that have been specifically designed to eliminate redundancy and enhance efficiency. Copper eases the work of your sales teams through its features like:
Auto-sending of personalized emails
Automating the process of adding documents and attachments against deals
Workflow automation etc.
Copper can be acquired for the minimum pricing of $25/ user/ month, for its Basic Plan.
7. Freshworks
Freshworks has a robust sales automation software- Freshsales. Using Freshsales, your sales cycle can be shortened and made more efficient. It takes over all repetitive and time-consuming tasks and helps your agents to close deals faster.
Furthermore, it allows you to automate the series of touchpoints in the sales process through its sales sequence feature. Personalized nurturing and engagement plans can be created easily through Freshsales' easy and intuitive platform.
Its pricing begins from INR 999/ user/ month.
8. Close
Close is another significantly viable option to consider while looking for sales automation software. It is an all-in-one platform through which you can conduct your entire sales process. Close has been particularly designed to cater to every task and action that may be required during your sales cycle. It brings about speed and efficiency in all your operations and enables customization of your sales activities. 
The pricing plans begin from $25/ user/ month.
9. Overloop
This automation software is uniquely designed for modern sales teams. Overloop helps you excel in your overall sales targets by allowing you to efficiently set up multi-channel outbound campaigns. Furthermore, you can create customized campaigns, and leverage the power of LinkedIn automation.
Overloop has adopted a simplified pricing policy, wherein all its features can be availed for a price of $99/ user/ month.
10. Agile
Agile's sales automation software is a robust tool that helps you create smart workflows to drive efficiency and productivity in your sales process. You can additionally track all timelines, dates, documents, the status of deals & projects, etc. on a unified platform. Besides, it also has specific features directed at sales enablement such as:
Telephony
Gamification
Appointment Scheduling etc.
Agile can be adopted for the lowest price of $9.99 / user/ month.
This comprehensive guide includes various software, each with its unique USPs and also differing price ranges. However, you must consider the specific needs of your business and the budget that you wish to allocate for tech adoption before finalizing a suitable software.
---
What are the benefits of Sales Automation Software?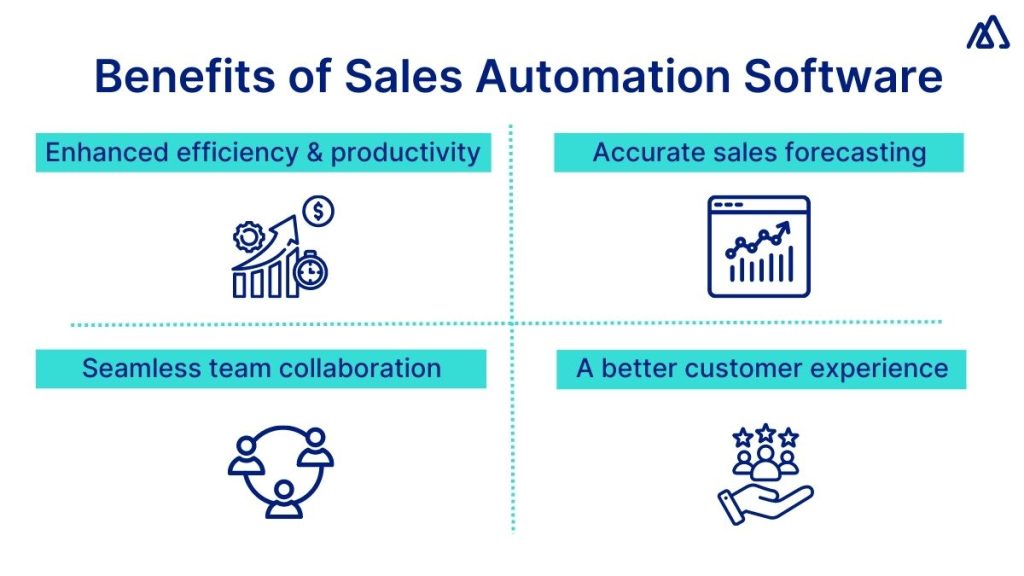 Given the vast number of companies that are adopting automation software, it is hence evident that it has a lot of benefits. Hence, let us try to understand the ways in which such software can optimize your business operations:
1. Enhanced efficiency & productivity
This is the first and foremost benefit that sales automation software brings to an organization. It ensures that all your repetitive tasks are carried out automatically, in a consistent and error-free manner. Hence, 57% of companies adopt sales automation software to improve employee performance and productivity.
2. A better customer experience
Providing a good experience to customers is generally crucial for generating a loyal customer base. Thus, automation helps your teams serve customers better as they can respond more efficiently to inquiries and concerns.
3. Seamless team collaboration
Through automation, every member of your team can remain up-to-date on the work being done by their colleagues. It helps team members communicate better, and a centralized data platform can be created for everyone's access.
4. Accurate sales forecasting
Additionally, automation ensures that sales data is updated regularly and that all trends are tracked. Leveraging these, businesses can accurately predict their sales trajectory. Such forecasting is crucial for businesses to plan their sales and divert the necessary resources toward meeting their targets.
Since these benefits brought by sales automation software span across the entire operations of a business, it can contribute to its holistic growth.
---
In Closing
Undoubtedly, sales automation software is a highly crucial addition to your business's resources. Although choosing the right software can be challenging, due to the large number of options available. However, once you find the ideal tool for your business, it will transform your operations and help you scale to new heights!
Kylas is an effective and affordable sales automation software. Because of its expansive feature set, it thus covers every part of your sales process, right from lead management to pipeline management.
Start 15-day Free Trial