In a market where competition is at an all-time high, organizations want to make the most of their sales teams. But because of the same competition, it's also not easy for the sales reps to hit their targets. The prevalent sales environment has made it harder for the reps to reach their targets, leave alone exceed them.
If you are in this situation, it doesn't mean that you need to replace your sales team to solve the problem. To begin, allocate some time to reassess and optimize your strategy for sales territory management.
Defining sales territories can turn into sales opportunities for your business, but to reach there, you need to understand what it is and how to set up your territories.
---
What is Sales Territory?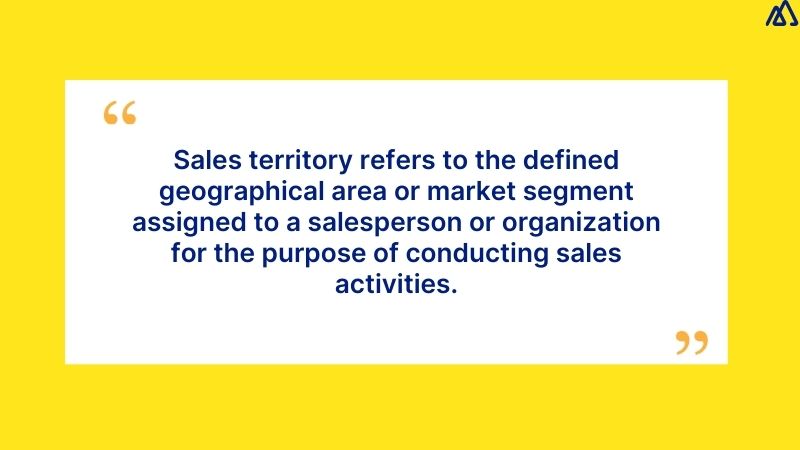 Sales territory refers to the defined geographical area or market segment assigned to a salesperson or organization for the purpose of conducting sales activities. It is a strategic division of customers and prospects based on various factors such as geographic location, industry, demographics, or other relevant criteria.
With sales territories, salespeople can focus their sales efforts and resources on specific customers and gain in-depth knowledge to build long-lasting relationships.
By allocating resources strategically, organizations can maximize sales potential and cover more customers effectively for improved overall sales effectiveness. In a nutshell, sales territories provide structure, organization, and improved efficiency in sales operations.
---
What is Sales Territory Management?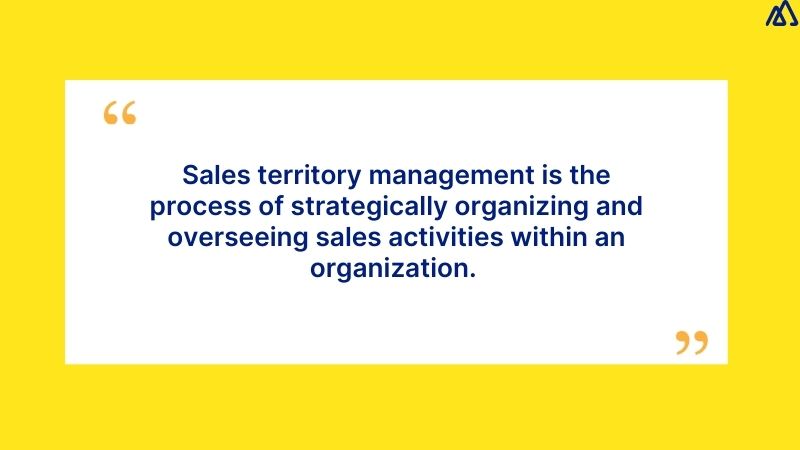 Sales territory management is the process of strategically organizing and overseeing sales activities within an organization. It involves designing territories based on relevant criteria, assigning salespeople or teams to those territories, ensuring adequate coverage of customers and prospects, and making relevant changes so that they are as effective and efficient as possible.
Territories help sales reps generate enough selling opportunities and hit their sales goals. Territory managers take care of the planning and coordination of the sales efforts, setting goals, and monitoring the performance of each territory.
It's crucial that the best sales territory management practices are employed in an organization for enhanced sales efficiency and maximized revenue potential. Simply, sales territory management is more important than you may think it to be.
---
How to Set Up a Sales Territory?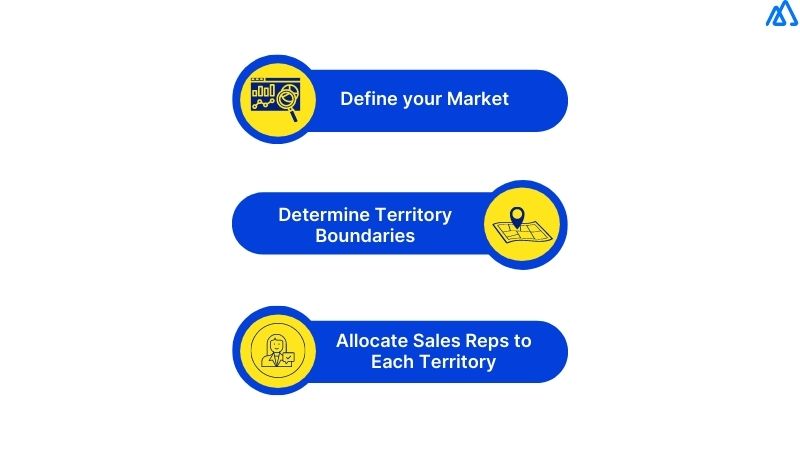 The foundation of strong sales territory management starts with setting up the sales territory. So, here are a few steps that will help you set up territories effectively.
1. Define your Market
You have to keep your customers and market in mind while designing your sales territory. This will help you separate territories effectively and enable sales reps to focus their efforts in the right direction. So, segment the market based on geographic location, industry, customer size, or purchasing behavior.
2. Determine Territory Boundaries
You can use your previous data to evaluate the current market situation and group your accounts and prospects into territories of roughly the same value. Make sure to balance the workload and sales potential across territories to ensure fairness.
3. Allocate Sales Reps to Each Territory
You must see where your sales reps are placed. In field sales, where the sales reps are located plays an important role in how sales reps and territories are paired. To maximize efficiency, allocate territories to sales representatives who are located in or nearby each respective territory.
---
How can a CRM Tool Solve Sales Territory Management Challenges?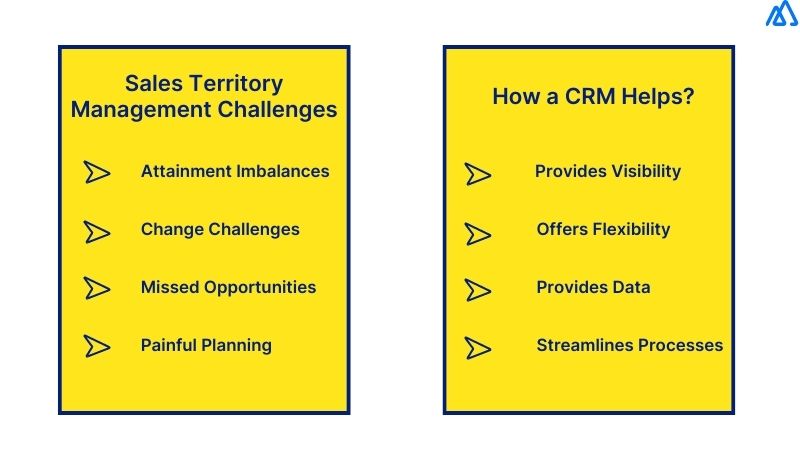 According to Forrester, "When sales territories are out of balance, organizations spend too much money and time on low-potential customers, while spending too little on high-potential customers. As a result, sales organizations can leave millions of dollars in lost productivity unrealized."
76% of companies use a geographic territory model to assign accounts to sales reps. And 83% of companies design their territories with spreadsheets.
Without a doubt, there are some difficulties and obstacles that organizations face when managing and optimizing sales territories. Let's take a look at what they are and how a CRM can help you solve these challenges.
1. Attainment Imbalances
Not all sales representatives have equal opportunities for success. Variances in territory potential, customer preferences, and salesperson skills can lead to uneven sales performance within territories. This results in only 53% of sales reps regularly hitting quota.
A CRM provides visibility into sales performance and customer interactions within territories. Managers can analyze data to identify performance disparities and take corrective actions such as providing additional training or reallocating resources to balance attainment across territories.
2. Change Challenges
Balancing territories becomes complex when there are changes in the sales team, such as new hires, promotions, or reassignments. Ensuring smooth transitions while considering individual strengths and customer relationships is a challenge.
CRM systems offer flexibility in managing territory changes. When there are new hires, promotions, or reassignments, territory assignments can be easily adjusted within the CRM, ensuring a smooth transition and maintaining territory balance.
3. Missed Opportunities
Insufficient coverage of the Total Addressable Market (TAM) means some territories lack adequate sales presence to reach all potential customers. This results in missed sales opportunities and potential revenue losses.
A CRM helps address missed opportunities by providing comprehensive customer data and segmentation capabilities. Territory managers can use the CRM to identify untapped market segments or potential customers and reallocate resources to ensure proper coverage and capitalize on those opportunities.
4. Painful Planning
Traditional territory planning methods, such as using spreadsheets and conducting lengthy meetings, can be inefficient and time-consuming. These manual processes hinder productivity and responsiveness to market changes.
CRM systems streamline territory planning processes, eliminating the need for manual spreadsheets and excessive meetings. Territory managers can use the CRM's territory management features to easily visualize and allocate territories, considering factors like customer density, sales potential, and representative workload. This saves time and improves planning efficiency.
---
Kylas Features to Help You with Sales Territory Management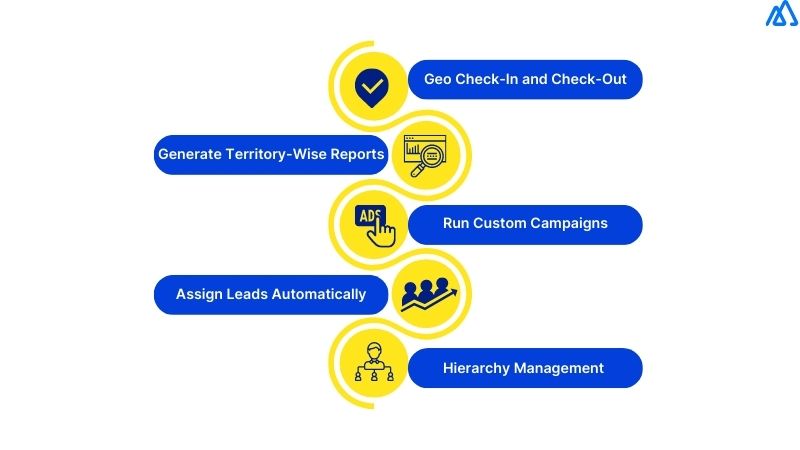 Let's take a look at some important Kylas features that can help you with sales territory management.
1. Geo Check-In and Check-Out
You can gain visibility on all your field sales operations. You can keep track of your team's customer visits with geo check-in and check-out and get insights into the location, duration, and status of each meeting.
2. Generate Territory-Wise Reports
You can generate and download territory-wise reports using different metrics. You can also track your sales reports by day, week, or month to compare them with previous time periods.
3. Run Custom Campaigns
Kylas lets you run ad campaigns based on customer demographics, buying behavior, and sales potential. You can also store information on all the leads coming from that campaign in Kylas.
4. Assign Leads Automatically
Based on your defined territories, you can assign leads automatically to the reps in that area or segment. This will help you track their touchpoints, identify which ones to prioritize, and engage with prospective clients better.
5. Hierarchy Management
Kylas offers the 'Reporting To' feature that allows territory managers in higher hierarchy roles to view the data of their direct and indirect reports within the organizations. Territory managers can easily access the data of their sales executives without requiring the executives to manually share their data.
---
Conclusion
Sales territory management focuses on organizing sales territories to enhance the productivity and success of sales representatives in closing deals. By properly defining territories, you can optimize resource allocation and make the most of available resources.
Schedule your demo with the experts at Kylas and determine how it can help you make the most of every customer segment you want to target.
Start 15-day Free Trial