One of the primary reasons behind CRM adoption by growing businesses is to make their work easier and save time. However, consider this. To make a choice about adopting such software, you must thoroughly vet the 840+ CRM brands available in the market today. This itself seems like a highly time-consuming and challenging task.
Besides, each of these tools is designed with different functionalities, that make them well-suited for different purposes. You must ask yourself the right questions about the intended use case from your CRM to avoid making the wrong choice. This means detailed research into all your available options. As mentioned above, this process gets difficult due to the large number of players in the market.
However, you need not worry about taking it on alone! We have listed down some of the best CRM examples to narrow your search pool. We've even gone a step further and identified the particular use case for which each of these CRM examples is the most suited. You can sit back and relax, for you are one step closer to finding the best CRM for your growing business.
Kylas, an enterprise-grade sales CRM is designed to help growing businesses scale with expertise. It is a reliable, easy-to-use, and cost-effective solution. To know more about how your business can grow with Kylas, get in touch with our experts!
---
1. Top CRM Examples for Increased Team Productivity
1.1 Kylas Sales CRM- Best for Team Collaboration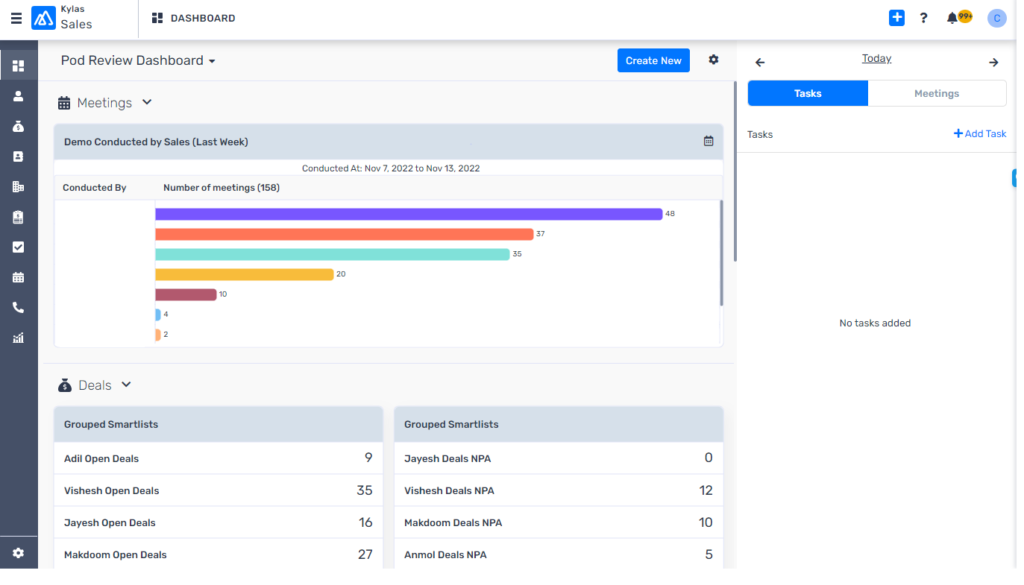 .Kylas is the undisputed #1 choice for growing businesses due to its ease of use, rich feature set, and transparent pricing policy. It is a simple yet sophisticated enterprise-grade product that has a full suite of features at affordable costs. Kylas is designed to solve every pain point of growing businesses, right from robust lead management to sales tracking, to customer nurturing and performance analysis.
Specific Use Case: Team Collaboration & Coordination
80% of a business's CRM usage is by its sales teams, 46% by marketing teams, and 45% by customer service teams. Kylas's USP is that it helps every team work efficiently, and seamlessly collaborate with one another. You can use Kylas if collaboration is your main goal, for it can be easily applied to the work of every team. Another reason that makes Kylas great for this use case is its pricing policy which accommodates unlimited users for flat pricing. Every member of your company can hence use the CRM without your costs rising.
---
1.2 Freshworks- Best for Seamless Teamwork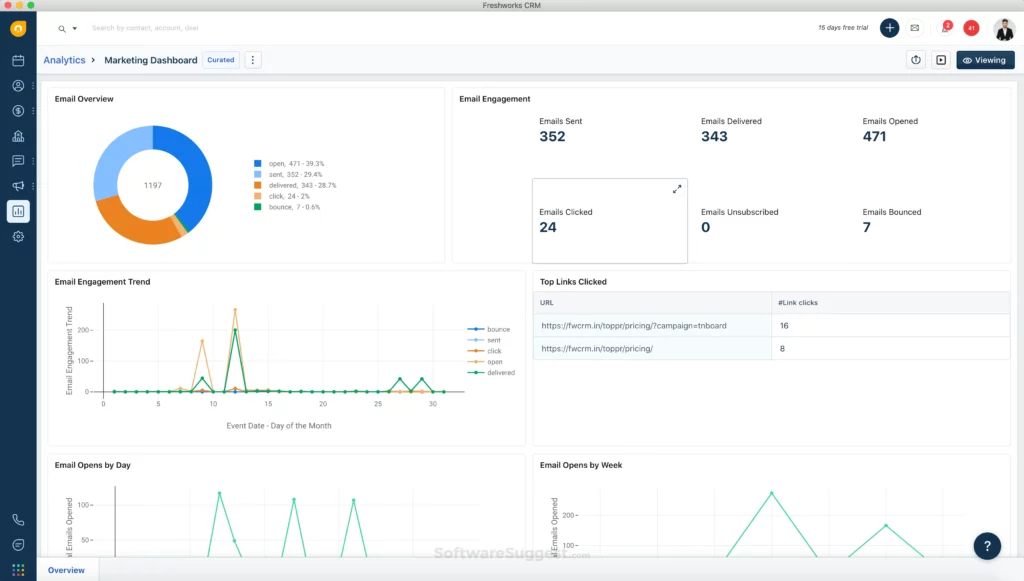 .Freshworks is a cloud-based software suite with a diverse range of products. It is a robust tool that offers marketing, sales, ticketing, and other solutions. You can make the work of all your teams easier by adopting such a comprehensive, all-in-one system. Each of its solutions comes with different pricing tiers which you can match against your budget. 
Specific Use Case: Aligning Inter-Department Functions 
Well-coordinated and aligned teams are the foundation of a successful business. A CRM like Freshworks helps to achieve this. It can create a seamless flow of work between all your teams and enhance the overall productivity of your operations. Utmost transparency is maintained between all teams, and you can eliminate unnecessary delays in their work.
Price (for mid-range plan)
G2 Rating
Features for Specific Use Case
Kylas Sales CRM
INR 12,999/month
4.5
• History feeds for transparency in work
• @ mentions assigning tasks to team members
• Auto-routing of leads
Freshworks
INR 2,799/user/month (for sales CRM solution)
4.5
• Features for varied business verticals like marketing, sales, support, etc.
• Easy data sharing between teams
---
2. Top CRM Examples for Data-Related Functionalities
2.1 Pipedrive- Best for Data Management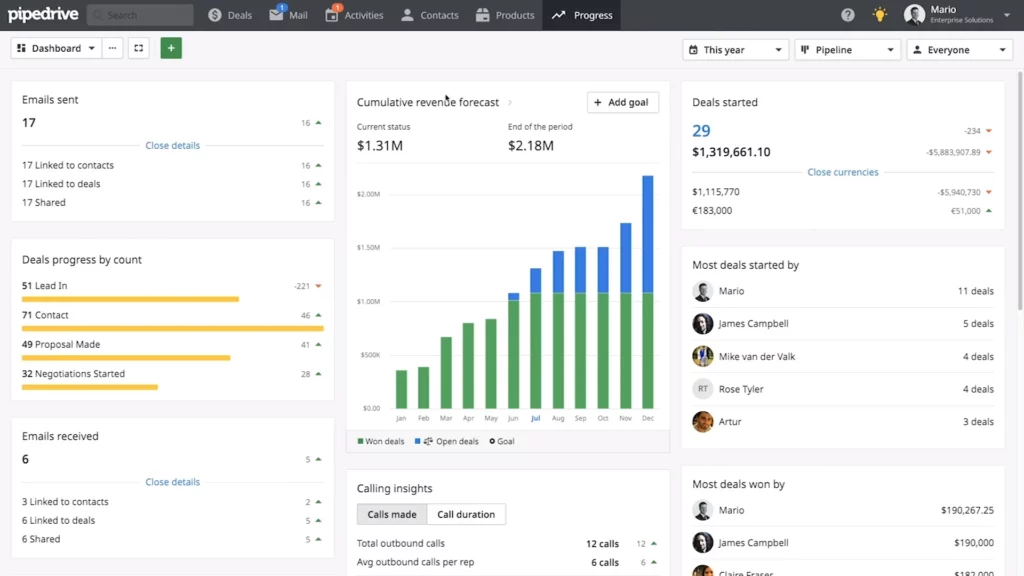 .This sales-centric CRM caters to both enterprises and growing businesses. Some of the biggest pros of Pipedrive are the simple UI, robust tools, and easy integrations. It can be used by sales teams and business owners alike to visually track the sales process from end-to-end. The software offers 4 different pricing tiers which makes it suitable for businesses with diverse budgets. Besides the sales functionalities, it also helps in email marketing and automation. 
Specific Use Case: Data Tracking & Security
If yours is a business that gathers and uses scores of data daily, this CRM is the most suitable for you. Pipedrive's intuitive system monitors the entire data access and usage history and even identities the users accessing every piece of data. A unified security dashboard helps track all data-related activities in real time.
---
2.2 Salesforce- Best for Data Analytics and Reporting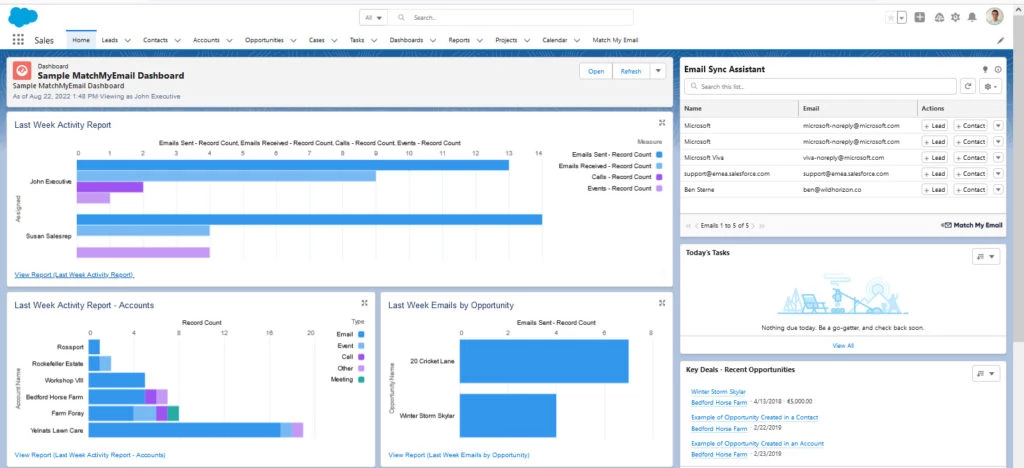 .Salesforce is packed with features that can boost sales, and hence it is a leading name in the CRM industry. It allows you to track and monitor every new deal, nurture it at every touchpoint, and ultimately convert it to a closed sale. Furthermore, it has products that target other operational aspects of businesses, such as marketing, customer service, etc. Despite Salesforce being an enterprise CRM, its pricing policy also includes specialized plans for growing business requirements.  
Specific Use Case: Data Analysis 
Data can become your biggest asset with Salesforce's advanced analytics. The CRM easily collates and segregates numerous data about your sales, customers, and their interactions with your business. This data is then transformed into usable reports. CRM reports give an overview of how your business is performing and track all actionable metrics to help you make informed decisions.
Price (for mid-range plan)
G2 Rating
Features for Specific Use Case
Pipedrive
INR 1,556/user/ month
4.2
• Data integration from various channels
• Unified data security dashboard
• Tracking of data history and usage
Salesforce
INR 6,142/user/month (SMB pricing plan)
4.3
• Data integration from various channels
• Robust data analytics
• Customization of reports
---
3. Top CRM Examples for Specific Business Operations
3.1 Hubspot- Best for Overall Business Functionality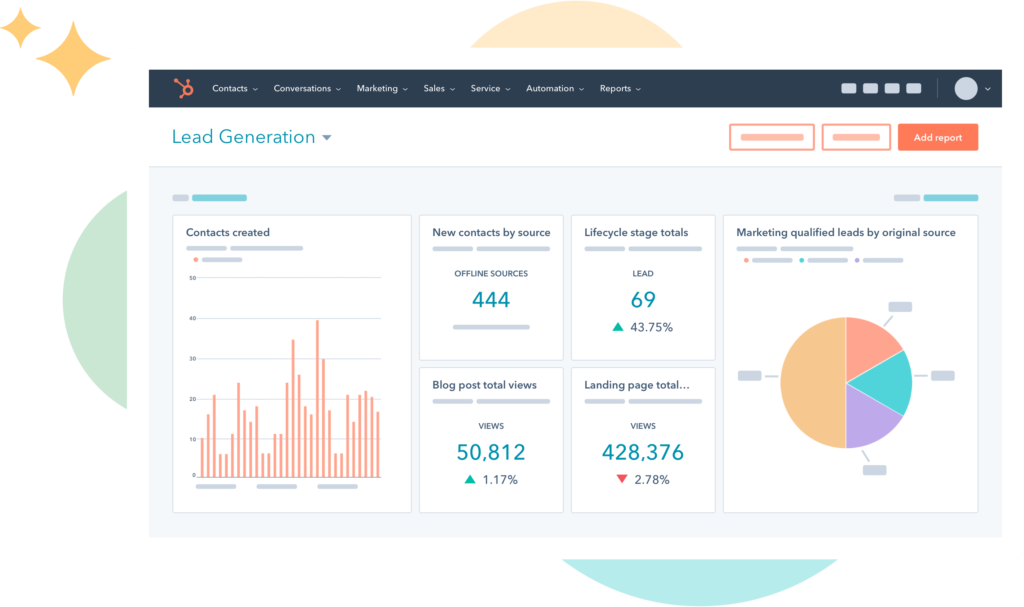 This all-in-one productivity suite offers solutions for almost every business vertical- marketing, sales, operations, etc. Hubspot has distinct pricing plans that cater to large enterprises as well as growing businesses and individuals. These two factors combined make it a good choice for businesses of all sizes and diverse departments. Its built-in analytics system provides reliable insights into the health of campaigns too.
Specific Use Case: Full Functionality CRM Suite 
Hubspot has something to offer all your customer-facing departments- right from sales to customer support. Through this unified platform, you can optimize multiple facets of your daily business processes. You can boost productivity in your teams by enabling them to manage all data and interactions throughout the customer lifecycle from a single place.
---
3.2 Salesflare- Best for Sales Pipeline Management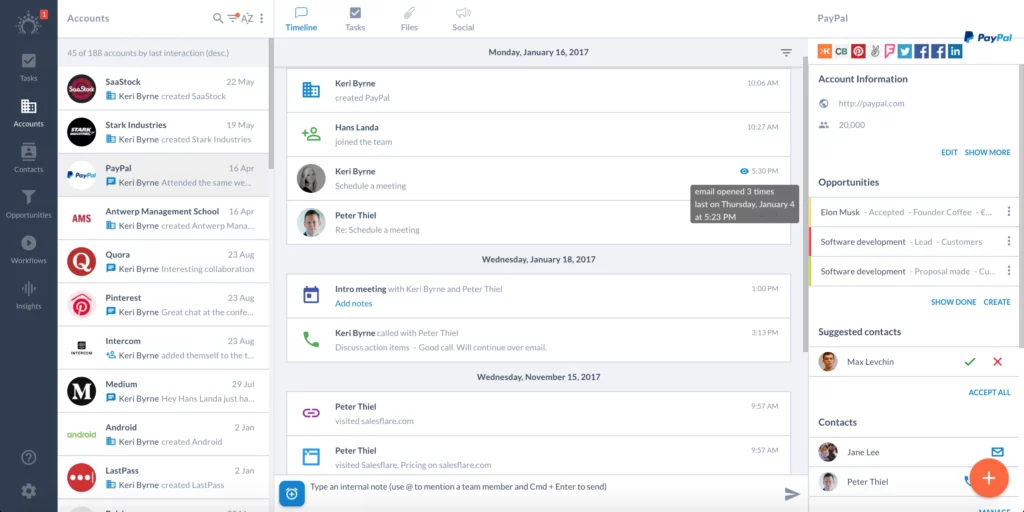 .This B2B sales CRM is designed to help teams in growing businesses build lasting relationships and sell more. Salesflare has a powerful data-input system that automatically creates a comprehensive database for your business with real-time updates. It offers varied pricing plans depending on the specific requirements and budgets of different growing businesses.  
Specific Use Case: Efficient Sales Tracking 
B2B businesses need an efficient mechanism to track their sales and ensure that no deal falls through the cracks. Salesflare has efficient tracking functionalities. You can stay on top of every stage of your deal pipelines, take the required actions at every touchpoint, and never lose out on revenue.
---
3.3 BIG Contacts- Best for Building Strong Contact Relations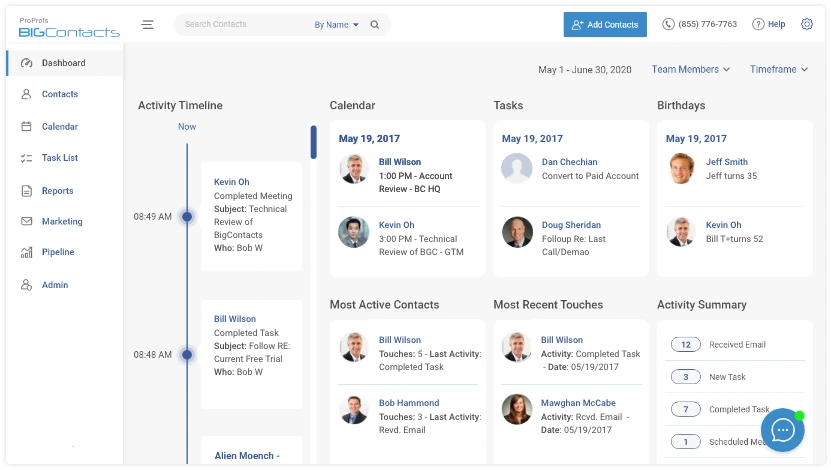 .This cloud-based system focuses on contact management. Through BIG Contacts, businesses can collate, manage, and share contacts in a secure manner. It helps easy and effective communication with customers since all contact data is centrally stored. Furthermore, it can be used for streamlining sales and marketing activities. The lowest plan is affordable for growing businesses, and it also has more advanced plans available for enterprises. 
Specific Use Case: Effective Contact Management
This CRM takes contact management beyond the mere tracking and storing of personal information. Instead, it creates a holistic system that helps you stay on top of every aspect of your contacts and thereby offer them an enhanced experience. You can stay in regular touch with your contacts and personalize the services that you give them. Furthermore, contact activities can also be used as the basis for customizing drip campaigns.
---
3.4 Zoho Bigin- Best for Mobile Access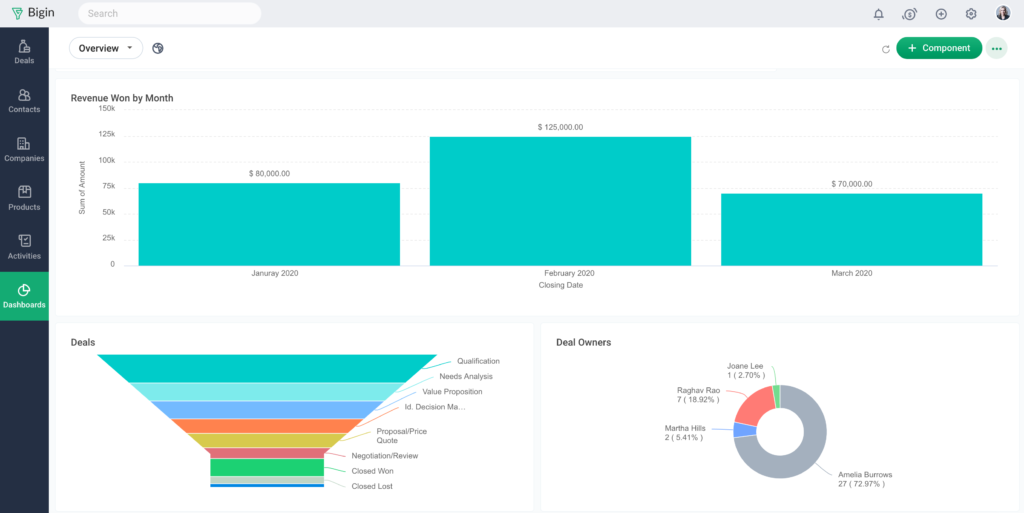 .This highly cost-effective tool can be thought of as the 'little brother' to Zoho CRM. While Zoho is an enterprise CRM example, Bigin is exclusively focused on growing businesses. The best aspects of the software are its ease of use and functionalities. It is the most viable option for businesses wanting to move away from spreadsheets for their operations management. 
Specific Use Case: Mobile CRM for On-The-Go Teams 
Bigin allows your teams to work productively from anywhere and everywhere. It has a powerful and robust mobile application through which the CRM can go wherever your teams are. They can access data, efficiently manage their meetings, and record all work updates in the system in real time.
---
3.5 Click Up- Best for Successful Project Tracking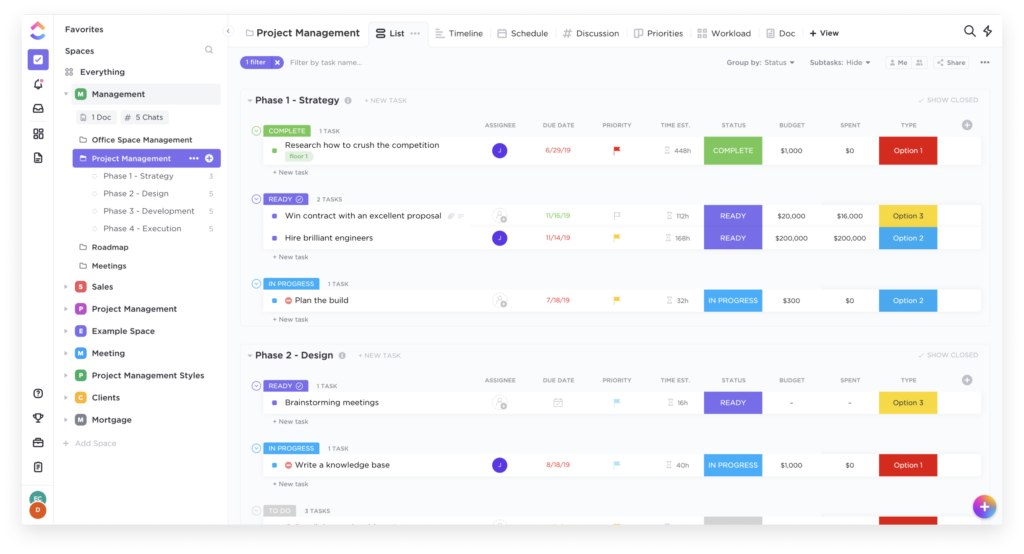 .Click Up is a unified tool that can replace all traditional files, spreadsheets, documents, folders, etc. used by businesses. Organizing and nurturing customer relations is made easy with this CRM. It has a wide range of functionalities like marketing automation, communications, data analytics and visualizations, etc. Its 5-tiered pricing plan is accommodative of businesses with diverse budgets.  
Specific Use Case: Project Management 
You can ace the work on all your projects with Click Up's efficient project management system. Every task and workstream on a project can be tracked to ensure that there are no bottlenecks in your processes. Furthermore, you can monitor the work of your teams on every project and enable them to collaborate easily.
---
3.6 Force Manager- Best for Field Sales Tracking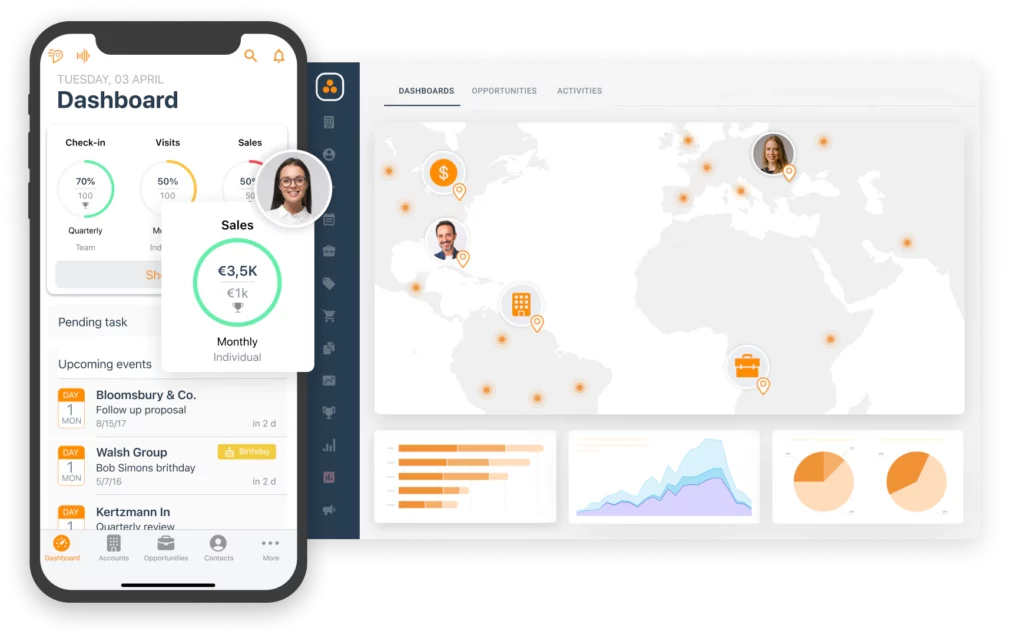 .This is a specialized field sales software. Force Manager can be very useful for your business if a majority of your teams' work is out of the office. Simplicity and mobility are the key factors of this tool that allow your field teams to fully benefit from it. It comes with a number of features like geolocation, in-built mapping and routing that make it an excellent CRM for field sales management. It offers varied pricing plans as per your specific requirements.
Specific Use Case: Field Sales Management 
As stated above, the specific use case of this software is field sales management. On one hand, it helps your teams work productively on the go. On the other hand, it also helps managers and business owners stay apprised of the work done by field teams. All updates can be reflected in the CRM in real time, even without internet connectivity.
---
3.7 Amo CRM- Best for WhatsApp Communications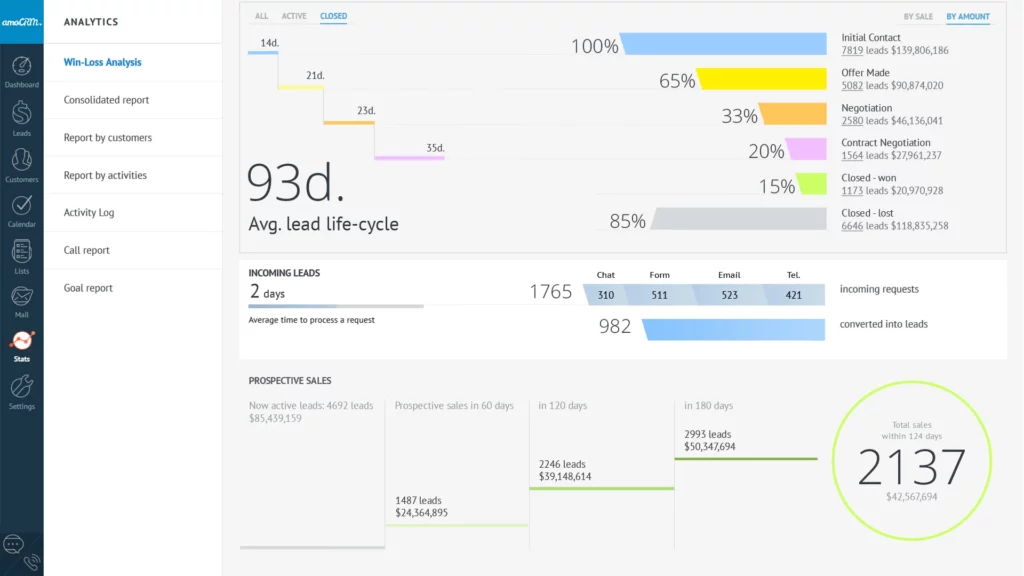 .Amo CRM takes your customer communications to the next level of ease and efficiency. It has been specially designed to power up your WhatsApp communications into powerful revenue channels. You can also use an omnichannel strategy with this CRM to communicate via calls, messaging, and emails too. The pricing is suitable for businesses of every size.
Specific Use Case: Optimizing WhatsApp Communications 
WhatsApp has become one of the leading channels for marketing, prospecting, and making sales. Hence, Amo CRM can help you boost your revenue and profitability by optimizing all WhatsApp communications. It allows all your team members to share a single account and receive message updates only for the leads assigned to them. It even allows you to track the status of all potential customers, segregate them, and send automatic follow-up messages.
Price (for mid-range plan)
G2 Rating
Features for Specific Use Case
Salesflare
INR 4,013/user/month
4.8
• Efficient pipeline management
• Set auto-actions at every pipeline stage
• Customizable stages
Hubspot
INR 1,474/month for 2 users (for sales CRM solution)
4.4
• Features for varied business verticals like marketing, sales, support, etc.
• Unified platform to store company-wide data
BIG Contacts
INR 1,228/user/month
4.5
• Contact data integration from various channels
• Leveraging data into usable reports
• Personalized drip campaigns using contact data
Zoho Bigin
INR 400/user/month
4.5
• Powerful mobile application
• Easy interface
• Compatibility with all mobile operating systems
Click Up
INR 983/user/month
4.7
• Central database for all projects
• Easy team collaboration for various tasks
• Customized workflows for every project
Force Manager
INR 1,557/user/month
4.6
• Geolocation
• In-built mapping & routing
• Offline access to CRM
Amo CRM
INR 2,048/user/month
3.9
• WhatsApp CRM pipeline to track deals
• WhatsApp chatbot
• Single account access for entire team
---
4. Top CRM Examples for Customer-Centric Functionalities
4.1 Active Campaign- Best for Enhancing Customer Experience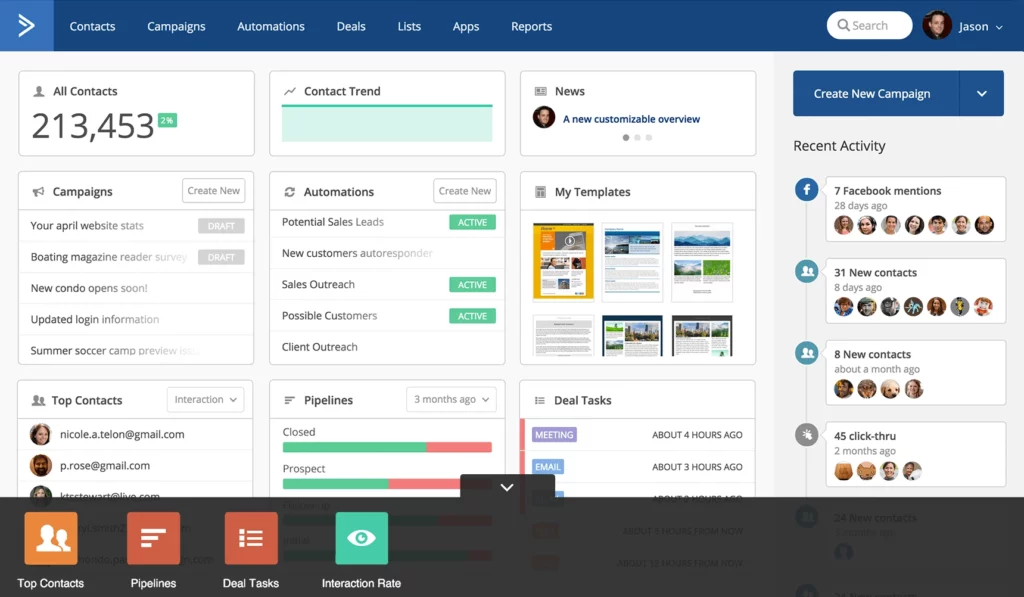 .Strong customer relations are vital for business success and Active Campaign helps achieve this. It is a customer-experience automation and CRM tool. It helps to circulate targeted content through multiple platforms at the right stage of your customer's buying journey. Besides this, the sales-oriented features help in managing and optimizing sales activities. It is suitable both for small and large businesses, and this is reflected in its pricing policy too.
Specific Use Case: Personalizing Customer Experiences 
Active Campaign efficiently gathers and analyzes customer data which can be used to gain valuable insights into customer interactions with your business. It enhances your understanding of customers by segmenting them and tracking their preferences, engagement metrics, etc.
Other features like customizable campaigns and communication ensure that all your interactions are highly personalized, which helps in nurturing lasting relationships.
---
4.2 Zendesk- Best for Customer Support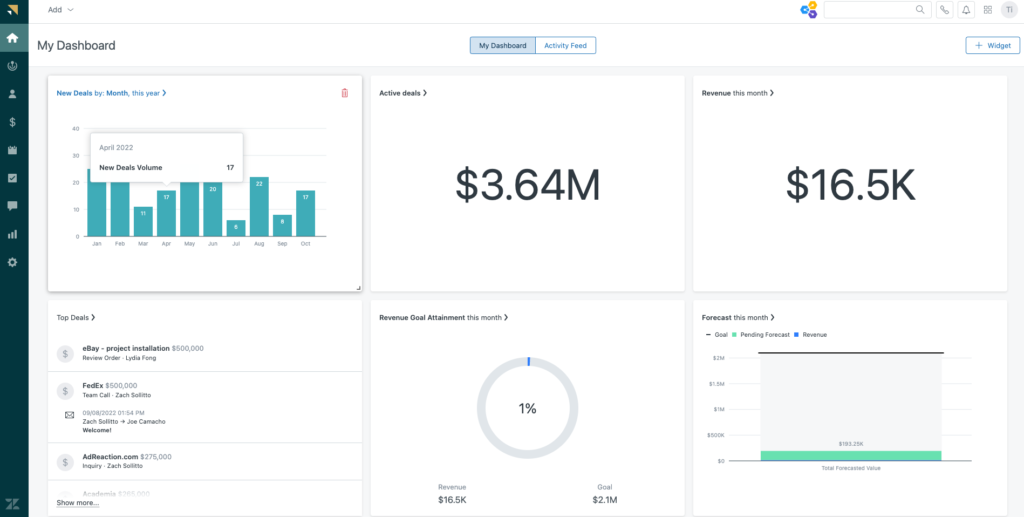 .Businesses need more than only a strong sales process. They also need a system in place to deliver top-notch support to their customers. Zendesk is a great CRM example of such a system. It is a robust service platform that enables your teams to provide the best customer support. Zendesk offers a suite of tools like ticketing support, a knowledge base, automated chat functionality, and much more. Additionally, it has sales functionalities, and its pricing caters to businesses with small and large budgets.
Specific Use Case: Streamlining your Help Desk System 
Help Desk Systems are an important part of any business's customer support functions. It is a centralized platform through which companies can receive, act upon, and track the various queries and concerns received from their customers. The USP of Zendesk is that it streamlines the support process for your internal teams along with your clients. Customers can easily raise their concerns and your teams have easy access to all the information and resources they need to resolve the issue.
---
4.3 Microsoft Dynamics- Best for Customer Data Management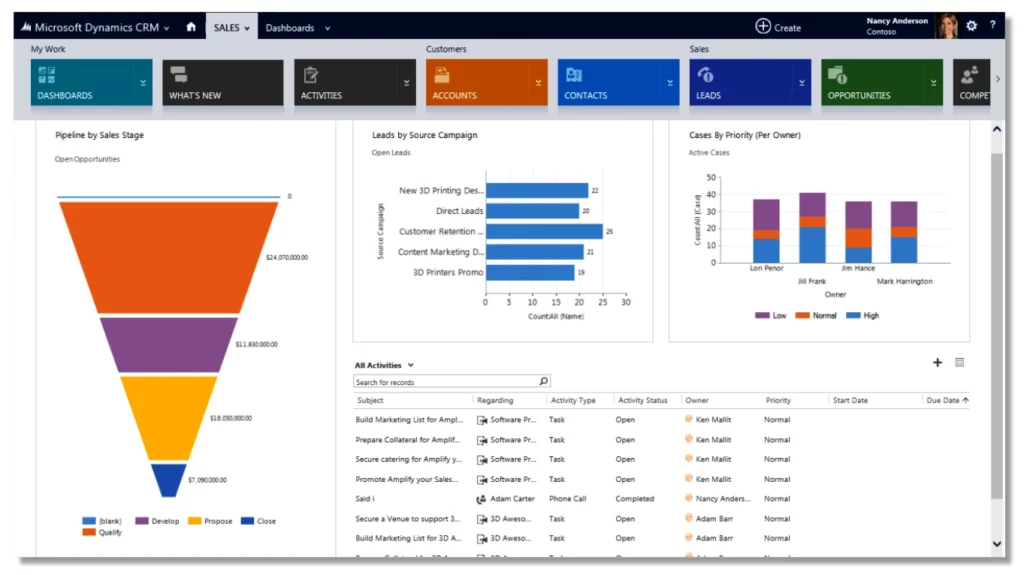 .Microsoft Dynamics is a complete and comprehensive solution that syncs every aspect of your business operations. It is CRM and ERP software that can enhance marketing and sales productivity, along with managing your general operations, supply chains, and financials. It has a special pricing plan for growing businesses that includes the features most needed by them. However, large and established enterprises can also use this software.
Specific Use Case: Gaining Complete Customer Insights 
Being an operational CRM, Microsoft Dynamics can tell you all there is to know about your customers. Your teams can have all customer information at their fingertips and use this knowledge to identify their unique needs and thereby serve them better. Furthermore, the CRM offers valuable insights into customer churn metrics and how you can prevent it.
---
4.4 Engage Bay- Best for Storing and Leveraging Customer Data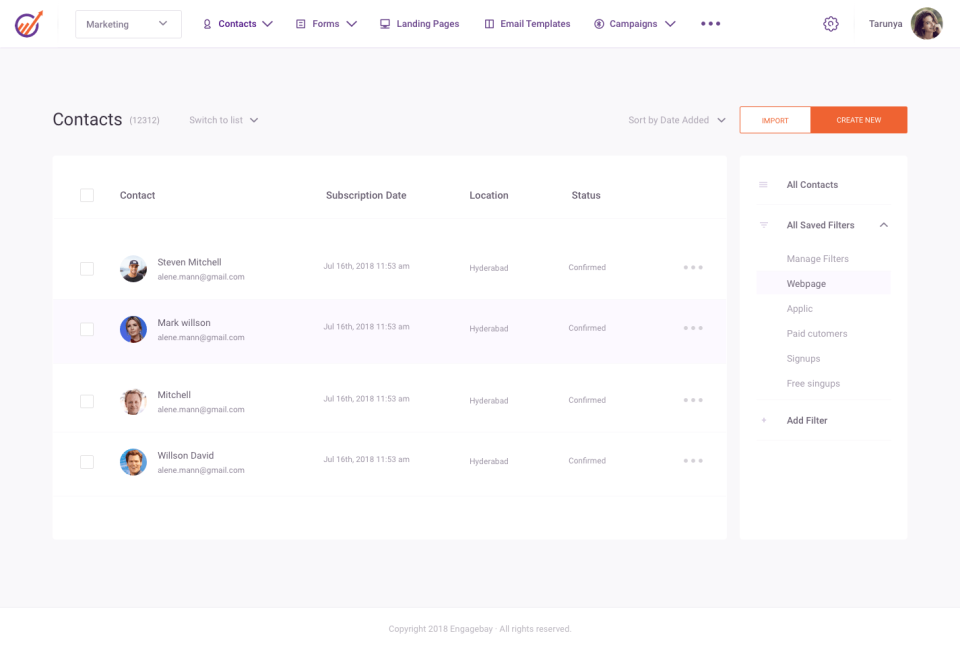 .If you're looking for a single platform to empower your marketing, sales, and support teams, Engage Bay is a good option for you. It is suitable for small businesses and enterprises and can be used across the organization by all teams. Each of its solutions has different plans and a specific business vertical that it targets. 
Specific Use Case: Maintaining Complete Control over Customer Data
Customers of today expect nothing less than the best from the brand they choose. Hence, staying on top of your customers' end-to-end interactions with your business is crucial. Engage Bay helps you achieve this. Data from various channels can be leveraged for a deeper understanding of customers and their requirements from your business. It offers 360-degree control and access to every relevant data point of your customers.
Price (for mid-range plan)
G2 Rating
Features for Specific Use Case
Active Campaign
INR 4,015/month (for sales CRM solution)
4.5
• Data integration from various channels
• Customer segmentation basis specific metrics
• Customizable campaigns
Zendesk
INR 6,473/user/month (for service solution)
4.3
• Omni-channel customer support
• Efficient ticketing system
• AI & chatbots for instant responses
Microsoft Dynamics
INR 4,079/user/month (for SMB service solution)
3.8
• Data integration from various channels
• Omni-channel customer support
• Customer data analytics for usable insights
Engage Bay
INR 901/user/month (for sales CRM solution)
4.6
• Data integration from various channels
• 360-degree data control & access
• Customer data analytics for usable insights
---
Ending Note
Each of the tools explained above comes with its unique set of strengths. While they are all great CRM examples, all of them might not be suitable for your needs. The wrong software can burden you with unnecessary costs and hamper the growth of your business. However, the right software can work wonders for your revenue and profitability and give you a lucrative return on your investment. Team size, area of operations, and desired outcome from the tool are some factors that can guide your choice and help you find the ideal CRM for you.
Kylas Sales CRM can help your teams collaborate effectively and produce the best results for your business. It is designed in a way that every team can use it for their specific requirements, and it can scale the overall productivity of your business.
Start 15-day Free Trial