The capabilities of ChatGPT are wide-ranging and have garnered significant attention. From composing emails to creating content and even writing code, ChatGPT seems to be able to do it all. This is probably why ChatGPT crossed 1 million users in just 5 days of launch and gained 100 million active users by January 2023.
But what exactly is all the hype surrounding ChatGPT that we've been hearing about for some time now?
Many consider ChatGPT to be the future that has already seamlessly integrated into our everyday lives. Some even describe it as magical because of its ability to provide satisfying and accurate responses to whatever users are seeking. Given this context, it's only natural to anticipate the integration of ChatGPT into your favourite CRM system.
92% of businessmen discovered that you can eliminate all business-related issues in very less time. It can also upsurge your business very quickly just by Integrating ChatGPT with CRM. In fact, CRM giants such as Hubspot and Salesforce have already announced their ChatGPT integrations.
Just imagine the power of leveraging ChatGPT's lightning-fast and precise responses to handle customer interactions and requests across a diverse array of inquiries. And that too, while delivering swift and accurate customer support. It's precisely what salespeople have been longing for.
Let us delve into what ChatGPT is and explore how its integration with CRM data can help businesses unlock actionable insights.
---
What is ChatGPT?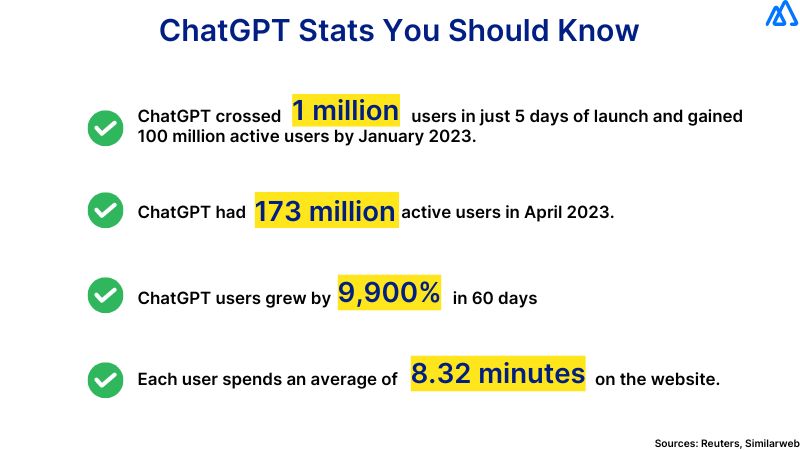 ChatGPT is a modern chatbot technology that employs natural language processing and machine learning to interact with users. It utilizes the advanced GPT 3.5 language model, which is based on deep learning techniques, enabling it to generate responses and engage in conversations.
With its human-like understanding and the ability to handle a high volume of interactions simultaneously, ChatGPT enhances resource productivity, reduces costs, and fuels growth. From text synthesis to language translation to business proposal writing, this AI chatbot is equipped to assist customers in achieving their goals.
---
How ChatGPT Integration with CRM Can Benefit Your Business?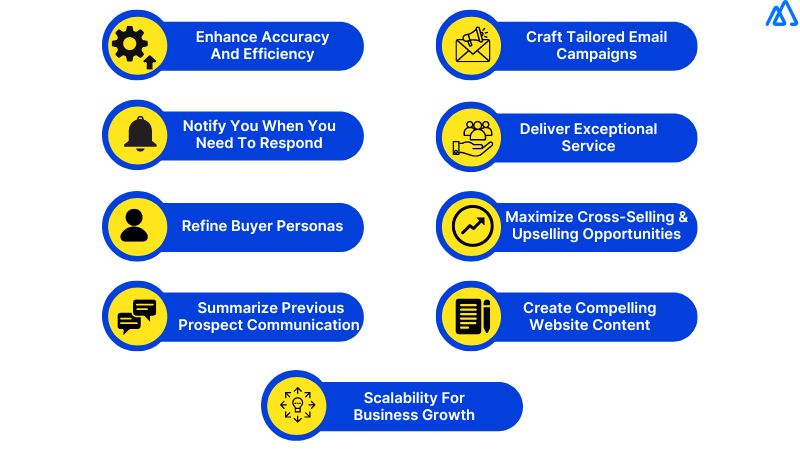 Take a moment and consider the impact of integrating ChatGPT with your existing CRM system (which already caters to your business requirements). The possibilities are intriguing, so let's explore a few ways in which the combination of ChatGPT and CRM data can empower your business.
1. Enhance Accuracy And Efficiency
By automating data entry processes, ChatGPT can reduce errors that can occur during manual entry and saves valuable time. Additionally, ChatGPT can analyze customer interactions stored in the CRM system, providing valuable insights and streamlining decision-making processes, leading to more accurate and efficient business operations.
For example, when a customer submits an online form, ChatGPT can extract the relevant information and populate it directly into the CRM system, reducing manual data entry errors and saving time.
2. Craft Tailored Email Campaigns
With ChatGPT integrated into your CRM, you can create highly personalized email campaigns that resonate with individual customers. By using the rich customer data stored in the CRM, ChatGPT can generate tailored email content based on factors such as customer preferences, purchase history, and browsing behaviour. This level of personalization increases customer engagement, strengthens relationships, and improves the chances of conversion.
For instance, if a customer recently purchased a laptop, ChatGPT can generate an email recommending relevant accessories or software upgrades that complement their purchase.
3. Notify You When You Need To Respond
It can enable timely notifications for customer inquiries or follow-ups. When a customer contacts your business through various channels, ChatGPT can analyze the incoming messages, assess their urgency, and notify you promptly. This will ensure that you never miss an important customer interaction. Furthermore, you will be able to provide swift and efficient responses, ultimately enhancing customer satisfaction.
Let's say a customer sends a message through your website's chatbot. ChatGPT can analyze the message and determine its urgency. If it's a high-priority inquiry, ChatGPT can notify the appropriate customer support representative, ensuring that prompt attention is given to the customer's needs.
4. Deliver Exceptional Service
ChatGPT can assist in answering customer queries, offering troubleshooting guidance, and suggesting relevant solutions based on the customer's historical data stored in the CRM. Using this information, ChatGPT can help your customer support team provide personalized and effective assistance. Also, it will enhance the overall customer experience and foster customer loyalty.
For example, if a customer has a problem with a product, ChatGPT can analyze the issue, access relevant troubleshooting guides from the CRM, and suggest step-by-step instructions to resolve the problem.
5. Refine Buyer Personas
By analyzing customer interactions and behaviours recorded in the CRM, ChatGPT can identify common characteristics, preferences, and trends among different customer segments. This valuable information enables you to create targeted marketing strategies, personalized messaging, and tailored experiences for specific customer groups, leading to improved customer engagement and higher conversion rates.
For instance, by analyzing customer interactions, ChatGPT can identify common preferences among a particular customer segment, such as their preference for eco-friendly products or their affinity for specific features, allowing you to tailor marketing campaigns accordingly.
6. Maximize Cross-Selling And Upselling Opportunities
Based on customer data, purchase history, and interactions, ChatGPT can identify patterns and recommend relevant additional products or services to customers. This proactive approach will help maximize revenue potential, enhance the customer experience by offering complementary offerings, and strengthen customer relationships.
Suppose a customer purchases a smartphone from your online store. ChatGPT can analyze their purchase history and recommend complementary accessories, such as phone cases or wireless headphones, increasing the chances of cross-selling and upselling.
7. Summarize Previous Communication With Prospects
This feature can assist sales representatives by providing a quick overview of previous interactions. They will be able to understand the context, preferences, and specific needs of each prospect. Using this information, sales teams can personalize their approach, tailor their messaging, and provide a more customized and effective sales experience, ultimately increasing the likelihood of conversion.
Let's say a sales representative is about to have a call with a potential customer. ChatGPT can provide a summary of past interactions, highlighting the customer's preferences, previous concerns, and any ongoing discussions. This will enable the sales representative to have a more informed conversation and build a stronger rapport.
8. Create Compelling Website Content
ChatGPT can analyze customer data stored in the CRM, such as preferences, purchase history, and browsing behaviour. Using this data, it can generate personalized product recommendations, frequently asked questions (FAQs), and relevant blog content. This dynamic and targeted content can enrich the browsing experience, capture customer interest, and increase the likelihood of conversions on your website.
For example, if a customer frequently searches for information about a specific product, ChatGPT can analyze their preferences. It can also generate customized product descriptions or blog articles that cater to their interests.
9. Scalability For Business Growth
ChatGPT can efficiently handle a higher volume of inquiries, providing consistent and accurate responses without compromising quality or response times. This scalability will help your business effectively manage customer interactions, maintain excellent customer service, and accommodate the growth of your customer base.
For instance, if your e-commerce website experiences a surge in customer queries during a sale event, ChatGPT can efficiently handle a larger number of chat conversations, providing consistent responses and ensuring a smooth customer experience.
---
Conclusion
These are just some of the things that you can do by combining ChatGPT with your CRM data. It's not only about automating your business processes. But also about getting information about the best opportunities to grow and boost sales.
AI can indeed do all that a human can do. But it still needs a human touch to stay on track with what we want to achieve.
Kylas is a powerful enterprise-grade CRM that is helping growing businesses improve their sales process and marketing campaigns. Schedule your demo with us to see what you can do with our sales CRM.
Start 15-day Free Trial