According to the 80/20 rule, 80% of your sales revenue is generated by 20% of your salespeople. Naturally, every business would want their salesperson to give their best and contribute to revenue generation as much income as possible.
It is often seen that poor sales performance can often be attributed to a lack of motivation and nothing boosts your sales team's motivation more quickly than an incentive. Keeping sales representatives engaged and motivated is extremely important to keep your sales team deliver to their highest potential.
Sales incentives programs are a great way to keep your salespeople motivated and adding an incentive plan or rewarding your sales persons pushes them to deliver even more.
Let's find out what sales incentives programs are, and how do you pick the right one for your business?
Sales Incentives Explained
Sales incentives are rewards that sales professionals get for completing specific goals. The rewards could be monetary or non-monetary. Sales incentive programs supplement the standard compensation structure and are helpful in motivating salespeople to improve their performance.
According to the Incentive Research Foundation, 90% of all top-performing companies have some kind of sales incentive program. Reports suggest that you can increase employee performance by 44% with a well-structured incentive program.
Companies that ran sales incentives programs before have had a success rate of 79% in achieving established company goals when the right rewards were offered.
What Are Traditional Sales Incentive Programs?
A few decades back, when people were not aware of the internet, sales happened a lot differently. People relied entirely on the salesperson to gather information about a product. Sales representatives, in those days, played a key role in educating prospective customers and building customer relationships.
The salesperson was the product expert and exerted a great deal of influence in the buying decisions of consumers. This structure made it easy to set business objectives and measurable performance metrics.
For instance, companies could easily design a sales incentives program around the number of units sold in a specific period. There was no need to factor in other aspects, such as customer experience or how competitors were influencing buying decisions.
The sales representative was responsible for the entire sales process, from finding leads to closing the deal. Companies also built sales incentive programs around quantifiable outputs without taking behavioral performance into consideration.
---
Why the Traditional Sales Incentives Programs Don't Make Sense Now
Traditional incentive modes do not make sense now because consumers do not depend entirely on sales representatives for product information. More and more people prefer to shop online nowadays, which means that they rarely interact with a salesperson.
In 2021, 2.14 billion people shopped online. According to Nasdaq, 95% of all shopping will happen online by 2040. 81% of all consumers research on the internet before making a purchase. 93% of millennials read online reviews before buying something.
These data suggest that, besides the product knowledge of your sales rep, there are other factors that influence sales nowadays – such as company reviews, mobile apps, client testimonials, influencer recommendations, and more.
Customer journeys and sales processes have become increasingly complex. The internet has empowered customers to source information on their own. They only depend on the sales representative for supplementary information.
Sales professionals no longer own the buying process.
Rather, they are competing against free information on the internet and a host of competitors.
With the expansion of the selling and buying process, the role of the salesperson has also expanded. Customers want to interact only with trustworthy representatives who have their best interests in mind.
Some customers like to speak to multiple people at a company, such as sales representatives, sales managers, and account managers, before making a purchase. Doing so helps them trust the company, especially if they receive consistent messages from everyone to whom they speak.
The modern sales incentives program needs to consider the strengths, weaknesses, and other characteristics of each salesperson to determine the right reward. Teamwork is also vital.
Businesses must implement programs that incentivize the entire team to close deals without involving a lot of stakeholders. Companies must implement sales incentive programs that align with the company's objectives, targets, methodologies, and KPIs.
All salespeople are not the same. That's why companies must consider various options before implementing a sales incentives program.
---
Different Incentive Schemes
An effective sales incentives program is one that not only motivates a salesperson to improve their performance but also encourages them to work together as a team. Teamwork makes a company profitable, and competitive and promotes a healthy and productive work environment.
Ultimately, your incentives program should supercharge your team to motivate them to work hard.
Here are some of the incentive schemes you may consider: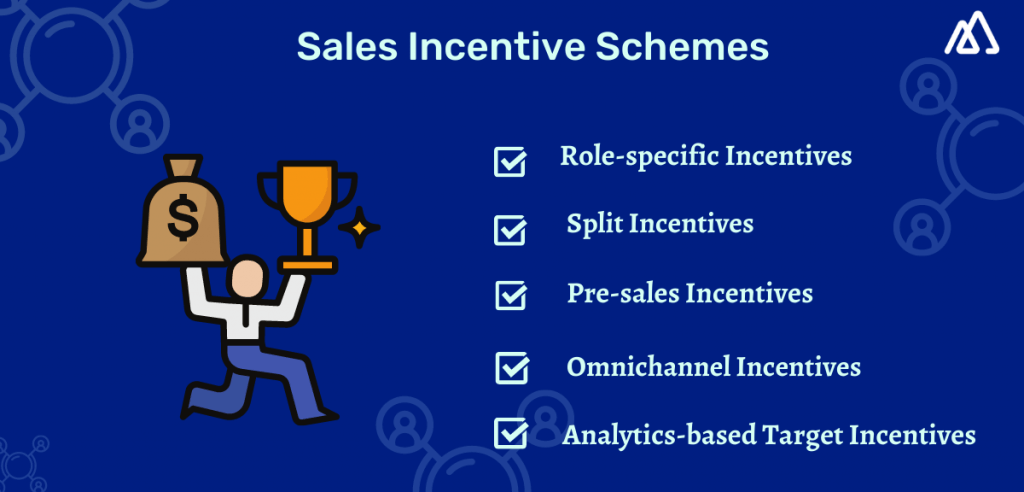 1. Role-specific Incentives
Sales representatives use various tactics and methodologies to navigate the sales process. You could implement an incentive program that empowers your salespeople to play to their strengths. Incentivizing sales representatives depending on their individual capabilities is the best way to do it.
That being said, every team also has a super-achiever who outperforms other sales reps consistently. If you have a broad incentive goal, your super achiever may hit the target a lot faster than your other representatives.
What can you do to keep them going? If your sales superstar feels that there is nothing more to gain, they may stop performing at their top capacity once they reach their goals.
Consider implementing a tiered incentive program, one that promises a higher reward for each subsequent milestone. Your super-achievers will have something to motivate them to outperform themselves. For the average sales representatives and underachievers, you will be giving them an attainable target.
Hitting a milestone increases confidence and positivity, which, in turn, helps improve sales performance. According to Forbes, optimistic sales professionals outperform pessimistic ones by 57%. This is true even if pessimistic sales professionals have better selling skills.
2. Split Incentives
Some products and services are simple enough for a salesperson to close a deal on their own. However, for complex products and services, salespeople may need to work with sales specialists or product managers to make a sale.
For instance, many software companies keep adding new features to upgrade their products. Hence, salespeople may need the help of a sales specialist to explain the new features and product capabilities.
If your company deals in similar products, you may consider a split incentives program to motivate both the salesperson and the sales specialist to work together to close deals. It is also a fair way to compensate both parties for closing a deal. However, how you split the incentives must be clearly defined beforehand to avoid misunderstandings and conflict.
3. Pre-sales Incentives
The current business landscape is fiercely competitive. You have numerous competitors working in the same space selling similar products. Companies, therefore, inundate customers with numerous ads and promotional offers in a bid to outperform one another.
Customers also take time to compare the products of different companies. In many cases, they may request demos from multiple companies and research the pros and cons of each product. This takes up a significant amount of time, which elongates the customer journey.
Your sales representative may be in contact with such prospects throughout their entire journey.
In such a case, you should consider offering incentives throughout the various stages to keep your salespeople motivated. It will encourage short-term as well as long-term focus.
4. Omnichannel Incentives
With online shopping becoming more prevalent, customers are not only interacting with salespeople but also with AI bots on various digital channels in their buying journey.
Many companies are implementing smart bots so that they can respond faster to customer queries. However, it is not possible to replace humans entirely. You will still need sales representatives to nurture relationships, understand customer needs, and identify pain points.
Omnichannel incentives help to reward sales representatives for the part they play in the entire process. For instance, you may be sending automated emails with promotional materials to your customer base. Your sales representatives speak to customers who respond. Representatives who successfully close the deal should be rewarded for their efforts.
5. Analytics-based Target Incentives
Forecasting customer demand and setting targets can be difficult in complex sales scenarios. In such cases, implementing a motivating incentives program could also be difficult.
You could use big data analytics to create accurate sales projections and develop a predictive model for customer demand. The more information you feed into these systems, the more accurate they get over time. This can help you implement a sales incentives program that rewards your sales representatives on metrics and behavioral performance.
---
Monetary Incentives vs. Non-monetary Rewards For Your Sales Team
Cash and non-cash rewards can both be effective, provided they are applied in the right scenario.
Cash rewards are the traditional way of rewarding sales representatives and are usually paid out monthly, quarterly, or yearly. The cash rewards are paid over and above their salary. The salary is in recognition of all the work that a sales representative has to do, which includes both selling and administrative tasks. The commission scheme rewards salespeople for hitting certain predetermined sales goals.
However, it is not a good idea to cap sales commissions. Doing so means that your salespeople have no motivation to keep them going after they have hit the target.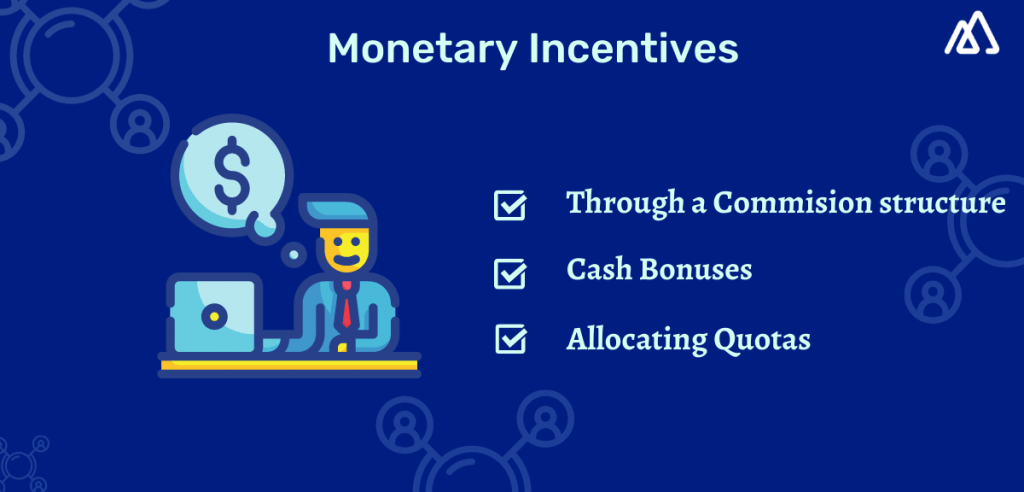 Non-cash rewards include gift cards, free trips, tech gadgets, tickets to concerts, and more. You can get creative as non-cash rewards give you more flexibility and freedom in how you motivate your sales team.
Cash rewards are viewed as compensation, while non-cash rewards tend to be fun and memorable. Your sales team may hesitate to discuss cash rewards, but they will be more forthcoming when it comes to non-cash rewards, leading to better team bonding.
Non-cash rewards also tend to have a better impact on the overall productivity, performance, and morale of your sales team.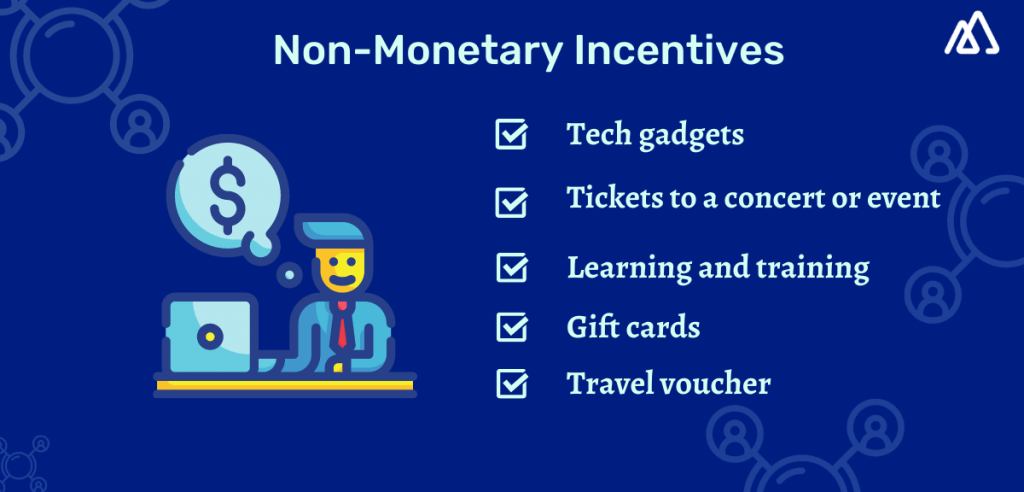 Ideally, a combination of cash and non-cash rewards works best to motivate your sales team.
---
Examples of Sales Incentives Schemes
Here are some real-life examples of sales incentives programs you may consider:
An HVAC company implemented a sales incentives scheme that offered its employees reloadable debit cards when a product purchase got approved. This program led to an increase of 45% in the number of units bought.
A major casualty insurance provider implemented a channel incentives program that increased sales by 19%. The company rewarded its insurance agents with travel and merchandise rewards.
---
How to Apply the Right Sales Incentive Program to Your Business?
You could implement any of the incentive schemes mentioned above with a combination of cash or non-cash rewards. However, whatever scheme you choose should align with your organization's goals.
For implementing the right sales incentives program, you need to keep a few things in mind:
– You Should Incentivize a Salesperson's Behavior and Not the Outcome
Many salespeople don't enjoy administrative tasks like maintaining timesheets, updating their pipeline, or scheduling follow-up tasks. By tying their behavior with incentives, you encourage your team to complete these important responsibilities.
– Implement a Plan That Helps Everyone Succeed
The biggest mistake that most companies make is implementing sales incentive schemes that only reward the top performers. Your program should be such that it motivates your average performers and underachievers to push beyond their comfort zones.
Doing so will convert your entire sales team into a productive unit.
– Build Transparency
Transparency eliminates confusion and builds trust, leading to higher productivity. Your sales team should be able to track their data so that they can evaluate their progress towards their sales goal.
– Consider Group Incentives
Group incentives programs could be an excellent way to boost productivity, especially in project-based jobs. It also motivates team members to perform at higher levels because they feel that they may let down the team if they don't perform well.
– Recognize Innovative Approaches
If some of your salespeople are using innovative approaches to execute regular tasks, you should acknowledge their innovation. Offering a reward is an excellent way to encourage them further.
---
Conclusion
The sales process is evolving and getting more complex day by day. That is why it is important for companies to shift the way they think about engaging and motivating sales representatives. By personalizing your sales incentives to the sales reps on your team, you'll be more likely to motivate them to work harder. The right sales incentives programs could supercharge your sales team, encouraging them to outperform themselves.
Using the incentive ideas, you can find programs that appeal to each sales rep, giving them the much-needed motivation to give their best, even through difficult times.
Along with this, using a sales CRM will help your business scale faster. If you are looking for an easy-to-use CRM with a full stack of features, Kylas sales CRM is the right choice. Sign up for a demo or a 15-day free trial to start with.
What's your experience with sales incentives? Share your experience with us in the comment section below.
Start 15-day Free Trial