Consider any sales instance; you will always see a sales rep judging a lead on the basis of the insights he gathers after a conversation. It means that the first call or the discovery call has to be the most crucial part of the sales process. This is the time when 54% of the prospects want to know how your product works and 65% of your sales reps want to determine what the buyer is trying to achieve with your solution.
When there is a lot that goes into transforming your prospects into paying customers, your sales team needs to make sure that it is doing its best to qualify leads before pitching the solution.
Salespeople believe that 50 percent of the clients they talk to aren't a good fit for the product or service they're selling. Taking the discussion further would result in time wastage that you can otherwise invest in some other potential prospect.
To avoid this, sales reps need to find answers to the following questions to determine if they are chasing the right prospect or not.
Why should the prospect buy your product or service?
Do they seem interested in making a transaction with you?
Which technique would work here to close the deal?
Can your product or service address your prospect's pain points?
These answers will reveal a lot about the prospect and you can decide how to proceed.
So, what should be done?
Over 30 percent of salespeople believe that budget is the number one reason deals don't happen, followed by timing (25.5 percent), decision-making (18 percent), value (12 percent), and connection (12 percent).
It's worth moving on with the sales process only after you have qualified someone for your brand. But still, some salespeople directly jump to the pitch and don't even bother about finding the right customer for their brand.
Let's take a step back and try to figure out why qualifying is essential. When someone expresses interest in your solution, you must make sure that they are the right fit for your business to save time and focus on more important leads.
But reaching that goal is not easy for most marketers who consider generating qualified leads a huge challenge. BANT is a common sales lead qualification framework that comes up over and over again. Also, using marketing automation software can increase qualified leads by as much as 451%.
You can book your demo with Kylas and find out how the sales CRM can help you with better lead qualification.
Keep reading to find out what sales BANT is and how it can help your sales reps.
---
What is Sales BANT?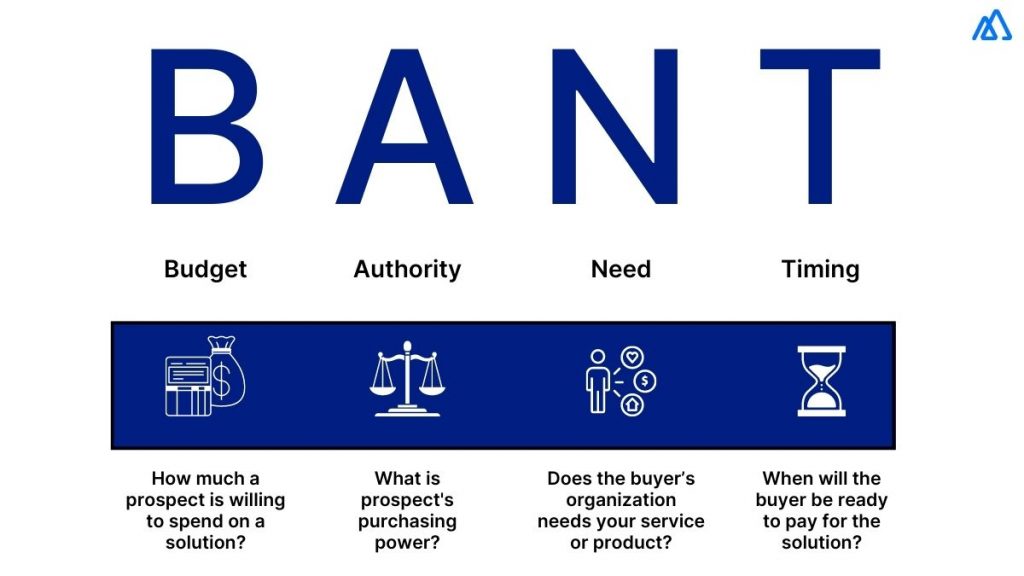 BANT is an age-old sales framework that separates hot leads from unwanted ones through a series of questions. It helps sales reps sell to good-fit prospects for an enhanced conversion rate. When reps know that a lead is qualified enough to work with their company, they will automatically know which leads to prioritize.
The acronym stands for four factors that determine a prospect's buying decision: Budget, Authority, Need, and Timing. Basically, sales BANT gives you the checklist to shortlist the prospects that align with your company at the beginning of the sale process. This sales qualification methodology is meant to help sales reps obtain all the pertinent information upfront to avoid time wasters.
IBM developed this framework in the 1950s to quickly qualify leads and make more time to cater to them over other leads.
Let's a little deeper into what the sales BANT stands for and how you can qualify leads with it.
---
How to Use BANT to Qualify Leads during a Modern-Day Sales Call?
And What Questions to Ask to Identify BANT?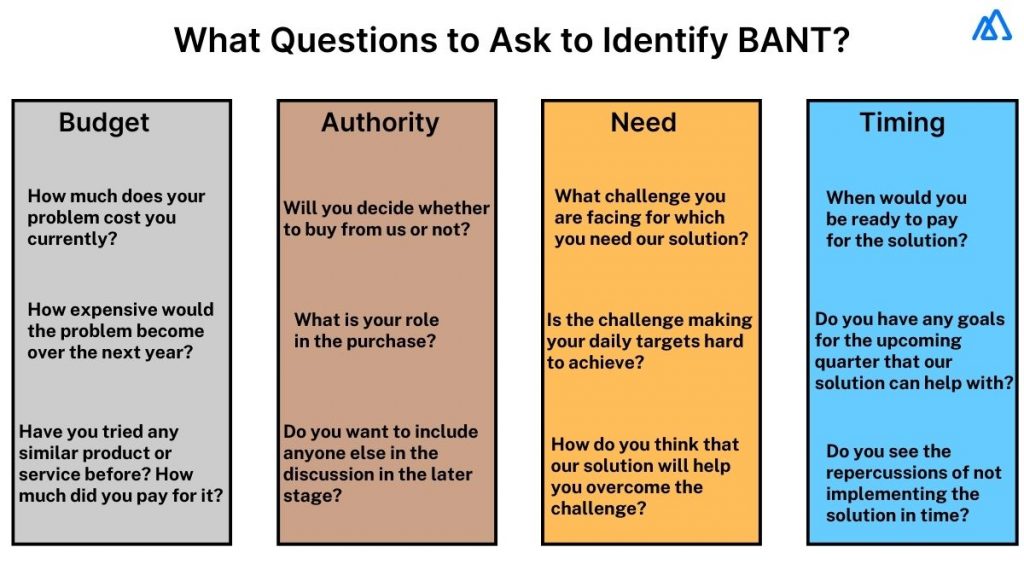 BANT is among those sales methodologies that can be highly customized as per the organization. This is the reason why many B2B industries prefer BANT to determine who's most likely to buy from their brand and weed out the ones who likely won't. It's simple to use. All your sales reps have to do is engage with leads over a call or some other channel and uncover some answers about the lead.
The first connection between a sales rep and a lead is often a discovery call that paves the way to the further process. Winning reps ask between 12-15 questions per discovery call and the most successful sales discovery calls are 30-40 minutes long. During the call, reps ask questions about Budget, Authority, Need, and Timeline. If there is a Yes to at least three answers, the lead is worth pursuing.
For leads that have a yes to less than 3 components, there are other ways of keeping in touch with them like through email automation or social media retargeting. Just because a lead is not ready to buy at the moment doesn't mean they won't buy in the future. It is essential but we will discuss it sometime later.
Let's talk about how your sales team can qualify leads using BANT during a modern-day sales call.
Budget
It represents how much a prospect is willing to spend on a solution. Here are a few questions that reps usually ask regarding the lead's budget.
How much does your problem cost you currently?
How expensive would the problem become over the next year?
Have you tried any similar products or services before? How much did you pay for it?
What is your budget for our solution?
Did you consider the cost of the solution to your problem when framing the budget?
What ROI do you expect after you buy our solution?
We've calculated that our product or service can save you $X per year. Does this meet your expectations?
It is important to determine that the lead's budget parameters align with the pricing model of your business. If your prospect can't afford your product or services or isn't willing to pay even the minimum of your price, it's best not to chase the dead end.
Authority
It focuses on confirming if the prospect has purchasing power or not. Here are a few questions that the reps usually ask regarding the lead's authority.
Will you decide whether to buy from us or not?
What is your role in the purchase?
Are there any other stakeholders?
Will you use our solution or someone else?
Do you want to include anyone else in the discussion in the later stage?
In most cases, people who will contact you for a purchase, won't play a direct role in the decision-making process. They may just be there to pass along objective information to the decision-makers. You will be wasting your time if you spend too much time convincing such leads.
Need
It involves determining whether the buyer's organization needs your service or product. Here are a few questions that the reps usually ask to get well-versed with the prospect's needs.
What challenges you are facing for which you need our solution?
Is the challenge making your daily targets hard to achieve?
How do you think that our solution will help you overcome the challenge?
What steps did you take to fix this issue in the past?
Will the issue affect you in the upcoming quarter?
If there was a solution, will you implement it?
Have you tried any solutions? How have they worked out?
Your sales team must ask the leads about their pain points, challenges, solutions they have already tried, and why they think you will help them. There is no point in pushing the sales process further when you know that you won't be of any help to them. And if you can solve their issue, make sure that it's big enough for the lead to take an action and make a transaction.
Timing
It ensures that the buyer's timeline matches the seller's. Here are a few questions that the reps usually ask about the lead's timing.
When would you be ready to pay for the solution?
Do you have any goals for the upcoming quarter that our solution can help with?
Are there any upcoming projects that our product or service can help streamline?
Do you see the repercussions of not implementing the solution in time?
Are there any critical and upcoming events for which you need our solution's help?
Are you on course to reach your next goals, without any hindrance?
When a lead is in dire need of your product or service, it will close faster. It also means that they will spend less time researching your competitors and speed through the sales funnel. This will also help you keep your sales cycle shorter so that you can close more deals.
Sales BANT has been a breakthrough in the process of sales for so many years and even today. But if your team is using it the way it was used five decades ago, it is bound to be ineffective. The more they understand the prospect's side of the story, the better they will be able to help them with their purchase and save time.
Let's move to the next section to see if BANT is effective for modern-day sellers or not.
---
Can Organizations Rely on Sales BANT for Lead Qualification in 2023?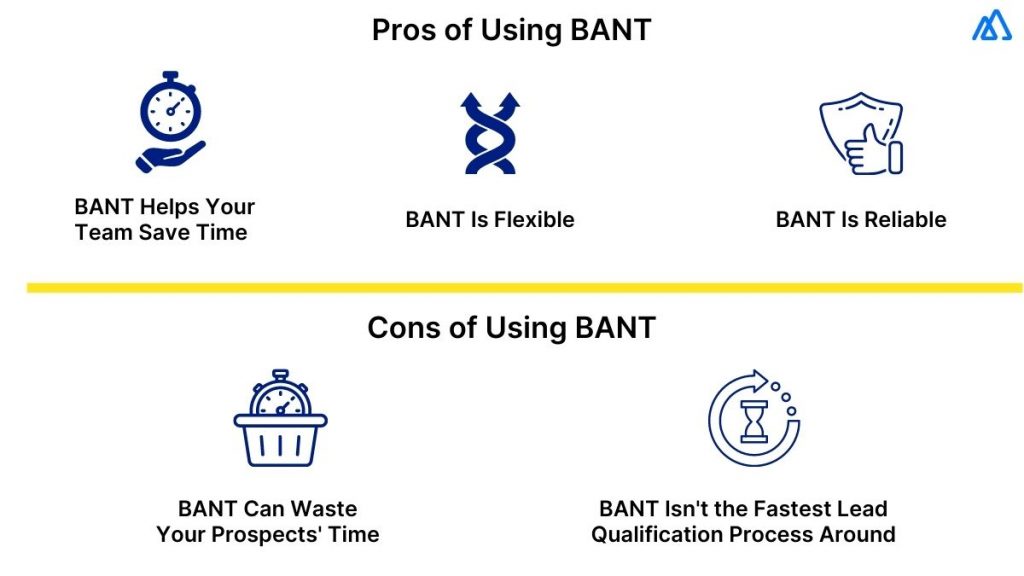 Back in time, when IBM introduced BANT, it became the instant favorite of every organization of that time. They had a better framework to qualify leads. They could save their time by filtering out unwanted leads that increase their work efficiency. What else would they have asked for?
But do you think the same half-century-old tactics would work today?
In recent decades, the business world has seen many changes in how a seller sells and a buyer buys. We are not in the 1950s where you are selling hardware to companies. It's more of digital products and services that are traded. Some SaaS companies don't even find BANT a perfect fit but with a little tweaking, it can offer the same old benefits. This could be a reason why only 46% of sales reps report having sufficient data insights about buyer intent.
These companies need to move from the rigid BANT definition and define it as per the modern day. It's more about the value these days and if there is something valuable, any company would put money into it.
The difference is in the way you use BANT. When the buyers have changed, sellers need to change the way they sell. This applies to your lead qualification process also. BANT has not lost its effectiveness but sales reps don't implement it in accordance with modern-day sales processes.
Because of changed customer behavior and the advent of technology in the purchase process, sellers must modernize the BANT framework to qualify leads properly. Here are a few things that are holding back sales BANT from being an effective lead qualification technique for modern-day sellers in 2023.
Missing Right Approach
It's a lot about how you implement BANT. Sales reps ask a certain set of questions from the buyers and pursue them accordingly. It's true that the lead qualification process is all about asking questions but the buyer should not feel like they are being interrogated. The conversation needs to be interactive to build a genuine connection so that reps can understand the prospect.
A Single Decision-Maker is a Unicorn
BANT establishes whether the single person or the lead has the authority to make a decision. But when we are talking about qualifying a lead for your product or service, we are talking about the whole organization and not just the person you are talking to. In actuality, there are 7 or more people participating in the buying process. By asking the right questions about the authority, reps can use BANT more appropriately.
Budget, Authority, Need, and Time- The Standards Are Changed
Sales BANT was so strong in the past because it aligned perfectly with the seller's approach. The questions were framed and asked in the order it has been named i.e. Budget, followed by Authority, Need, and Time. But today, for businesses, budget is not more important than their need. It is more about ROI that every modern business runs for. So, the reps need to talk about the value that their solution brings with it.
All the Four Yeses or A Big NO
As per BANT, a lead was qualified only if checked all four components. If there was a no to even one of the components, the lead was declared unqualified. But in the modern world, sellers have seen that even if there is a No to some components, the lead can convert into a customer. Plus, if not the lead, someone else from their team could be a more appropriate contact to take the conversation further.
---
Alternatives to BANT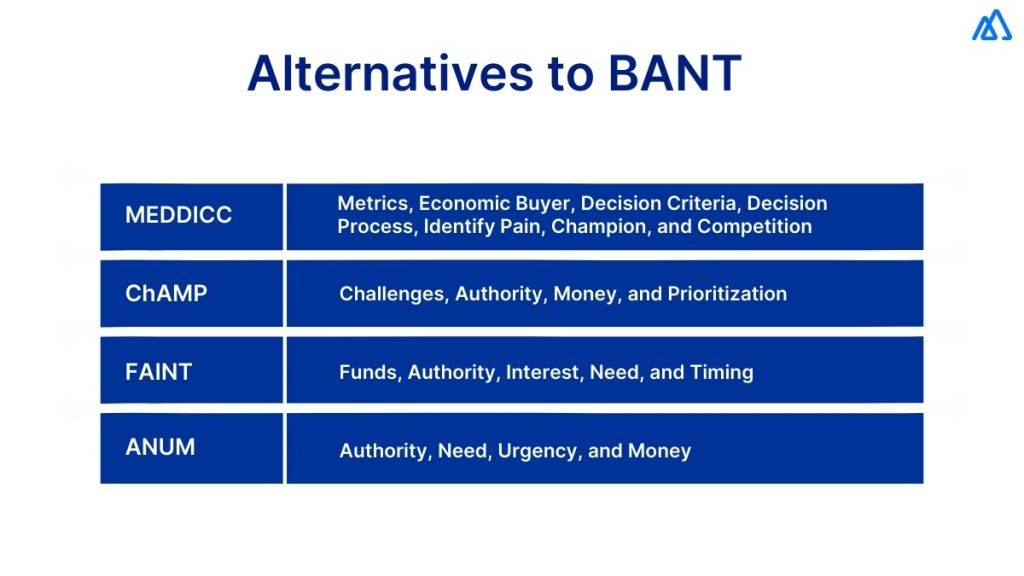 There are a few alternatives to BANT that have their own sets of benefits and drawbacks and are used in some organizations. However, they share one common goal- to help salespeople qualify leads quickly and easily.
CHAMP (CHallenges, Authority, Money, Prioritization)
CHAMP addresses the same concerns as BANT but is more buyer-centric. The framework focuses on solving the prospect's specific challenge. The methodology believes that the budget can change when the solution is effective.
MEDDIC (Money, Economic Buyer, Decision Criteria, Decision Process, Identify Pain, Champion)
MEDDIC works great for organizations with longer sales cycles. Sales reps spend a lot of time on qualifying leads to build great relationships with the filtered leads, resulting in a better close ratio and tremendous success.
ANUM (Authority, Need, Urgency, Money)
ANUM sales qualification framework focuses on the decision-maker. Sales reps' main goal is to determine if they are talking to the decision-maker of the organization or not. It considers that some companies have flexible budgets.
FAINT (Funds, Authority, Interest, Need, Timing)
FAINT is a flexible approach to qualifying leads. It works great for reps who contact high-profile prospects who can pay an X amount for the solution they have and won't negotiate much on the pricing.
---
Final Takeaway
Sales BANT has been in use for ages because it helps in identifying & targeting the right prospects. It is applicable to a wide range of products and services and can easily be customized. With thoughtful questions, the framework naturally flows in two-way communication.
It's also true that a lot of sales reps think that it is outdated. But we genuinely believe that they must use it in their next call and uncover its effectiveness before making a decision. Make some tweaks and turns and you are all set.
Optimize your sales lead qualification with Kylas. The sales CRM will help your sales team follow a structured process and keep data manageable. Schedule a demo now!
Start 15-day Free Trial