Budding entrepreneurs with growing businesses are often torn between two sales strategies– inbound and outbound sales.
The inbound vs. outbound sales debate – whether growing businesses should adopt the outbound sales approach or adhere to the more popular inbound sales strategy – has been going on for ages.
Although inbound sales are often regarded as the better sales strategy, experts also believe otherwise. According to them, outbound sales have been delivering better results than inbound sales for generations.
The answer to this inbound vs. outbound sales debacle is not straightforward. There are many different takes on the two strategies, and it is essential to understand both inbound and outbound sales well before you can decide.
---
What is Inbound Sales?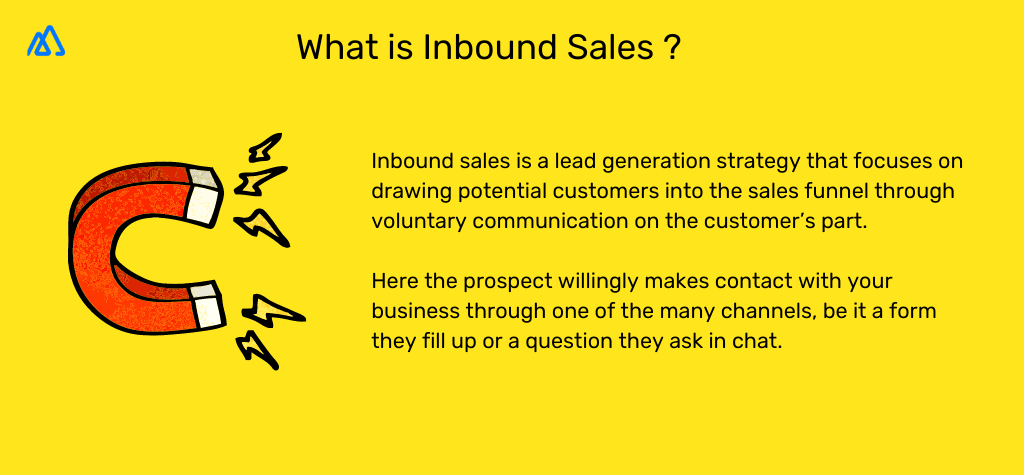 Inbound sales is a lead generation strategy that focuses on drawing potential customers into the sales funnel through voluntary communication on the customer's part. The inbound sales strategy does not rely on unsolicited communication that customers have not opted in for.
Here the prospect willingly makes contact with your business through one of the many channels, be it a form they fill up or a question they ask in chat or others.
For inbound sales, the business has to attract the prospect's attention through content on the business's website, social media pages, blogs, forums, and so on. The business has to highlight that they have a solution for the target customers' pain points and problems. Also, inbound marketing costs $14 less than traditional marketing for each newly acquired customer.
For this, the business creates valuable content from which prospects can learn about the brand or business. This content has to reach the right audience through targeted marketing and then, you have to wait for the prospect to make first contact or opt-in for communication.
---
Inbound Sales Methodology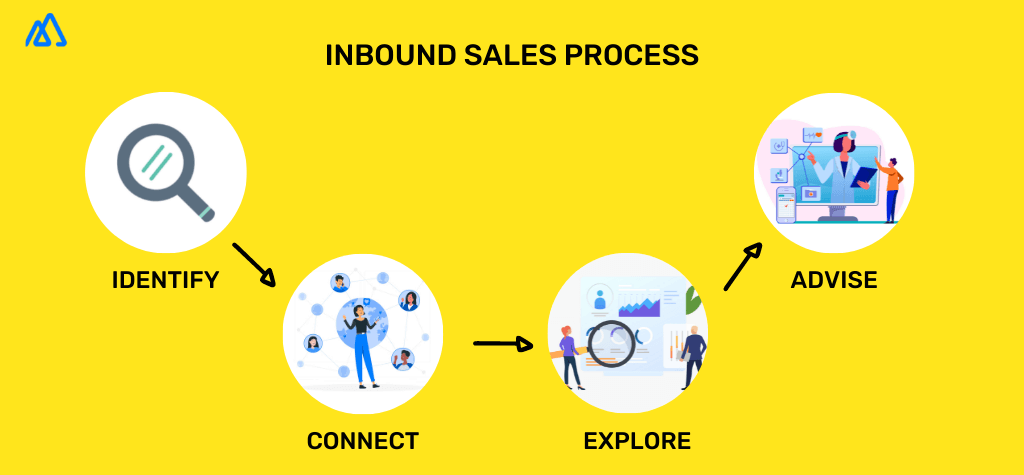 The inbound sales methodology can be broken down into three broad stages – awareness, consideration, and decision. These three stages can further be distributed into four action items that a sales team has to take, as mentioned below.
1. Identify
This is the first step, where salespeople identify the right prospects to target. Without this action, the entire marketing and sales effort would be futile as you would not know who you are trying to attract and engage. Once the right prospects or the target market get identified, the awareness stage starts.
2. Connect
The next step is to connect with the prospects and create awareness about your brand or business. Inbound sales do not mean sending unsolicited emails or making cold calls. It means creating content they would want to engage with and allowing them to make contact first.
This could be done by publishing informative blog posts around the target audience's pain points, addressing their concerns, and answering their questions.
You can also promote a product or service that solves the customer's problem to serve this purpose. The idea is to encourage the prospect to engage with your business and draw them into the sales funnel without explicitly pushing the product/service.
This also marks the beginning of the consideration stage when the prospect becomes aware of your brand and starts considering whether or not to take the next step. If the lead decides to connect with you, it becomes a qualified lead.
3. Explore
Once the lead has initiated communication, the sales team has to explore the prospective buyer's specific problems and pain points. They need to find ways of promoting your product/ service as an effective solution to the buyer's problems. During this time, the potential customer is still considering their options and moving closer to a purchase decision.
4. Advise
This is the final stage in the decision-making process, where the salespeople need to advise the buyer on why your solution is the most effective in addressing their needs. The qualified lead converts into a customer if you successfully convince the prospective buyer.
Inbound Sales Channels
Inbound sales channels are those channels where you can create awareness about your brand or business among your target audience. These are usually channels where you expect to reach your target audience or where they are found to spend more time. Most of these channels today are digital, which include –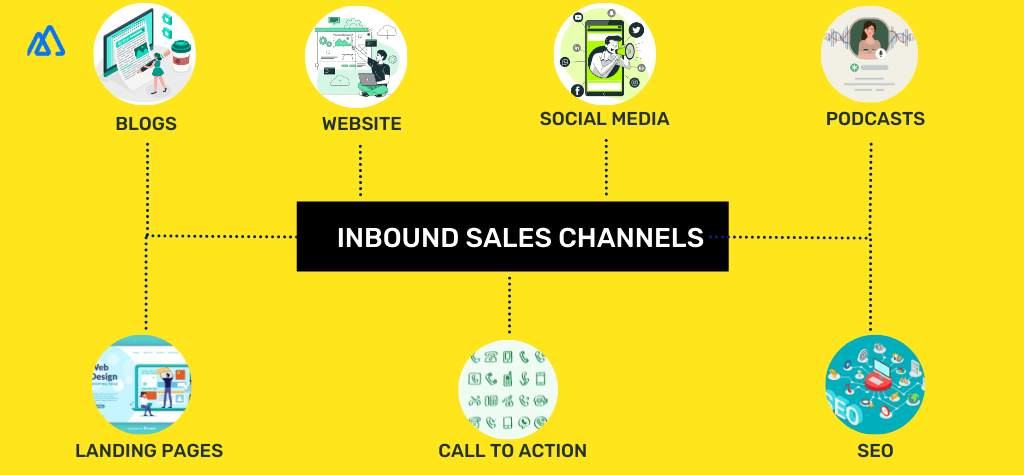 The fundamental idea of inbound marketing is to publish valuable and informative content. If the audience finds your content worth sharing, they may see your brand as an authority in the field and opt in for more. They may also share your content to reach more people.
Examples of Inbound Sales
1. Blog
Most examples of inbound sales that you would come across will involve digital marketing.
Let us say your business sells personalized beauty products. One way to draw people to the business and drive sales could be by launching a beauty blog. You create a blog that shares beauty and wellness advice, tips, hacks, and product reviews. If your blog's content is informative and valuable to your target audience, they will keep coming back for more. This is the awareness stage.
You also have to focus on SEO so your posts rank higher in the search results when someone searches for something related to your blog topics. That is how you draw organic traffic to your blog or website.
As they get more familiar with your brand, you can add specific calls to action at the end of every blog post, such as a "Take this quiz to know your skin type" or "Find your custom-made shampoo." This is the consideration stage, where the prospect contemplates whether to take action. If they do click on these CTAs, you can collect their emails at the start of the quiz or ask for emails to send the quiz results. You have your leads.
Once you have their emails or contact information, you can engage with them. Convince the prospect that your product can meet their needs, answer their queries and follow up on the communication channels they have opted in for. If you are successful at this decision stage, a sale is made.
2. Social Media
Another example could be how you use social media for inbound sales. Say you are running an EdTech platform. You can create a social media page for your business and try to gain more followers. Use all the relevant keywords and hashtags every time you post something on your page, so the right audience can find you in search.
Share interesting trivia and news every day, ask people to join your webinars on topics they may be interested in, or share interviews with some subject-matter experts over live sessions. These are excellent ways to attract attention without explicitly pushing your service to customers.
Follow social media trends, such as posting memes and reels that your audience may find engaging and worth sharing. You can also add valuable comments on posts in relevant groups and forums to establish yourself as an authority on the subject and draw people to your page organically.
Anyone who follows your page engages with you over chat, joins a live session, or comments on your posts can be a high-value lead, and lead nurturing can start here.
What is Outbound Sales?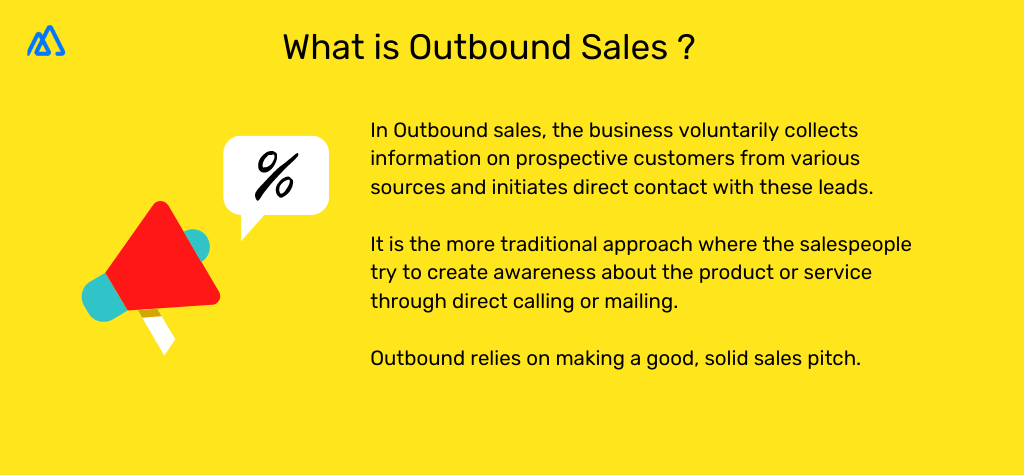 In outbound sales, the business voluntarily collects information on prospective customers from various sources and initiates direct contact with these leads. Outbound sales do not wait for prospects to opt in for communication.
The more traditional approach is where salespeople try to create awareness about the product or service through direct calling or mailing. Outbound does not rely on SEO or quality content. It relies on making a good, solid sales pitch.
Though many marketers believe outbound sales are passé and cannot compete with the qualified organic leads that inbound sales bring, it is not always true. Outbound sales can deliver outstanding results for growing businesses looking to grow their customer base fast.
Inbound marketing and sales take time. For growing businesses that most people haven't heard of, building rapport and trust among its audience through inbound activities will take even longer. They need a robust outbound sales strategy to generate revenue sooner.
With time the sales team understands what works and what doesn't, which makes it easier to predict outcomes and optimize the outbound sales strategy.
---
Outbound Sales Methodology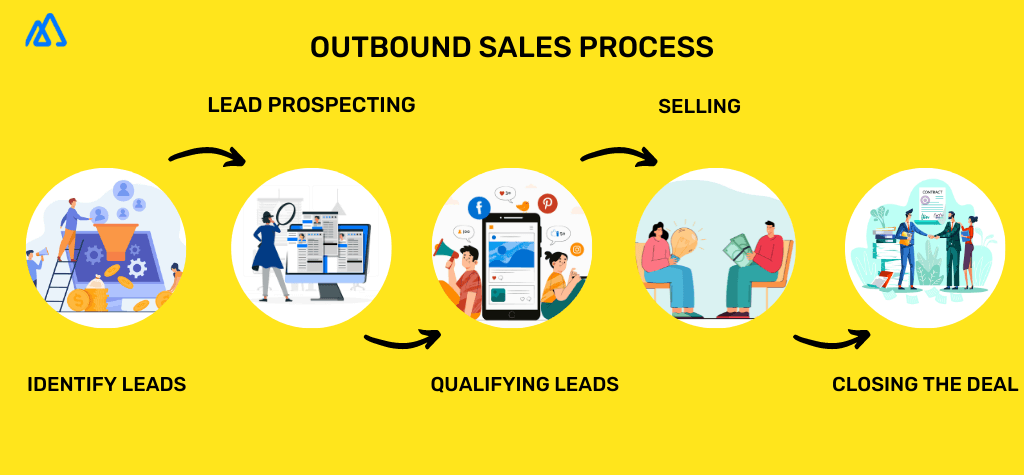 The outbound sales methodology is relatively simple. Since we are resorting to direct contact here, we only need to find prospects and contact them with our sales pitch. Lead prospecting is one of the most crucial steps in this whole process. If you can identify the most promising leads, the rest of the process becomes worthwhile.
The steps involved in outbound sales usually are the following.
1. Identifying Leads
This step requires a lot of research.
At this stage, the sales team has to identify who could be interested in the product/ service you are selling. You need to identify your target market, the problems and challenges of these prospective customers, how the product/ service can help solve these problems, and so on.
When you have complete answers to these questions, it becomes easier to find leads that fit this customer persona you have created.
2. Lead Prospecting
The next step is to generate leads that fit the bill. The sales team needs to collect the contact information of every prospect they think has the potential to convert. There are various ways to do sales prospecting. You could collect information from the web, conduct events to gather information on attendees, or outsource this task to a third party.
Once you have the contact information of your prospects, you can move to the next stage.
3. Qualifying Leads
At this stage, the salespeople start contacting the prospects through cold calls, emails, or even direct mails. From the response they receive on initial contact, they can qualify leads as cold, warm, or hot leads.
Hot leads are the ones ready to buy, warm leads are interested but will need a little more convincing, cold leads are ones that are uninterested or reject further communication.
4. Selling
After qualifying the leads, the salespeople have to do the actual job of selling. It is easier to execute with hot leads. With warm leads, they will need to work a little harder. This usually involves setting up meetings in person or online to demonstrate how the product can help the customer or discussing the features and pricing in detail.
5. Closing the Deal
Finally, if all of this pitching is successful, the deal can be closed by signing off the contract and converting the lead into a customer.
Examples of outbound sales
1. Door-to-door sales
If you are looking for an example to understand what outbound sales really is, consider the door-to-door sales reps you had till a few years ago. This is the best example to explain what outbound sales is.
Though most businesses don't go door-to-door anymore, given that there are multiple options for communication today, the basic idea behind all outbound sales tactics is the same.
2. Cold calling/ emails
For example, say you are a SaaS startup wanting to grow its customer base. You identify which industries may find a use for your software product. Then find some businesses within these industries that may be interesting.
Please find out the contact information of someone in the organization who has the authority to make a purchase decision and call or email them directly. Based on their response, you will know if this deal can go any further.
If the lead shows interest in your product, you set up a meeting with them in person or over call for a more extended discussion or a demo. You discuss all the features of the software they could benefit from or show a working demo. You then follow up to do some more convincing if required or negotiate prices. If the prospect decides to purchase, the deal can be closed.
The time this outbound sales cycle takes will depend on a lot of factors. This includes the product you are selling, the price, the position/ authority of the lead you are contacting, the urgency of their requirements, and more.
---
Difference Between Inbound and Outbound Sales
| Inbound sales | Outbound sales |
| --- | --- |
| Prospect does their own research and makes first contact | The business makes the first contact with prospects |
| Prospect opts in for communication with the business | Prospect does not have to opt-in for the communication |
| Prospects are already aware of the brand and are more engaged from the start | Prospects may not be aware of the brand and may not always be interested |
| Takes the time to build trust and credibility of the brand | Does not invest time in trust-building but can bring quick returns if the right leads are found |
| Needs to churn valuable and helpful content regularly | Needs a solid sales pitch to convince leads |
| It brings organic traffic with a better chance of converting | Direct contact makes it easier to convince and convert customers |
Difference between Inbound Sales & Outbound Sales
Building Strong Inbound and Outbound Sales Strategies
There is no one-size-fits-all approach to choosing between inbound and outbound sales for your growing business. You don't have to choose. Depending on the circumstances, you can switch between the inbound and outbound sales approaches.
In either case, you will need a strong sales strategy. Some things are common to strategy building in both inbound and outbound sales. Here are a few tips for you.
Do your research to find hot leads. Both inbound and outbound sales approaches require effective lead prospecting. Unless you know whom to target, no sales strategy can be successful.
Focus on the customers' pain points. Sales has to focus on the customer and not on the product. Highlight the customers' problems and offer the product as a solution. This works for both inbound and outbound sales.
Follow up timely and accurate. Both inbound and outbound sales require lead nurturing. So, make sure your sales team does this right.
Learn from experience. Both inbound and outbound sales strategies have to evolve with time and experience. Keep what works and change what doesn't.
---
Summing up
Along with using the right sales CRM software, both inbound and outbound sales can drive results for a growing business. While outbound sales may be great for immediate revenue generation, inbound sales can be a long-term strategy for building reputation and trust. Keep experimenting with both, and soon you should be able to strike a perfect balance between the two.
Need help streamlining your sales process? Kylas can help! Schedule a demo to find our how.
Have any other strategies that you've tried or would like to try? Let us know in the comments below; we'd love to hear from you!
Start 15-day Free Trial