"How you sell is more important than what you sell."
– Andy Paul, Sales Expert
Sales is undeniably the most crucial part of any business's operations. It is only through sales that revenue is generated for businesses. Salespersons are aware of the pressing need for them to generate revenue. However, they are now having to navigate a lot of challenges in the process. As per statistics, 61% of professionals believe that selling has become tougher now than it was 5 years ago. The reason is the highly dynamic market, where companies must stay on their toes to keep modifying their sales methods.
But is it enough to merely keep changing the sales process, or should the changes be backed by solid reasoning? The latter is, without doubt, the better option for any company. This reasoning is obtained from the process of Sales Analysis. It is the ideal companion for any company in its journey of achieving sales productivity. Let us try to gain a better understanding of this process, and how CRM can help conduct it.
Kylas is a robust Sales CRM tool that can help businesses manage and store all their data in an easy and efficient manner. Among other beneficial features such as Lead Management and Workflow Automation, it can also help businesses to conduct accurate Sales Analysis.
---
What Is Sales Analysis?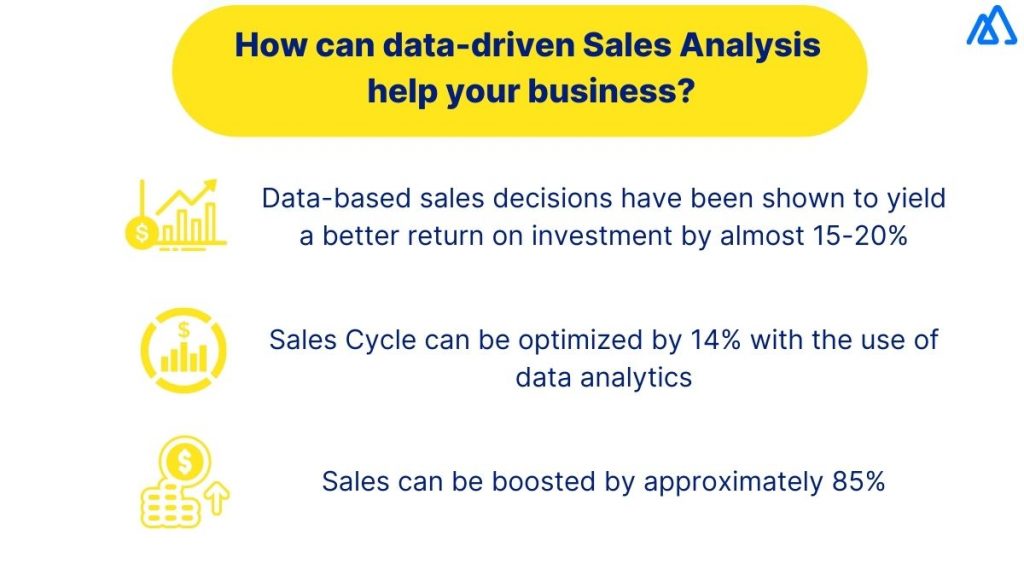 Sales analysis is the process of collating and analyzing sales data, and keeping track of the sales cycle. The basic idea behind it is to understand the existing framework of your sales. This, in turn, helps you understand how it can be made better. Instead of shooting darts in the dark, the process can help you identify the strengths and weaknesses of your selling technique. It will ultimately help you make informed decisions.
Data can be a highly valuable asset for any business, and sales analysis allows you to harness its full potential. Regular sales analysis will help a company stay up to date regarding its sales process and the work of its sales teams. This will go a long way towards optimizing its functioning.
Let us consider an example that will highlight the true importance of this activity. An equipment manufacturer who supplies large enterprises wants to improve his sales process. However, he does not have all the information relating to his present sales. He might end up discontinuing his best-selling product or directing more resources towards his least-selling product. Besides, he might end up changing the things that are working well for his business, just in a bid to keep evolving his process. If only he had adopted sales analysis!
---
What Are the Benefits of Sales Analysis?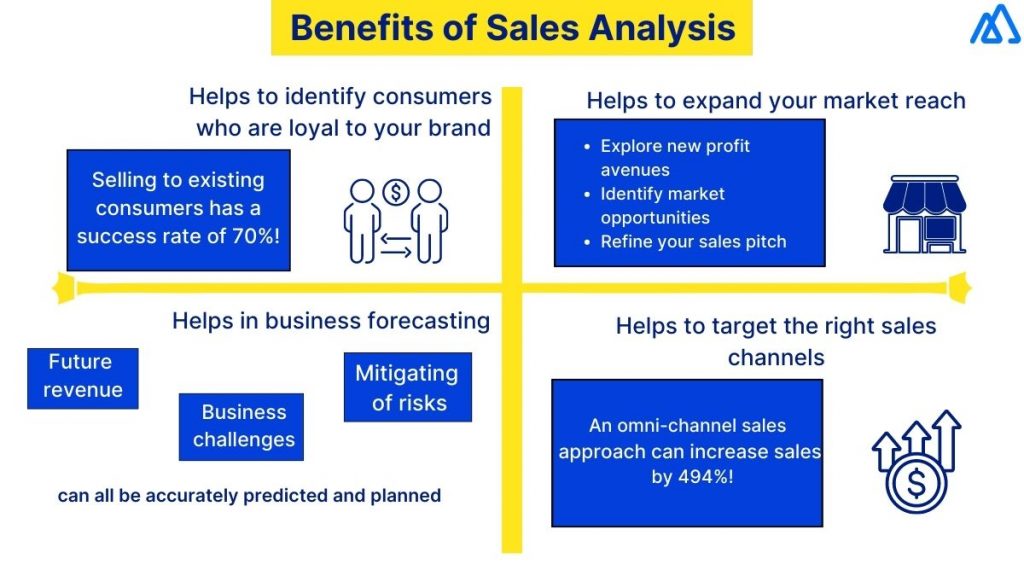 The primary goal associated with sales analysis is to boost sales velocity and productivity. The power of data in business cannot be refuted, and sales analysis uses this data as its foundation. As per reports, data-based sales decisions have been shown to yield a better return on investment by almost 15-20%.
Sales analysis benefits the business as a whole. However, it also benefits the work of its sales professionals. These benefits combine to impact the entire operations of the business:
1. Understanding of Consumers
If we look back at the example of the manufacturer seeking to improve his sales techniques, a lot of his decisions will be based on the preferences of his consumers regarding products, quality of service, and their pain points. Data contains a lot of these valuable consumer insights, and sales analysis helps bring these to the attention of the business:
Identifying the most profitable consumers for your business, i.e., the ones that steadily give business and show loyalty towards your brand. Your sales personnel can then direct more resources towards re-engaging these consumers, as selling to existing customers has a success rate of 70%.
Your data can convey the story of how leads were converted to successful sales. You can identify the action that swayed a consumer to purchase your product/ service and ensure that the particular action is mimicked by all your sales staff through the sales cycle.
You can imagine your sales data to be the spokesperson for your consumers, as it will directly lead you to the perfect method to keep them happy. Using customer behavior to generate business insights allows businesses to scale their sales by up to 85%.
2. Master the Market
Sales analysis can allow a business to truly become the master of the market. It provides information regarding market trends and opportunities, with which you can plan the future operations of your business. With these market insights, you can tap into the most profitable areas and avoid wasting time and resources on ventures that would lead nowhere.
Furthermore, you can expand your market reach by analyzing the data of non-consumers too of your brand. This data can be directed towards gaining new consumers too, since your marketing efforts can be personalized. Salespersons can also use these insights to refine their sales pitch, and power up their selling process.
3. Accurate Forecasting
Without sales analysis, any plans that you make for the future of your business are baseless. They will be directed only by your personal biases, judgements and estimates, which are not credible parameters for accurate forecasting.
The data-driven insights generated by sales analysis help in correctly forecasting the future profit opportunities, challenges and risks for your business. You can make predictions about the revenue that you may earn, and accordingly allocate your resources. By forecasting the future, you can optimize your real-time business operations by making informed decisions towards it.
4. Target the right sales channels
Using the right sales channel is as important as having a good sales process. Your sales data can isolate the channels that are producing better results, and sales personnel can direct their efforts towards these. If your consumers are not responding to social media interaction and all your resources are directed towards it, there will be a mismatch in the efforts versus the outcome.
Sales analysis can enhance the productivity of sales personnel, by allowing them to target only the right channels.
These are the broad heads under which the numerous benefits of sales analysis for a company can be segregated. In a nutshell, it creates a strategic sales blueprint for any organization and streamlines the most crucial aspects of its operations.
---
What Are the Methods of Sales Analysis?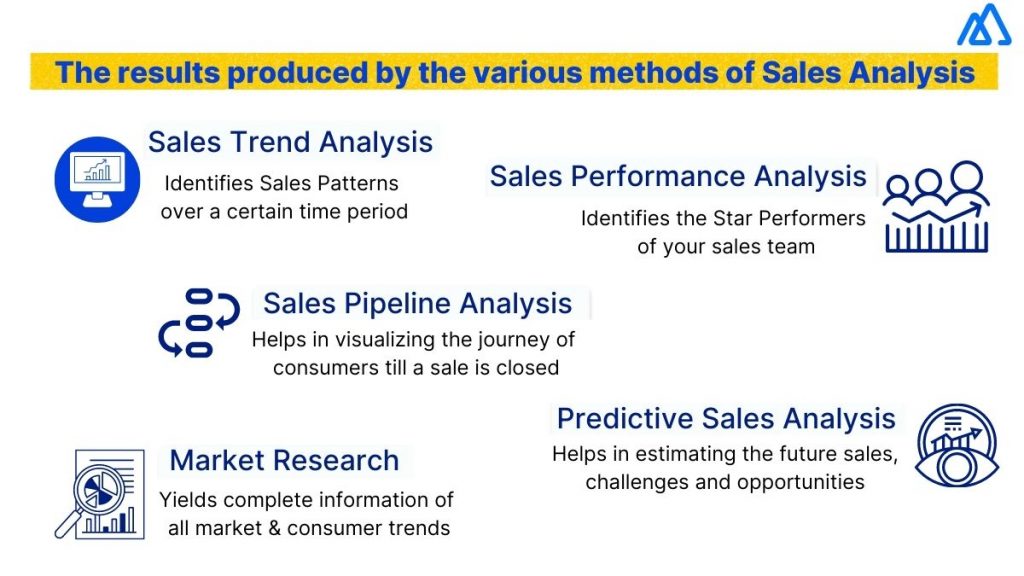 Every business sets unique objectives and key results for itself. Its sales analysis should be directed towards these goals since each method is directed towards the generation of performance insights related to a specific aspect:
1. Sales Trends Analysis
This type focuses on deriving trends and patterns of sales from data collected for a certain timeframe. It allows you to track the progress of the sales made in each such decided timeframe, be it weekly, monthly or quarterly. With such periodic insights, your data will help you visualize the trajectory of your business.
2. Sales Performance Analysis
With this method, you can track the performance of sales teams. Your sales teams are at the epicenter of generating revenue for your company. Hence, it is crucial for a business to know exactly how its work is progressing. Sales performance analysis will generate three very important insights:
Determine the effectiveness of your sales process
Identify the best-performing members
Train those employees who are lagging in their work
3. Sales Pipeline Analysis
Sales pipeline is the visual representation of the journey that your consumers follow. It can produce valuable insights into how your consumers interact with your brand and help you to improve these interactions. A sales pipeline typically consists of various stages, which represent the phases through which a deal is eventually closed. You will be able to identify the chinks in your armor, and see which stage is costing you the maximum number of sales.
4. Predictive Sales Analysis
As the name suggests, this method involves predicting future sales, opportunities and challenges for a business. As a business owner, you cannot afford to let yourself be blindsided by anything. This method of sales analysis will allow you to plan your operations better. Eventually, it will help you tackle problems in a more prepared manner.
5. Market Research
Sales analysis can also be conducted by studying and researching the market, which helps businesses navigate through the evolving market and consumer trends. If a business learns how to leverage and harness the full potential of market data, it can scale to unimaginable heights!
Each of these methods are centered around different aspects. However, they can be used in conjunction to gain the best possible data insights.
---
Which Data Points Are Needed for Sales Analysis?
Once you have identified the sales analysis method that is most suitable for your business, you have to shift your focus to the data points required to conduct the analysis. The entire sales process generates vast quantities and types of data. Hence, it is not explanatory enough to merely say that 'sales data' is needed for sales analysis.
There are specific metrics that can give you an accurate picture of your sales, and hence can be used for sales analysis:
Ideal sales targets, which will contain all the objectives that you have chalked out for your business.
Potential sales opportunities, as these can help you expand your consumer base by exploring alternative sales avenues
Lead conversion time, to help you monitor the average time that your business devotes towards the conversion of a lead
Lead conversion rate, for an accurate idea of the proportion of leads that you are managing to convert to sales
Sales growth per month, to help you ascertain whether your sales are growing, decreasing, or remaining stagnant per-month
Average value of sales pipeline, which will help you determine the expected revenue inflow from your sales pipeline
Gathering and storing so much data is possible when a business has merely 2-3 consumers. But what happens when the customer base expands to 50-100 consumers? On one hand, it is impossible to manually handle such large volumes of data. On the other hand, it is impossible to conduct sales analysis without this data. What alternative does a business have then? The alternative comes in the form of CRM!
---
How Does CRM Help Sales Analysis?
CRM is a robust software tool that can optimize the end-to-end operations of a business. Among the other ways in which CRM can benefit a business, is it creates a centralized database of all sales metrics. However, without CRM, a company would have had to collate all the sales analysis metrics in journals and excel sheets. This is bound to result in data inaccuracies. The data stored by CRM is, on the other hand, error-free.
Data is at the core of the sales analysis process. Hence, it comes as no surprise that CRM can greatly help in the process. 79% of sales professionals are either using or planning to use technology for sales analytics.
The role of CRM in sales analytics is not limited to the back end, wherein it only provides the data needed for the process. Instead, it takes up an active role too! The entire process of sales analysis can be performed using a CRM tool.
---
How to Conduct Sales Analysis With CRM?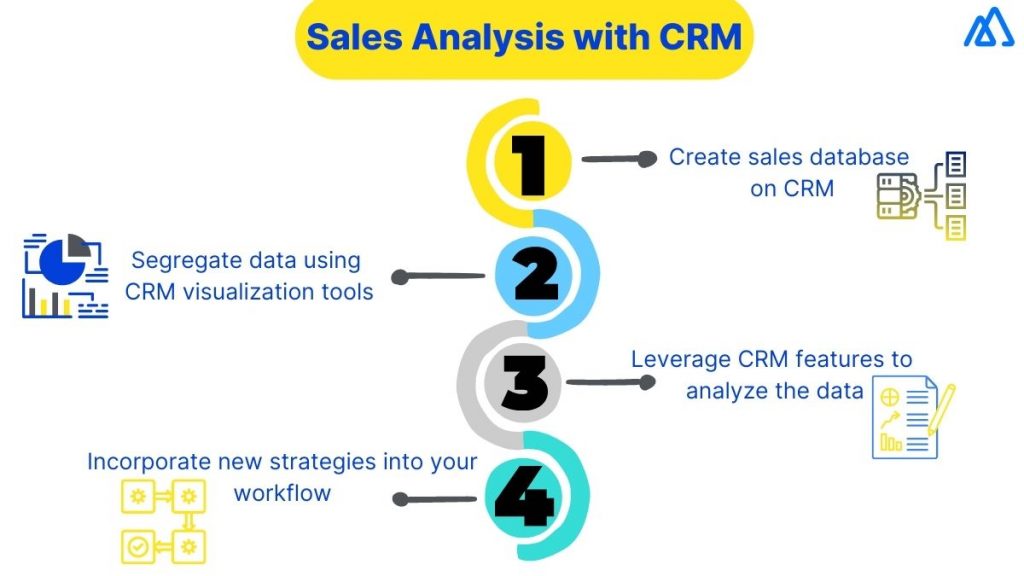 Sales analysis is not a single-step activity, but instead is a complex process that involves various stages. Sales analysis without the aid of technology would consume a lot of time and resources. These should ideally be dedicated towards the closing of sales. Consequently, it can lead to a dip in the productivity levels of the business. However, conducting sales analysis is equally important, for which a business must allocate its best resource- CRM!
CRM, however, takes over the completion of each of these stages for you. It helps ensure that your sales analysis produces accurate results.
Step 1:
The first step involves collating all the relevant metrics, as per the decided method of sales analysis. CRM tools allow you to easily upload all this information and offer quick and easy access to it. You will not have to sift through mounds of notebooks and papers to find the required data. It will be available at your fingertips.
Step 2:
The second step involves the use of visualization tools such as reports and dashboards offered by robust CRM systems such as Kylas. With such tools, the understandability of data is enhanced and they highlight the most important takeaways from the data.
Step 3:
Next comes the preparation of strategies and plans using the data from the first two steps. CRM can help in this, because it provides a detailed analysis of the data. It is unimaginable for a single person, or even a group of people, to be able to filter through so much data to find trends or insights. CRM can alone do the work of 100 people and analyze scores of data very efficiently.
Step 4:
The last step involves using the insights and analysis offered by the CRM software and applying them practically to your sales process. With features of Workflow Automation offered by robust CRM systems like Kylas, the changes can be easily incorporated into your workflow. It eliminates the scope for time lags, and the optimization of your sales process can be smooth and seamless.
---
Conclusion
It is hence evident that sales analysis is crucial for a business, and CRM is crucial for sales analysis. Without a CRM, your sales analysis might end up creating more problems for you that the ones that it solves!
---
Kylas Growth Engine is one such CRM system that can aid and guide you every step of the way to accurately conduct your sales analysis. Its expansive feature set can be leveraged to give you the best possible results and allow you to scale your business!
Start 15-day Free Trial