One of the major pitfalls of sales is remaining uninformed. We all know that knowledge is power. But in sales, knowledge also translates to better decision making, attainment of sales targets, and consistent growth.
Luckily for businesses, it's the age of big data where almost every minute detail of the sales cycle can be recorded. You can store information related to deal closures, ticket size, customer preferences, salesperson performance, etc. The collation of this data forms your knowledge base.
However, an obvious problem that arises here is the usability of this data. Should business owners and managers spend all their time with their heads buried in mounds of data, just trying to get one actionable insight? The vast quantities of data and multitude of metrics being tracked make it difficult to quickly find the necessary information.
Enter sales dashboards- a one-stop-shop to gain holistic knowledge about your business health.
---
What Is a Sales Dashboard?
Simply put, it is a visual representation of all sales metrics. A sales dashboard provides complete visibility, so that you have every relevant detail at your fingertips. It takes care of the problem of data usability by transforming it from raw numbers into practical intelligence. 2/3rd of business leaders agree that such actionable data will provide a major competitive advantage.
The data is also presented in a way that can be easily understood using graphs and charts. At a single glance, every member of the organization gains clarity about the overall sales performance.
And the best part? It is not limited to only showing you where you currently are. Instead, it goes a step further and creates a roadmap for where you are going, and how to tweak your strategies for optimized results.
---
Framework to Create an Effective Sales Dashboard
An effective sales dashboard is the stepping stone to empower your organization for success. Dashboards created with a haphazard and chaotic approach, without carefully considering all the factors involved and its implications for business intelligence, can have adverse outcomes.
Thus, we're here with a comprehensive framework that gives clarity, method, and order to your sales dashboard creation process: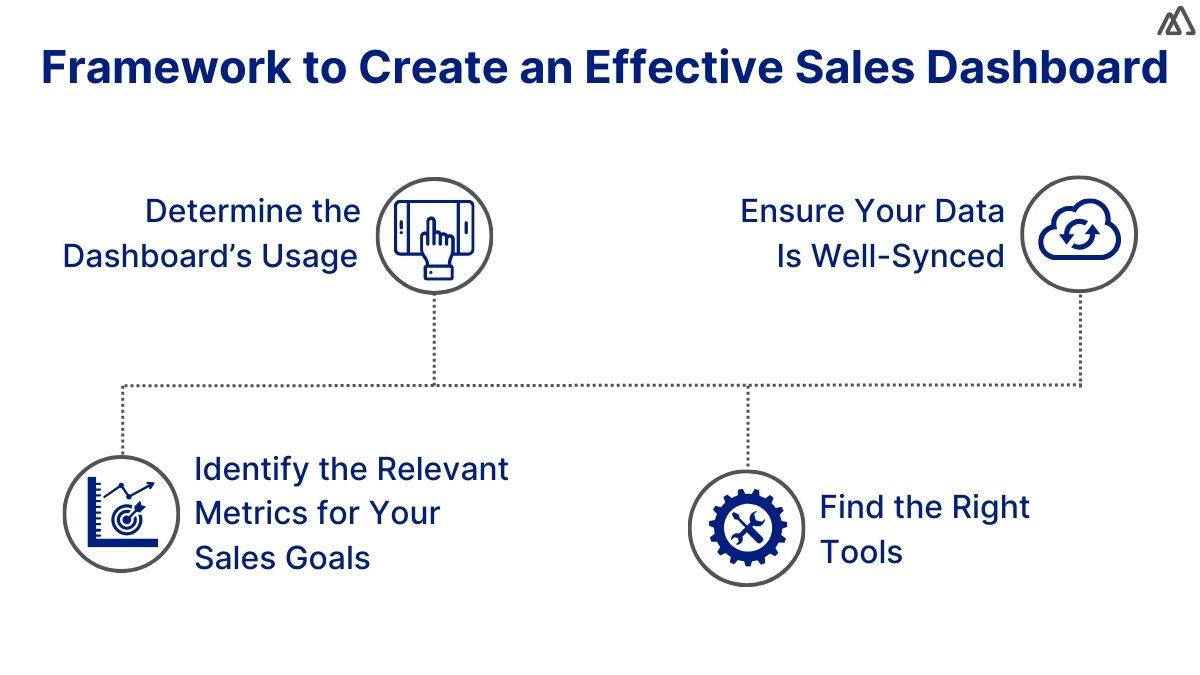 1. Identify the Relevant Metrics for Your Sales Goals
Like everything else in your business, your dashboard must be created and used for a set purpose. The starting point is hence to identify what your sales goals are, and then align your dashboard to track the relevant metrics against these goals.
For example, if your goal is to achieve a certain % of Y-o-Y deal closure increase, you need to track metrics like monthly deal closures, average closure duration, closure rates of every salesperson, etc. Hence, your dashboard should reflect all these aspects and give you a clear blueprint of the path towards your goals.
An important point to remember here is limiting the metrics you track per goal to 3-4. More metrics make the dashboard difficult to set up and interpret.
---
2. Determine the Dashboard's Usage
If your salespersons are given a dashboard for topline goal tracking, it's not going to help their daily performance. Similarly, your sales VP does not have much use for a dashboard that tracks every minute detail of every team member's performance.
Hence, you need to determine who will be using your sales dashboard. Based on this, you can identify the most relevant information for the dashboard user. You can also determine the usage frequency, i.e. daily, weekly, or monthly to ensure the data is accordingly reflected.
Ensure that you make it easy for the concerned team members to use the dashboard. For instance, a dashboard meant for field sales teams must be readable from a mobile devise to help them access it on-the-go.
---
3. Find the Right Tools
This is perhaps the most crucial part of the process. Despite knowing all the other steps required, you need some tools to help you actually create and set up a usable dashboard. 43% of salespersons make use of such tools to track and monitor their pipelines.
CRM is one option to consider, since many of them have pre-built templates and drag-and-drop tools for simple dashboard creation. It also has a plethora of other benefits and is one of the best things for business growth. Alternatively, you can rely on specialized dashboard creation software.
We will explore some of the best tools you can use in an upcoming section.
---
4. Ensure Your Data Is Well-Synced
Data is the backbone of your sales dashboard. And not just any data, but it needs to be real-time and accurate data.
If you invest in a CRM tool for dashboard creation, the data is automatically synced and updated. You can hence leverage it and have your dashboards show you error-free insights. However, if you're going ahead with a separate tool, you must ensure that it integrates with the rest of your tech stack so that you have a steady inflow of correct data.
---
6 Best Sales Dashboard Examples
We've already established that a sales dashboard can serve numerous purposes and track numerous metrics. There is no straitjacket formula to decide which type you should adopt. That choice must be based on factors like business goals, processes, team size, etc.
However, there are some dashboard examples that can be applied for every business. They take care of every crucial aspect and offer a thorough overview of your sales operations. Let us now analyze some of the best sales dashboard types to obtain rich insights:
1. Leads & Deals Dashboard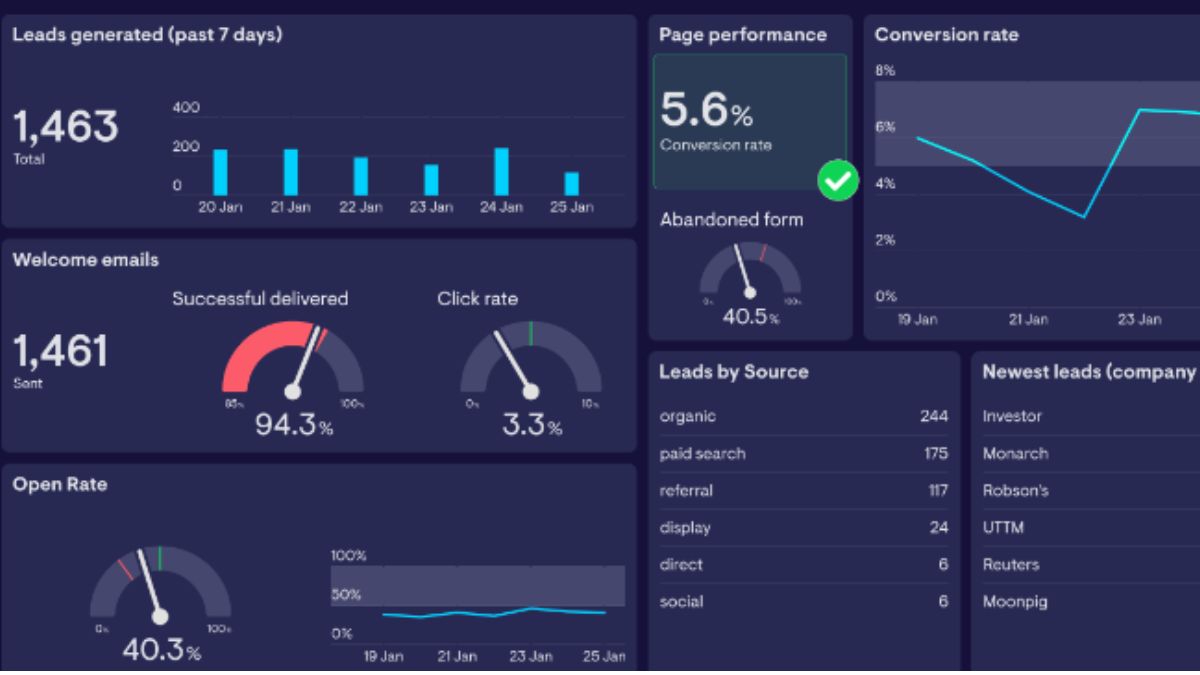 Leads are the incoming sales opportunities for your business, while deals are the opportunities that have chances of conversion. Both these aspects play a major role toward revenue generation, and it is essential to stay on top of them through dashboards.
A lead dashboard monitors all incoming leads, qualifications, and conversions. It can also streamline your lead generation process and track metrics like:
Inbound & outbound leads
Costs per qualified lead
Unqualified leads by reason
The relevant data from a lead dashboard can be used in the deal dashboard to monitor the ongoing progress of every opportunity through metrics like:
Value of won deals
Won deals by attribute
Lost deals by reason
---
2. Pipeline Dashboard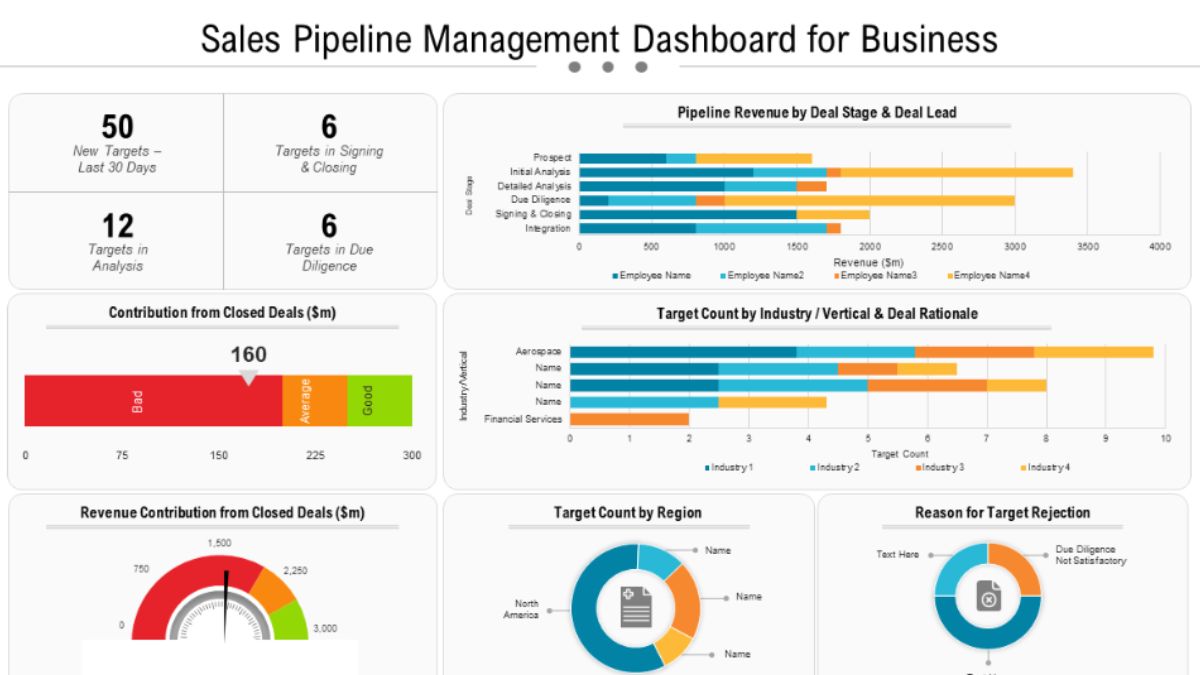 Sales pipeline refers to the series of steps that must be taken to push deals ahead and close them. This type of dashboard helps you ascertain the status and health of your pipelines. You can gain high-level and detailed information from a single dashboard.
You can evaluate the movement of every prospect through the stages and take necessary actions to make sales. Here are some of the metrics you can include:
Total pipeline value
Conversion rate
Pipeline growth rate
Pipeline velocity
---
3. Performance Dashboard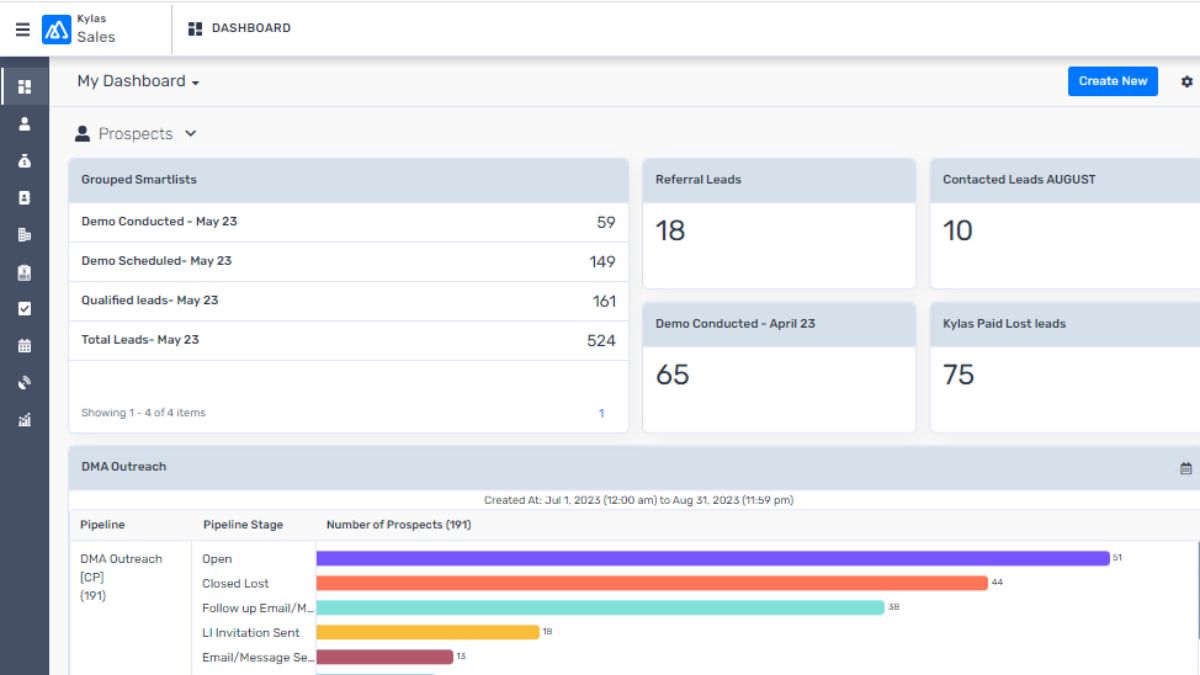 A high-performing team can bring in good revenue for your business. A performance dashboard helps evaluate the performance of every team member. It helps individuals keep track of their own work, and also helps sales managers ascertain the performance levels.
This can eventually guide the efforts you make towards sales coaching. You can also make informed decisions for work delegation since you can identify the top performers. The dashboard should include the following data:
Total revenue generated
Activity metrics like meeting scheduled, calls made, etc.
Sales win rate
Opportunities in pipeline
---
4. Sales Leaderboard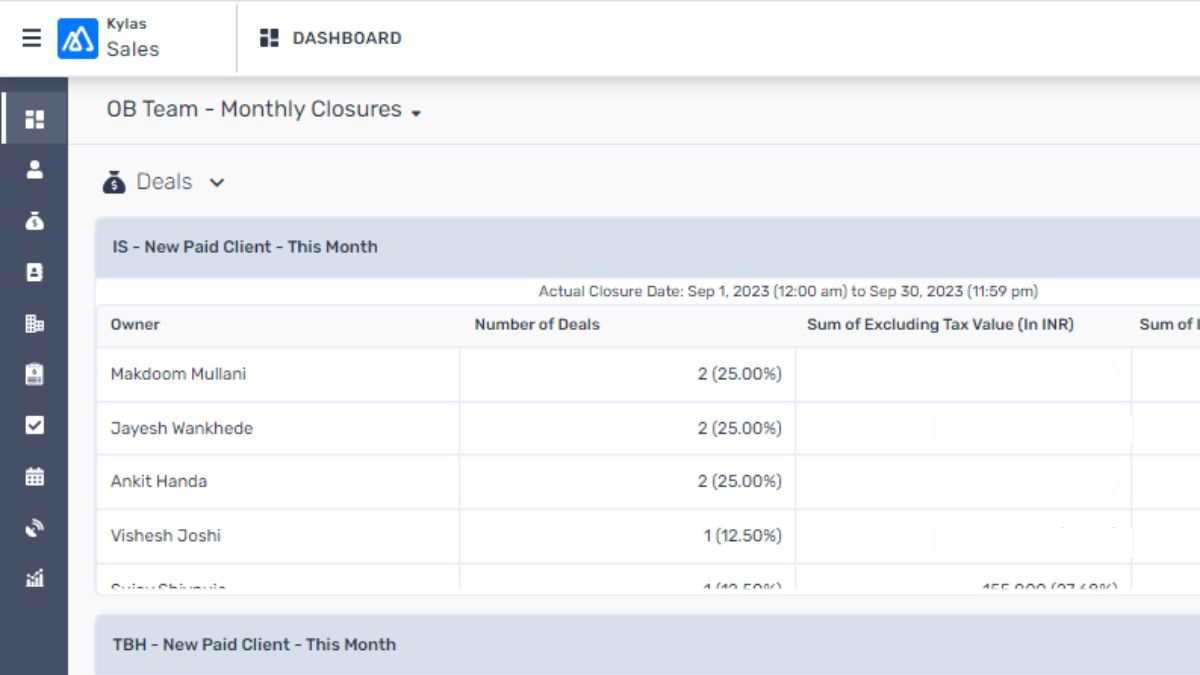 Competitiveness motivates everyone to do better. Salespersons are driven to outdo their colleagues in terms of closure time, rates and size of deals. When you show everyone on the sales team how well each salesperson is doing, it pushes them to work harder to be at the top.
A leaderboard works parallelly with a performance dashboard to highlight the weak chinks in your sales armor. You can leverage the practices of the leading salespersons to optimize your entire team's work and provide extra training to the members who are not performing as well.
You can measure and display the following metrics for every salesperson:
Target attainment %
Average time for deal closure
Average revenue brought in
Net retention
Ranking within the sales team
---
5. Product Dashboard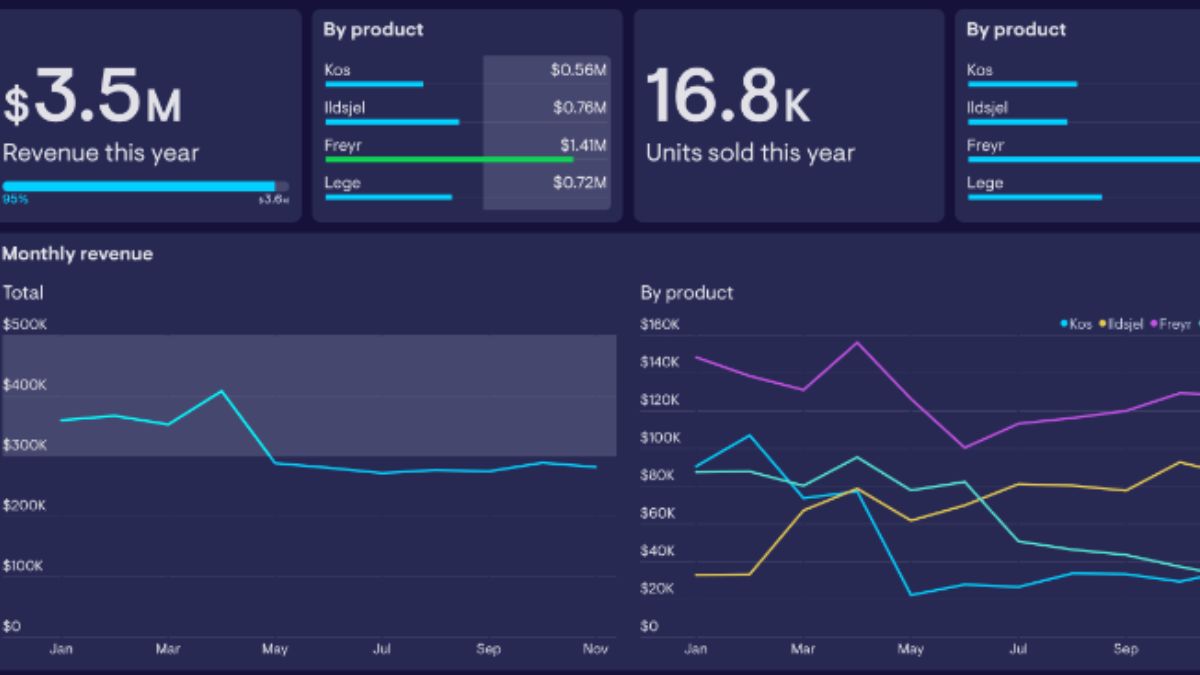 It helps you keep an eye on how well your company is doing, considering the numbers and kinds of products you sell. While it might not be the top choice for businesses focused on just one main product, it is a must for businesses that have multiple products, or add-ons to their core products.
Hence B2B companies selling different products at different prices can greatly benefit from product dashboards and the real-time sales insights they offer. Such information is vital for efficiently handling and adjusting inventory, distribution, sales strategies, and marketing plans.
Such a dashboard should include:
Sold inventory value
Top-selling products
Number and value of inventory sold per rep
---
6. Forecast Dashboard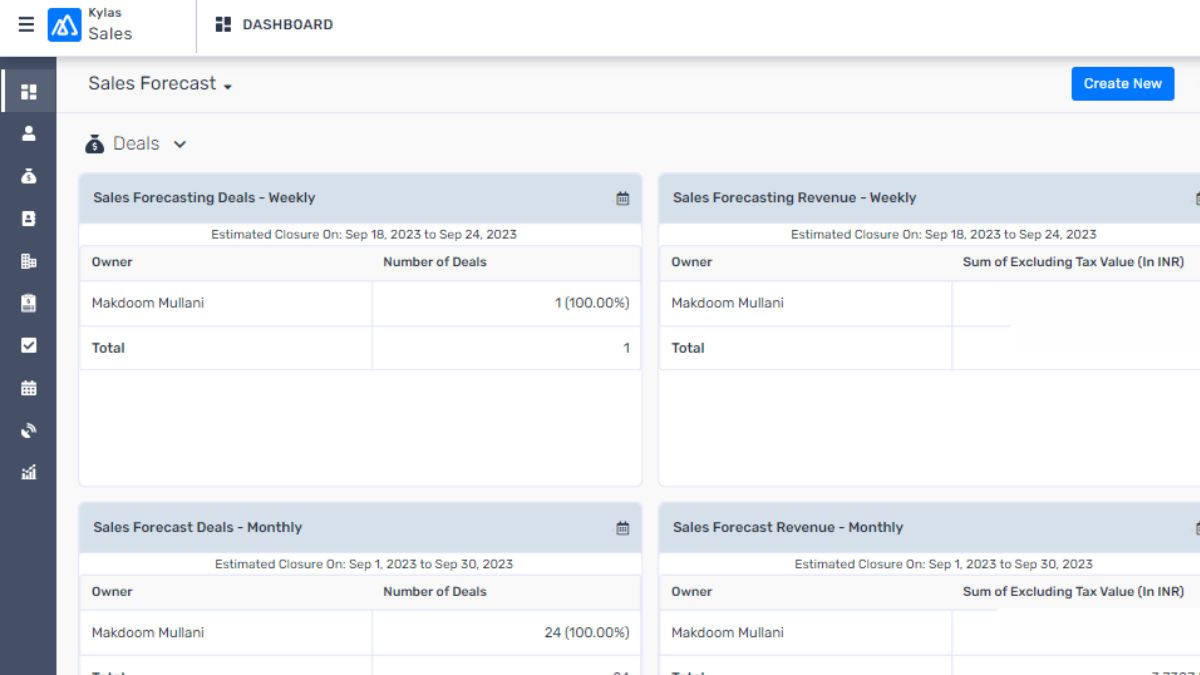 You can take a sneak peek into your business's sales future using a forecast dashboard. It leverages historical data, market trends, and predictive analytics to project sales performance. It empowers you to make strategic decisions, smartly allocate resources, and stay ahead of the competition.
Ideally, this dashboard should be regularly monitored, maybe on a weekly basis. This helps you spot potential problems and bottlenecks, such as low lead flow or lengthier sales cycles, so you take timely measures to address these. Here are some of the metrics you should track:
Average deal value
Total pipeline value
Average sales cycle length
---
Top Tools to Consider in 2023
We've already established that the future of business is moving towards data-driven decision making. The latest trend is enabling adaptive and real-time sales decision making with data analytics, and this is the reason for the growing reliance and popularity of dashboard tools.
The global dashboard software market is projected to have a 10.8% CAGR. New technologies are developing that can create rich and easily readable dashboards for the best sales insights.
The tools can be bifurcated into 2 broad categories. The first is of CRM tools that come with in-built data analytics, reporting, and dashboard functionalities. The second consists of software exclusively for sales dashboards. Here are some of the finest options from both these categories for you to consider:
CRM Tools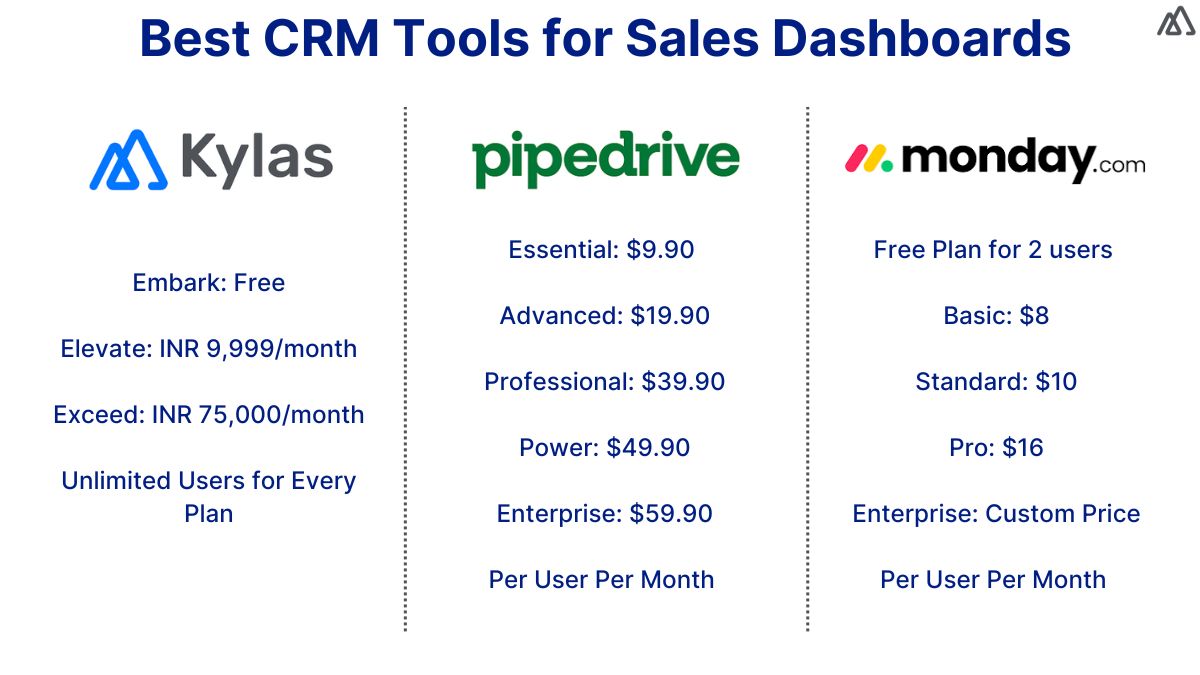 1. Kylas
If you're looking for an easy-to-use and highly effective CRM solution to create sales dashboards, you need Kylas! You can gain an instant view of your business's productivity and sales growth using Kylas's sales dashboards. Furthermore, you can tailor the dashboard to match the specific metrics and reports that your growing business needs, providing you with the real-time insights necessary for success.
It even helps you create multi-dimensional reports on dashboards and share these easily with your team and other stakeholders. And the best part? You can onboard unlimited users for flat pricing so that every team member can access the dashboards.
Get a first-hand experience of how to set up and use sales dashboards on Kylas. Schedule a demo now!
---
2. Pipedrive
Pipedrive is a great CRM option if you're looking for highly detailed and in-depth metrics. Its sales dashboard gives you a lot of information about your sales process, like how deals are moving along, and how each salesperson is doing. Plus, you can make your own reports and use its strong analytics to get even more useful insights.
You can quickly move things around on the dashboard by just clicking and dragging, so the most crucial information stays on top. It enables you to create many different types of dashboards by tracking metrics of every operational aspect.
---
3. Monday.com
Sales dashboards are a major part of the Monday.com platform design. Their dashboards use colorful charts and widgets to show sales data in a way that's simple to understand. The widgets include metrics like qualified leads, deals won, revenue, and more, thereby empowering you to create diverse and thorough dashboards.
They can be customized to reflect your unique requirements and pull in real-time data from the CRM to provide accurate and real-time results. Monday.com has a highly simplified interface and is curated to make dashboard creation and usage easy.
---
Sales Dashboard Software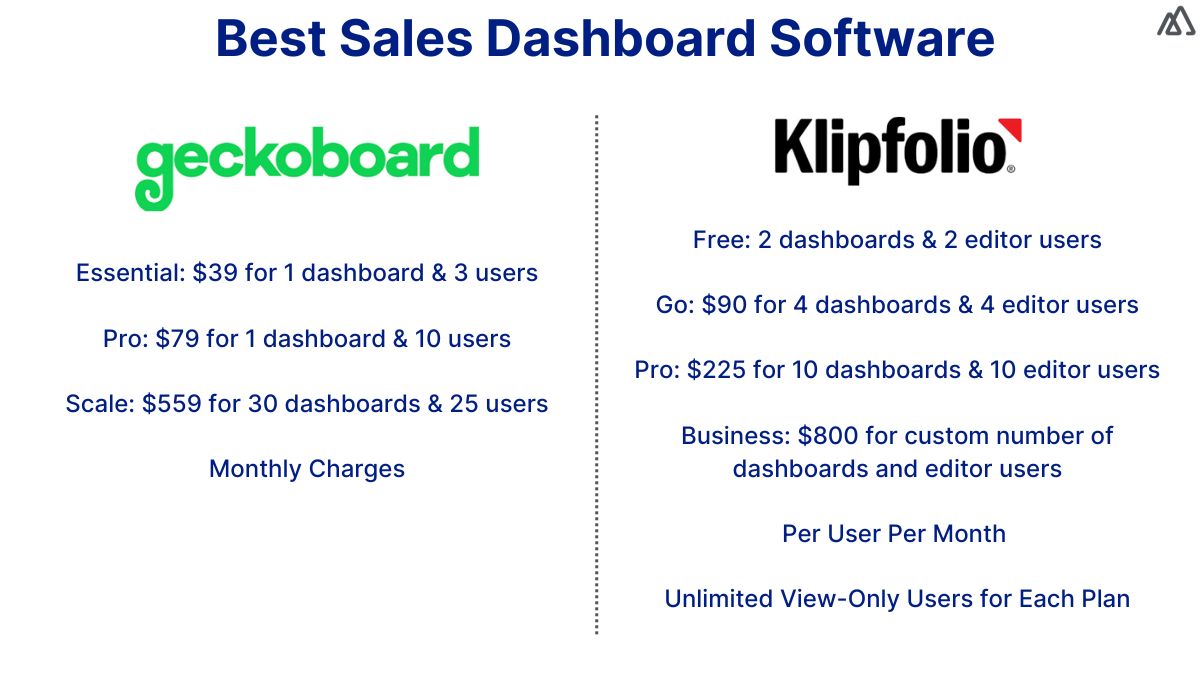 1. Geckoboard
It is a tool designed to help you build and share sales dashboards in minutes. Geckoboard allows you to personalize dashboards for every organizational level and process, including sales, HR, marketing, and support.
You can make use of the 80+ integrations offered by the software with all types of apps in your tech stack for marketing, project management, customer support, etc. This helps you pull in data from diverse sources and ensure you're working with the right data inputs. The dashboard creation process is simple to navigate. Additionally, you can fully customize them.
---
2. Klipfolio
Klipfolio lets you use data from anywhere to create dashboards for everyone. You can create a seamless data network with your spreadsheets, pre-built metrics etc. to build dashboards with real-time insights. These are customizable, and you can represent data in a visually engaging manner.
There are hundreds of pre-built templates that you can easily access. You can easily share the dashboards with team members, and furthermore, display them on any screen. It is ideal for businesses needing a sales dashboard solution with robust integrations.
---
Ending Note
You know the framework for creating effective dashboards, the types of dashboards that your business needs, and the best tools to build these.
Now, you're fully equipped to get started! You will soon see the benefits that sales dashboards bring to optimize your operations and sharpen your decision-making.
Start 15-day Free Trial