What are your business goals for the next month, year, or five years? Whether it is to increase market share, grow revenues, or penetrate a new market, the first step to achieving them is to get started with the sales planning process. According to Harvard Business Review, companies with a clearly defined sales process generate 18% more revenue growth than those without.
This process aims to create a foolproof sales plan, a document that acts as a blueprint for achieving your business goals. Sales planning starts with identifying the strategies necessary to achieve your goals.
From there, you'll develop specific tactical plans with measurable milestones and timelines. The final output is a sales plan that defines what you're trying to achieve and how you will do it.
---
What is a Sales Plan?
A sales plan is a document that outlines the steps needed to achieve specific sales goals. It is a strategy that sets out sales targets and tactics for your business and identifies the steps you will take to meet your targets.
The sales plan will typically include:
a description of the market that is to be targeted
an overview of the brand's offerings
a strategy for reaching potential customers
a forecast of expected sales revenue
A sales plan is essential for any business wanting to grow its sales revenue. It can be used as a guide for sales representatives and help track progress and identify areas needing improvement.
There are many benefits of using a sales plan. A well-crafted sales plan will help you to:
1. Define your target market and understand its needs.
2. Develop effective marketing and advertising strategies.
3. Clearly outline your sales goals and objectives.
4. Strategically allocate your resources to maximize results.
5. Track your progress and measure your success.
For instance, a sales plan for a company that sells software widgets can look like the following:
Objectives:
a. Increase software widget sales by 20% by the end of the fiscal year.
b. Acquire 100 new customers in the technology industry in Q3.
c. Increase customer retention rate by 15% by Q4.
Target Customers:
a. Technology companies with 50-500 employees.
b. Companies are seeking to improve their software efficiency.
c. Companies located in North America and Europe.
Unique Selling Proposition (USP):
a. Customizable, efficient, and backed by a dedicated customer support team.
Pricing Strategy:
a. Premium pricing for one-on-one customer support and advanced features.
b. Competitive pricing for basic widget needs.
Sales and Marketing Tactics:
a. Lead Generation: Attend industry tradeshows, enhance online marketing efforts, and leverage LinkedIn for lead generation.
b. Sales Process: Follow a consultative selling approach. Understand customer needs, demonstrate how our widget can meet those needs, negotiate, and close the deal.
c. Customer Retention: Regular follow-ups post-sale to ensure customer satisfaction, email newsletters with valuable tips and updates, and exclusive discounts for existing customers.
Sales Team Structure:
a. Our sales team will consist of 5 Account Executives, 2 Sales Development Representatives, and 1 Sales Manager.
Sales Forecast:
a. Q1: $500,000
b. Q2: $600,000
c. Q3: $700,000
d. Q4: $800,000
Budget:
a. Tradeshows and Marketing: $100,000
b. Salaries: $500,000
c. Other Expenses (Travel, Training, etc.): $50,000
---
What do you mean by Sales Planning Process?
Sales planning is the system a company uses to create and execute its sales strategy. It involves setting goals, determining what resources and personnel are needed to achieve them, creating action plans and timelines, and allocating the necessary budget.
The sales planning process begins with analyzing the company's current state and market conditions. This information is used to develop realistic sales goals and objectives. Once the goals are set, the next step is creating a sales strategy to achieve them.
The strategy will include specific tactics and strategies for each stage of the selling process, as well as target markets and customer segments.
Looking for a CRM to supercharge your sales engine and streamline sales efforts? Try Kylas, an easy-to-use CRM uniquely designed for growing businesses. Schedule a demo today!
---
How does Sales Planning Differ From a Sales Plan?
A sales plan is a document that outlines the specific actions that need to be taken to achieve goals such as increasing revenue. On the other hand, sales planning is creating that sales plan. It involves analyzing your company's strengths and weaknesses and studying your target market and the competition.
Once you understand all those factors, you can begin developing strategies and tactics for reaching your goals. A sales plan should be updated regularly, as things like market conditions and customer needs can change over time.
---
What Goes in a Sales Planning Template?
A good sales planning template will have all of the critical components of a successful sales strategy and streamlines the sales planning process. The essential part of any template is ensuring it is tailored to your specific company and its goals. A template should be flexible enough to be adapted as your business changes and grows.
The following are some key components that should be included in a sales planning template:
-Company's vision and mission statement
-Your target market
-Your target customer
-The product or service you are selling
-The features and benefits of your product or service
-Your pricing strategy
-Your distribution channels
---
Tips for Creating an Effective Sales Plan
Creating an effective sales plan is essential for any business, but it can be difficult to know where to start. Here are six tips to help you get started: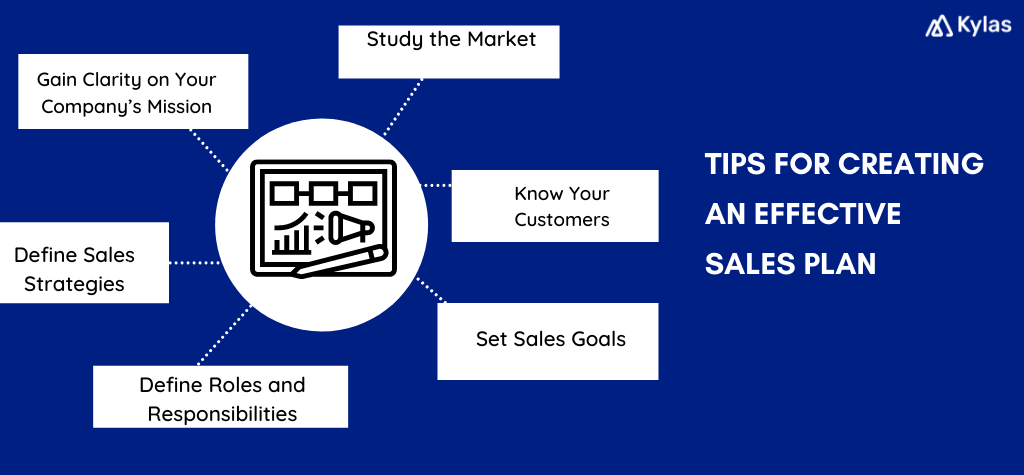 1. Gain Clarity on Your Company's Mission
Everyone in the organization should strive for the same goals, irrespective of their designation or department. This involves clarifying the company's goals and where and how you will position yourself in the market.
While being involved in all aspects of the business strategy, sales leaders need to collaborate with multiple stakeholders to ensure the success of the sales planning process.
Here are some stakeholders sales leaders need to engage with before drawing up the sales plan:
Marketing department: Instead of working in silos, when sales and marketing teams work together, they create more effective campaigns, handle leads better, and impress potential buyers. Devote time to understanding the marketing functions, tools (

sales enablement platforms

, marketing automation software, etc.) tools, team structure, methods, and processes.
Customer service teams: Customer support representatives are the ones who speak to customers daily. Speak to them to know their pain points and customers' common questions.
Customers: The success of your sales plan and positioning strategy depends on how well you know your customers. Speak to your customers directly to understand their needs, concerns, and questions.
Look for brand mentions: From comments on social media to online reviews and press mentions, it is essential to grasp what others think about your brand.
2. Study the Market
Now that you know your business goals, it is time to understand the market niche you are trying to capture. This will allow you to position your offerings accurately and optimize your sales outcome. The primary goal of studying the market is to know if there is a demand for your offerings.
There are many instances where new product launches fail to take off because of poor product-market fit, targeting the wrong market, or failing to do competitor analysis. According to CB Insights, lack of market demand is the second leading cause of product failure.
When studying the market, focus on answering these questions:
Is there a demand for your offering?
Which real problem do you solve with your service/product?
What are your and your competitors' strengths (unique selling points, benefits of the product or service) and weaknesses (which areas need improvement)?
What are the opportunities and threats that exist in the market?
Why would clients choose you over your competitors?
Ensure you gather detailed information on your direct and indirect competitors. Direct competitors are those who offer products or services similar to yours, while indirect competitors are the ones solving your target customers' problems differently.
3. Know Your Customers
An accurate picture of your target customer is crucial to creating a foolproof sales plan and tailoring your marketing strategies to appeal to them.
Some questions you need to ask to create buyer personas include:
-Who is your target customer?
-How do they prefer to communicate (email, phone, text, social media)?
-What are their interests and hobbies?
-What do they like and dislike?
-How do they find new products and services?
-What are their pain points?
-Do they consume any type of media (social media, TV, radio, newspapers, etc.)?
-What are their demographics (location, age, gender, income, etc.)?
-What are their buying habits (time of year, where they shop, how much money they spend)?
4. Set Sales Goals
Now that you clearly understand your company's goals and reasons for being in the market, you can move on to set revenue goals and targets for your sales team. While revenue goals come from the boardroom, it's your job to hit them.
This is why sales leaders must be integral to the boardroom. With their performance insights, they can help establish attainable and measurable sales goals. When setting goals, you must make them S.M.A.R.T.
Specific: Instead of just saying, "Increase web traffic or sales volume," specify how you will accomplish it. Here's an example of a specific goal: Improve customer satisfaction score by devoting 30 per cent more time to customer interactions during the closing phase.
Measurable: Write down the precise number you want to aim for (for instance, increase sales revenue by $500,000). This helps you benchmark your performance and use the right tracking tools to monitor your goals. These key performance indicators (KPIs) can include new leads, deals closed, customer churn, the value of sales per customer, and so on.
Achievable: Ensure your objectives are achievable based on past performance and available resources. For instance, if your sales revenue was $100,000 last year, setting a sales goal of generating $ 2 million this year is impossible.
Relevant: Your sales goals must align with your company's mission and team's goals.
Time-Based: Clearly define the start and end dates for your sales goals. Companies set weekly, daily, monthly, quarterly, and yearly sales goals.
To sum up:
Make sure your goals are realistic and achievable.
Break your goals into smaller, more manageable steps for the sales team. For instance, if your sales goal is to boost leads, the daily targets can be:
100 cold calls per day
200 cold emails each day
Four blog posts each week
Five sales appointments per week
Set a deadline for each goal
List the metrics and methods you will use to track your progress.
---
5. Define Roles and Responsibilities
A sales team's success depends on the roles and responsibilities assigned to each member. Defining these roles and responsibilities is essential to ensure everyone knows what is expected. This also helps them work together as a team.
There are many ways to assign a sales team roles and responsibilities. The most important thing is that everyone understands their role and what is expected of them.
There are a few key things to keep in mind when creating sales team roles:
Define the team's goals and objectives.
Several roles within a sales organization are essential for its success. The responsibilities of a sales account manager, business/sales development representative, and sales support personnel must be clearly defined.
Assign specific tasks to each team member based on individual skills and strengths.
Create a system for tracking their progress.
Be flexible and adaptable when it comes to assigning roles and responsibilities. The needs of the business can change over time, so it is necessary to be able to make adjustments when necessary.
Communication is key when it comes to working as a team. Everyone needs to be able to communicate effectively with each other to ensure that everyone is on the same page. Set up the channels and methods of communication to ensure a smooth flow of information across different roles.
---
6. Define Sales Strategies
This is the stage where you need to finalize your sales approach by defining the tools, techniques, strategies, and methods you will use to achieve your sales goals.
This is the most detailed component of your sales planning process and will highlight:
Sales Stages: The sales process involved in converting leads to customers
Methodology: The different approaches and methods you will use
Sales Tools: You will use tactics and tools to optimize the sales process.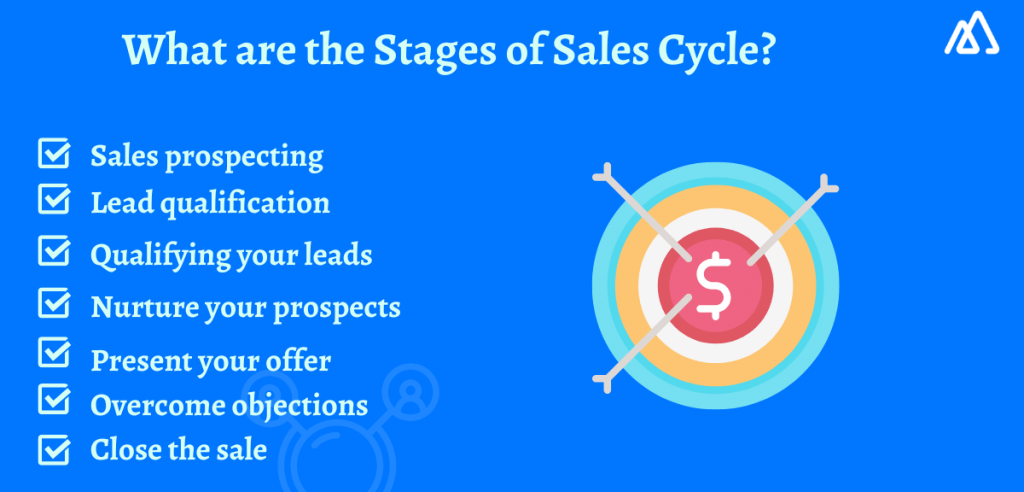 Sales stages consist of these steps typically:
Sales prospecting to acquire leads
Lead qualification to ensure you are targeting the right people
Engagement methods in the initial stage, such as cold calls or emails
Appointment setting for a product demo or consultation
Presentation in the form of a pitch or proposal
Negotiation to overcome the target's barriers to convert
Signing the deal
Research the techniques and tools you need to execute your sales strategy. One of the best ways to streamline your sales planning is to use sales plan templates.
---
Sales Plan Examples
There are many sales plan templates and tools to optimize your sales planning process. While the features can vary, most sales plans will share common elements, such as an overview of your products and services, your target market, your sales strategy, and your forecasted sales revenue.
Here are a few sales plan examples to help you pick the right one:
1. Simple Sales Plan Tools
Sales planning does not have to be a complicated process, thanks to the availability of simple tools.
1. GoodEgg Marketing:
One such tool is offered by GoodEgg Marketing, which features six components, including goal, target customer, strategies, metrics, calendar, and tactics or messages.
2. Smartsheet
Another simple tool for beginners is the sales action plan template from Smartsheet, which lets you define the timeline and the actionable steps. There are also sections to list your goals, the person responsible for each step, and the methods you will use to measure success.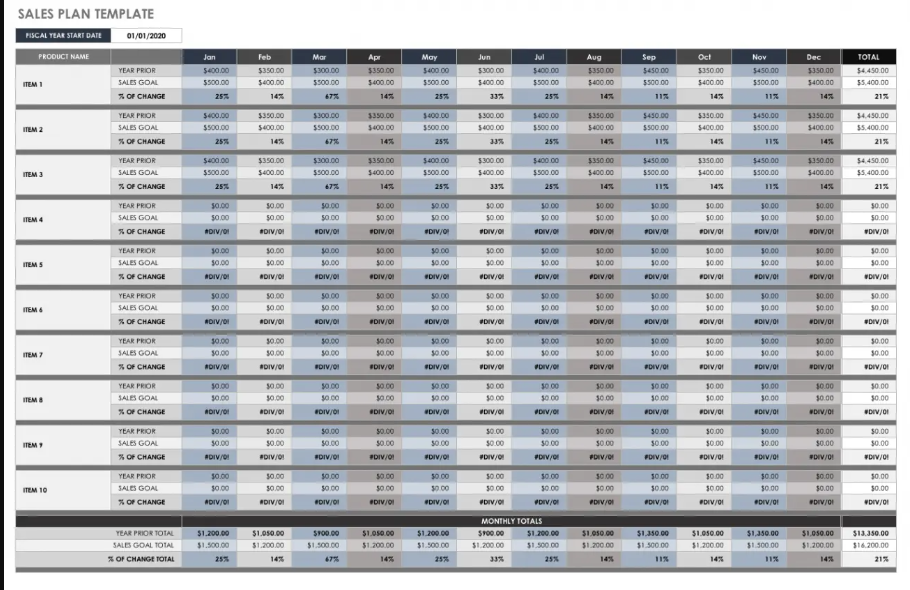 3. Granular 1-Page Sales Plan Example From Get2growth
Here is another example of a one-page, granular sales plan example given by Get2Growth based on their research on Starbucks' marketing strategy. From clearly defining the target persona, including SMART marketing goals, to describing the customer journey, the sales plan goes into the granular details of the sales planning process.
4. An Easy-To-Use Sales Plan Template From BestTemplates
This customizable template from BestTemplates is easy to use and is compatible with Pages and Microsoft Word formats. The one-page sales planning tool includes the essential sections to refine the sales planning process, such as KPI (Key performance indicators), distribution strategy, channels, cost estimation, and total sales.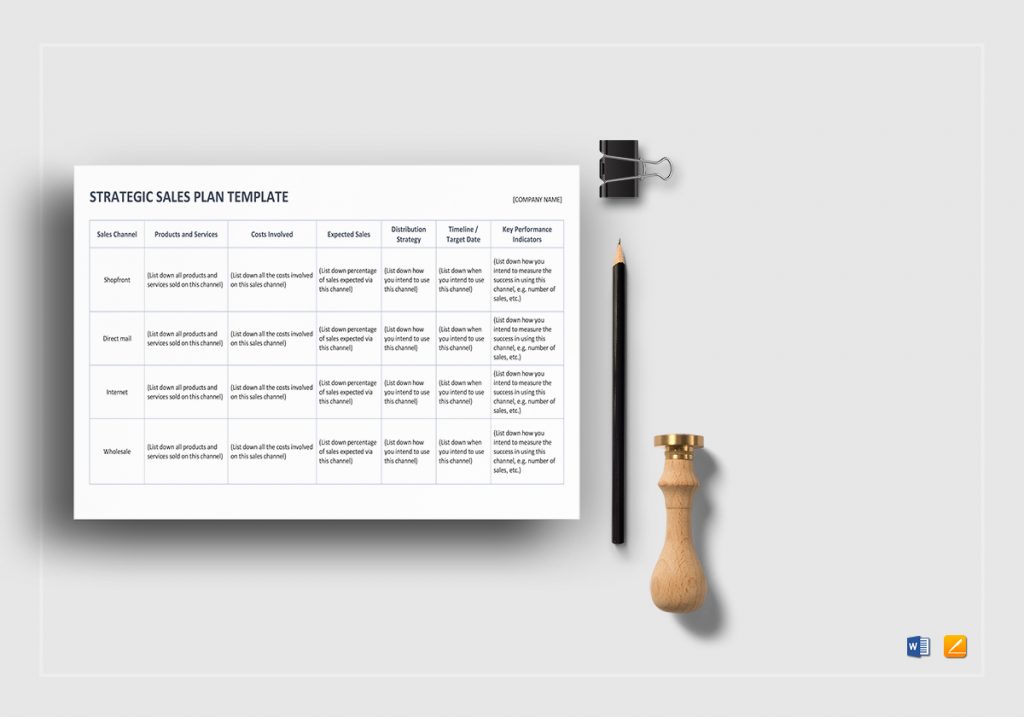 5. Venngage's Online Sales Planning Tool
Venngage's colorful and engaging sales planning tools effectively streamline your sales planning process. With customized templates based on the industry/domain, illustrations, charts, and stock photos, these sales planning templates help you create a sales action plan in a quick time.
6. Asana Sales Plan Template
From task dependencies and real-time status reports to easy integration with other sales tools, the Asana sales planning tool offers a range of useful features to accelerate the sales planning process.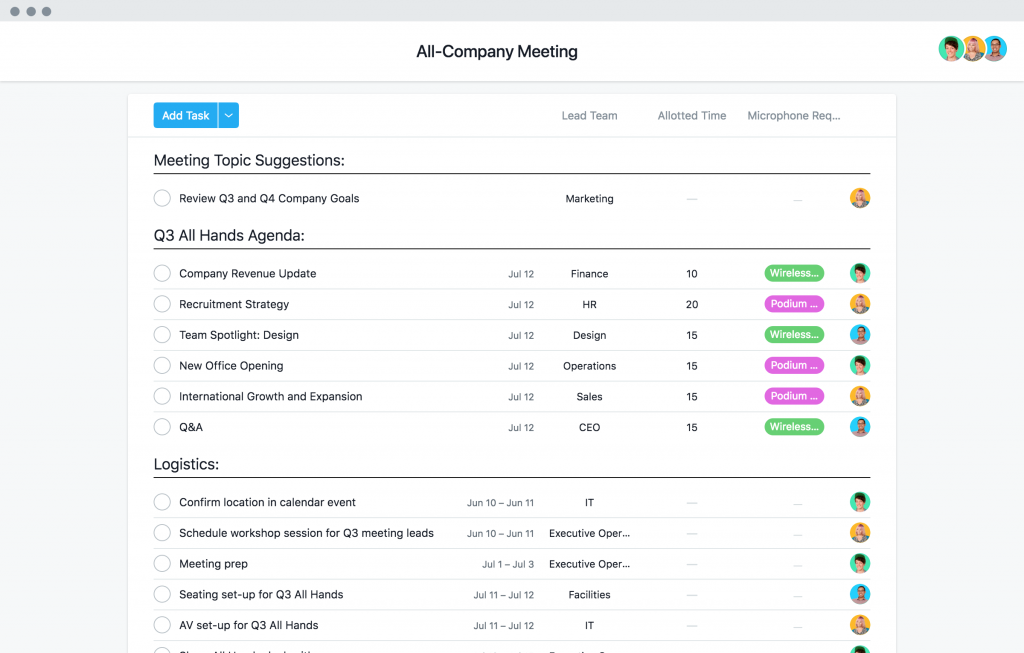 7. Hubspot's Free Sales Planning Tool
HubSpot's detailed sales planning tool has all the important sections that help refine your sales planning process. These sections include company history, goals, target market, tools, prospecting and marketing strategy, team structure, action plan, and budget.
---
Sales Planning Best Practices for Growing Businesses and Startups
Sales planning is vital for growing businesses and startups. Without a plan, it can be challenging to focus on the most important tasks and achieve sales goals. There are a few essential best practices that should be followed when creating a sales plan:
Get the budget right: Successful implementation of your sales plan will depend on the budget you have at your disposal. Focus on creating as accurate a budget proposal as possible to ensure you have the necessary resources to carry out your plan.
Know your sales team's challenges: Your sales plan is only as good as your sales team's. Connecting with your sales team daily to understand their challenges and barriers to achieving their goals is essential.
Be flexible: Changes are inevitable, from market volatility to technology disruptions. While creating a solid plan is essential, it is also vital to be open to emerging opportunities and be prepared to tackle new threats.
Make use of technology: From sales planning, automating your emails, and lead scoring to tracking the performance of your sales strategies, you can use multiple tools. Investing in sales planning templates, Sales CRM, data analytics, market intelligence, and social media management tools will help you get the ROI you seek.
Start 15-day Free Trial