When building a new brand, we've learned from experience it's best to put in the hard work and long hours beforehand. A lot of companies tend to be so eager to get into sales that they skip the effort that should be put into building the brand first.
So, before we get into the why and the how of branding & positioning, let's start by reinforcing that, as a growing business, you need to be patient and persistent in first building your brand.
It will likely take some time, but it's essential to get it right to begin with than to come back around to it later.
Let's start with the basics.
What do you mean by Branding and Positioning?
Branding is simply the practice of creating a recognizable identity for your company, helping it to stand out from others and catch the attention of potential customers.
The concept of branding isn't very complex; it fulfills a fundamental need to distinguish your company/product/service from others in the marketplace.
What makes branding essential today, however, is the sheer volume of companies and products available to consumers.
With the world getting smaller – thanks to transportation, social media & the internet – consumers have access to a lot more variety. Predictably, consumers' position in the driver's seat has been firmly cemented.
To get the attention of prospective customers, it's then essential for you to have a strong identity that they can associate with.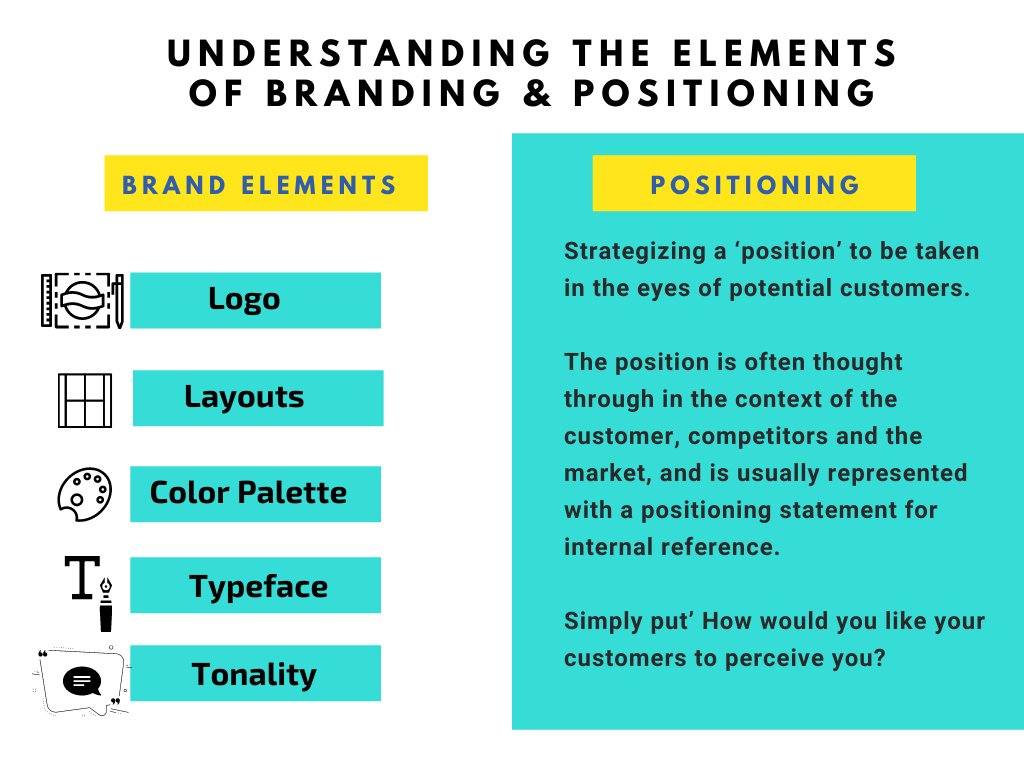 To help understand this better, let's look at some famous consumer brands and their branding & positioning:
Red color, fizz, happy people all around the world, community & gatherings. Positioning- Brings happiness to people's lives and be a part of happy moments everywhere.
Black swoosh, 'Just do it' wording, performance & fitness, anyone can be fit.
Positioning– Expands human potential by creating innovative sportswear and shoes that inspire every person toward a fitter lifestyle.
Colorful products, iconic rounded font, innovation, forerunners in-home gadgets.
Positioning- Constantly innovates with a simplistic approach to beautiful design. Leagues ahead of the rest in home appliances.
Let's do a quick test – blocking the brand's name, looking at only the characteristics and positioning mentioned above, and see if you can guess which brand they describe.
You would get all 3 right!
That's because these brands have purposefully used these characteristics and positioning over and over again to define their brand and brand experience, setting them apart in customers' minds.
That brings us to an important point- Once you decide what your brand elements and positioning will be, you owe it to yourself to be consistent – unless you drive it home over and over again, customers won't remember it.
And if your customers don't remember it, it won't be effective for your brand.
---
What's the Difference Between 'Positioning' and a 'Positioning Statement'?
To be truly memorable, a brand must be clearly positioned for customers. That is, the experience it wants to create for its customers and the role it wants to play in their lives.
This then forms the basis for not only the brand's marketing but also its product development – to be consistent with its positioning is of utmost importance to any brand.
As you may have guessed from this explanation, a brand's positioning forms the basis of its brand elements, including its colors, logo, and tonality.
On the other hand, the positioning statement encapsulates the brand positioning and works as a guiding light for all the brand's employees and stakeholders to help them stay true to it.
It is not, however, meant for the public or used as the brand tagline in any external communication.
---
How to Strategize Your Brand's Positioning
If positioning your brand means creating its unique identity in the market, then it goes without saying that you must have a complete understanding of the 3 main elements.
Your customers
The market– mainly your competitors
Your product experience
Understanding this universe around your product helps create the perfect position for your brand in the minds of your customers.
Let's take a look at how it's done:
Step 1: Create Buyer Personas
You may have many different types of buyers – of different ages, backgrounds, locations, and personalities – and it's crucial you understand all of them closely.
.
Creating buyer personas for these different kinds of customers helps form a very real view of the people to whom you're taking your brand.
---
Kylas Pro Tip: Don't just look at factors such as gender, income or family – put down each buyer persona's aspirations, problems, and needs to understand them better as people.
---
Step 2: Analyze Competitors
You'll get some of the best insights from knowing how your competitors have positioned themselves in the market – insights on things you should do similarly but more importantly, how to stand apart.
If you don't know who you're competing against, there are two easy ways to identify competitors: ask your client-facing sales team and any existing clients!
Small and Growing Businesses needn't restrict their competitor research to like-sized firms. There is a lot to analyze and learn from well-established enterprise organizations.
When doing a competitor analysis, compare-
Product similarity
Target audience traits
Target geographies
Pricing
Value proposition
Differentiators/unique selling points
---
Step 3: Identify Your Unique Value Proposition
This step involves figuring out what niche to carve for your brand.
What is it that you do differently from your competitors? Is there a marked difference in the product or service or perhaps a different unique selling point?
If there isn't, you should consider creating a differentiator or a unique value proposition to set your product experience apart.
---
Step 4: Claim Your Position
With insight into your target audience, your competitors, and your unique value proposition, you should now have a clear view of where you want your product to land. A creative angle is what will help you refine your positioning and hit the mark here!
---
Positioning Statement Template
When it comes time to create your positioning statement, feel free to use this template we've found works for us-
"For (your target audience), (your company name) offers (products/services) that (your differentiator/product experience), so they can (main benefit) with (reason to believe)."
At Kylas, for example, our positioning statement is-
For growing businesses everywhere, Kylas offers an ecosystem of tech products that enable growth so they can scale new heights with expertise.
You can shorten this or add to it if needed – there are no hard and fast rules, but the more succinct and clear the better. After all, you'll share this as a conduct guideline among employees and stakeholders.
A well-crafted positioning statement helps your employees always stay in touch with your brand essence and keeps the sales team's motivation up!
---
Popularizing Your Brand Positioning
Coming up with a positioning statement is only at the halfway mark. As we mentioned earlier, consistent positioning is essential for every brand.
Think about it- All of Coca Cola's advertisements, marketing material, and experiences are always about being happy together. You must keep putting your brand out via different media, constantly reflecting the exact positioning.
A few different ways to start putting your brand out there:
Establish a digital presence for your brand (read our in-depth guide on that here).
Work on employer branding that also reflects your positioning.
Be a part of events or host events that reflect your unique positioning and help you amplify your brand in some way.
Try to have content created about your brand – user-generated content, customer referrals, customer testimonials – that reflect that positioning.
Run activities that support your positioning – for example, a socially responsible brand would run community outreach programs.
---
How to Plan & Build Your Brand Elements
Your Logo
When creating a logo, you must ensure it's versatile, memorable, and timeless.
This will always represent your brand and will usually be the first thing that comes to consumers' minds – you don't want it to look outdated in a few years and you don't want it to blend into the noise of other brands.
Here are a few types of logos to consider-
Typeface– Logos that simply spell out your name in a memorable font.
Monogram– Based on the initials of your brand, in a particular pattern/font.
Symbol– Where you use a symbol or picture to represent your brand.
Symbol + typeface– A combination that reinforces your name along with the symbol.
Mascots– Making your mascot, if you have one, part of your logo.
---
Your Colors
Each color has a meaning, so your brand colors have much more importance than you might initially believe. It's best to have a brand design professional helping you, but here are a few guidelines to choosing your brand color-
Understand the meaning of all colors.
Decide what you want your brand to communicate, how you want your customers to feel (in line with your positioning).
Because it's always good to know, check out your competitors' colors.
Choose a combination of colors that contrast each other on the color wheel and communicate your proposition.
---
Your Typeface
One of the most subtle yet powerful elements of your brand, your font can make all the difference to its memorability. Pick the right font and it may not stand out to customers but will imprint itself on their minds…pick the wrong font and it will stick out like a sore thumb, leaving a bad first impression.
How to choose the right font for your brand:
Pick up your communication essence from when you work on your logo.
Choose the type of font that will go with it – sans serif for a minimalist, simplistic or modern experience and serif for a more traditional, classic or elaborate feel. Script fonts have also been a hit in recent times, as they offer a more authentic, writing-like feel to the brand.
Now choose one font for your logo and one for your all your copy (you can either choose two completely different fonts that complement each other or two versions of the same font).
Make sure the fonts you choose are legible and go well with your brand experience.
---
Brand Tonality
Much like other brand elements, the crux of your brand tonality is the communication or experience you want to put out there.
Your brand tonality is important to create that consistency we spoke about earlier – if you want customers to relate to you, to rely on you, you need to have a consistent tonality that helps them create an identity of you in their minds.
Creating your brand tonality-
Start with the brand experience you want to create (what you want your brand to communicate, how you want your customers to feel).
Give your brand a personality– write it up, it helps!
Write down the kind of words your brand would use if it were a person, the kind of sentence structure it would use. A lot of this is down to your company– would the tone be formal? Would it be casual, perhaps downright millennial?
Create a style guide that you can circulate internally, outlining this tonality and dos & don'ts in terms of words to use.
---
Brand Templates
Since consistency is key to successful branding, you need to be consistent with visual imagery. In the digital world, this is easily achieved by brand design templates – a quick, ideal solution for small businesses.
Work with a graphic designer to create a range of templates that you can use for social media, advertisements, and landing pages, so all you need to do is choose the right template, input the copy and imagery and you're done!
Things to keep in mind:
Templates need not be boring- Make smart use of color and placement for interesting designs that reflect your brand experience (the same one you've considered for the logo, typeface and tonality).
Do not be repetitive- Create multiple ones with elements that you can add and remove at will, so you don't end up looking like a cookie-cutter brand.
Refresh your templates every few months- You want to avoid looking like an outdated brand, which means you need to keep updating your templates to keep up with design trends. One way is to re-look at your templates every quarter with a design professional.
---
And that closes our comprehensive guide on building a brand- planning your branding, positioning, and also the brand elements!
As we said at the start, it takes considerable time and effort (and consistency!) but the results will most definitely pay off in the long run. Think of it as an investment with compound returns.
If you have any questions at all, feel free to drop a comment below!
Start 15-day Free Trial