'Digital presence' – it is non-negotiable today and yet, setting it up is still challenging.
Growing businesses, especially, need to leverage the power of a strong online presence to drive growth, but as we've often found, lack the necessary guidance. We're here to change that today!
Let's take a deep dive.
What Does It Mean to Have a Digital Presence?
Having a digital presence basically means being present on the many different digital channels available today.
Think about your website, your vendors' websites, social media, Google, review platforms, online publications, and more. Your presence across all of these channels contributes to your 'digital presence'.
---
Why Is It Important to Have a Digital Presence?
The world is online today:
Consumers across all industries, B2B buyers included, begin the

buying journey

with online research.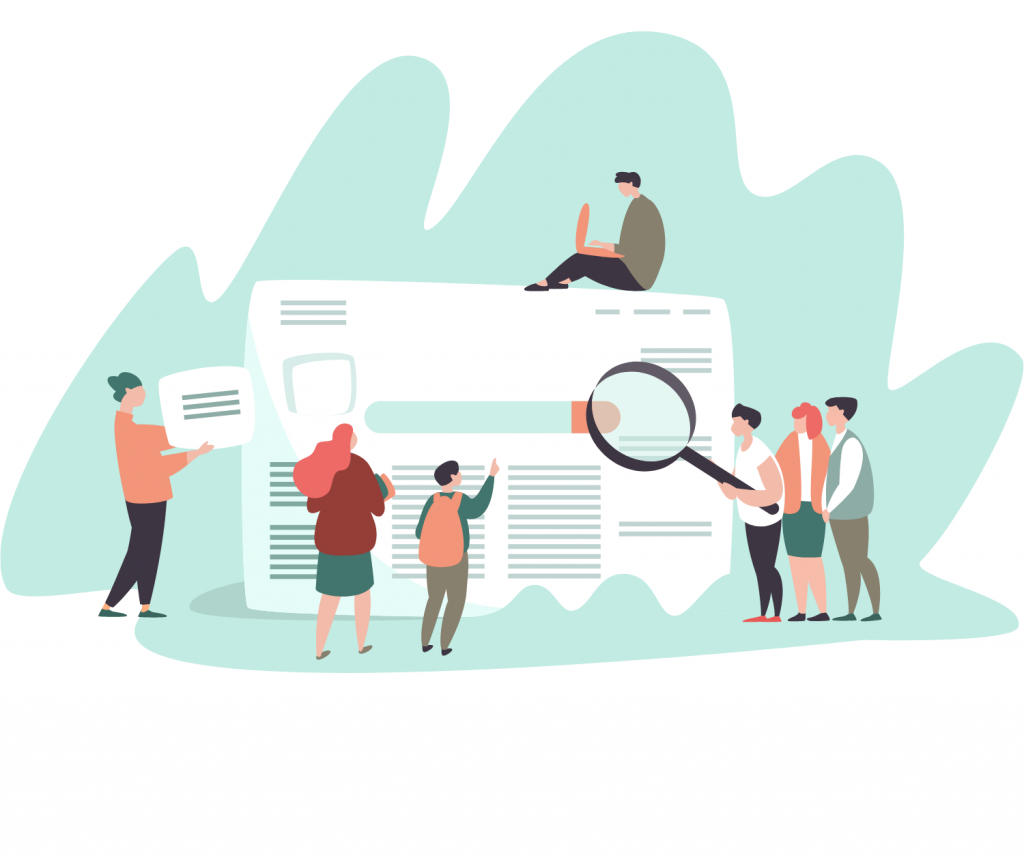 People of all age groups consume information – news, entertainment, literature and educational – online via social media, websites and video streaming services.
.
The internet is used for learning, working and most importantly, sharing information.
As a digital brand in today's crowded marketplace, you need to be present where your customers spend time every day – and that is online.
---
Dissecting the Many Digital Channels
There's an easy way to understand the many online channels available to your brand.
Remember, all of them fall under the umbrella of Paid, Owned, Shared or Earned media. Look at these as the four main classifications of online channels.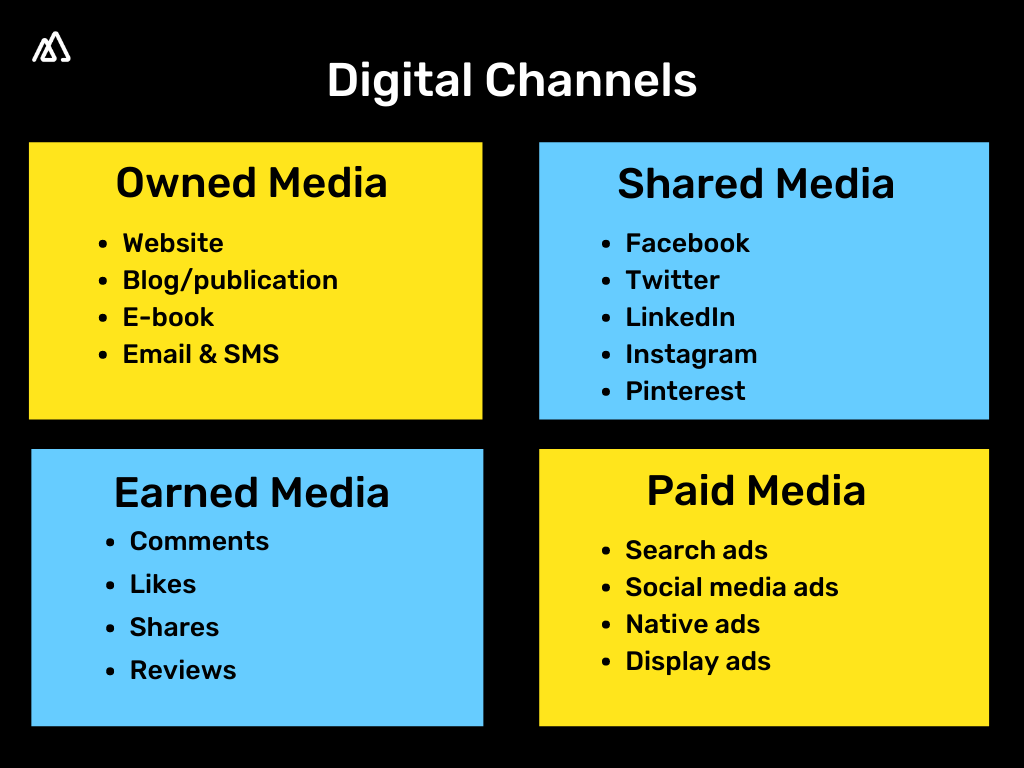 1. Owned Media
These are channels that are owned & controlled by your brand. For example, your website. You control the content you put on it, how it looks and how people interact with it.
2. Shared Media
The term 'shared media' is mainly used to refer to social media websites like these aren't owned by you, but you do have brand pages that you control.
Facebook, Twitter, LinkedIn, Instagram, Pinterest are the common names you'll already have heard about.
3. Paid Media
This includes channels that you pay to use for your brand, most commonly advertising platforms. Facebook ads, for example (not Facebook as a whole) are paid media, as are your search ads, display ads and other such paid mediums you use to put your brand in front of your audience across the web.
4. Earned Media
Earned media includes any sort of content or interaction that you earn from users across the internet. Reviews, for example, or the likes/shares/comments you receive on your social media pages.
Earned media is a great metric of the effectiveness of your digital presence.
On a Side Note: The importance of staying true to your brand
With the competition and noise found online today, simply being present across different channels is not enough. Each point of your presence – across channels within your control – must reflect the individuality of your brand and must contribute to your brand experience in some way.
Standardizing your brand presence involves:
1. Establishing – and sticking to – one tonality and style of wording, everywhere
2. Being consistent with brand colors and design elements
3. Being consistent with the experiences you're creating for users (for example one of utility, entertainment, inspiration, or otherwise)
---
A Step-by-Step Account: Setting up a Digital Presence for Your Business
Step 1: Establish the Digital Channels Within Your Control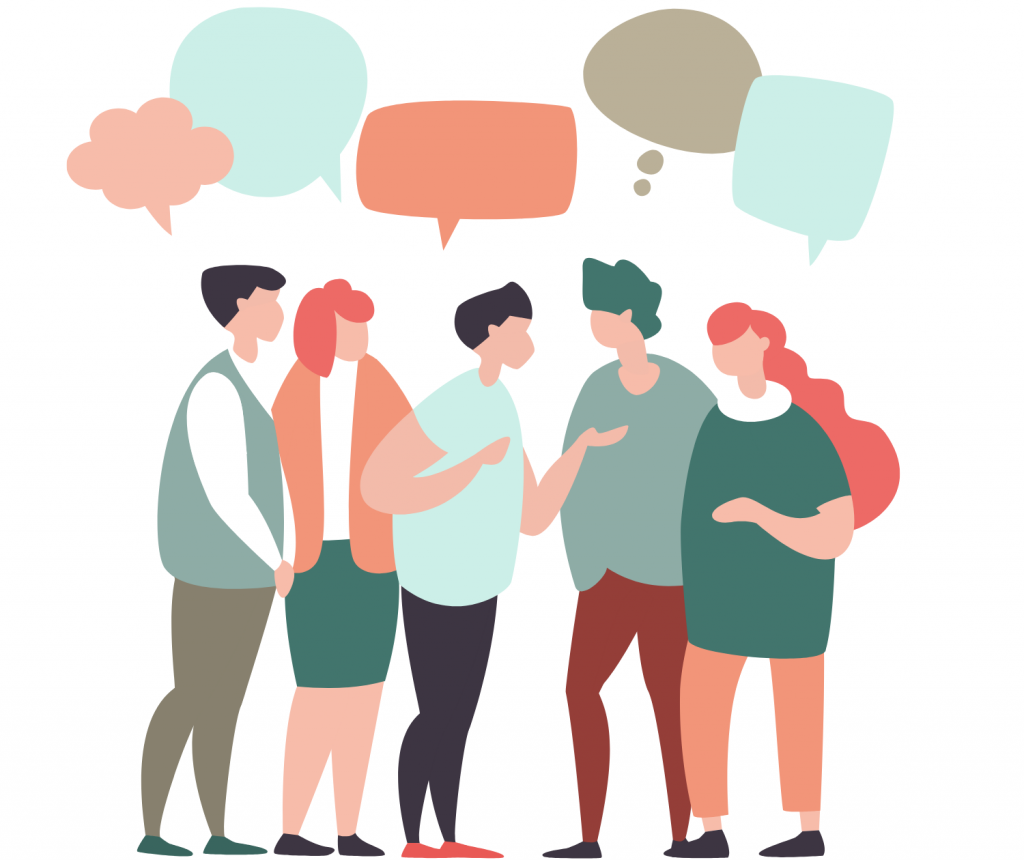 The first thing to do is to set up all the channels you do have control over, meaning your owned and shared channels. At the very least you need your company or product website and social media channels.
.
With social media, you also need to have a content calendar for your posts – we recommend at least 3 posts a week!
---
Step 2: Pull Traffic to Your Owned & Shared Media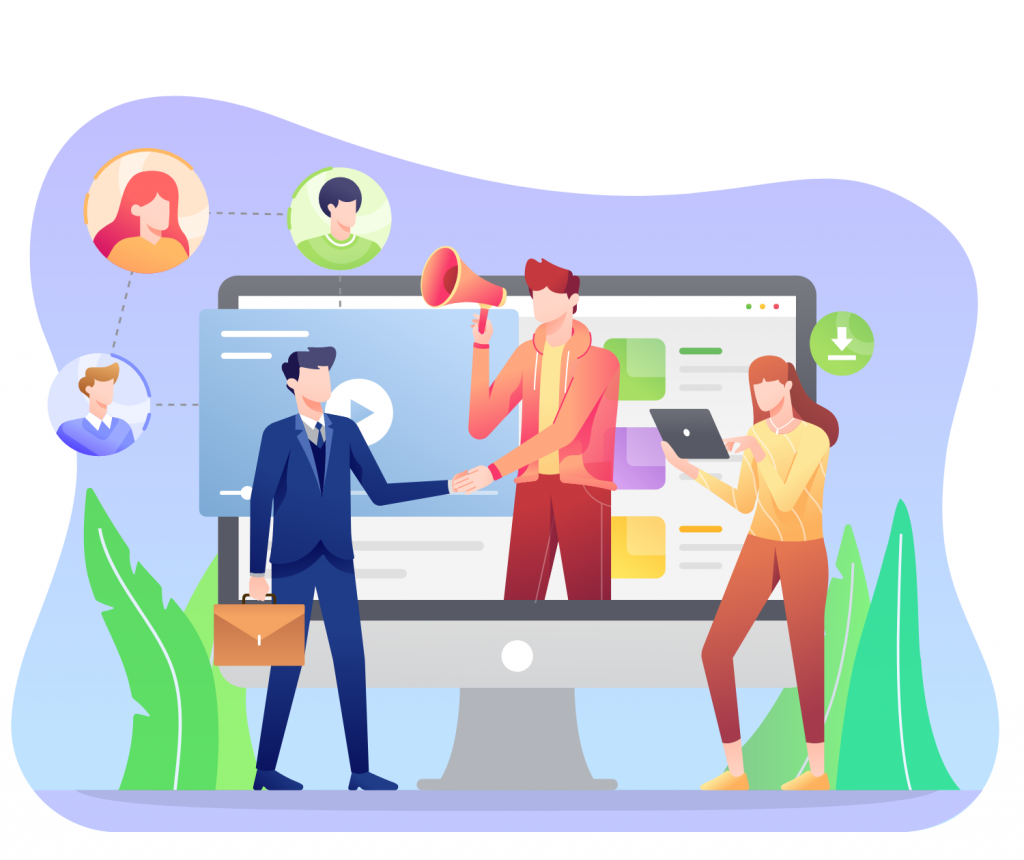 Remember that the content you put out into the world is only as good as its propagation. There's so much noise online that simply creating a website or social page does not guarantee visitors and followers.
.
Here are a few ways to get your owned media out there:
1. Optimize Your Website for Search Engines
This is an essential and long-term process called SEO (Search Engine Optimization) that ensures users come across your website when they're looking online for solutions or answers.
2. Constantly Create New Content
Keep publishing blog posts, whitepapers, e-books, case studies, and the like to increase your thought leadership.
Once published on your website, propagate them via email to existing customers and publish them on social media too. Keep your social media updated and engaging with the latest tactics.
3. Create Collaborations
A few months down the road, tie up with influencers or other brands in your industry who have a great digital presence to drive more traffic to your owned media.
---
Step 3: Set up Any Paid Campaigns You Want to Run
If you're looking to create buzz on the internet, or have a lead generation or sales goal to meet, paid media's advertisements & sponsored content are the answer for you.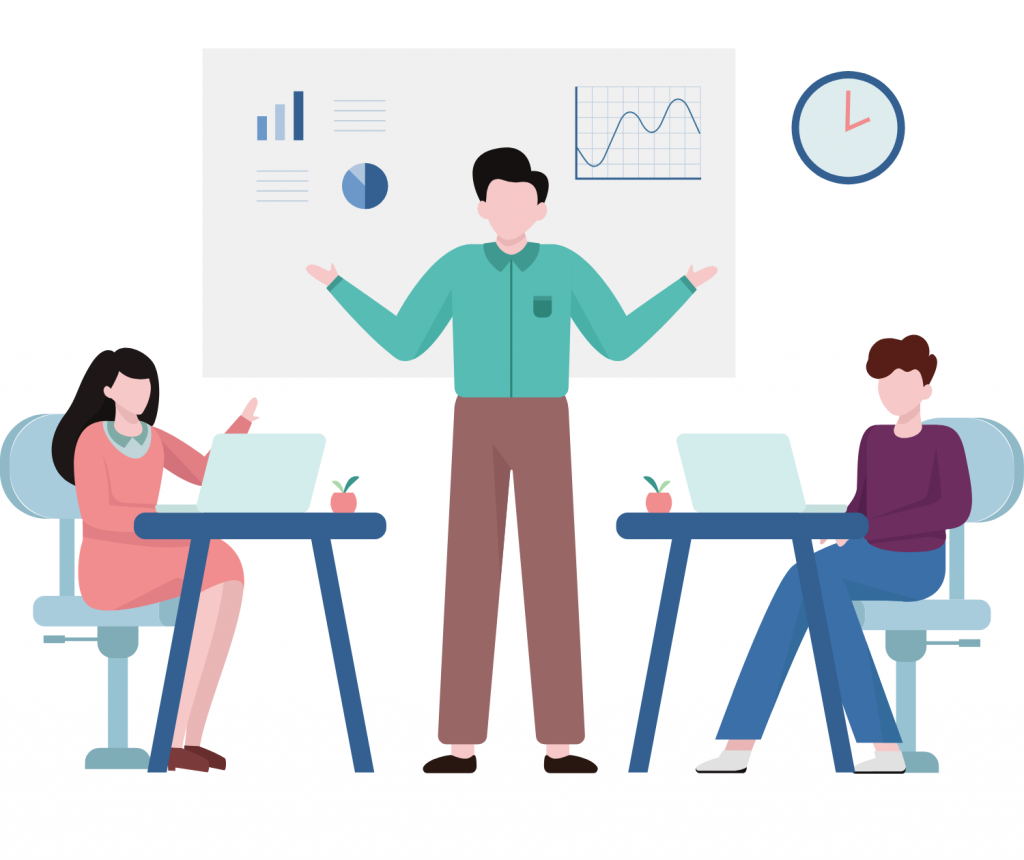 The advantage of digital paid media is the state-of-the-art targeting mechanisms available to you to ensure that your brand is always placed in front of just the right people.
.
Here are some basic platforms and ad types to explore:
1. Google Search Ads
Ideal for targeting audiences who are already looking for your product or your type of product online. This helps you easily target and convert users that are 'low-hanging fruit'.
2. Google Display Ads
Run under the DV360 network by Google, display ads are visual static or video ads that you can place on websites frequented by your target audience around the internet.
3. Youtube Ads
The popular video channel has a number of ad types that allow you to showcase your brand/product/service at the start of a video or in-between, to your target audience.
The Google ad universe can seem a bit complex to newcomers, but think from a user-first point of view and you'll understand their approach to advertising.
4. Facebook
The social media giant offers a number of ad types and ad placements, including those on Instagram. You can choose to show ads, or simply boost your timeline posts so they reach a wider audience than your followers.
5. LinkedIn
Ideal for B2B brands, LinkedIn allows you to show ads, sponsor your posts to reach wider audiences, or even send InMail to professionals you think could be prospective clients.
Our tip: Personalize your copy – when you're reaching multiple professionals through a medium like InMail, they're more likely to respond to a message that sounds like it was meant just for them.
6. Native ads
Platforms such as the Times Network, Outbrain, and Taboola run native ads, which means that they place your content within websites in a way that blends them right in.
Very often, brands choose to use these ads like advertorials, promoting blog posts, or videos to help blend in with the host website more seamlessly.
All the leads that you obtain from ads can be easily be captured on a sales CRM software which can help your sales team contact and engage prospects to close sales.
---
Step 4: Try to Create a Community Around Your Brand
The most popular brands on the internet are ones that have constant interaction with customers and have built an ecosystem of conversations and media around them.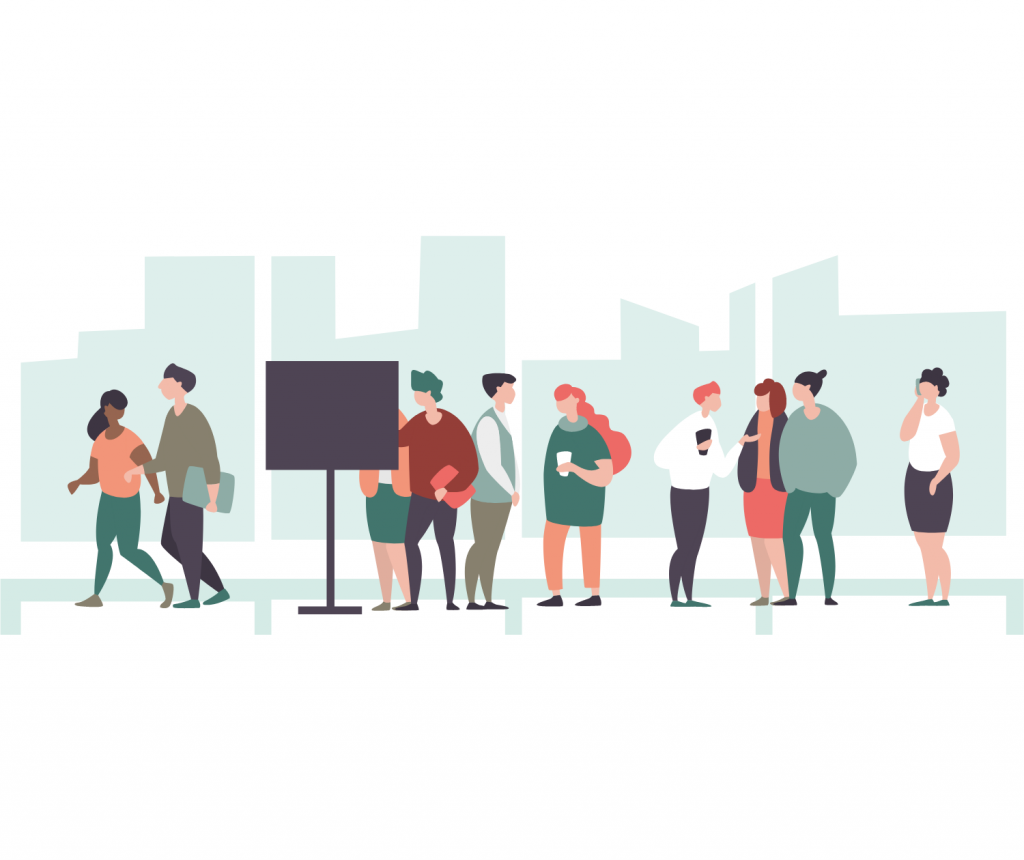 .
Creating an online community feels around your brand not only widens your audience base but creates evangelists and directly impacts sales numbers with much greater ROI than paid campaigns.
.
Think of it as a form of referral marketing – the more people talk about your brand the more others want to know about it, till you have an influx of customers independent of your outreach efforts.
Here's what to do to create an online community feels around your brand:
1. Use a MIX of Owned, Shared & Earned Platforms
Social platforms and review sites come with a ready audience, so use them to establish groups, converse with customers, add your content to relevant threads of conversation already taking place.
On your website, add a comments section to all your blog posts, create a forum that's dedicated to your brand and offer a safe space for your audience for discussions in direct relation to your product/service.
The upside of using social & review platforms is that the audience is already there – but you don't have much control over it.
The upside of using your website is that you have complete control over it – but you'll have to work to drive audiences there.
2. Have a Clear Goal in Mind for Each Platform
For example, you may want to drive conversations around your product or simply increase customer satisfaction.
Also, have an idea of how you want to use the content that gets generated (you might want to repurpose reviews on social media or as testimonials). This will act as a guide for how you use your platforms.
3. Create Accountability
Create a clear set of KPIs for the community/communities so you can constantly measure the progress/success of your efforts. For social platforms, KPIs will include the number of shares, comments, and user-generated content.
For your website, it could be reviews, testimonials, and again, user-generated content.
CRM software tool can help you to keep track of leads, engaging them, and converting prospects is a good way to keep yourself and your team accountable to the final goal of generating revenue
4. Promote It!
Especially with a community on your website, you're going to need to promote to see engagement.
For existing customers – ask for reviews and engage in conversations by using email marketing, SMS, and rewards. This should be your focus, to begin with, because existing users can get you a lot of content – including visual content.
For potential customers – following hashtags and taking part in conversations, instantly & personally responding to commenters, running contests & giveaways, and tying up with influencers all work wonders on social media.
You should also run referral campaigns among existing customers via email marketing to try and draw in a new database.
---
5 Best Practices for When You Are Setting Up A Digital Presence Strategy
Have a plan in place – Every channel requires a strategy and an informed approach so you don't waste effort & time.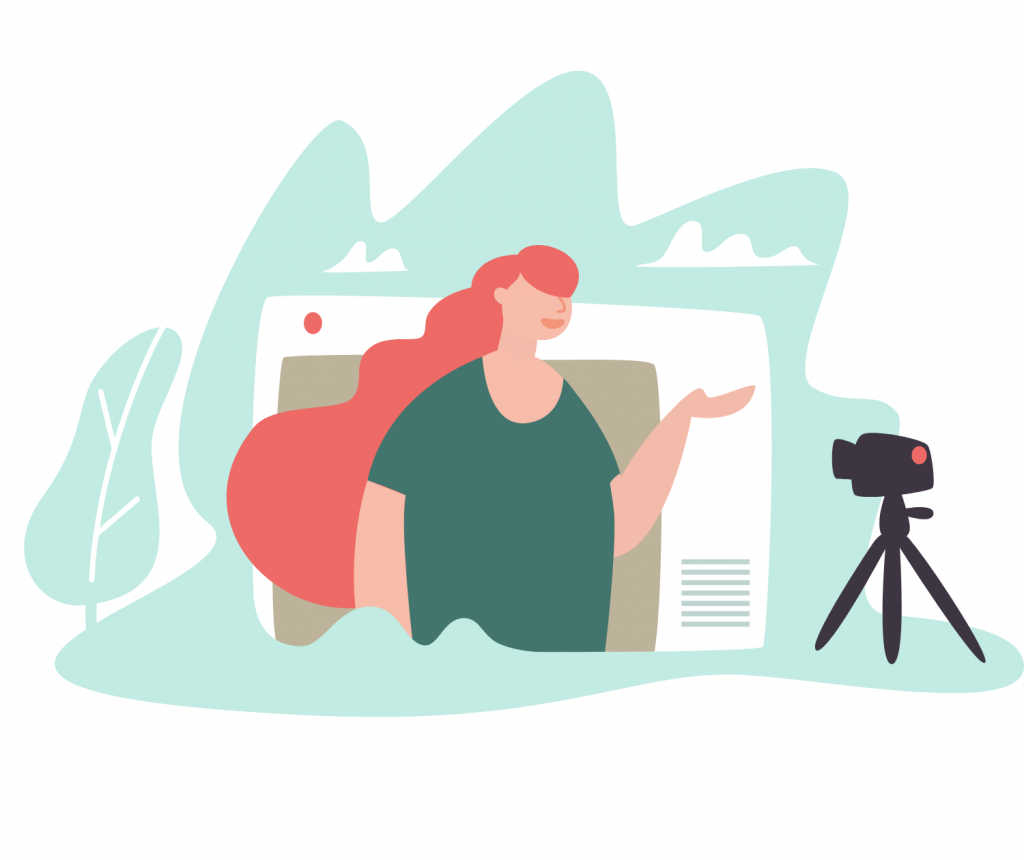 Know what success looks like – Have a goal or multiple goals and work towards them. Working without an end goal leads to a very twisted path of execution and plenty of wasted investment!
.
Using sales CRM software to keep track of leads, converting prospects, and generating revenue is a good way to keep yourself and your team accountable.
Be consistent in your actions – Consistently create content, consistently use your design language, consistently hold progress meetings…discipline pays off.
Automate what you can – Use marketing automation tools to save you time and effort and increase your ROI – of which the first step we must say should be to automate email and SMS marketing
Constantly analyze outcomes – Be objective in your analysis of success – constantly measure which efforts are working and what aren't by having clear KPIs and repetitive check-ins.
Be collaborative and agile – Setting up a digital presence requires people of different areas of expertise, and it's essential they work together towards your end goals while staying agile to adapt along the way.
And you're all set and ready to establish your digital presence!
Have any questions? Feel free to reach out to us in the comments section below and we'll answer right away!
Start 15-day Free Trial