Data is indispensable in business. All kinds of data are important in decision-making and customer insights probably lie closer to the top of the list here. Customer insights play a significant role in sales.
They give you a much deeper understanding of what your prospects may be seeking. If used well, customer insights can help you create a better experience for prospects and customers, optimize your sales funnel, and shorten the sales cycle.
Getting the pulse of your target audience through consumer insights not only helps get more conversions, but it also opens new sales opportunities for you. You could see which of your products are best received by consumers, which communication channels get the most responses, etc.
In short, leveraging customer insights can be game-changing for your sales strategy.
---
How Do You Identify and Define Customer Insights?
Customer insights are information gathered from your target audience or your current customer base. This information helps you get a better grasp of how your target audience thinks, feels, and behaves.
For instance, in sales, you would want to know what makes a consumer arrive at a purchase decision faster. So, customer insights on purchasing behavior may help you learn what can convince your prospects to take a decision in your favor faster.
Not just in improving sales or acquiring more opportunities, consumer insights can also help improve the customer's journey in your growing business. Using these insights, you can communicate better with prospects, build trust, and ultimately, may even influence their decision to buy your products or services. Eventually, these insights can also guide your customer retention strategies to prevent your customers from switching away from your brand.
According to studies, customer experience is one of the top priorities in sales and business as a whole, even surpassing product and pricing. Research shows that 74% of consumers are likely to buy from a business based on their customer experience alone.
So leveraging customer insights the right way, you can actually achieve the sales targets for your business.
---
Market Research Vs Consumer Insights
Market research and customer insights are often confused and even used interchangeably at times. The reason is that the purpose that both of these research tools serve is nearly the same. However, there are some vital differences between the two that sets them apart.
The main difference is that market research only gives you information but customer insights can give you an overview of the psychology of the buyers, and the trends that are observed by the consumers, which leads you to an action plan as well.
Market research is the process of gathering data and information from your target market or customers such as statistics on market demands, market size, competitors, etc.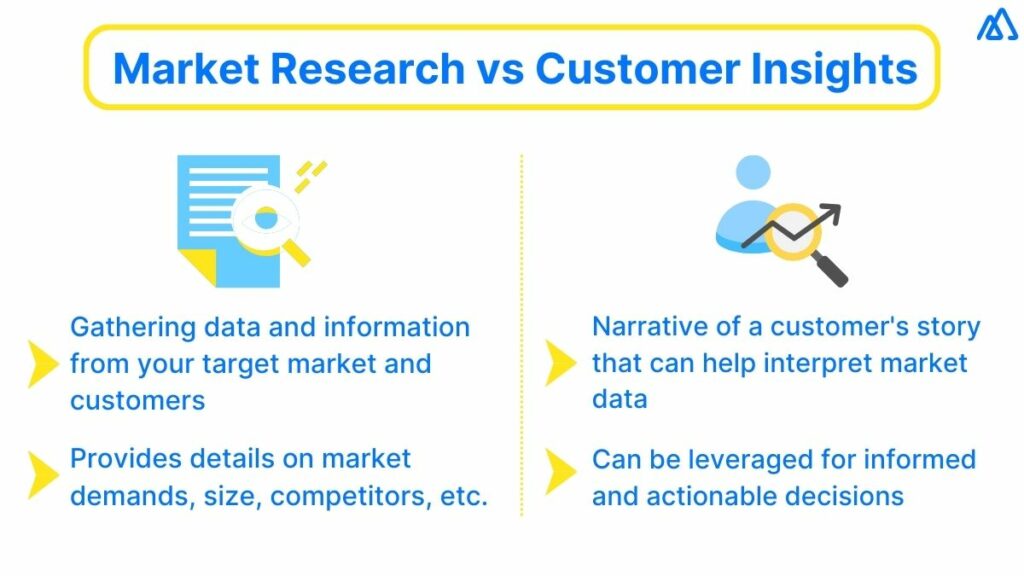 Customer insights, on the other hand, give you the consumer's narrative of what they expect from a brand. Basically, from market research, you learn what is happening and from customer insights, you get to know why these trends or shifts occur.
Customer insights can recommend what you need to do next to improve your bottom line.
---
Types of Customer Insights
A business can gather a variety of consumer insights to learn more about various aspects of its operations, processes, products, and customer service. There are different types of customer insights and the ones you choose to gather will depend on your unique goals as a sales manager or your business-wide goals.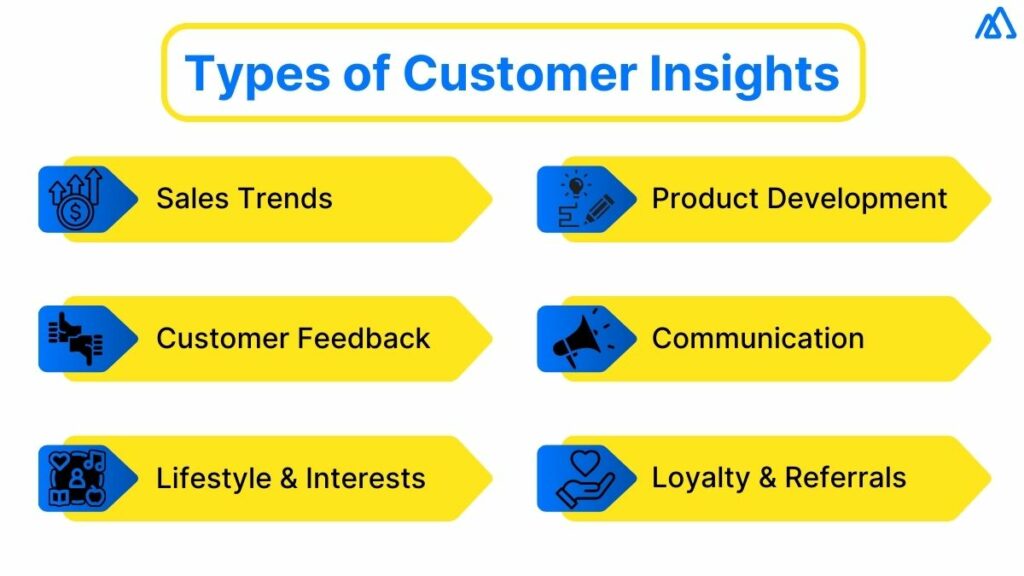 Some common types of customer insights that most businesses usually collect include the following:
1. Sales Trends
This is one of the most important customer insights for a sales team. During interactions between your sales team and prospects/ customers, they may receive certain queries or complaints indicating what consumers want from you. Gathering this data and compiling it into a comprehensive report may be able to give you some clarity on how sales can be improved.
For example, there are certain products that consumers inquire about more frequently or there are certain inquiries that come only during a particular season. These insights will tell you which products can bring more revenue or when to push sales for a particular product.
With insights into sales trends, you can make predictions for the future, forecast your sales, and improve your strategy to achieve better outcomes.
2. Product Development
Customer insights can also tell what new sales opportunities you can create with new products. Product development insight can also be gathered from consumer interactions.
If you are receiving numerous queries about a particular product not already available in your lineup, or a feature you have not yet introduced, this could be a chance. You can learn from these customer queries what new products your prospects/ customers would be willing to buy.
For example, say you are an auto manufacturer receiving numerous queries about sunroofs available on any of your car models. Your cars are already selling well, but if you introduced sunroofs in your upcoming models, you could sell more and maybe prevent losing prospects to competitors. This is how product development insights can help improve your sales.
These insights can help you solve product issues, introduce new features and functionalities, and make the most out of an existing target audience who are already asking for these upgrades.
3. Customer Feedback
Customers are everything for a growing business and customer feedback is one of the most common types of insights that businesses gather. Even in the face of changing client expectations, sales teams can make customer retention a priority to keep business sustenance in place.
Irrespective of whether you receive positive or negative feedback, you can gain some valuable information on customer satisfaction. Customer feedback can help you improve customer experiences, build good customer relationships, focus on customer retention, and in turn, improve sales.
There may be various ways of gathering customer feedback, including online surveys, ratings on your websites, feedback boxes on your office premises, and more.
According to a survey by Microsoft, 77% of customers prefer brands that ask for and accept customer feedback. So, leveraging insights from customer feedback can not only help you improve sales but can also enhance your brand image.
4. Communication
Customer insights on communication with your business is important information for the sales tool too. Your sales team must know whether your prospects and customers are aware of the various touchpoints your business offers them.
This can also help your sales team learn where your prospects would be easier to reach.
Knowing when messages are not getting through to customers or which updates they missed during their busy hours can be helpful. Based on this info, you can build a better communication strategy. You can decide which channels to use, what time of the day or which day of the week should you reach out, etc.
5. Lifestyle and Interests
Another important customer insight that you can gather is the personal background of your customers and prospects. A lot of people's purchase decisions and product preferences depend on their lifestyle or career.
Having some visibility into their personal interests may tell you whether they would be interested in buying your product. It will help you in targeting the right people and generating high-quality leads. Gathering information through social listening is one of the most effective ways here.
For instance, say a large percentage of your past or existing customers are from a banking and finance background. You can then assume that leads from this industry will be valuable. Or say, a large percentage of your customers show interest in art pages on social media. You can target other prospects with similar interests.
6. Customer Loyalty and Referrals
Customer insights on brand loyalty are important to sales as well. This helps you predict what percentage of repeat customers you can expect. Or whether it is of any use in pursuing your existing customers.
A quick survey asking each customer how likely they are to recommend your brand to others can help. You can calculate the Net Promoter Score (NPS) from this and measure customer loyalty to your business.
---
Why Are Consumer Insights Important for Growing Businesses?
A sales strategy cannot rely on guesswork. Without customer insights, that is exactly what you would have to do. You would be left guessing what customers prefer or what triggers their purchases.
Customer insights help you understand what consumers want. You can also learn what your competitors are doing right and what you can do to attract and retain customers.
Customer insights also help you identify trends and changes in the industry. Following your prospects' activities on social media or the queries that they bring forward with your sales team can tell you a lot.
You can detect patterns and predict market trends, allowing your business to grab these opportunities with both hands.
Gathering customer insights also help you personalize your sales messages for them to make a bigger impact. Knowing what your prospects are looking for will help you recommend products they need or reach out at the right moment. This increases your chances of conversion.
---
Benefits of Including Customer Insights in Your Sales Process
Sales and marketing teams benefit the most from customer insights gathered by a business. Some of the major benefits for your sales process are the ones mentioned below: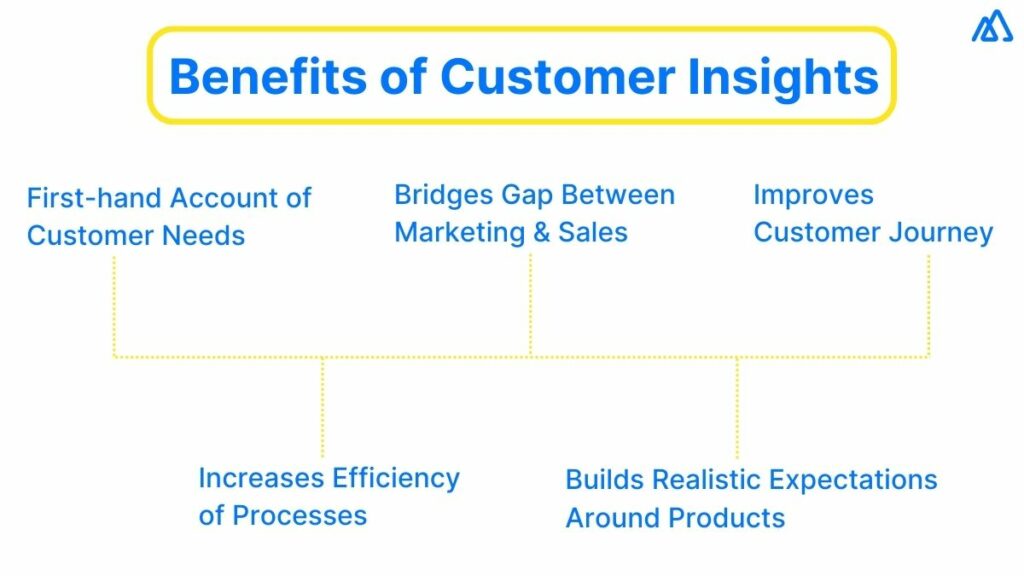 1. Direct, First-Hand Account of Customer Needs
The biggest benefit is that your sales team gets to hear what customers need, from the horse's mouth. It gives your sales team more confidence to interact with prospects. It also helps them build trust by showing prospects they understand their needs.
2. Closing the Gap Between Marketing and Sales
Marketing and sales teams in an organization have to work together to ensure better reach. Customer insights can be valuable to both marketing and sales.
Marketing can create more targeted campaigns to reach the right leads from the customer data at their disposal. While sales can nurture these leads and push them through the sales funnel with the help of customer insights. The combined effort of both teams can help increase conversions and revenue.
3. Improving the Customer Journey
Customer insights can help the sales team identify gaps in a customer's journey with the business. They can assess the user experience, and identify what is working best and what needs to be improved.
4. Makes Processes More Efficient
Leveraging customer insights can make your sales process more efficient as you can make optimum use of resources. You know what needs to be prioritized to win over prospects and get more conversions.
This allows you to allocate an optimum amount of resources and time to various sales activities. It makes the overall sales process more effective and your team more productive.
5. Building Realistic Expectations Around Your Products
When you are aware of customer expectations you know how to present your products to prospects. It helps in setting expectations around your products from the very first interaction.
---
How to Train Your Sales Team to Derive Customer Insights
Your customer insights will only be useful if your sales team knows how and what to gather. Just like KPIs and sales metrics, the customer data that you collect should also be relevant to your goals. Customer insights must be able to take you closer to your sales objectives.
Here's how you can train your sales teams to extract the right customer insights.
1. Communicate Your Objectives
The first thing they'll need to know before gathering customer insights is the sales objectives you are after. They must know why they are deriving customer insights and what questions must be answered by these insights.
2. Identify Key Insights
The next thing to do is identify a set of key insights your sales team needs to focus on. Depending on the objectives you have set, you may need to collect various insights. These could be customers' personal data, feedback, calculating NPS, gathering market trends, and so on.
Tell your sales team what they should be emphasizing in their interactions with customers and prospects.
3. Decide the Data Collection Methods and Resources
You will also need to tell your team which channels to gather customer data from. Direct communication over call and chat, surveys, in-person meetings, social listening, online quizzes, and many other methods are available to you. You need to pick a few for your team where the likelihood of getting valuable insights is the most.
Once these things are communicated to your sales team, they will have much more clarity. They will know how and where to derive consumer insights from. They will also be able to use these insights efficiently.
---
Conclusion
Customer preferences are dynamic, their needs keep changing. Garnering customer insights may be a painstaking task but the returns you get from the effort are invaluable. Like all other areas of business, sales also demands continuous learning and evolution.
Using a Sales CRM such as Kylas helps keep your sales team up-to-date with accurate customer insights and ensures your business stays relevant.
With features such as report generation and usable performance dashboards in Kylas, you and your sales team can gather important customer insights that will help you to fuel growth, and make essential business decisions. Try Kylas free for 15 days and see how we can help you boost your sales performance!
Start 15-day Free Trial