Sales is a very competitive field, and as a sales manager, it is your responsibility to ensure that your team outperforms all your competitors. You are responsible for leading, mentoring, and coaching them, so they can achieve the results your organisation desires.
While experience in sales can be helpful, being an efficient and successful sales manager is more about the skills you possess. A sales manager not only needs to have basic selling skills but also managerial capabilities.
According to statistics, 74% of sales managers have to oversee their own sales accounts alongside managing their respective sales teams.
So, it is clear that the job of a sales manager is not a bed of roses. In this article, let's discuss some of the most important skills you will need, but before that, let's get to know the sales manager's role a little better.
---
Who Exactly Is a Sales Manager?
In most cases, a sales manager is a person responsible for building, managing, and leading a sales team in an organisation. Though this is usually true for all sales managers, the roles and responsibilities can vary from one organisation to another.
Sales management, as a business function, focuses on the management of an organisation's sales operations by applying various sales techniques. As sales generate revenue and drive profit for a business, the role of sales managers is extremely crucial.
An organisation may have more than one sales manager depending on the size of the company and the volume of business it gets. For instance, if a company operates in several geographic locations, it may need to assign one or more sales managers to each territory it covers.
Each individual sales manager will have their own team of salespersons to manage and lead. A sales manager has several responsibilities, from setting sales goals to hiring the right sales professionals.
---
What Does a Sales Manager Do?
A sales manager has several responsibilities in managing an organisation's sales operations.
Some key responsibilities of sales managers include –
Some key responsibilities of sales managers include –
Overseeing their team of regional or local sales personnel
Setting sales goals for the team
Resolving customer complaints in sales and services
Building effective sales strategies through data analysis
Making sales projections and evaluating the profitability of the business's products or services
Preparing budgets and approving sales expenditures
Tracking customer preferences to develop an effective sales plan
Deciding on special offers, discounts, and pricing plans
Guiding the sales team to improve performance
Recruiting and training members of the sales team
Apart from these basic responsibilities, the job description of a sales manager may vary from company to company. Sales managers also have to work closely with managers across all departments in an organisation.
Sales require data from departments like product development, marketing, and customer service. Therefore, the sales manager is also responsible for maintaining a positive relationship with these departments.
---
Skills You Will Need to Master to Become a Successful Sales Manager
Some traits of a sales manager are a part of their personalities as a whole. For instance, sales managers must be enterprising and steadfast. These are personality traits that a person usually possesses inherently.
But there are other skills and traits that you can develop with some effort. An efficient sales manager needs to have a wide range of skills, starting from communication to leadership to problem-solving.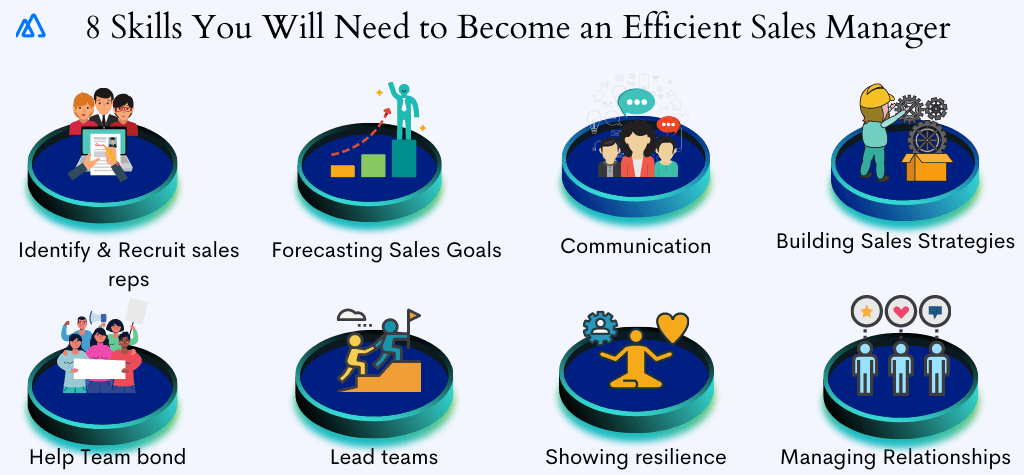 Here are the top 8 skills that you will need to develop if you wish to have a successful career in sales.
1. Identifying Talent and Recruiting the Right Sales Reps
The major contributor to your success as a sales manager is your sales team. How much effort you put into hiring and training the right people to carry out sales operations under you will determine how the team performs overall. A sales manager needs to have an eye for talent.
You need to know when and whom to add to the team. Sales reps will keep moving up the ladder or out of the team from time to time. You must have a good recruitment strategy so that one person leaving the team does not leave a gap in the process.
What To Do
Networking and staying current with the job market trends will help you develop this skill.
Knowing what sales executives expect in terms of pay and incentives, what kind of talent and from where your competitors are hiring, etc., is critical knowledge.
To develop better hiring skills and create a high-performing sales team, you will need to sit in on interviews with your current manager and observe. Try and analyse which candidates make it farthest in the recruitment process and what qualities they possess. You also need to learn more about how a sales professional's skills can be tested.
You also need to know what training sales reps need to perform better. Most of this knowledge can be gained from experience. But if you want to climb the ladder and land a managerial position in sales faster, you have to proactively participate in the organisation's sales hiring processes.
Sales managers need to have strong analytical skills. In sales, you gather data from various other departments, including RnD, marketing, customer service, finance, and more. A sales manager also has to carry out market research of their own to study trends and buyer behaviours. All of this data that is collected must be efficiently analysed to draw meaningful insights out of it.
So data analysis skills are extremely crucial for a sales manager. You also have to be able to forecast sales goals accurately, which is again achieved through correct analysis.
What To Do
Try to work more with data. Upskill yourself by learning to use data analysis tools and CRM software effectively.
Data analytics is no rocket science, but you will need some basic understanding. Tools make life a lot easier.
With good CRM software like Kylas, you will be able to organize your data into easy-to-read formats on a very user-friendly dashboard. Data is represented in visual formats so you can draw conclusions from it instantly. Familiarising yourself with these features and functionalities will better prepare you for the role.
Interested in taking your growing business to the next level with Kylas? Sign up here for a free CRM trial to learn about how our sales CRM software can help you be more productive.
3. Communicating Effectively, Including Listening
Communication skills are fundamental to any managerial position, and sales managers are no different. Strong communication skills are a must-have for sales managers. And when we talk about communication, we mean two-way communication. Both conveying ideas or strategies and listening to those of your teams will be essential.
As a sales manager, you will have to interact with your team quite often. Your communication has to be clear, transparent, and unambiguous. Active listening will also help you understand your team's challenges and hurdles, allowing you to offer appropriate solutions.
Sales managers have to delegate tasks, offer mentorship, and build relationships with the team. Communication skills are going to be very important in all of this.
What To Do
The best way to improve your communication skills is through practice. You have to engage in interactions with people.
Attend events and try your hand at public speaking to build fluency and confidence. Also, observe how your superiors interact with their teams and pick up useful tips from their conversations.
Thorough knowledge of what you are doing is also important to be able to communicate effectively. If you know what you are talking about, confidence and clarity come naturally.
4. Building Sales Strategies and Plans
Strategy and planning are an important part of a sales manager's job. Having the skill to build strategies and implement them is essential. As a manager, you have to ensure the sales strategy and plans you create are easy for everyone to understand and execute.
It is important for a sales manager to remember that your strategy has to be implemented not just by the star performers of the team but also by the newbies and the underachievers. Building strategies aligned to the sales goals and bringing the whole team together to work towards the goal requires skillful planning.
What To Do
To be good at strategy building and implementation, you need to ensure that your sales plans are easy to follow and comprehensive. Make sure to define your sales goals clearly and document the action plan for everyone.
As a sales manager, you have to be able to give your team a definite direction to follow.
Also, staying current with market changes and changing customer preferences is essential. Sales planning is not a one-time task. Your strategy has to be updated from time to time, so continuous market research is crucial.
5. Avoiding Micromanagement and Giving the Team Space to Grow
Often, managers have a tendency to control every little thing that their teams do. Particularly in sales, since there is so much pressure to fulfil their daily quota and meet their monthly targets, sales managers are more prone to micromanaging their teams. But this does more harm than good.
As a sales manager, you have to give your team some space to breathe and grow. You are not supposed to look at every tiny detail and control how each member works. Doing this will only leave your team members frustrated and demotivated. Also, you will be wasting a lot of time running after everyone, having no time left for the more important work.
What To Do
Lead your team instead of managing it.
Show them the way but don't handhold in everything they do. Let them make the smaller decisions themselves and grow in the process. Offer all the support that they might need to execute your sales plan but don't keep pulling in the reins every time.
6. Leading Teams Effectively
With this, we come to a very important skill for managers – leadership skills. Leadership in different settings may have different definitions. In sales, leadership skills include the ability to motivate and inspire your team members to deliver their full potential. A good sales manager does not need to pressurize team members to achieve their targets. Instead, the manager leads by example and shows them how it's done.
Sales managers who are good leaders will also emphasize the professional development of their team members. They invest time and resources in skill development and training to equip their sales reps with more capabilities and build their career paths.
What To Do
To develop leadership skills as a sales manager, you will have to practice empathy and fairness in everything you do.
Make sure to set realistic targets, help your team members when they are struggling with a task, inspire them with your actions and show them what can be achieved with a little effort. You have to know where someone may genuinely need help and where they are to be held accountable.
As a leader, you have to be unbiased and fair towards everyone in your team. Build a case for employee training. Sales managers have to get buy-in from top management for skill development workshops and training. Such programs can be very beneficial both for the participants and the organisation in the long run.
Offer regular feedback to help your sales reps improve their performance. Both positive and negative feedback can be constructive. See how you can boost employee morale instead of demotivating them with your feedback.
7. Showing Resilience and Patience During Challenging Times
Sales managers can face several roadblocks and challenges in their path from time to time. As manager, they cannot afford to lose their cool in such situations. Your entire team will look up to you in times of struggle. As their manager, you will have to be resilient and patient in your approach.
What To Do
The best way to deal with challenges is by looking at them as a learning opportunity.
Try to find out what needs to be improved from each setback. You can learn how to better allocate resources, find out what new skills your team needs to be equipped with, and much more. Look for solutions with patience and optimism.
8. Managing Relationships With Stakeholders
A manager also has relationship management skills. In your role as a sales manager, you will have to deal with many stakeholders in the sales process. This includes customers, staff, company leaders, other departments in the organisation, and more.
Knowing how to build a rapport with everyone will be a key part of your job.
What To Do
First of all, you need to understand that each of these stakeholders will need a different approach. How you communicate with your staff is not the same as your communication with customers.
Look at situations and circumstances from the different perspectives of all the stakeholders involved. Develop strong interpersonal skills.
Know how to change your vocabulary, tone, and body language when interacting with different groups of people to make a better impact on them.
Practice rational thinking in all situations and know how to manage your emotions. These are the keys to building strong, lasting relationships with the different people you will be working with.
---
What Does It Take To Be a Good Sales Manager?
Being a sales manager is not a big deal, but being a good one takes some work. Most of all, you will need to have passion for what you do. Good sales managers have to be driven and motivated. They know what they are doing and what they expect others to do.
An efficient sales manager not only enjoys what he or she does but also makes sales enjoyable for the rest of the team. By cultivating a positive atmosphere, a good sales manager is able to get more out of their team, making them more productive and driving engagement.
Apart from having the right qualifications and experience, having these necessary skills makes you more competent as a sales manager. So if you are expecting a promotion or are thinking of applying for a sales manager role soon, start building these key capabilities now. They will prove to be very useful in the long run.
Start 15-day Free Trial