If you are concerned about your sales performance, you require data and metrics. In fact, most of your sales reps' jobs depend on the data they collect and the outcomes that data gets. Ideally, as long as you can collect, track, analyze, quantify, and measure data, you can make key decisions for your business. The insights pulled out from your sales tracking tools help you improve your sales activities and optimize your sales more accurately.
Let's consider another scenario. If you are struggling with long customer journeys, difficult touchpoints, and offline conversations, it's probably because you are not sure where to begin when it comes to using your customer data. However, with the right sales tracker in place, all your data can make sense for your business.
When we say sales tracking, it's not just about tracking various sales metrics. It's more about using those metrics and data to make decisions for your business. Even the statistics show that 78% of marketers saw an increase in marketing efficiency by leveraging consumer data.
Let's get started with understanding what sales tracking is, why you must be interested in it, and how you can track your sales.
---
What Is Sales Tracking?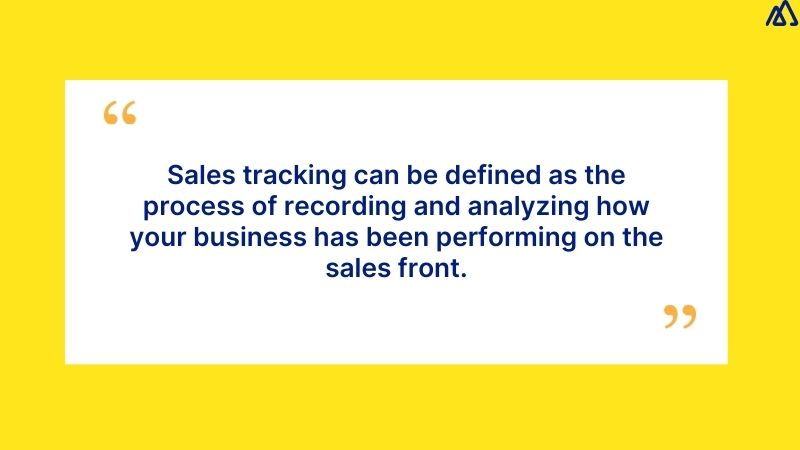 In simple terms, sales tracking can be defined as the process of recording and analyzing how your business has been performing on the sales front. It includes everything related to your sales funnel, activities, cycle, and outcomes. When your team is tracking their sales activities, they will know what they need to do to achieve a certain outcome.
Tracking sales help improve every part of your sales process. From understanding how your deals are flowing through the pipeline to how leads are being followed up, it includes everything. The idea is to consider all the individual elements to get an idea of how they impact your bottom line.
The words "sales" and "tracking" express a big idea and a big task that can dramatically improve how you make your sales.
---
Why Sales Tracking is Necessary for Your Business?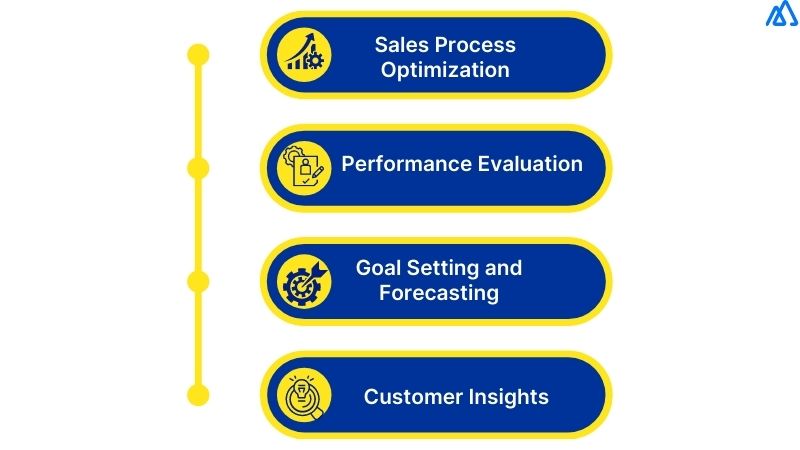 The basic need for tracking sales is obviously because you want to close enough sales and generate revenue for your business. But it can help you with a lot more things.
Let's take a look at what they are.
1. Sales Process Optimization
Tracking sales allows you to analyze the entire sales process from lead generation to closing deals. By monitoring key metrics such as conversion rates, sales cycle length, and win/loss ratios, you can identify bottlenecks and areas for process improvement. This helps you streamline your sales process. You can also identify opportunities for automation or technology integration for enhanced overall efficiency.
2. Performance Evaluation
When you are tracking your sales activities, you can easily get a glance at how each individual in your company is performing in real time. So, you know who is doing really well and who you need to push more. You will also get an idea of the small issues that may become big if not considered well in time. The information can also help you coach your reps to reach their targets.
3. Goal Setting and Forecasting
When you know exactly how your measures affect the bigger picture, you will know what to change and how to improve the structure of your sales process and set goals so that your team can consistently and effectively reach its goals. Also, historical sales data provides insights into sales patterns, seasonal trends, and market demand, enabling you to make informed projections and allocate resources effectively.
4. Customer Insights
By tracking sales, you can get valuable insights into customer behavior and preferences. This will help you understand which products or services are the most popular among your customers on the basis of their buying patterns. This can further help you tailor your offerings, improve customer satisfaction, and develop targeted marketing campaigns.
When you have every detail about your sales process, you will know how every lead and deal is interacting with your business. This helps sales managers find issues that may become bigger problems if not resolved in a timely manner. So, whenever they notice that something is not getting them the anticipated results, they will know what exactly to optimize.
---
Different Types of Sales Tracking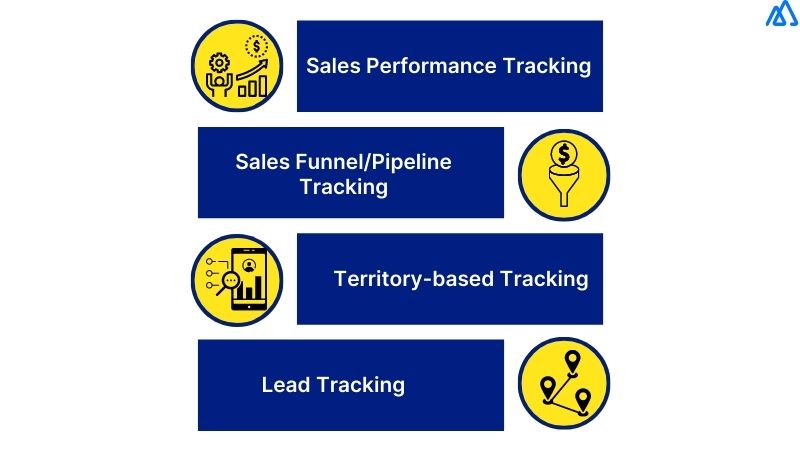 To track sales for the maximum benefit, you must decide what types of tracking would benefit you the most. Here are a few types of sales tracking that you may consider for your business.
1. Sales Performance Tracking
This works for sales managers who want to track the performance of their reps. They can analyze the sales data and KPIs to review their performance. With this, managers can determine who is acing their sales, who are struggling, and which areas reps need help with. involves monitoring the activities performed by sales reps, such as calls made, emails sent, meetings attended, and demos conducted.
2. Sales Funnel/Pipeline Tracking
This type of sales tracking focuses on monitoring the sales pipeline. It takes into account the different stages a prospect goes through before becoming a customer. When managers can track leads and opportunities in different stages, they can easily forecast revenue and identify potential bottlenecks in the sales process.
3. Territory-based Tracking
For businesses with sales teams covering different territories or regions, this type of tracking helps measure performance by territory or account. It helps in better resource allocation, personalized outreach, and targeted sales strategies for specific regions or key accounts.
4. Lead Tracking
It involves capturing and monitoring information about potential customers and their journey through the sales process. By tracking lead sources, lead engagement, and lead generation campaigns, sales managers can get an idea of the whole process and see what is helping them make sales and what needs to be improved.
These are just a few examples of sales tracking methods and tools available. The choice of tracking method depends on the specific needs and goals of your business. If needed, you can combine multiple tracking approaches to get a comprehensive understanding of your sales performance.
---
How to Track Sales in 5 Simple Steps?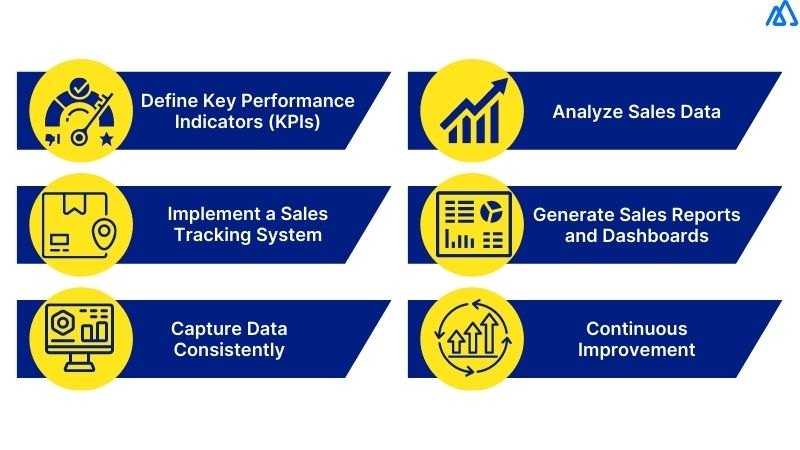 Tracking sales effectively involves a systematic approach to gathering, analyzing, and interpreting data. We know that you might already be using one or the other type of tracking to keep your business running at its best. But it's also important to understand how you can strategies all your steps to easily understand your measures and share them with your team.
Let's discuss a few simple steps that will help you track your sales efficiently.
1. Define Key Performance Indicators (KPIs)
Start by identifying the essential metrics that align with your sales goals and overall business objectives. Common KPIs include total revenue, number of deals closed, conversion rates, average deal size, sales cycle length, and individual sales rep performance. Make sure your KPIs are specific, measurable, achievable, relevant, and time-bound (SMART).
Also, tracking more metrics doesn't always mean better sales tracking. It's also about how well you are translating the data and using it for improving your operations. So, better choose the metrics that help your team do its best.
2. Implement a Sales Tracking System
Choose and implement a suitable sales tracking system or software, such as a CRM (Customer Relationship Management) tool. A CRM system can centralize all sales data, providing a single source of truth for your sales team. It will help you record customer information, track interactions, manage leads, and monitor sales progress.
You can choose Kylas for sales tracking as it offers features like pipeline management, reports, and dashboards to help you track your sales and monitor your performance.
3. Capture Data Consistently
Ensure that your sales team consistently and accurately records relevant data in the sales tracker. Your team must update all the customer information, add details of their sales activities, and keep the sales pipeline up-to-date. Consistent data entry is crucial for generating accurate reports and insights.
Set up your pipeline stages as per the number of steps that are between when a prospect first gets in touch with your business and makes a purchase from you. Also, set up pipelines for deals so that you can track them as well.
4. Analyze Sales Data
The next step is to regularly review and analyze the sales data captured in your tracking system. Use the predefined KPIs to assess sales performance, identify trends, and pinpoint areas for improvement. By analyzing the data, you can make informed decisions, optimize sales strategies, and allocate resources effectively.
Also, identify changes in customer behaviors or preferences and use the information to make informed decisions for future moves.
5. Generate Sales Reports and Dashboards
Last, but not least, you must create sales reports and dashboards to visualize the sales data and KPIs. With sales reports, you get comprehensive insights into past performance, while dashboards offer real-time visibility of key metrics. These tools help you communicate sales performance to stakeholders, track progress toward goals, and identify areas requiring attention.
Bonus Step: Continuous Improvement
Sales tracking is an ongoing process. So, share the insights with your team members and let them share their views on it. Continuous feedback from your sales team and stakeholders can help refine your tracking methods and KPIs. Also, regularly update and adapt your sales tracking approach based on changing business needs and market conditions.
By following this 5-step process, you can establish a robust sales tracker that empowers your team with data-driven insights, improves sales efficiency, and enhances overall sales performance.
---
What Features to Have in Your Sales Tracking App?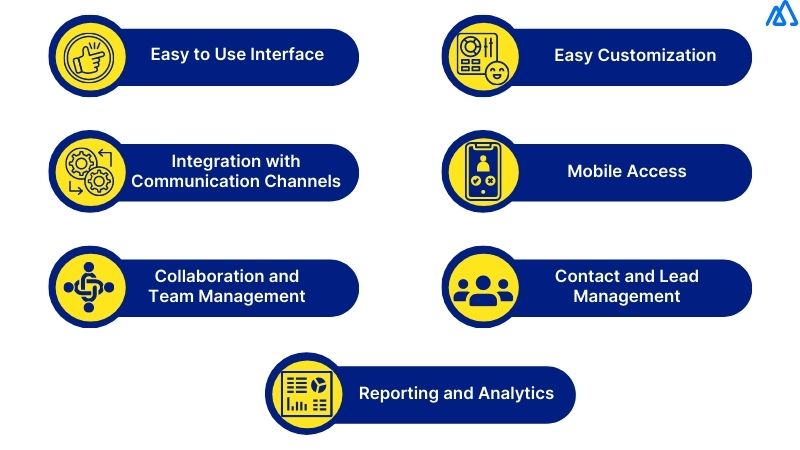 After you have created an exciting plan for sales tracking, the next thing to do is to make use of the insights. Because obviously, ideas without execution are of no use.
When you are up for some serious sales tracking, you need to switch to something more powerful than spreadsheets. So, make sure that you look for the right features in your sales tracker that will actually help you out.
1. Easy-to-Use Interface
The tool you use must have an easy-to-use interface so that you or your team doesn't have to spend a lot of time learning to use it. Saving time here would mean spending more time with your leads, prospecting, and nurturing them.
Kylas offers an easy-to-use interface that is specifically designed for growing businesses.
2. Easy Customization
The tool you choose must let you add your own pipeline stages as per your business requirements. You must also be able to customize your dashboards and generate custom reports. Your tracking app should allow you to add custom fields so that you can capture as much information as you want.
Kylas offers multiple options for customizations for pipeline stages, dashboards, reports, and lead capture forms.
3. Integration with Communication Channels
You must be able to integrate your app with communication channels like email, phone, and messaging platforms for easy and faster interactions and communications.
Kylas lets you integrate easily with your go-to business tools like MyOperator, Airtel, Sevetel, Gmail, Outlook, Mailchimp, Wati, Interakt, etc.
4. Mobile Access
Your sales tracking app must have a mobile version or should be compatible with mobile devices. This allows sales reps to access and update data on the go, making it easier for them to stay connected and productive in the field.
Kylas offers a mobile app that can also be customized as per your needs and stay on top of your pipeline while on the move.
5. Collaboration and Team Management
For your sales team, the app should allow for assigning leads, sharing information, tracking team performance, and facilitating communication within the team. The more data you share with your team members, the easier it gets to track everything related to your sales.
Kylas helps your team stay organized and work together effectively with features like @mentions in notes, notifications, and reminders.
6. Contact and Lead Management
Your app should allow you to store and manage customer and lead information, including contact details, interaction history, notes, and other relevant data. It should provide a centralized database that is easy to search and update.
Kylas lets you track your leads from click to conversion. You can collect and organize leads automatically into a single database from web forms, social media, and 3rd party apps.
7. Reporting and Analytics
Choose an app that has robust reporting capabilities and allows you to generate customizable sales reports and analyze key metrics. You must be able to generate graphical representations of data, trend analysis, and the ability to drill down into specific details. Advanced analytics features like sales forecasting and performance dashboards can be a plus for your needs.
With Kylas, you can get valuable insights into your business health using custom sales reports with one-click access to actionable data.
---
Best Sales Tracking Apps You Must Consider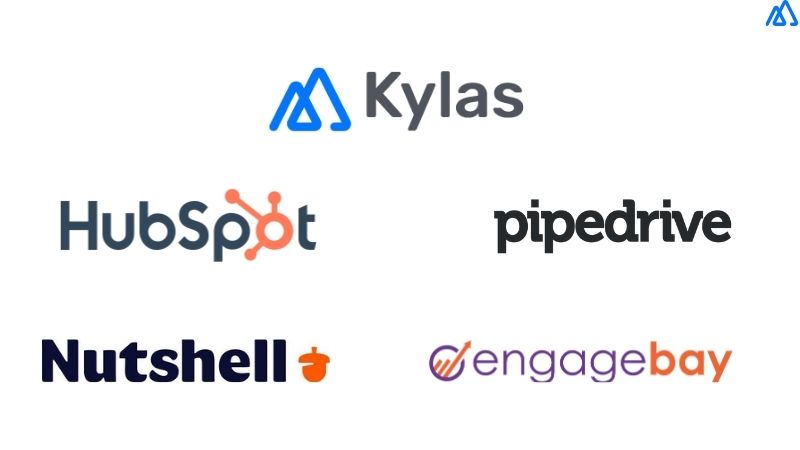 Let's take a look at some nice sales tracker that you can consider for your business requirements.
1. Kylas Sales CRM
You may call us biased but we are sure that Kylas is one of the best sales tracking tools you will ever use. Its easy interface and plenty of customizations make it easier for you to mold it as per your requirements. Features like pipeline management, reports and dashboards, data management, lead management, and third-party integrations help you track your sales opportunities and make the most of every lead that fits your buyer persona.
2. Nutshell
Nutshell is another great sales-tracking app that you can consider. It lets you keep an eye on your leads and their current stage in the pipeline. It also helps your easily track and analyze your sales activities. Some of its best features include forecast reports, sales funnel, activity reports, downloadable charts, sales process automation, and contact management.
3. EngageBay
EngageBay is also a popular option for sales tracking. It offers an intuitive interface that makes it easy to keep track of your sales. You can automate your sales funnel easily, and create and track multiple deal pipelines as per your needs. Some of its best features include deal pipeline creation and tracking, sales task assignment and tracking, lead scoring, and a revenue dashboard.
4. Pipedrive
Pipedrive is a sales-centric CRM for growing businesses and large enterprises. It offers a simple UI, a robust feature set, and easy integrations that set apart this software. It has 4 pricing plans to accommodate businesses of all sizes. Its rich feature set assists your marketing and sales teams. Some of its best features include communications tracking, pipeline automation, detailed reporting, goal-setting, and sales forecasting.
5. Hubspot
Hubspot works great for all your departments- right from sales, to marketing, to customer support. Businesses can streamline almost every aspect of their daily operations through this single platform. Some of its best features include contact & account management, opportunity & pipeline management, task/activity management, territory & quota management, and desktop integration.
---
Conclusion
Now it's up to how well you implement the steps in your business. Remember that everything will work for your business only if you are ready to take the insights seriously. No app would be able to get you results if you don't use it properly. You would also need to change your business methods whenever the market changes. But when you know what you have to do ultimately, you will be able to find your own way to the top.
Start 15-day Free Trial