There are a few things that can give businesses as much joy as having a lot of incoming leads. However, the fact is that merely 25% of these leads are of high enough quality to be advanced to the sales stage. If your sales teams try to chase every lead that enters your funnel, it is likely that this small percentage of qualified leads will get neglected. The result is that the hard work of your teams will be wasted on cold leads, and potential sales opportunities will be missed. How can businesses avoid this problem?
The answer lies in lead qualification. As the name suggests, this process entails segregating your numerous leads to identify the ones who have a higher chance of converting to paying customers. Though it sounds like a simple task, it is not always easy to correctly qualify leads.
Which criteria are the most important? On what basis can the right leads be found? These questions are bound to come up in the mind of anyone starting out in their journey of qualifying leads.
However, there are a few systems in place that can make this process simple and effective. The sales ChAMP framework can make your lead qualification efforts more targeted and produce optimum results. We're here to provide you with a deeper understanding of what it stands for, and how it can contribute to the growth of your small business.
Kylas is an enterprise-grade CRM designed for small and growing businesses. It can boost your sales and profitability and help you scale with expertise.
---
What Is the Sales ChAMP Framework?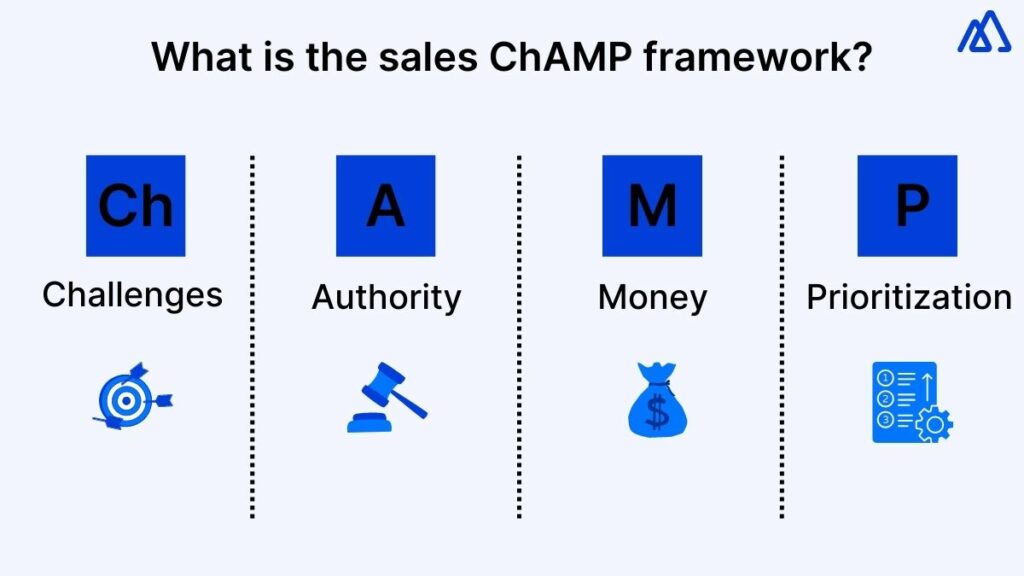 Sales ChAMP offers a simplified and straightforward mechanism for accurately identifying high-quality leads. 46% of B2B sales reps cite lead qualification as their top-most challenge, due to confusion about the criteria that should be used for qualification, or the priority of these criteria. Instead, the use of sales ChAMP will give direction to their efforts.
This framework incorporates 4 primary factors that must be considered in a particular sequence while evaluating your leads.
Ch– Challenges
A– Authority
M– Money
P– Prioritization
Each of these factors plays a pivotal role in the purchasing decision of consumers and hence will determine whether or not a lead will generate sales for you. Let us break down each of these to understand the entire sales ChAMP framework.
Challenges
The effectiveness of sales ChAMP is largely due to the fact that it makes your leads' challenges the first and foremost criteria to be considered. You hence need to filter out leads based on their problems and pain points and find the ones for whom your product can be a suitable solution. Starting out with this criteria ensures that you focus on those leads who will gain value from your product and hence might be more inclined to purchase it.
The challenges faced by a lead rarely change, and this can serve as a sure-shot way of finding quality leads. Even if other factors like authority or budget eventually do not match, the odds of identifying your sales prospects are much higher if challenges are kept at the forefront.
Authority
After verifying that your lead's challenges align with the solution you can provide, you must determine whether they have the authority to make the final purchasing decision. If they do not have the required authority, you might end up wasting time and effort towards nurturing a lead who cannot generate a sale for you.
However, while determining authority, you must not wholly disregard the leads who are not the end decision-makers. Leads may also have the authority to be your point of contact in the final sale, or advocate your brand to the right authority. It is essential to tap into these leads too and accordingly plan your strategy.
Money
Almost all purchasing decisions are influenced by money. The third criterion is hence the evaluation of your lead's budget and whether it aligns with your product price. Even if your product addresses the lead's challenges and the lead has the required authority to make the purchase, the monetary aspect can make or break the sale. By focusing on those leads who are willing to pay the costs needed for your product, you can increase your chances of sales.
Prioritization
The last stage of this framework talks about the level of priority that your lead has assigned toward the resolution of the challenge. This will help you gain an understanding of how soon they intend to go ahead with their purchase, and how lengthy their buyer's journey will be. However, the uniqueness of sales ChAMP is that it also links the timeline in relation to other priorities that a company may have.
These factors together comprise the sales ChAMP framework. By assessing every incoming lead on the basis of these criteria, and in the order specified, you can find the right prospects for your business. However, is it the best way to go about lead qualification? This is an important question to consider before deciding to adopt this framework. There are numerous other qualification systems such as BANT, ANUM, or GPCT. Among these, BANT is the oldest and most commonly preferred system. How does sales ChAMP fare in comparison with this system?
---
Difference Between Sales ChAMP and BANT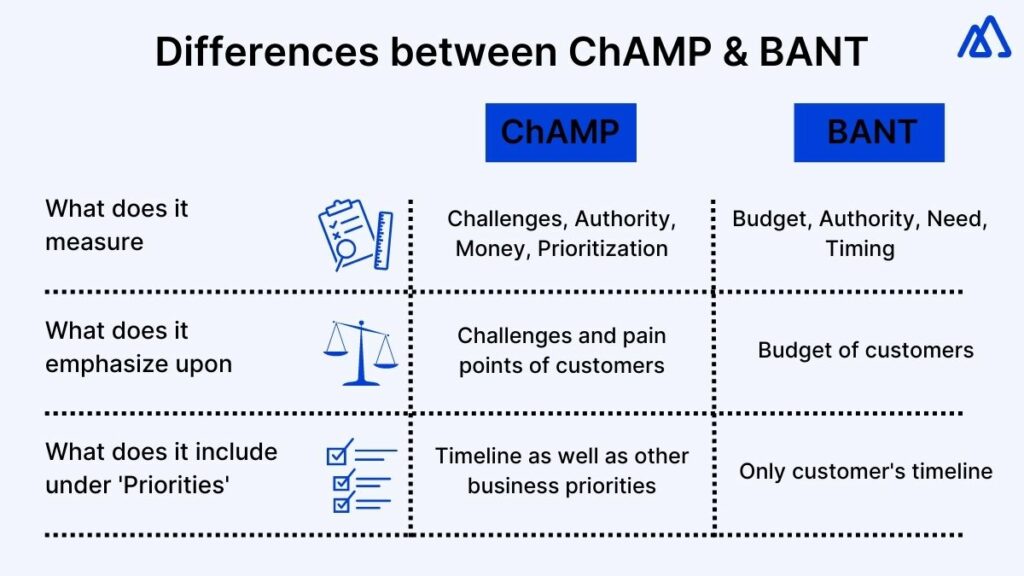 Sales BANT evaluates leads primarily on the basis of Budget, followed by Authority, Need, and Timing. The factors included in both these systems are largely similar, the only difference being the order in which they are placed. While the BANT framework is effective, the need was felt for emphasizing more on the client's concerns rather than their budget. The sales ChAMP framework was hence devised which reduced the significance of the budget while assessing leads.
There are a few crucial aspects in which these systems differ, and these differences also reflect in the efficacy of the lead qualification process:
1. Challenges Are Given Importance Over Budget
Most clients reach out to you and seek a solution because they face a challenge. This factor should hence be awarded the highest priority. Let us visualize a scenario in which both these frameworks are applied. If you start your qualification process by directly assessing the budget, you will end up with a lot of unqualified leads.
As against this, if you take time to understand the problems faced by the lead and adopt a value-based selling approach, your lead will be more willing to negotiate on the budget. BANT may thus cause inaccurate qualification since budget should not be the primary factor to consider. Instead, by focusing first on the challenges, sales ChAMP allows for a more specific qualification.
2. Priorities Besides Timelines Are Also Considered
BANT only takes into account the time factor associated with leads. On the other hand, ChAMP has a broader and more inclusive approach toward a lead's priorities which extends beyond timelines. Besides knowing a client's timeline, it is also essential to stay informed of certain other priorities that they may have which will influence their purchasing decision. Once you are fully aware of where your product fits in the business process of your leads, you can make informed strategies to nurture and convert them.
Hence, these points make the two frameworks very distinct from one another in terms of their scope and effectiveness. Each comes with its own advantages, and your choice of qualification framework should be based on the outcomes you wish to achieve. If yours is a small business with a goal of establishing long-term, meaningful business relations, sales ChAMP is the ideal qualification framework for you.
---
How Does Sales ChAMP Help in Business Growth?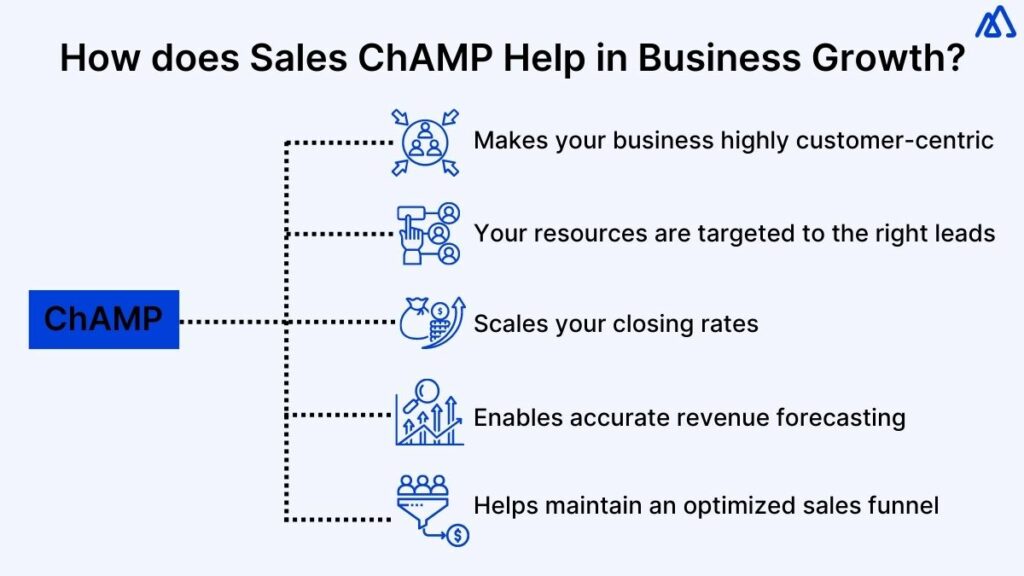 67% of lost sales are due to the improper qualification of prospects before they are taken through the sales process. The adoption of sales ChAMP will help you avoid the loss of such opportunities and will enhance your revenue.
Here are the various ways in which this framework can help in the growth of your small business.
1. Makes Your Business Highly Customer-Centric
The key to business success is to generate a loyal customer base. Having a customer-centric approach goes a long way toward this because your decisions are made in the best interests of your customers. In sales ChAMP, your main focus is the problems faced by your prospects and how you can resolve them. It generates trust for your brand and conveys the message that you are dedicated to helping your clients and not merely closing sales.
2. Your Resources Are Targeted to the Right Leads
Small businesses often have lesser resources to work with. Due to this, they cannot afford to let the efforts of their teams be wasted in chasing leads that will not materialize into sales. By using a systematic framework to qualify leads, you can ensure that your teams focus on the right leads only. This way, you can make your sales process more productive and leverage your resources in the best way.
3. Scales Your Closing Rates
If your efforts are reserved for leads who have high intent to purchase from your brand, your closing rates will scale. The sales ChAMP framework will help achieve this since it identifies the qualified leads for your business. Instead of attempting to nurture and convert every lead, focusing your efforts on these qualified leads will increase the number of deals that you close.
4. Enables Accurate Revenue Forecasting
Forecasting helps businesses plan their future activities based on the revenue they earn. Identification of qualified prospects can help you ascertain your sales, and in turn, determine how much you will earn from them. This can help you make informed decisions about where to allocate existing resources, which type of resources to acquire, etc. It will eventually contribute to the healthy growth of your sales.
5. Helps Maintain an Optimized Sales Funnel
A sales funnel is the visual representation of the entire journey of your leads. The use of sales ChAMP qualification will segregate the qualified leads from among all your incoming leads and will optimize your sales funnel. You can easily track and monitor the progress of these prospects and identify the strengths and weaknesses in your sales process.
It is thus evident that the use of sales ChAMP can help you qualify sales prospects. It gives direction to your sales operations and helps you scale the efficiency of your teams. However, despite the numerous benefits, there are a few aspects that are not covered by this framework. These aspects will impact your business and hence must be incorporated into your sales process.  
---
Things to Keep In Mind After Adopting the ChAMP Framework
Sales ChAMP, like all other qualification strategies, focuses only on certain select factors. Due to this, some other factors are overlooked during the use of this system.  
Here are the factors that you must keep in mind after adopting sales ChAMP.
1. It does not help you identify the decision-making criteria of prospects.
Sales ChAMP merely helps you find the authority behind decisions. However, it does not cater to identifying the criteria used by such authorized persons to make their sales decisions. Without knowing these criteria, your sales efforts will be similar to throwing darts in the dark. Hence, you must try to ascertain the decision-making criteria of your prospects and try to match these through your offerings.
2. It gives no insights into the decision-making process.
Knowing who makes the purchasing decisions is not enough. You also need insights into the process that is followed while making such decisions. Once you are aware of the process, you can tailor your sales cycle to align with it. You thereby increase your chances of securing sales.
3. You must consider your competitors' offerings.
Despite knowing the challenges of your leads, you are not aware of the other options they are considering to resolve it. It is crucial to know what your competitors have to offer. You can accordingly level up your efforts to match it.
These aspects are not directly included in the sales ChAMP framework. However, with the help of data, research, and market analysis, you can easily gain insights into these factors. Consequently, your sales process is holistically enhanced.
Kylas comes with advanced functionalities like lead segregation and data analytics that can help you in your prospecting efforts. Schedule a demo now to see how it can benefit your business!
---
Conclusion
The importance of correctly qualifying leads is on equal footing as generating leads. Sales ChAMP is a simple, reliable, and efficient way of lead qualification. It incorporates all the major factors like client problems, budget, etc., and accurately guides your qualification process. Leads segregated through ChAMP are highly likely to purchase from your brand and contribute to your overall sales growth.
Start 15-day Free Trial