Kylas has significantly improved its effectiveness, and its latest set of features is simply unmissable. The September 2023 Edition of Kylas Sales CRM introduces features designed to empower your team to make the most effective utilization of customer data. In this release, our features will help you:
Improve team collaboration.
---
Features in this Release:
1. Digio Integration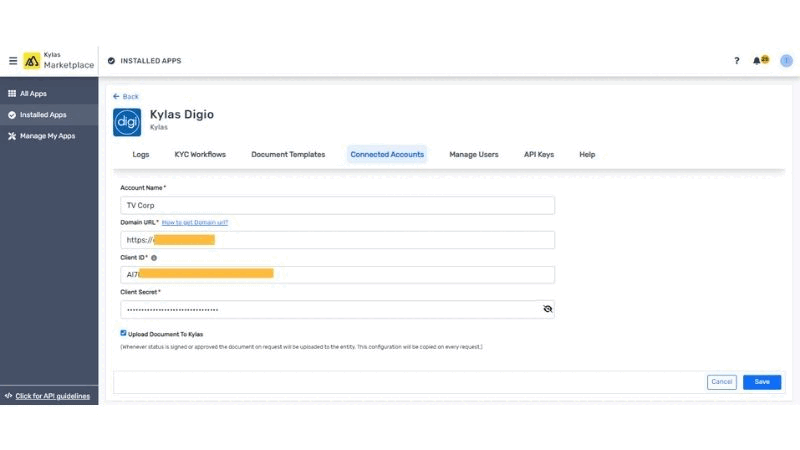 You can now integrate Digio with Kylas! This integration will help you with paperless, hassle-free documentation and digital processes in your business.
With the new integration, you can directly send eKYC requests to your contacts and view the updated status of the request in Kylas. You can also download the documents that your contacts upload as a part of the KYC process.
You can also create service agreement templates on Digio and send them to your contacts from Kylas for eSigning. You can either send the KYC request to the customer's phone number or email address.
For example, suppose you need your customer to share a few documents with you for the delivery of your services. After installing Digio, you can simply generate a KYC request, select a workflow, and specify the time frame within which you want your customer to upload the documents.
2. IP Restrictions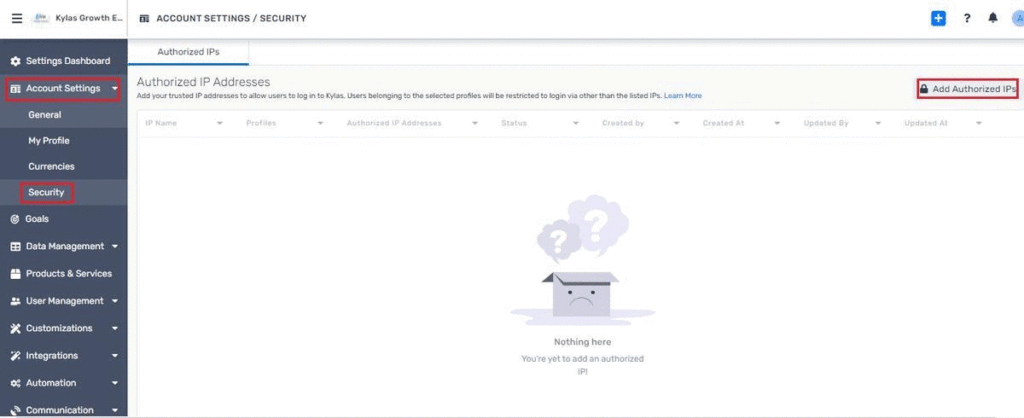 You can now protect your organization's data from unauthorized access by restricting IP addresses! As the account owner, you can now specify which IP addresses are allowed to access your Kylas CRM account.
You can control login access at the user level. You can now set specific IP addresses for each user in Kylas CRM. All you need to do is specify a range of IP addresses and our system will restrict/deny other IP addresses. Thus, ensuring more security of your data.
For enhanced security, restrict your Kylas account access to only your company's network. This prevents unauthorized logins from public networks and keeps hackers away.
For instance, as the administrator, if you want your team to use their Kylas accounts only on your secure network, set up access for your local IP address. This blocks logins from outside networks.
3. Team Event Webhook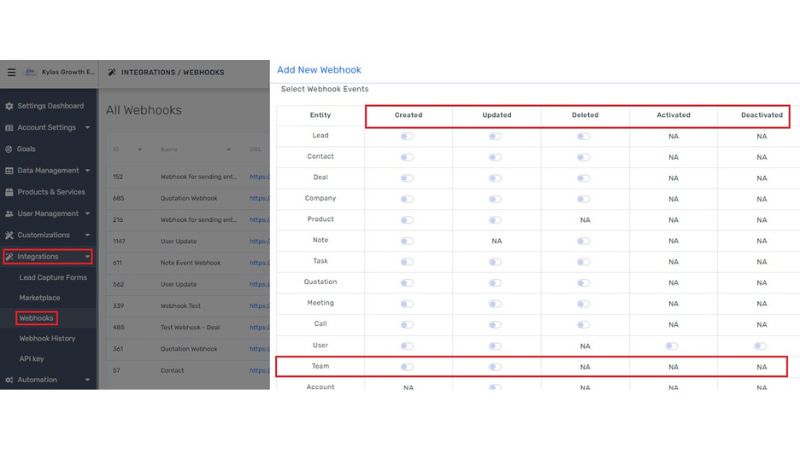 Kylas now lets you send your team event data (Created and/or Updated) to a desired destination using Webhook.
For instance, if you are using an analytics tool, you can send your team-related data when you want to see a report as per the team region.
4. Support Goal Owner in Deal Goal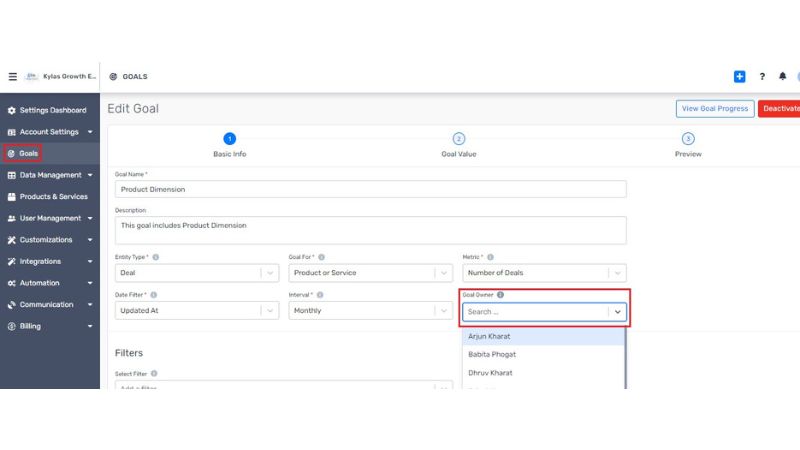 Now you can delegate your goal's ownership to other members of your team on both the web and mobile app. Depending on how your work needs to be done, you can define the Goal ownership and get your work done in the most effective manner.
For example, consider the example of a company's vice-president who wants to sales team to close deals worth INR 1,00,000 in a month. He will delegate the goal ownership to the sales manager who will further ensure that his team is efficiently working on the assigned goal. He can edit and update the goal just as the real owner can.
5. Deal Bulk Action in Kanban View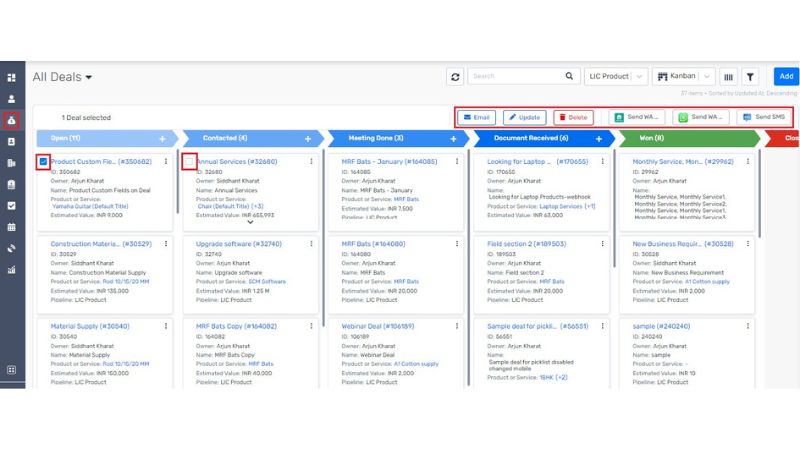 Kylas now allows you to take bulk action on deals in Kanban view and also to speed up your deal process and get more outcomes.
For instance, if you want to edit, update, or send an email to multiple deals, you can select them all and the bulk actions will appear on the top.
6. Show System Created Share Rules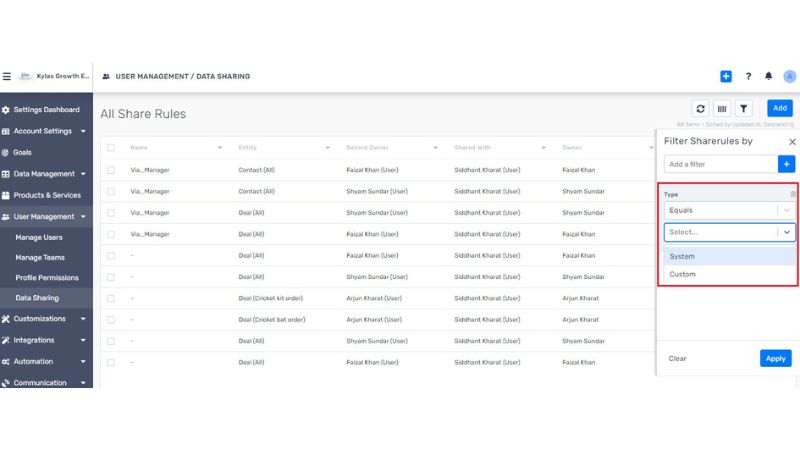 With Kylas, you can determine which rules were created by the user and which ones by the system. This will help you keep an eye on how the records in your system are being shared.
For instance, you can set up a meeting with a CRM record and add a user in the meeting who doesn't have access to the record. When you add your colleagues to the meeting, the associated record will also be shared with them. You can also check how the particular rule was created. In this case, it will be because of the meeting.
7. Support UTM Fields in Deal Reports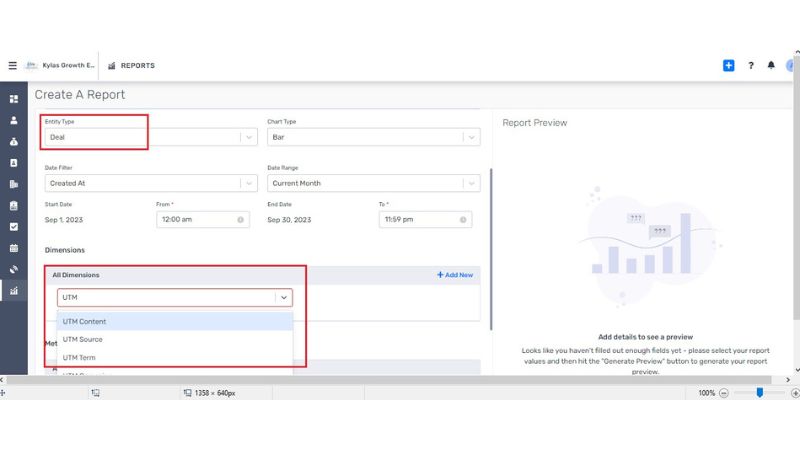 Kylas lets you determine if your marketing efforts are paying off or not with deal UTM fields available in reports.
For example, you run a few marketing campaigns at the same time for your product and you want to determine which campaign got the maximum number of leads into your system. Now, you can do that with the deal UTM fields available in reports.
8. Date Information on Data Export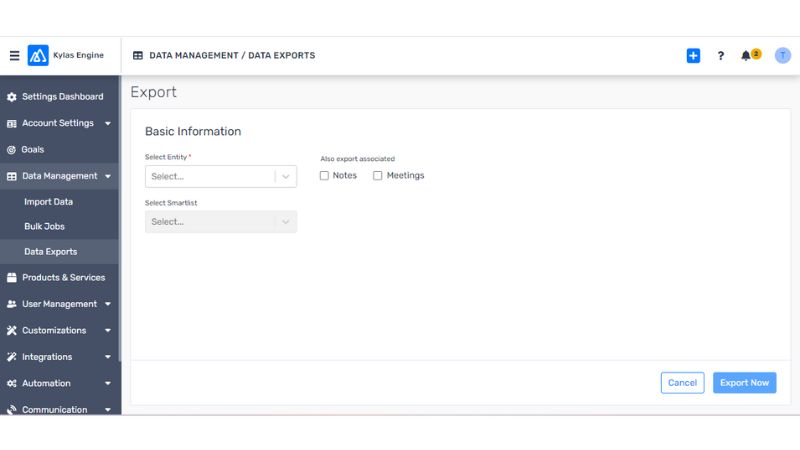 Now you can get exported data information (Date and Date-time) in the user's time zone in Kylas. This means there won't be any difference in the date and time of the data exported even if the user is in a different time zone than the UI.
For instance, if you live in a different time zone than the Kylas UI, you will your data will be exported as per the same time zone that you are in.
Are you ready to use these exciting features on Kylas CRM?
Start your 15-day free trial and Schedule a Demo with us to make the right decision!
More Sources:
Start 15-day Free Trial