The rate of technology adoption across the world tells the story of how Growing Businesses are taking to the trend.
Today, the B2B technology landscape is laden with software that aims to help organizations service their customers and stay familiar with their needs because they are the ones driving change.
However, in comparison to the challenges that enterprises face, Growing Businesses face unique challenges like-
the lack of trained resources,
limited funding opportunities,
cashflow problems,
difficulties in managing complexity as they grow, and
access to consultants (tech and business).
To address these challenges, companies often integrate a Customer Relationship Management (CRM) system into their sales processes. They expect the Sales CRM software to help them adapt to changing market scenarios and competition quickly, to be distinctive and respond to customer needs faster.
Yet, despite widescale CRM adoption, most Growing Businesses fail to generate meaningful returns from these tools. Key reasons being-
Growing Businesses lack the time and resources to allow for such waste.
If you are a Growing Business who wants to adapt to market changes effectively, you may want to consider using a CRM that goes beyond a great technology stack.
This is where the Kylas Growth Engine comes into the picture.
The Growth Engine features a Sales CRM at the core of the Growth Engine, blended with support and expertise to help small-scale companies get the right data and insights, resulting in right decision-making and faster business growth.
Kylas Sales CRM Software for Small Businesses
A Forrester survey states that below-par user adoption is the biggest 'people' challenge businesses face in their CRM adoption journeys. Some of the key reasons being-
Most

Sales CRM Software for small businesses

are non-intuitive and difficult to use; Only a small percentage of the feature suite is utilized properly.
Salespersons see CRM tools as just another way for managers to keep track of their productivity.
Salespersons feed in incomplete & error-prone data and businesses ended up with half-baked insights.
In such situations, your sales team needs guidance to make CRM usage a healthy sales practice. Kylas encourages CRM adoption with-
Motivational ecosystem – An in-app sales motivational ecosystem helps your sales team stay focused with automated notifications acknowledging efforts.
Inculcating better sales habits – Also in the app is automated reminders to feed in robust and clean data at the right data points.
Knowledge sharing – Our Sherpas provide expertise to help your sales team apply best practices and provide expert insights to scale higher peaks.
Business expertise via AI (Artificial Intelligence) – A little down the road, Kylas will feature an AI Engine which will provide your sales team with intelligence around your data and timely insights to make the right decisions.
2. True Collaboration
When we think of collaboration, most of us think of an ecosystem that facilitates collaboration within the organization, that is, between teams as well as individuals.
However, it is common for businesses to bring in outside assistance to help contribute to ideated and problem solve. Most Sales CRMs for small businesses do not offer such a feature.
For true collaboration, you need to ensure that collaboration is smooth within your organization, as well as with external subject matter experts.
Which is why Kylas Growth Engine features a collaboration stack which is open to unlimited users to help your business-
Leverage knowledge existing in the ecosystem,
Bring in external stakeholders like Vendors, Consultants and Partners, and
Work together with cross-functional teams.
3. Affordable CRM Pricing and ROI
Most CRM tools offer a basic feature-set for free. But as your business scales, you will need-
Additional tools to analyze sales and customer interactions at a granular level to understand your customers better.
Provide access to more end-users to match the growing demand for your products and/or services.
This is where technology and user access upgrades can break your bank.
To ensure that small-scale businesses don't experience such financial distresses, Kylas Growth Engine offers a unique CRM software pricing of just INR 12,999/month for the full version, which features-
Access to unlimited users
Access to all the features (including upcoming technology and tools)
No additional costs
We believe that this blend of support and expertise, along with a full technology stack at the core will help you make the most of your investment.
Kylas Sales CRM Software Feature Set
Sales is tough! Especially for smaller businesses in the B2B market.
However, the right blend of product, support and expertise can make it easier for your sales team to scale new heights.
The Kylas Sales CRM Software helps small businesses identify the right sales opportunities & supports your sales efforts to increase your chances of success.
The Sales CRM serves as the epicenter of all your sales activities which is highly advantageous to Growing Businesses as it helps-
Keep track of all sales activities
Stay updated with all important customer data
Access data insights to help you understand your customers better
Sales manager(s) monitor and maintain your sales processes better
Here's the full list of technology and tools that make the Kylas Sales CRM necessary for business growth:
Lead Management System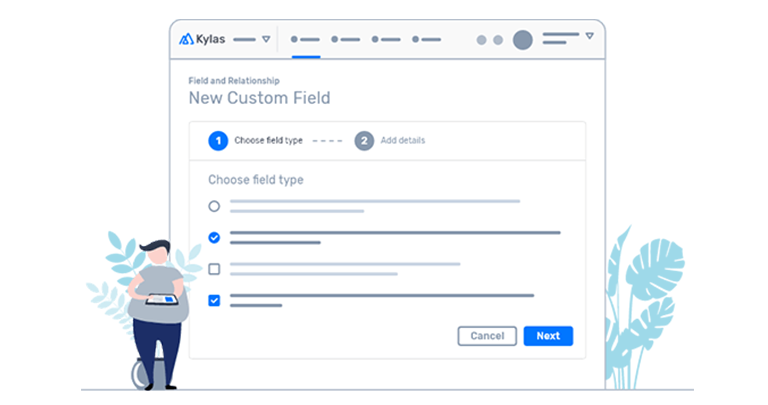 The Lead Management System helps sales teams acquire, manage, and manage leads and helps track their progress across the sales funnel. The Kylas LMS involves an advanced process most applicable to B2B sales to help small-scale businesses create relationships.
LMS features include-
Capture leads using Webforms
Lead qualification and prioritization
Lead analysis by source
Lead assigning to right salespersons
Lead database cultivation
Tracking interactions with individual leads
Import your leads (.CSV)
Contact, Deal & Companies Management
The primary aim of a business is to make sales by creating interest in the product or service. To do so, they engage the customer with relevant information.
However, cultivating a database of Deals completed and listing details of all Companies and Contacts is necessary to keep the sales process ticking. Data management reduces repeated data entry and helps your sales team improve customer experience.
Contact, Deal & Companies Management features include-
Convert leads to deals
Manage Deals, value, and the win probability
Analyze them by pipeline stages
Use smart filters for sharper customer analysis
Get quick visual access to any analysis
Understand who is closing deals faster
Engage Account-based Marketing (ABM) with multiple contacts on a deal
Data Validation and Analytics
The true value of a CRM system is experienced when it can capture relevant and clean data from your sales team. Robust data always results in better insights generation which translates to improved decision-making and faster business growth.
Kylas Data Validation and Analytics features include-
Manage products & services you offer to your customers and allow team members to tag them on leads and deals.
No restrictions on the number of custom fields.
Create custom fields on leads, deals, contacts, products and/or companies to cover all the relevant data points suited to your unique sales processes.
With full control on data validations, ensure your sales team enters more accurate data at all relevant data points.
Sales Pipeline Management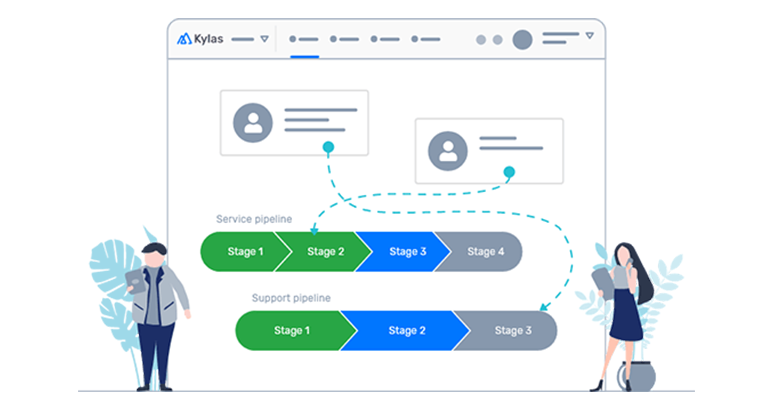 Your Growing Business may sell multiple products and/or services which requires your sales team to work on multiple sales pipelines to manage multiple sales cycles. Intuitively designed sales pipelines can boost sales performance at every stage of every sales cycle.
Sales Pipeline Management features include-
Create multiple pipelines and unlimited stages for leads and deals
Create different pipelines for different teams, for various products or various business units
Sort or filter deals by their closing date or win-probability
Use pipeline metrics to identify bottlenecks and ensure course correction
Use pipeline metrics to monitor your sales activities
Collaborate to Win
Closing a deal involves a lot of collaborative work with your team like preparing pitches and ideas continuously. Kylas tools for collaboration can help your sales team stay organized and work as a cohesive unit.
Sales Collaboration features include-
Task Management – Your sales team stay on-track to manage individual goals regarding leads, deals, contacts and/or companies. Moreover, task management also helps salespersons create and share knowledge for the accomplishment of collective goals.
Notes & Comments – Salespersons can record and store communication details with their respective leads and contacts. These features help connect relevant information to improve on to improve client engagement across the sales cycle.
Notifications & Reminders – Your salespersons need proper planning to attend meetings with your leads to drive them to become your clients.
Quick Task View – Displayed on a Dual Pane for easy navigation and quick action-taking, your salespersons can follow through with their engagements and responsibilities easily, thus, improving engagement with your leads and clients.
Delegate or Sharing Tasks – Improve sales efficiency by helping salespersons draw confidence from their colleagues. This encourages decision-makers like sales managers to focus on their work by dividing assignments appropriately within the team and boost sales performance.
Tags for Faster Search – Help sales easily organize and retrieve information based on requirements at any given time by filtering through the appropriate tags.
Reports Management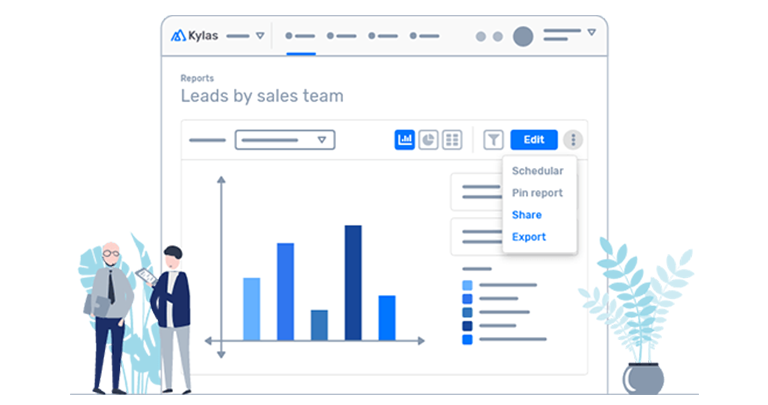 Custom Sales Reporting to Help Sales Managers and Teams Maintain Line of Sight allow sales managers to analyze sales performance based on filters like timelines and targeted campaigns. Moreover, it helps them and their team (s) identify which areas to focus on.
Reports Management features include-
Customizable reports on leads, deals & revenue
Filter reports for a deep dive into individual and team performance
Actionable reports with one-click access to actionable data on leads or deals
Export and share reports with your team and other stakeholders
Data Management
Data Management helps sales managers experience absolute control of sales data and control access to data based on sales roles and profiles.
Import or migrate from other CRMs or Excel – Got a whole lot of data to import? Our bulk import feature allows you to easily pull in data from your last CRM or simply import a .CSV file.
User access based on roles and profiles – Customize who in your organization can access specific data and fields based on their responsibilities and the actions they can take.
Sharing rules – Allow sales to share their leads and/or deals with teammates to encourage shared success. Moreover, sharing rules allow managers to access team data and gauge their performance at a granular level.
Audit logs – Kylas keeps a log of user sign-ins & actions so you track any suspicious activity and zero in on any data-access-risks if any.
Cross Platform Usage
We know how salespeople love to have quick access to all their information on-the-go. An easy-to-use mobile app makes it convenient for users to access all their data & stay updated with tasks & notifications in the field.
Mobile App features include-
Easy to use and intuitive mobile interface
On-the-go notifications & reminders so your salespersons don't miss a beat
One-click access to data
Kylas's Resolve
As founders of a successful technology startup ourselves, we understand a lot about the challenges that Growing Businesses face in running their sales and marketing functions.
This inspired us to create Kylas Growth Engine.
By providing the right blend of product, support, and expertise, Kylas Sales CRM Software is here to help smaller businesses scale.
Kylas is our resolve to empower Growing Businesses worldwide…and we are only just getting started.

Ready to scale to new heights?
Get Free CRM or Sign up for a Demo
Start 15-day Free Trial