Outbound sales is often seen as an effort-intensive process with little outcome. But the truth is outbound sales can be as effective as inbound sales for businesses if only you employ the right strategies and tactics.
Outbound has been around for a long time now and has been delivering results for businesses that know what makes it click. No matter what experts may have predicted a few years ago about outbound losing the race to inbound sales, these predictions are found to be a tad bit exaggerated.
According to reports, outbound sales account for most of the leads generated by businesses, where 55% of sales are primarily outbound while only 27% are primarily inbound.
Outbound sales is still going strong and it is important for businesses to know everything about it.
Before we delve deeper into outbound sales strategies and best practices, let us first understand outbound sales a little better.
What is Outbound Sales?
Outbound sales is the more traditional, or should we say classical, way of selling where the salespeople of a business proactively reach out to prospects and drive engagement. Traditionally, outbound sales were dependent on cold calls where a sales professional makes calls soliciting business from prospects who have made no communication with the company before.
Modern-day outbound sales also involve sending out cold emails, which are simply the electronic counterpart of cold calls. Unlike inbound sales, where the potential buyer contacts the business themselves, in outbound sales the business actively seeks potential buyers and contacts them.
So how do you choose whom to call or email? Do you randomly pick numbers from the phonebook and start dialing? Of course not. That is where outbound sales strategies and data analysis come to your aid. Business data analytics will help you identify which prospects are likely to convert and based on these insights, sales professionals can decide whom to call.
Outbound sales is a little more challenging than inbound sales because in inbound the prospect is already showing interest in your product or service. As they initiate the engagement themselves, you know what they are looking for. But with outbound, you hardly have any information about your prospects, except for what your analytics team has to offer.
---
Outbound Sales Process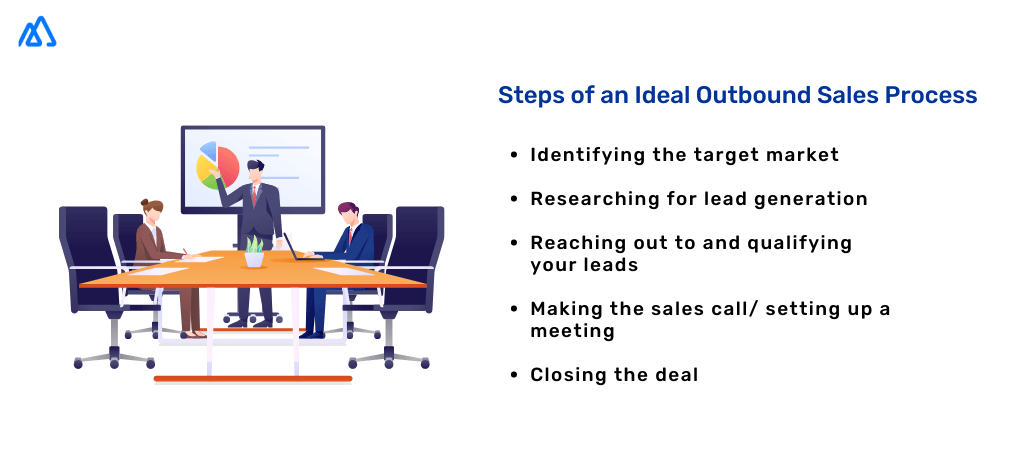 Another area where many businesses falter when it comes to outbound sales is understanding the process. Where do you start? Since you are somewhat in the dark in the case of outbound sales, gaining as much clarity as you can in the very beginning is essential.
Here is what the outbound sales process should ideally be.
1. Identifying the Target Market
With any kind of marketing and sales activity, the first step is always to identify who you are talking to. Knowing who your target audience is can give you a better idea of which prospect would fit that bill.
For making a sale, contacting the right people is most important. So understanding the market segments, and knowing what each market segment may be looking for is the first priority in this process.
2. Researching for Lead Generation
The next challenge is lead generation. Once you have your target market segment identified, you now need to generate leads from within that segment. And these leads need to be valuable, that is they should have a high chance of converting.
Lead generation requires a significant amount of research to determine who out of the long list of prospects would be most likely to convert. You then find out their contact information and create a comprehensive list of leads.
This research may be carried by an internal team or maybe outsourced as well. In either case, by the end of this stage, the sales team should have the contact details of prospects for cold calling.
3. Reaching Out to and Qualifying Your Leads
Now the real action starts, as sales professionals begin calling the prospects with their sales pitch. Earlier this would mean cold calling alone. But now you can reach out to prospects through cold emails, SMS, social media, or any other suitable medium where you are likely to get a response from them.
In the first one or two instances with a lead, a salesperson should be able to determine if they have a chance of converting into a customer. That is what sales qualification is. If the lead has a high likelihood of converting, it is a qualified lead. If not, the sales team can strike them off the list.
4. Making the Sales Call/ Setting up a Meeting
When you've qualified the leads, the next step is for the sales team to make the final sales call. Sales calls and meetings are arranged to discuss the product or service in detail with the interested buyer. It could also involve giving a demo of the product. You need to highlight all the features and benefits of the product and help them in their decision-making process.
This may take a while depending on the kind of product or service you are selling. For more expensive products, the customer is likely to take more time arriving at a decision. So the salesperson has to follow up from time to time.
5. Closing the Deal
The last and final step. If all goes well and your sales call was successful, it is time to close the deal. Get the customer to sign the contract and the job of the sales team is complete. From here on, catering to the new customer would be the responsibility of the after-sales teams.
---
Outbound Sales Strategy
Now that we've refreshed our memory of what the outbound sales process looks like, let's get to the best outbound sales strategies to follow for sure shot success.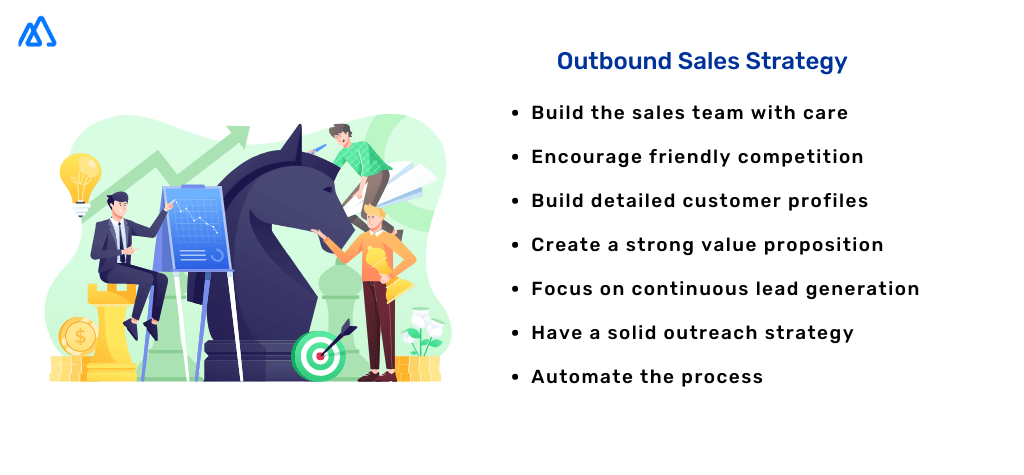 1. Build the Sales Team With Care
The success or failure of your outbound sales process boils down to one thing – the people in your sales team. Sales is not an easy job, outbound, inbound, or any other way. Having the right people in your sales team is of paramount importance if you wish to see results. So, how do you know who's the right fit?
That is a tough question to answer because every company has its own way of judging potential hires. While some companies may be looking for people with experience in sales, others may be looking for people who can prove their merit through some skill tests. So decide what your company really needs.
Whether you are looking for years of wisdom gathered through experience or you need someone who can work relentlessly to make sure they convert maximum leads.
In any case, you will need people with excellent communication and negotiation skills, confidence, and charisma. Convincing people to buy your product or service will need these qualities.
2. Encourage Friendly Competition
The success of your outbound sales efforts will also depend on how many calls, emails, or SMSs are sent out every day. Having more than one outbound salesperson on the team can give rise to healthy competition within the team.
Maintain a leader board showing the tally of calls/ emails/ SMS each member sends out in a day, time spent on customer calls in a week, or the number of deals they close in a month. This can be a good way of building competition. It would motivate your team members to do better and bring new sales opportunities.
3. Build Detailed Customer Profiles
Building a good, detailed customer persona is essential for your outbound sales program. A sales persona defines what the average customer should be like. Which industry, company size, job title, position, etc. should the customer belong to, in order to be interested in your product or service? This information may not necessarily be available to you.
But a little research into your existing customer base and actual users can give you a more or less clear idea of who your ideal customer is. For instance, what did your existing customers' buying journey look like? What were their pain points? What queries do they come up with most often?
There may be more than one ideal customer profile depending on the product or service you are selling. Not every customer has to fit this profile exactly, but this will surely help your sales team narrow down the number of leads to the ones that are most likely to convert.
Having a detailed buyer persona makes sure that the sales team does not waste valuable time contacting prospects that won't convert.
4. Create a Strong Value Proposition
The value proposition of your product or service will play a key role in convincing leads that they can benefit from it. It tells them why they should buy from you. The value proposition highlights how your product or service is different from and better than those of the competitors.
It is important that every sales professional on the team is thorough with this value proposition and uses it at every apt opportunity. The value proposition may keep changing as the product, brand or market evolves. So, the sales team needs to stay current with these changes.
5. Focus On Continuous Lead Generation
Lead generation is a very important part of both outbound and inbound sales. Though you can do your own research to find out who might be interested and what their contact details are, it is a tedious process. It might also be less accurate since it is mostly hit and miss.
Having certain established lead generation methods and tools can make this job a lot easier. Inbound sales usually generate leads from opt-in forms, publishing blogs and resources, participating in podcasts, hosting events, and so on.
For outbound sales, lead generation will take some effort. You can buy lead databases from reliable sources too. But you need to verify that the information they offer is correct. You could use social media to find leads as well. If you are posting content on social media, find out who engages with that content. They could be interested in your brand.
Lead generation has to be an ongoing process.
6. Have a Solid Outreach Strategy
Outbound sales does not mean you simply pick up the phone and start calling the number on your list of leads. You need to have a plan. Which channels your leads would likely be most responsive on? At what time would they likely be available on these channels? How long should you wait before following up with a lead?
This knowledge comes from experience and research. Note the approach you took in closing deals previously and find out what works best.
It is best to have an omnichannel approach with multiple touchpoints to ensure that you don't miss a valuable lead.
7. Automate The Process
Automating the outbound sales process as far as possible can make it much more efficient. Certain tools like automated email sequences, CRM software, automated voicemail tools, auto-dialing, etc. can come in very handy. Anything that is repetitive and mundane can be handled through automation, so your sales team can focus on the more important side of sales.
---
What Are the Main Outbound Sales Activities?
The outbound sales activities would likely vary from one company to another as every company has different objectives and goals when it comes to sales. But ideally, any outbound sales process would include the following activities.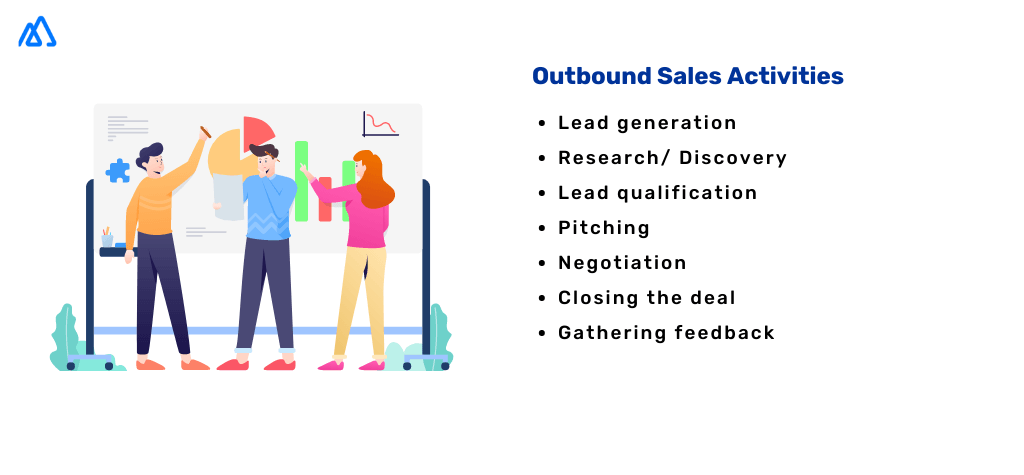 1. Lead Generation
This involves finding leads who may have an interest in the product/ service and could convert if you reach out.
2. Research/ Discovery
Refers to finding out what the prospect's pain points are, what questions they may be seeking answers to, and so on, before getting on a call with them.
3. Lead Qualification
Determining from the first few interactions if the prospect has a likelihood of converting.
4. Pitching
Preparing and delivering a sales pitch that addresses the prospect's pain points.
5. Negotiation
After lead qualification and pitching, the prospect may have several questions or objections when making their purchase decision. The salesperson must answer these questions and follow up to negotiate with them until the prospect is convinced with the offer.
6. Closing The Deal
This is the final step in sales where the deal is signed and closed.
7. Gathering Feedback
One last activity that you might want to add is taking feedback after the sale is made. This will help improve the process in the future.
---
What Are Some Outbound Sales Channels?
There are several outbound sales channels that a company may use depending on its goals and outbound strategies. Traditional channels like cold calls, modern-day channels like cold emails, and social media. There are also some unconventional ones, like direct mail.
Some channels that you might want to try and why you should try them are mentioned below.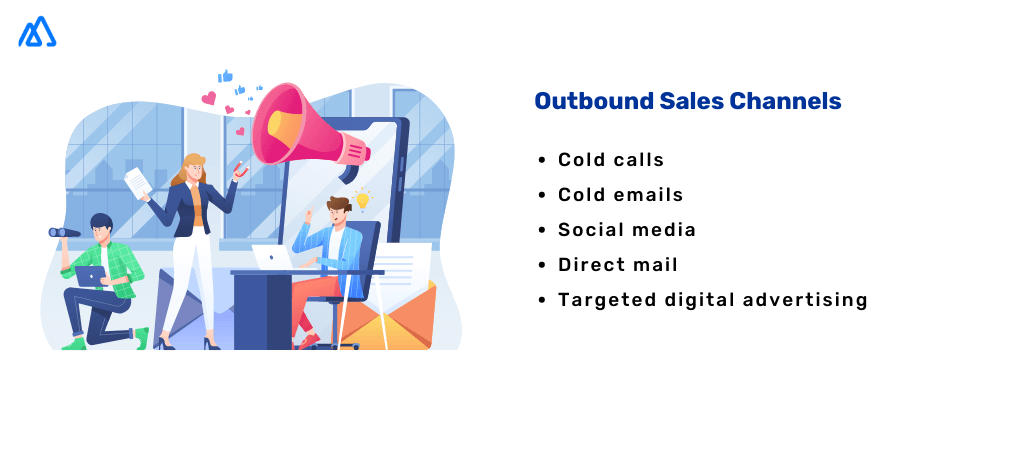 1. Cold calls – Cold calling may be an old method, but it is tried and tested, and it still works. There is no better way to convince a prospect than with real-time conversation over a call.
2. Cold emails – Cold emails are the go-to channel for all sales teams. It is found to be one of the most effective strategies too.
3. Social media – Social media channels (like LinkedIn for B2B) can be a great way to find prospects and connect with them, as most people and businesses have a social media presence today.
4. Direct mail – Reaching out to prospects through direct mail has its own benefits. You could probably send a brochure with a new year greeting, a box of cookies along with a letter, an invite to an event, or anything that would get the prospect interested in your business. This feels more personalized and authentic to prospects.
5. Targeted digital advertising – Yes, digital advertising targeted at specific buyers can be an outbound marketing channel too. It familiarizes prospects with your brand and can be an effective aide for your cold emails/ calls.
---
Outbound Sales Metrics
Measuring the performance of your outbound sales process is also important to ensure you're on the right track. Here are some key performance indicators you might need.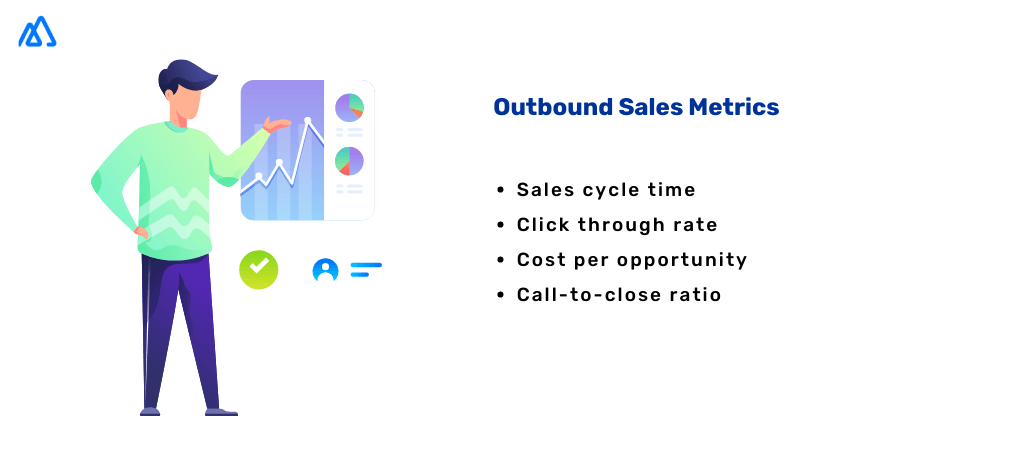 1. Sales cycle time – This is the time a lead takes to complete the sales cycle or buyer journey and make a purchase decision.
2. Click-through rate – An indicator of how effective your calls-to-action are. If your cold emails and messages have a higher CTR, it means prospects are finding the message convincing to take the next step.
3. Cost per opportunity – This is a measure of the cost the company has to incur on generating a lead. A high-value lead gives a better ROI in this regard.
4. Call-to-close ratio – It refers to the number of calls your sales team has to make to achieve a single conversion or closed deal.
Other metrics may include productivity metrics and success metrics of your sales professionals, which determine how they are performing.
---
Kickstart Outbound Sales with Kylas
For successful outbound sales, your best bet is having a comprehensive CRM solution. From capturing, segmenting, and organizing your leads to customer engagement, a sales CRM can do it all for you.
This is how Kylas empowers your sales team. From lead generation to customer engagement to data analysis and reporting, Kylas puts together your outbound sales strategy for success.
Start 15-day Free Trial