It's no secret that in order to succeed, your business needs a good sales plan. Sales success is one of the most critical components of the long-term growth and profitability of any company.
But crafting a successful sales plan can be tricky – it's not as simple as putting together a few goals and hoping for the best. It takes time, effort, and a lot of planning.
That said, don't worry – we've put together a 10-step guide to help you create a successful sales plan for your business. From defining your target market to setting achievable goals, this guide will help you map out a plan that will help you achieve your sales targets.
---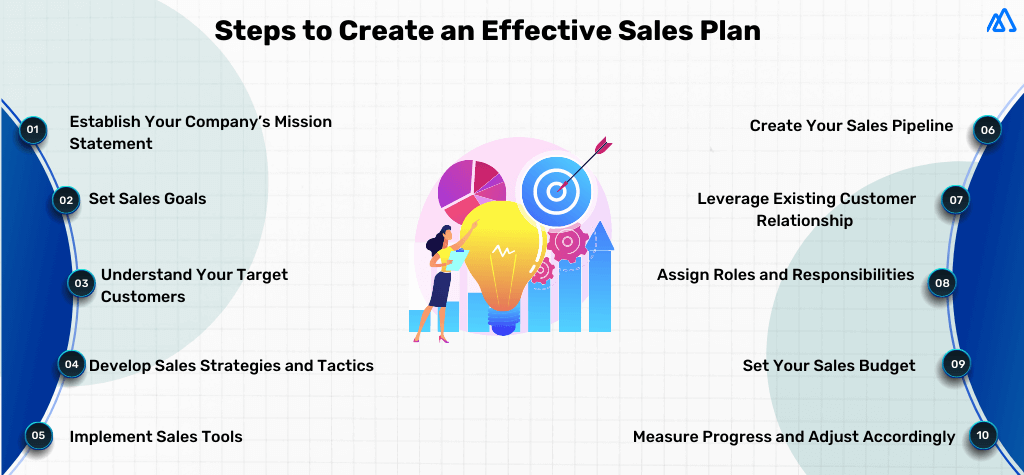 1. Establish Your Company's Mission Statement
Your company's mission statement is the foundation of your branding and marketing efforts. It communicates the heart of your company and its purpose to the world. A well-crafted mission statement can also help you make decisions about your products, services, and marketing.
There are a few key things to keep in mind when creating your company's mission statement. First, make sure it's clear and concise. Your mission statement should be easy to remember and understand.
Second, make sure it reflects your company's values. The statement should be something you believe in and are passionate about. Finally, make sure it's realistic. It should be something you can achieve and that provides a guide for your company's future.
Some mission statements are short and sweet, while others are more in-depth. But they all share a few common traits. They are concise, clear, and inspiring. They also communicate the company's values and goals.
Here are a few examples of simple, yet effective company mission statements:
Apple: "To bring the best experience to people in their lives."
Netflix: "To connect people globally with great entertainment and communications experiences."
Facebook: "To give people the power to share and make the world more open and connected."
Google: "To organize the world's information and make it universally accessible and useful."
---
2. Set Sales Goals
Setting realistic goals is important to the success of your sales plan. You need to shoot for the stars, but also be grounded in reality. That way you'll set a goal that's challenging, yet achievable while avoiding building castles in the air.
When creating your goals, keep these factors in mind:
Your past performance
The market potential for your product or service
Competitor activity
Your company's objectives and mission
The resources (budget, manpower, tools, and training) you have at your disposal
You will also need to ensure your goals are S.M.A.R.T (specific, measurable, attainable, realistic, and time-bound).
Be specific about:
your overall sales targets
the timeframe to achieve them
how you will track and measure your sales performance (key performance indices)
individual targets for your sales team members
Here are a few SMART sales goals to include in your sales plan:
"We will increase monthly sales turnover by $20,000 for the next 6 months. To do this, we will acquire 4 new customers every month, the average value of each customer being $5000.
"We will reduce sales overheads by cutting down on non-essential travel by 50 percent over the next 9 months. We will strengthen our video conferencing capabilities to achieve this goal."
Remember to set individual goals for your sales team members.
Points to consider when setting up goals:
-The size of your sales team
-How motivated they are
-Work environment/culture
-Amount of resources available to support the sales function
Consider your sales team members' personalities and differences before assigning individual goals. For instance, one salesperson may be great at outreach but may be struggling with the closing ratio. Another salesperson may be good with closing ratio but not so successful with outreach.
---
3. Understand Your Target Customers
Defining your target market involves understanding who your customers are, what needs and wants they have, and how you can reach them. It's important to be as specific as possible when defining your target market, as this will help you better understand who your customers are.
This will also help you understand what type of messaging and marketing efforts will be most effective in reaching them.
To do this, you'll need to answer some key questions:
What are their ages?
Who is your product or service aimed at?
What needs or problems does your product or service solve?
What kind of people make up your target market?
Where do they live?
What are their incomes?
What kind of lifestyle do they lead?
At this stage, it is important to get into the granular details of your target audience including the preferred networks, social media channels, and sources of information.
When you have a good understanding of who your target market is, you can start developing marketing materials and strategies that will appeal to them.
Once you have defined your target market, you need to understand what needs and wants they have.
This means researching your industry and marketplace, identifying trends, and understanding what motivations drive people to buy products or services like yours. It's also important to understand the different segments within your target market, as not all customers will want or need the same things.
Evaluating the purchase history and purchase drivers of your targets will give you rich insights that you can use to create a foolproof sales plan.
Ask these questions to evaluate their purchase behavior and purchase drivers:
How often do you buy products or services similar to ours?
What problem/needs do they solve?
Why you purchased those products or services?
What factors (offers, reviews, comments, price, and so on) did you consider before choosing the product or service?
How was the purchase experience?
What features or benefits are most important in a product or service and why?
What price are you willing to pay for a product/service that has these features or benefits?
---
4. Develop Sales Strategies and Tactics
A sales strategy is a roadmap for your sales team, setting out how you plan to achieve your targets and grow your customer base. It covers the key decisions you have made about how to position your products and services, how you will attack your rivals and the selling processes you will use.
A well-executed sales strategy can result in market dominance, while a poor one can lead to missed opportunities and financial distress.
There are many factors to consider when crafting or tweaking a sales strategy, including the target market, product, pricing, distribution channels, and promotion. It is essential that all of these pieces work together in order for the sales strategy to be successful.
While your sales strategies can include both inbound and outbound sales tactics, some of the most popular strategies include:
Product demonstration
Thought leadership through articles, webinars, and blog posts to share your niche expertise, best practices, and evidence-based solutions.
Social media marketing
Cold calls and emails
Direct mail marketing
TV, print, and radio ads
Partnering with complementary service providers
---
5. Implement Sales Tools
For your sales plan to succeed, you will need the right tools. Sales tools reduce the time required for salespeople to understand their customers, their needs, and most importantly, their pain points. They save time by taking over time-consuming, repetitive administrative tasks, freeing up your time and resources to focus on offering value to customers.
While there are diverse sales tools, here are some of the most important ones:
CRM: A CRM (Customer Relationship Management) tool helps you get rid of manual work while streamlining sales data and sales activity. It provides updated information on prospects to your sales team to help them:
Efficiently manage the sales pipeline
Track emails easily
Create granular sales reports
Communicate efficiently with prospects
Integrate seamlessly with other apps and tools
Sales Intelligence: These are technologies salespeople use to find, understand and monitor their existing clients and prospects.
The tool lets your sales team know who they should reach out to, when, and what they should talk about with the prospects. With contextual information about these contacts (digital footprint, purchase history, and business objectives), these tools make it easy to acquire leads and close deals.
Sales Acceleration: Examples of tools that accelerate sales include email tracking software, coaching tools, predictive analytics, outbound sales dialers, and sales engagement software.
Lead Acquisition: A range of advanced lead acquisition tools is available that include features such as autoresponders, chatbots, and sentiment analysis to feedback surveys. One such tool is offered by LinkedIn that makes it easy to acquire leads:
With this tool, you can
Get custom lead recommendations.
Leverage advanced search to look for the right leads
Utilize InMail to send messages to any LinkedIn member.
Track the results of your sales efforts
---
6. Create your Sales Pipeline
A sales pipeline is a visual representation of your sales process. It is a system that helps you track and manage your opportunities, and it also allows you to measure your success over time.
The most important part of creating a sales pipeline is understanding your sales process. Once you know what steps are involved in the sale, you can create a pipeline that accurately reflects those steps. The steps in your process may vary depending on your industry/offerings, but there are some basic steps that are common to most sales.
Lead generation -The first step is usually identifying potential customers or leads. leads can be sourced from a variety of places, including advertising, networking, or referrals.
Qualification of leads -Once you have a leads list, you need to qualify those leads to determine if they are actually interested in your product or service.
Contacting leads and submitting proposals -The next step is to create proposals and pitch them to them. If a lead is interested in what you have to offer, they will usually request a proposal. At this point, you will need to create a proposal that meets their needs and submit it for approval.
Closing the deal -If the proposal is approved, the next step is to close the sale. This may involve signing a contract, setting up an appointment for delivery or installation, or some other action that finalizes the sale.
You can use Funnel charts to gain clarity on multiple stages in the sales pipeline including the sales prospects you have.
---
7. Leverage Existing Customer Relationship
You have probably read that acquiring new customers is costlier than retaining the existing ones. Some estimates also suggest that loyal customers spend ten times more than new leads and account for 80 percent of a business's sales revenue.
For growing businesses that have limited high-value clients, staying in touch with them on a personal basis may be possible. But for most companies, one-on-one outreach is not feasible.
You can nurture your existing clients in multiple ways:
Send regular newsletters, special offers, and invites to events/webinars to your current customer base.
Offer seasonal tips, free samples of new products, or other useful information
Leverage opportunities on LinkedIn or other platforms to connect and engage with your current clients
Ask for referrals and offer discounts or referral rewards
---
8. Assign Roles and Responsibilities
Sales roles and responsibilities within a company will vary depending on the company's size, products, and target market.
The various roles that are involved in sales include:
Account Executive
Sales Specialist
Development Rep
Sales Manager
Customer Success Rep
The most important factor to consider when assigning sales roles is determining which members of the team have the best skills and experience for the job. Once the right people have been identified, the next step is to define their specific duties and responsibilities.
This should be done in consultation with the team members themselves, in order to ensure that everyone is clear on their job duties and expectations.
It is important to provide regular feedback to team members on their sales performance. This can help them to track their progress and identify areas where they need to continue improving. everyone is clear on what is expected of them.
Finally, it's important to establish some basic ground rules for how team members should work together. This includes setting expectations around communication, cooperation, and conflict resolution. By establishing a clear and mutually agreed-upon set of guidelines, team members will be more likely to collaborate effectively and produce positive results.
---
9. Set Your Sales Budget
Setting a sales budget is one of the most important steps in effective sales forecasting. Without accurate sales projections, it's difficult to determine whether your team is on track to meet its goals and objectives. Moreover, it can be challenging to optimize spending and resources if you're not aware of your company's average sales cycle or customer acquisition costs.
There are a few key things to keep in mind when setting a sales budget: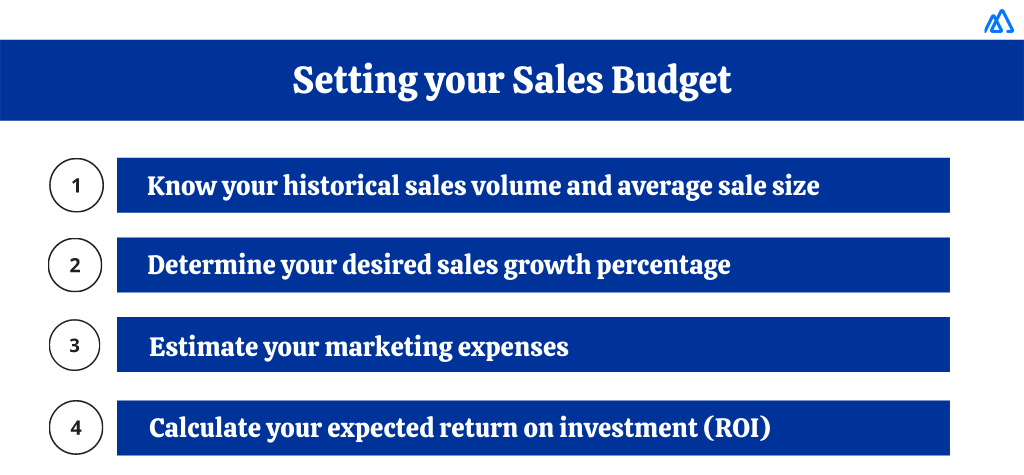 Know your historical sales volume and average sale size. This information will help you establish a realistic sales budget for your business.
Determine your desired sales growth percentage. This will help you set goals for how much you want to increase your sales volume over time.
Estimate your marketing expenses. Your marketing budget should be proportional to the amount of new business you expect to generate as a result of your marketing efforts.
Calculate your expected return on investment (ROI). Divide your marketing expenses by the increase in sales you expect to achieve as a result of your marketing efforts. This will give you an estimate of how much profit you can expect to make on each dollar you spend on marketing.
---
10. Measure Progress and Adjust Accordingly
It is easy to measure the progress of your sales efforts because you set SMART goals in the initial stage of your sales plan. There are a variety of ways to measure how well your sales team is performing.
One common way is to track how much revenue your team generates over a period of time. This can be done by dividing the total revenue by the number of days in the period. You can also calculate how much revenue each salesperson generates by dividing the total revenue by the number of salespeople.
Another way to measure sales performance is to track the number of leads that your team is able to convert into customers. This can be done by dividing the number of leads by the number of customers. Other metrics to track are customer lifetime value, customer churn, and gross margin.
Customer acquisition is the number of new customers that a business acquires in a given period of time. This metric is important because it measures how well the business is attracting new customers.
Customer lifetime value is the average amount of money that a customer spends with a business. This metric is important because it measures how much profit a business generates from each customer.
To calculate customer lifetime value, subtract the cost of acquiring a customer from the average amount of money that the customer spends with the business. This gives you the net profit generated from each customer. Divide this number by the number of times that customer has been active with the business to get the average lifetime value per customer.
---
Bottomline
Now that you understand the basic steps to creating your sales plan, it's time to start putting it all together. Put your sales plan into action with a CRM. While sales plans are planned typically on a yearly basis, creating a monthly sales plan and using a Sales CRM can help you respond quickly to any changes to your financial objectives, company goals, or market dynamics.
Click here to find out more about how Kylas Sales CRM can help you ace your sales goals with ease.
Start 15-day Free Trial