Being the engine of your business, your sales team needs to know what they must do so that they can find ways to actually do it. As a business owner, it is critical for you to set great sales goals and measure the right metrics. As the salespeople build the bridge between a business and its customers, it's crucial that they know what they are there for in your organization. But they can't work alone. 77% of salespeople say selling collaboratively with other departments is important. The sales, marketing, and service teams need to be aligned with their goals, sources, and metrics.
If you are running a business, you would know that hitting sales goals is not that easy, especially for fast-growing organizations. Where the right goals help the sales team stay motivated, unrealistic goals can demotivate them and hinder overall sales productivity. It is not surprising that 40% of companies failed to meet their sales goals in 2020 as per HubSpot's Global Sales Enablement Survey.
Using Sales OKRs or Sales Objectives and Key Results is a proven goal-setting method that can empower your sales team and help them collaborate and work towards the same priorities. High-performing sales teams use nearly three times the amount of sales technology than underperforming teams. As a sales manager, it is your responsibility to equip your team with the right technology like a CRM.
Kylas is an effective CRM tool that works great with the sales team and helps them get through daily tasks with ease. Book your demo with Kylas and find out the features it offers.
---
What Does OKR for Sales Mean?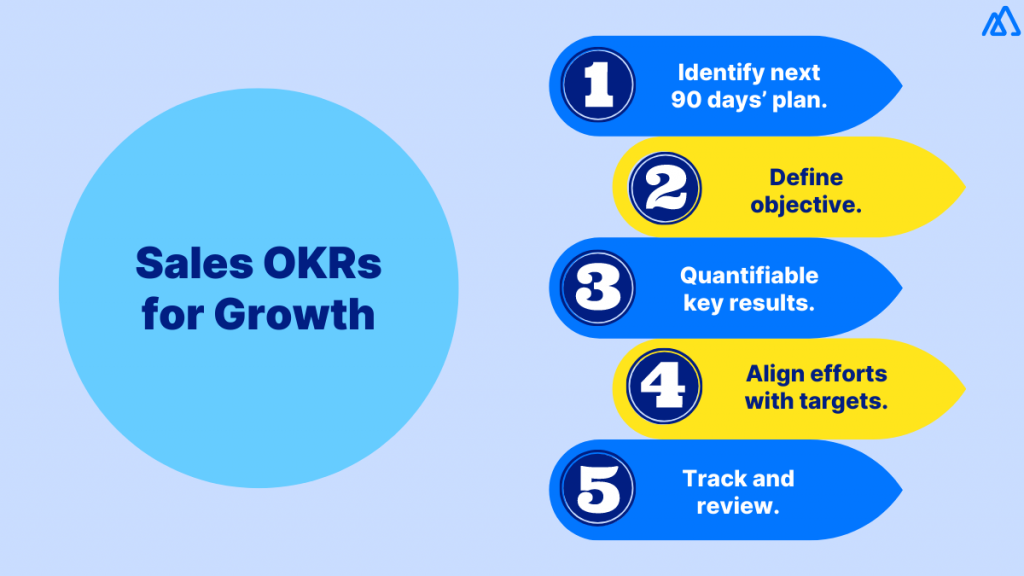 In general, sales OKRs are a popular goal-setting system that drives the sales team to achieve a common organizational goal. It helps them understand that their role in the organization is beyond achieving individual targets and breaking boundaries for the business as a whole. Objectives and Key Results can be the backbone of your successful sales team if used rightly. From setting the right sales targets to achieving them, OKRs have a pivotal role to play.
A sales team that knows what the organization is heading toward will be able to identify the right customer needs and assist them throughout their journey. A strong sales pipeline is what you need to make it easy for them to buy your products or services. With OKRs, you will be able to provide your sales team with a sales structure and a way of achieving their goals at the same time.
---
How to Set OKRs for Sales Department?
Good sales teams are all about targets and KPIs. This is why when they start working in accordance with OKRs, they put their regular targets into the OKR format and expect tables to turn. You should not mix KPIs with OKRs. While setting sales OKRs, know the objective that communicates a problem to be solved or a new opportunity to be taken advantage of plus the measurable outcomes
So, here's how you can write or set OKRs for the sales department.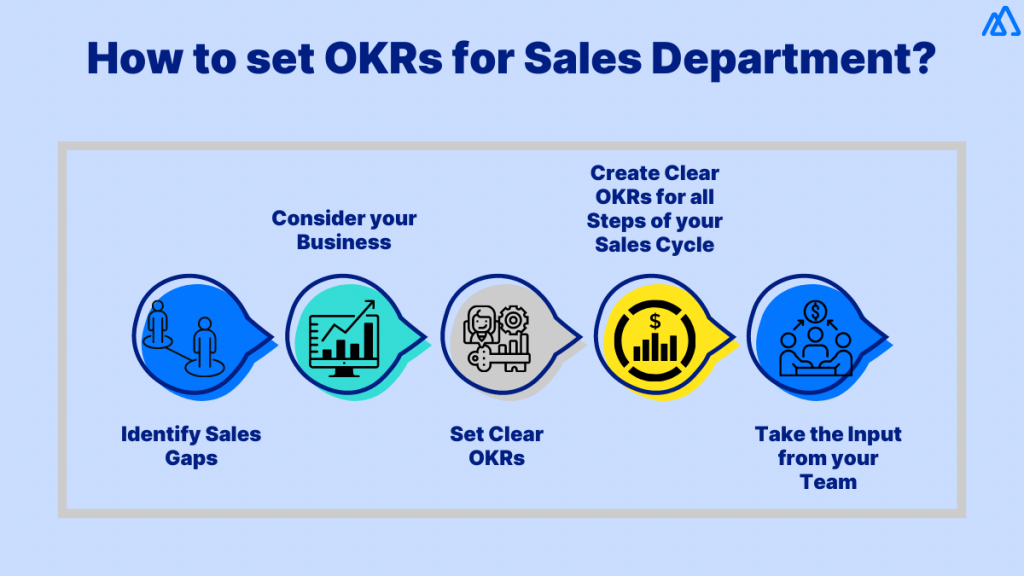 1. Identify Sales Gaps
When you are going to write OKRs for your sales team, make sure that you know what issue you are going to cater to or the gap you are going to fill. And it's not always about converting a sale but also about the quality of leads. A comprehensive analysis of the key gaps in your sales process will help you find out what you haven't been doing and what needs to be improved.
Knowing the areas of growth can help you set the best OKRs that will work for sure. For example, if only 60% of your sales team was able to meet the sales quota for the last quarter, find ways that will help you increase the success percentage.
2. Consider your Business
The OKRs don't have to be something out of your business goals. In fact, they must be well-aligned with what you are trying to achieve with your business. Find out whether your company's goal is to increase revenue, increase recurring business, find new customers, or something else. When you know the answer, you make better decisions.
Take into account the issues that your sales team has been facing and set OKRs accordingly so that the team is able to handle customer information properly. The goal is to reach key goals that are concrete and measurable. You may consider adopting a CRM like Kylas for a better flow of information and avoiding any kind of mismanagement.
3. Set Clear OKRs
Vague goals like increasing revenue and getting more customers won't really get you anywhere. Assign a number or percentage to each one of these to achieve your goal. For example, plan to increase your quarterly revenue by 15% this quarter or increase your sales by 10% this year. By being specific, you are telling your team that you are eyeing what they are doing.
Furthermore, accompanying the numbers and percentage by a time frame that will help your team know how serious you are about your sales and how crucial the coming time is for your business. When you have numbers to compare, you will automatically give your team a clear picture of what your plans are.
4. Create Clear OKRs for all Steps of your Sales Cycle
As a sales cycle consists of different steps, there must be clear OKRs for each of those steps. From lead generation to making sales, set specific and clear sales OKRs for your team so that they are focused and not making trials. If needed, you can create a chart for the same so that the team is acquainted with all they are to do and in how much time.
The goal is to keep the OKRs on the top of your team's mind and you can take any step to do that. Keep everyone accountable for their roles in the process so that they are ready for the responsibility. You can easily find templates for OKR tracking and make the task hassle-free for yourself.
5. Take the Input from your Team
When setting objectives and key results, it's not just the top management that should be the decision-maker. The experience and feedback from your sales team are equally important. Before you define the OKRs, have a conversation with your team so that they can tell you the issues and challenges at their level that you must address.
You better don't forget that your sales tea has a better understanding of the goals they can achieve than you would have. Listen to them carefully and don't forget to integrate their opinion into the OKRs. If your sales team knows that the set OKRs are in accordance with their experience, they will align better with them.
By now you would have obtained an idea of how you can set the best OKRs for your sales team. Let us now move to the difference between OKRs and KPIs which are often used in a business but are still not very clear.
---
Difference between OKRs and KPIs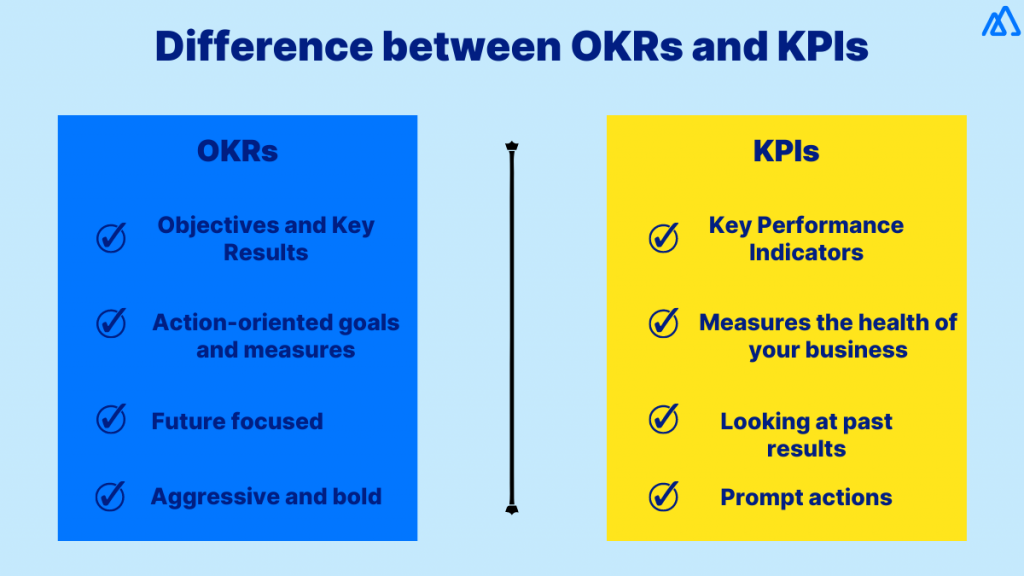 You would have often heard about OKRs and KPIs in business meetings during performance management meetings. Some use them interchangeably but in reality, they are apples and oranges. At some point, there can be an overlap but these are entirely different.
KPIs or key performance indicators help in evaluating the performance of an organization, team, project, etc. over time. On the hand, OKR is more of a goal-setting framework that outlines the measurable objectives along with the steps you will take to achieve each objective.
One of the main differences between OKRs and KPIs is in the way of goal setting. KPI goals are quite attainable and represent the current process while OKRs are more specific and aggressive.
If you are looking forward to scaling or improving a business plan or project that was done before, KPIs work as a better option. They help you add a measurement system to your ongoing projects. But if you have a larger vision in mind and wish to change the overall direction of your business, OKRs will prove to be a better choice. By stretching your goals further, your team can understand them better and make better moves.
---
What are Some Good OKR examples for a Sales Manager?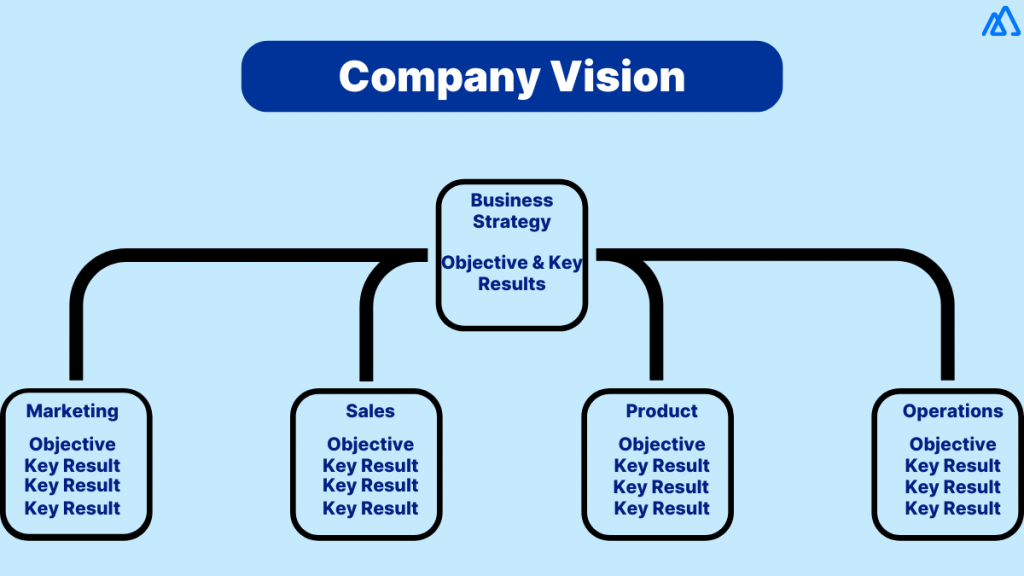 Let us now take a look at some good OKR examples that will help in understanding the concept clearly.
Objective:
Grow Customer Base
Key Results:
Increase the number of paid users from 3k to 5k.
Improve conversion rate from 15% to 20%.
Increase outbound meetings from 20 to 35.
Objective:
Hit more Quarterly Revenue
Key Results:
Achieve $50,000 with sales in a new market.
Sell products or services to 25% of the existing customers.
Decrease the sales cycle from 30 days to 20 days.
Objective:
Reduce Business Expenses
Key Results:
Reduce paid subscriptions from $10,000 to $6,000.
Reduce outsourcing cold calls from $5,000 to $1,000.
Increase team cold calling from 50 calls a week to 200 calls a week.
Objective:
Strengthen Sales and Marketing Alignment
Key Results:
Introduce a weekly meeting.
Work with the marketing team to create content for 3 products.
Close five deals with marketing-qualified leads every week.
Objective:
Practice being a Great Manager
Key Results:
Write handwritten notes for 2 team members to celebrate wins.
Reduce the build-measure cycle by one week.
Conduct a monthly training session for your team.
---
Conclusion
Using sales OKRs can be a complete game changer for your sales team and organization. It's up to you how you wish to customize them as per your needs. With well-structured OKRs, you are showing your team what they are expected to do and that their role is important in every way which will automatically improve your profitability.
Kylas can help you in managing the sales process from lead generation to making a sale. Pipeline your sales process with Kylas.
Start 15-day Free Trial