The word 'millennial' was first used back in 1990, and it has now become a widely embraced terminology. The world today is dominated by millennials, and they are expected to comprise 75% of the global workforce by 2025. It comes as no surprise then that their mindset and opinions are shaping the world, especially the commercial sector.
Let us imagine the owner of a B2B business that provides co-working spaces. The sheer size of the generation makes it likely that he will mostly deal with millennial consumers. The business owner must now focus on creating a digital presence for his brand because that is the first thing his consumers will see.
He must ensure that his workspaces are at par with his competitors because his consumers are going to do their full research. He must hire dedicated personnel to address their concerns and queries because his consumers value prompt responses.
These aspects would not matter much to older-generation consumers, because they are used to traditional business methods. A millennial forms an impression of a brand based on these things, and a business must innovate and adapt accordingly.
However, what is the things that truly matter to millennials? How can a B2B business cater to its specific preferences? This blog will shed some light on the same!
Kylas is an enterprise-grade CRM, specially designed for growing businesses. It has a robust feature set, which addresses all the pain points that your business may face. It can optimize your entire operations, and help you scale your business!
---
How Is B2B Selling to Millennials Different?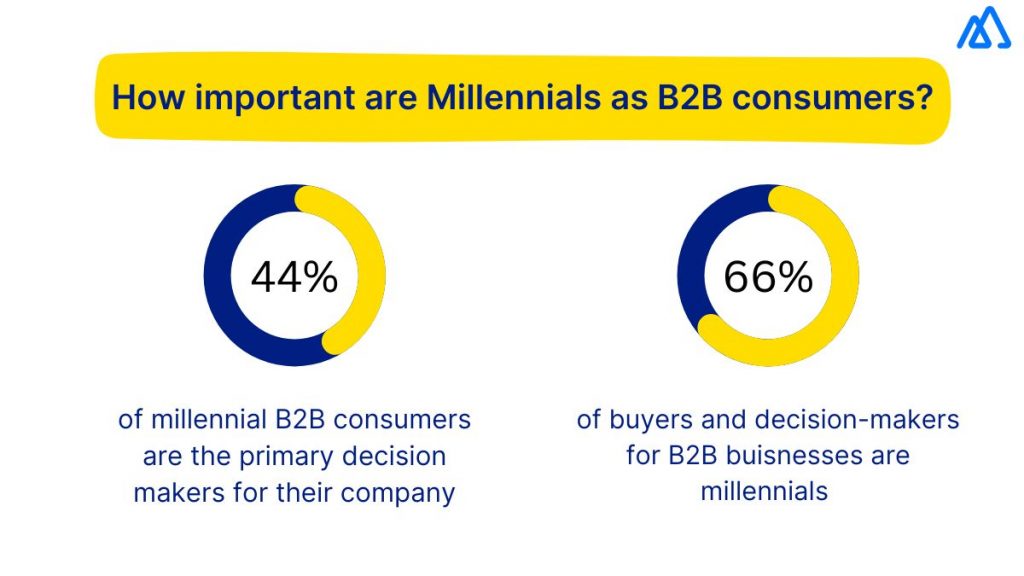 To be able to succeed with the millennial consumer base of today, a B2B business must be different. However, what if the changes that a business makes go against what millennials want? It is not enough to merely make changes, but rather the changes must be made on the basis of the consumer's psyche.
You must know exactly how, and why B2B selling to millennials is different, which will come from exploring the behavior of millennial consumers.
1. They Expect a Unique Experience as Consumers.
Statistically speaking, 44% of millennial B2B consumers are the primary decision-makers for their respective companies. Despite this, they do not primarily view themselves as representatives of their company. While engaging with a B2B business, they first and foremost think of themselves as the consumers of that business.
While trying to sell to millennials, this mindset that they have must be carefully considered. It should reflect in all your interactions with consumers, and even in your creative designs, marketing techniques, etc. By fully understanding the way in which your consumers expect to be treated, you can align your efforts accordingly.
Hence, you must focus on setting up an innovative consumer experience for them. You cannot remain limited to the normal practices that are working. Your consumers expect you to go beyond those and offer them something unique. That can be in the form of a seamless buying journey, informative and useful content, or upgrading your product/service.
2. They Want to Know Every Little Detail of the Purchase.
Millennials have a strong desire to know everything. With Google at their fingertips, they can learn any facts that they want in a matter of seconds. This behavior also comes through in the way they interact with B2B businesses. They like to remain informed about everything related to their purchase. Offering them such information easily will go a long way towards creating a good impression of your business.
Here are some ways that you can accommodate this preference of millennials in your B2B selling:
Offer options for product tracking
Convey the complete specifications of the product/service on your website
Show your consumers the exact pricing of the product/service, without making them call you for a quote
46% of B2B consumers

face difficulty comparing products online. You can resolve this pain point by featuring competitor comparisons on your website.
3. They Need to Be Convinced to Choose Your Business.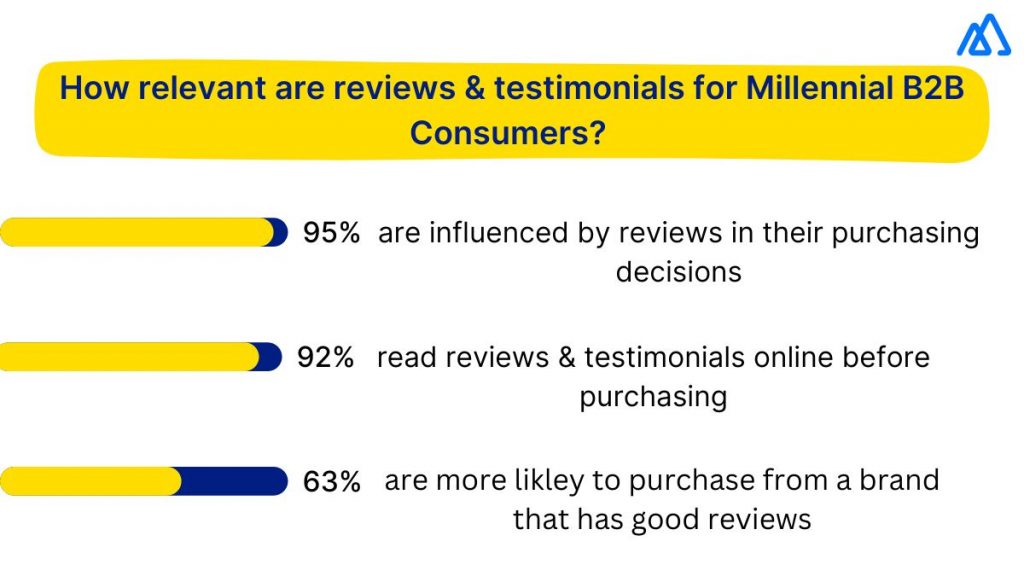 Millennial consumers are well aware of the number of options they have, besides your business. They need to be given a strong reason why your brand is better than the others in the market, and you must make efforts to win them over. Simply having a good product/service will not suffice with respect to millennials.
Instead, you need to showcase why your brand is a good fit for the consumers and convince them to believe in your product/service. One of the easiest ways in which this can be done is through the power of reviews, testimonials, or case studies.
77% of those who have seen a testimonial video about a product or service say that it has motivated them to make a purchase. You can include such content in your marketing efforts or display it on your website and social media pages. When millennials see others having a good experience with a brand, it pushes them to try out the product/service for themselves. This tendency can be leveraged during B2B selling to boost your sales.
4. They Expect Instant Responses.
Your older generation consumers might not necessarily form a bad impression of your brand if your response time is very long, but your millennial consumers definitely will. It is a generation that needs quick and prompt responses, and your business must offer them the same. If you receive an inquiry from a millennial consumer and respond to it after 2-3 days, you can rest assured that you have lost a potential consumer.
What your B2B business needs are a proper system that will streamline all interactions with your consumers. A CRM tool like Kylas has specific features for automation, and integration of communication across platforms, which can help you provide timely responses to all queries of your clients.
The above-mentioned behavioral traits of millennial consumers are just some of the reasons why selling to them becomes a different ballgame for B2B businesses. Even if a business owner knows these points theoretically, it is difficult to practically implement them in the business's operations. We are here to help you gain an understanding of how you can truly prepare your business to please and woo millennials.
---
What Things Should B2B Business Owners Do While Selling to Millennials?
The underlying reason why businesses need to evolve for millennials is the personality difference between them as compared to older-generation consumers. Millennials are sharp, confident in their decisions, resourceful, and empowered to gain whatever they desire. B2B selling must be strategized in accordance with these qualities since 60% of the buyers and decision-makers in B2B businesses are millennials. Only then can you convert them to steady and loyal consumers.
Here are a few ideas that you can easily adopt, which will make your B2B selling appealing to millennials:
1. Build an Image for the Brand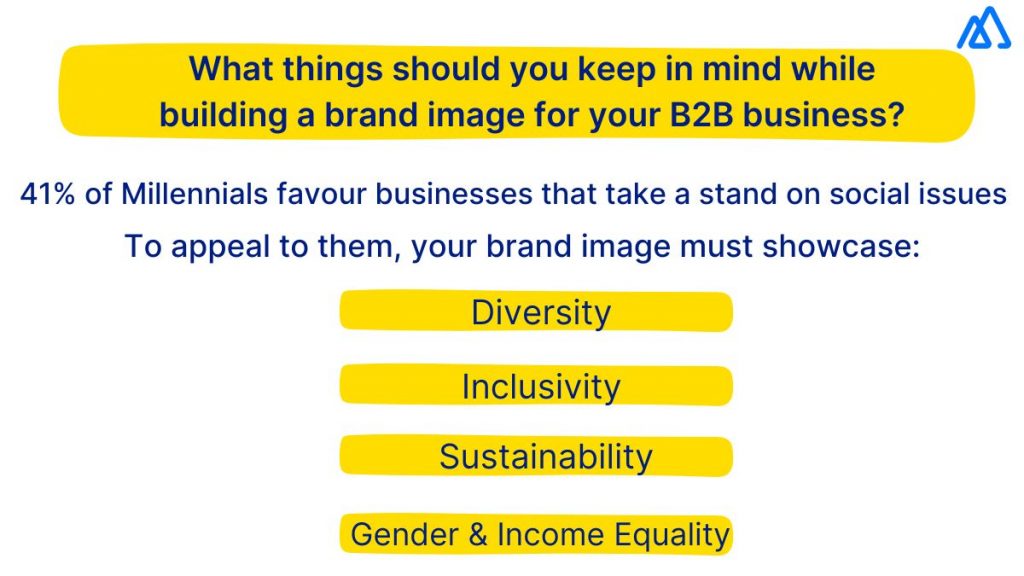 In the wise words of Jeff Bezos, "A brand for a business is like a reputation for a person."
Building a brand is perhaps the most crucial thing for a business because it creates a definable character for it. Let us imagine the thought process of a millennial while choosing between two B2B vendors. Their products are very close to one another in terms of price and quality. However, one business has diverted enormous efforts toward branding.
The millennial will undoubtedly choose the 'brand' over the mere 'business'. Branding is not a single-step activity and must be done methodically. A few ways in which you can begin your branding efforts are by designing a unique logo for yourself, creating a good website, popularizing your business, etc.
However, is it enough to simply make a brand without consciously thinking about the type of brand you're making? The answer is a definite no! Your millennial consumers will be closely observing the type of brand that you create, and here are some things that you must ensure:
The brand should be consistent with the vision of your business, and not confuse your customers regarding the true values associated with it.
Millennials are very conscious of themes such as inclusivity. They will be quick to dismiss a brand that has not embraced these changes, and hence your brand must showcase these ideals.

71% of millennial consumers

anticipate brands promoting diversity and inclusion in their digital marketing strategies.
Concepts of sustainability and environmental preservation are also very popular among millennials. If the perception of your brand is one that respects these ideals, you will definitely find popularity among millennial buyers. This is backed by statistics, which say that

customers are 4.3 times more loyal

to eco-friendly businesses.
Your brand image should ideally highlight all these aspects, which will enhance its appeal.
2. Create a Self-Serve Experience for Them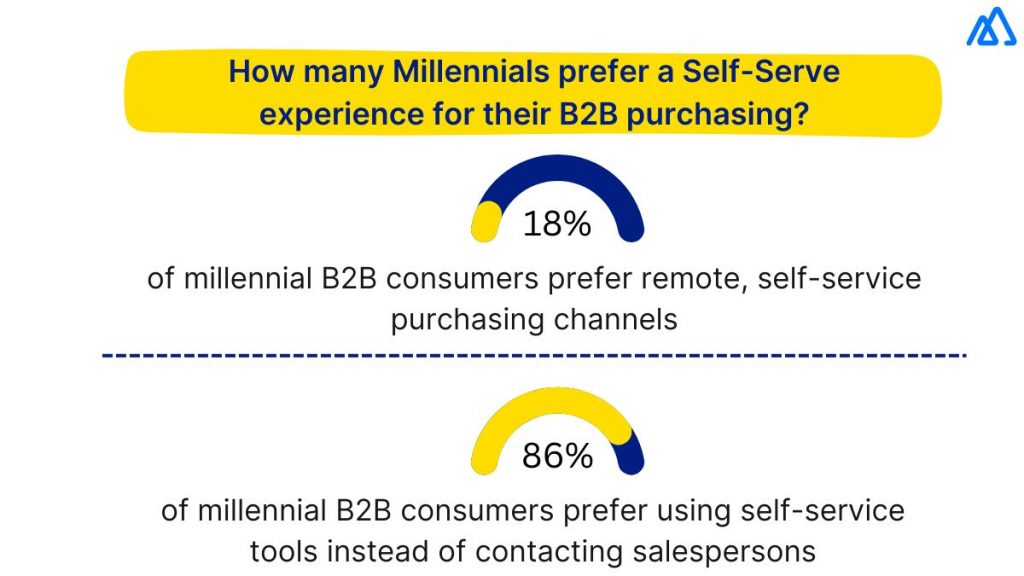 If there is one thing that millennial B2B buyers hate, it is unnecessary handholding. They are a generation that is fiercely independent. They expect this independence to be retained during their B2B purchases. Furthermore, millennials are also extremely tech-savvy and hence want a complete self-serve experience.
A majority of B2B consumers 57%-70% through their buying research before contacting sales. This is only possible if they are given the chance to explore the products/ services on their own, without interference even from the business itself. Millennials prefer to go about their entire purchasing journey without needing to rely on others. How can you offer them this seamless and independent process?
Create easy demos and guides for your product, so that your consumers can access and understand all relevant details on their own.
Ensure all your pricing details are transparent. The ease with which B2B consumers can find pricing details makes a big difference in the success of the business. Statistics have shown that

81% of B2B buyers

prefer finding pricing information on their own and that 16% of buyers will outrightly reject a vendor for not having the pricing details online.
Sales happen easily when they are led by recommendations. To learn about the experience your consumers have had with your brand, one option for your consumers is to personally reach out to people. But there's always a risk that they might think so much effort is not worth their time and will instead opt for a known brand. However, what if you provide this information directly to them? Millennials like to know what they are getting into while deciding to make a purchase. Hence providing them with customer reviews is an easy way to win their trust, as

93% of millennials rely on reviews

.
Provide your customers with a smooth purchase journey, right from the time they begin interacting with your brand, and till the time they

close the deal

.
This type of self-serve experience will give your millennial consumers exactly what they are looking for, and it will make your brand highly desirable to them.
3. Adopt Omnichannel Efforts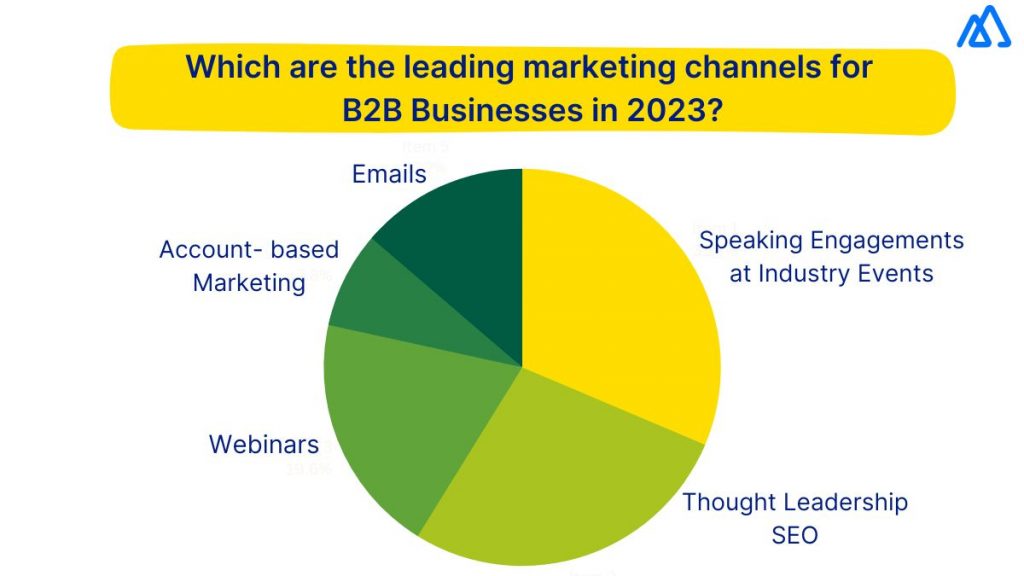 Unlike the older generation of buyers, millennials believe in making purchases from diverse platforms. It can be e-commerce, social media, or digital marketplaces. They are not limited in their notions of how B2B selling should be done, and this offers more opportunities. You can build an omnichannel marketing and sales approach, using a combination of platforms and portals to get the best results.
Statistics show that some channels are more suited for B2B marketing as compared to others. The opinions of certain B2B marketers with respect to the leading channels show that 50% of them believe email marketing gives the best ROI. This is followed by SEO, as per 43% of the people surveyed.
You can create an omnichannel approach by using these platforms and investing in technology that will help you use the platforms in the best way possible. You can also allocate your resources smartly so that you can efficiently capture leads and make sales through multiple channels.
4. Use Customer Data to Their Advantage
Millennials are well aware of the importance of data for businesses. While they are consenting to you storing their personal data, they expect it to be used constructively. They expect you to direct the data towards giving them a more personalized purchasing experience, which aligns with their preferences.
Up to 27% of B2B customers are frustrated by the irrelevant marketing methods used by brands. You must not let your millennial buyers fall within this category! All you need to do is analyze the data to find trends within it. Using these trends, you can customize your marketing and sales techniques to tackle the pain points of your customers. Achieving this manually is a difficult task, which can be done efficiently and effectively by a CRM tool.
A CRM like Kylas stores all your data in a unified platform and analyzes it to identify trends. These trends can help you make informed decisions. It also offers features such as Lead Management, Cloud Telephony, WhatsApp and Email integrations, etc., which will help your business efficiently serve your millennial consumers.
---
In Closing
Reading about the numerous ways in which millennials are different from older-generation consumers might be overwhelming for a B2B business owner. However, luckily for you, you can use these very differences to your advantage. There are ways in which you can evolve your business practices, and such changes will have a dual benefit. They will make your business appeal to your millennial consumers, and also contribute to its holistic growth of it.
Start 15-day Free Trial