Marketing is the lifeblood of businesses. It is the process through which audiences are made aware of a brand and acquainted with its offerings. For some, marketing means distributing printed pamphlets whereas, for some, it can mean writing informative blogs that will educate people about the product and brand.
Irrespective of the exact nature of the tasks, marketing is generally bifurcated as outbound or inbound. The former requires companies to initiate contact with prospects. On the other hand, the latter is a subtle yet effective strategy to attract the right audience. It focuses on creating valuable and relevant content to engage your prospects, and ultimately convert them to customers.
Writing blogs, hosting webinars, or posting content on social media- all are examples of inbound marketing. However, there is one channel among these that works with the utmost efficiency to fuel your overall inbound strategy. That channel is Email Marketing. Emails are considered the most effective revenue-generation source by 59% of marketers.
Your marketing efforts and revenue can be greatly enhanced by understanding this strategy well and leveraging it to its full potential. We are here to help you do just that!
Kylas is an efficient sales CRM tool that can also help in scaling your revenue and profitability. It helps in the end-to-end optimization of your sales process.
---
What Makes Email Marketing Effective?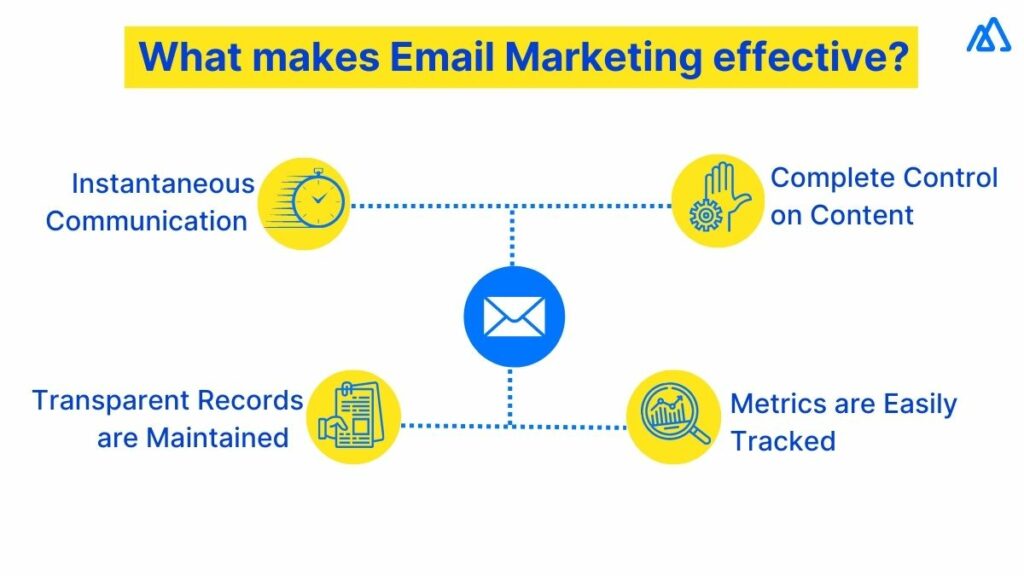 Emails have been and continue to be one of the most popular means of communication. The average number of email users is projected to reach 4.6 billion by 2025. It is hence no surprise that marketers consider this one of the most effective tools to reach their prospects.
Since so many people use this platform, your content naturally reaches larger audiences, and your customer engagement gets an exponential boost. Besides the high volume of people who can be targeted through emails, there are other compelling reasons that make it a powerful channel for your inbound strategy:
1. Instantaneous Communication
Emails are one of the fastest means to circulate your content. 99% of email users check their mail daily, and some users check them as often as 20 times a day. Furthermore, a majority of people prefer to be contacted through emails. Thus, there is faster engagement with such content.
2. Complete Control on the Content
The content of your email marketing campaigns is solely under your control. There are usually certain content guidelines that must be adhered to for social media or third-party advertising. However, with emails, you completely run the show. You can communicate about your brand and product in the exact manner that you see fit.
3. Transparent Records Are Maintained
You can maintain transparent and tamper-proof records of all email communications. This will give you complete insights into your marketing efforts and the aspects in which your content can be modified. In turn, these records will help you strategize your further campaigns too.
4. Metrics Are Easily Tracked
How many people are reading your emails? Which is your best-performing campaign? Which type of content is your audience looking for?
Such crucial metrics can be easily tracked to give you detailed inputs regarding your inbound email marketing strategy. Through data analysis, these metrics can generate valuable insights and help you make informed decisions.
These characteristics of email marketing make it very impactful. However, its benefits are not limited to these. There are other significant advantages associated with it. These work in different aspects and come together to holistically enhance your inbound strategy.
---
How Can Email Marketing Fuel Your Overall Inbound Strategy?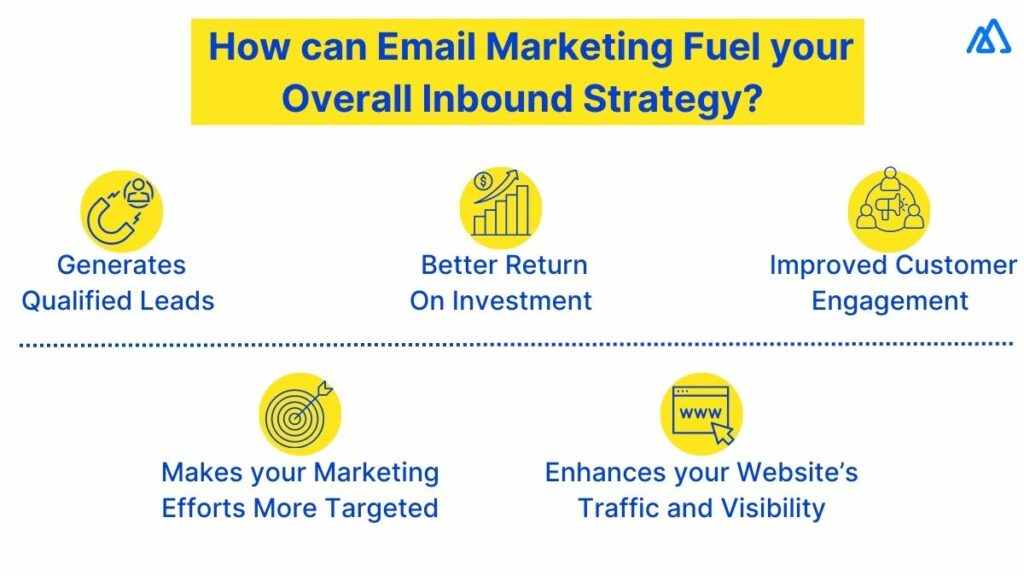 As explained above, there are various components that comprise your inbound strategy. Let us consider some of the channels used in this strategy:
Blogs, eBooks, or Whitepapers all require extensive time to be dedicated towards them
Webinars will consume a large amount of your time and resources
Designing infographics will require specialists
Instead, emails are the simplest and most hassle-free channel. Besides the ease of this method, there are other compelling reasons that make email marketing the ultimate asset that you need to fuel your overall inbound strategy:
1. Makes Your Marketing Efforts More Targeted
The fundamental advantage of inbound marketing is that it focuses on a specific and niche demographic that is interested in your product and brand. Even when compared with the other channels of your inbound strategy, emails are a sure-shot way to reach the right audience and ensure that your marketing efforts are well-aligned. You can use data to identify the relevant audience for your emails and ensure that your content reaches them.
2. Generates Qualified Leads
While a high volume of incoming leads is essential for any business, it is equally important for those leads to be qualified. Email marketing can, no doubt, generate a lot of leads for you but its benefits also extend to maintaining a certain quality of leads. Large volumes of qualified leads will automatically scale your conversions because the leads that you interact with, and nurture will have a real requirement for your product.
3. Better Return on Investment
It costs next to nothing to shoot out an email. But through this simple and cost-effective task, you stand to receive massive returns. The average returns on investment received through email marketing are as high as 4200%, which is an exponentially high value. Besides the costs involved, it is also must easier to send an email as opposed to other marketing tasks like cold calling, arranging meetings, etc. Hence you can gain more returns with a very low investment.
4. Enhances Your Website's Traffic and Visibility
The main purpose of any inbound activity is to make your brand known to the people who might be interested in your products. Email marketing is a great way to send contextual communication to your audience regarding the benefits of your product. Such targeted messages will make people interested in your brand, and they will be more inclined to visit your website. Higher web traffic will eventually help increase your sales numbers.
5. Improved Customer Engagement
Nurturing good relations with leads and customers is the primary objective of inbound strategies. A lot of customers prefer email as a mode of communication, and hence it is a powerful medium for customer engagement. Emails are easy to personalize, and they can easily be sent only to the relevant audience. Besides, their compatibility with all devices increases the convenience associated with them. Hence, customers tend to respond and interact more positively with emails.
These factors contribute towards making your marketing more precise and relevant. If you're looking to power up your inbound strategy, email marketing is the way to go for you. However, before rushing into adopting this strategy, there are a few ground rules that you must be acquainted with.
---
What Are the Essentials of Email Marketing?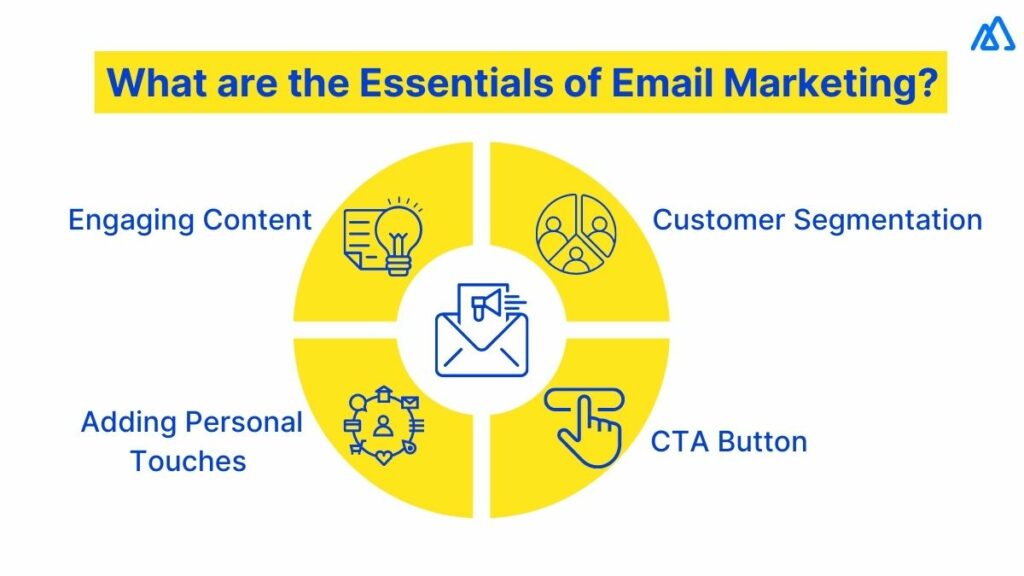 The key to success with any business methodology is understanding its fundamentals. Similarly, to make the most of email marketing, here are a few things that you must keep in mind:
1. Engaging Content
The phrase 'Content is King' holds especially true in terms of your email marketing strategy. Poorly written emails will fail to capture the interest of your audience, and they will create a poor impression of your brand. Instead, if your content is well-structured and insightful, your audience will respond more positively.
2. Customer Segmentation
Not every email is the right fit for every client. This is where customer segmentation becomes essential. You can bifurcate your prospects and customers on the basis of various metrics such as their industry, pain points, budget, etc. Segmentation helps you send customized emails that truly add value to your customers, and this can boost your open rates.
3. Adding Personal Touches
Your emails must not make your audience feel like part of a broadcast list. The goal is to add personal touches which conveys that you have put in effort and thought towards curating the emails. Adding aspects like your customers' names, information about their company or industry, etc. will ensure that your customers engage better with the content.
4. Inclusion of CTA Button
Your emails must contain a prominent CTA button. Call-To-Action clearly communicates your intended message to your audience and guides them towards taking the action you expect from them. It will help you gain more tangible outcomes from your emails, such as more website visits, app downloads, inquiries, etc.
Keeping these aspects at the forefront of your email marketing strategy will enhance its outcome. Another sure-shot way to do so is chalking out comprehensive email marketing campaigns. If you are unsure about how the ideal campaign would look, we've got some pointers for you!
---
Which Types of Emails Should Be Included in Your Marketing Campaigns?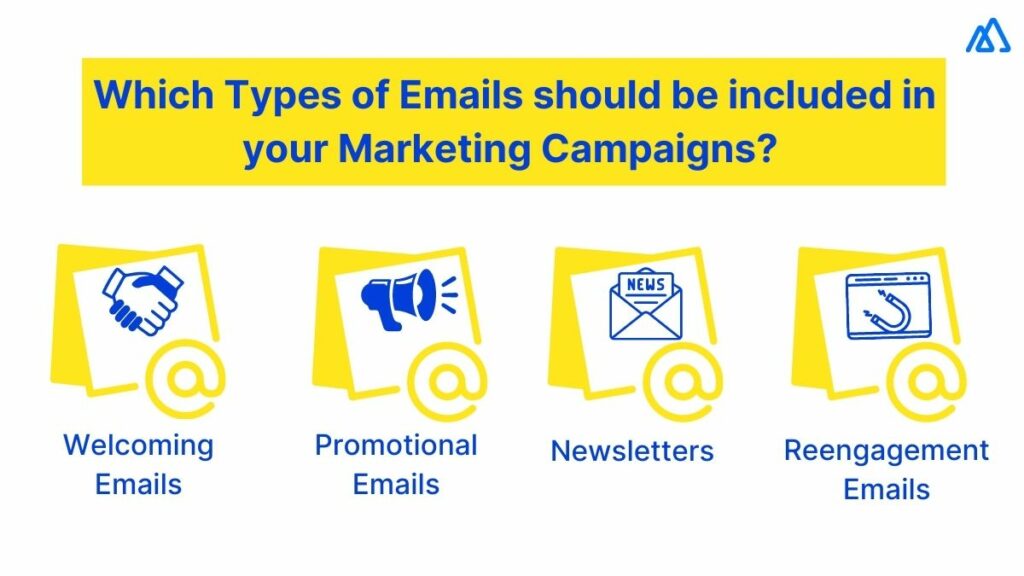 Your email marketing strategy should be curated as per the unique needs of your business. However, there are a few broad types of emails that you should consider including in your campaigns to enhance their effectiveness:
1. Welcoming Emails
These types of emails are helpful to create awareness about your product and brand for new subscribers. Welcome emails have a significantly high open rate of 68.6% which makes them a crucial addition to your strategy. Such emails must be made highly engaging and informative to grip the attention of your new subscribers.
2. Promotional Emails
Promotional emails focus on educating the audience about your existing products, as well as creating awareness about any new products that you may be launching. These types of emails will help you connect with your target audience and inform them of the existing and upcoming solutions you have for them. Such emails are as essential part of your overall strategy, and they can boost your customer retention and revenue generation.
3. Newsletters
Such emails are very useful to spread the word about the latest news of your brand or product. They are effective in building relations as they make your audience feel closer to your brand. You can include information like events conducted, recognition gained, testimonials, clients onboarded, etc. Newsletters are typically sent monthly, but this timeline can be customized as per your requirements.
4. Reengagement Emails
As much as you try to avoid it, some customers are bound to stop engaging with your content. Reengagement emails will help to regain the interest of these customers. Here are a few things that you can include in these types of emails:
Remind the customers of why they originally subscribed to your brand
Include case studies and testimonials to increase credibility
Offer them incentives or rewards to reengage
Collating and analyzing data of your drop-out subscribers will help you curate your reengagement emails better.
Along with these major categories, you can also start sending out birthday/anniversary wish emails, special emails for your VIP customers, etc. Irrespective of the specific type of email, the goal behind your strategy remains the same, which to enhance customer engagement.
---
In Closing
Email marketing is one of the most effective ways to fuel your overall inbound strategy. It takes your content right to the most relevant audience and drives highly qualified leads towards your business. By implementing this strategy correctly, you can take your sales to the next level and ace all your targets!
You can also level up your sales with the use of a CRM like Kylas. Its expansive feature set is designed to bring efficiency in all operations, and it can greatly contribute to your business growth.
Start 15-day Free Trial