Businesses today have transformed their mindset regarding their revenue process. This change has, no doubt, been influenced by the evolution of the buyer's journey. Customers are now well aware of the numerous options at their disposal and expect nothing but the best. Delighting customers at every touchpoint is the key to success in these times.
However, businesses realized that having disjointed departments that worked in silos would have the opposite effect. It would create gaps in the sales cycle and eventually, the customer experience would be compromised.
This caused the rise of Revenue Operations (RevOps)- a holistic approach to empower collaboration between customer-facing departments.
Understanding RevOps
Hearing the term 'RevOps' might be intimidating, as it invokes thoughts of a highly technical, complex, and difficult process. But the reality is that you may already be on the RevOps track without realizing it!
In simple terms, it is a core around which all functions rotate. It brings together marketing, sales, and customer service operations to power up your revenue engine. The essence of RevOps is alignment. It entails defining clear business goals, aligning all teams to work towards these goals, optimizing existing processes for better collaboration among all functions. Your sales are bound to grow if all your revenue-generating departments coordinate seamlessly and work together like a well-oiled machine. It is hence no surprise that 75% of the highest-growth companies are expected to deploy a RevOps model by 2025.
Our expert speakers at the MSME Growth Masterclass decoded the concept of RevOps, and its strategic importance & impact. Click here to hear their valuable insights.
To understand the concept even better, here's a practical example of RevOps through a case study of an educational institute. This approach unites the customer journey across marketing, sales and customer support teams. Multiple lead aggregation channels are united so all teams can access the data through a single source, and no leads get wasted. Marketing and sales work together to find the right prospects so resources can be accordingly allocated. Besides, even customer support teams leverage client data and history to identify opportunities of cross-sell or up-sell. Marketing and sales can again work in nexus to use this information for more closures. RevOps thus works to break down the barriers between various teams, empowers collaboration for higher customer satisfaction, which leads to higher sales.
Editor's Note: RevOps vs Sales Ops
It is easy to get confused between these strategies, but adopting one in place of the other will not work for your business. Sales Operations are solely focused on a company's sales function, but Revenue Operations have a broader outlook and focus on all functions. SalesOps can be considered as a subset of RevOps. Your decision to adopt either strategy should be based on your organizational structure, your growth stage, and your business goals.
---
Benefits of Revenue Operations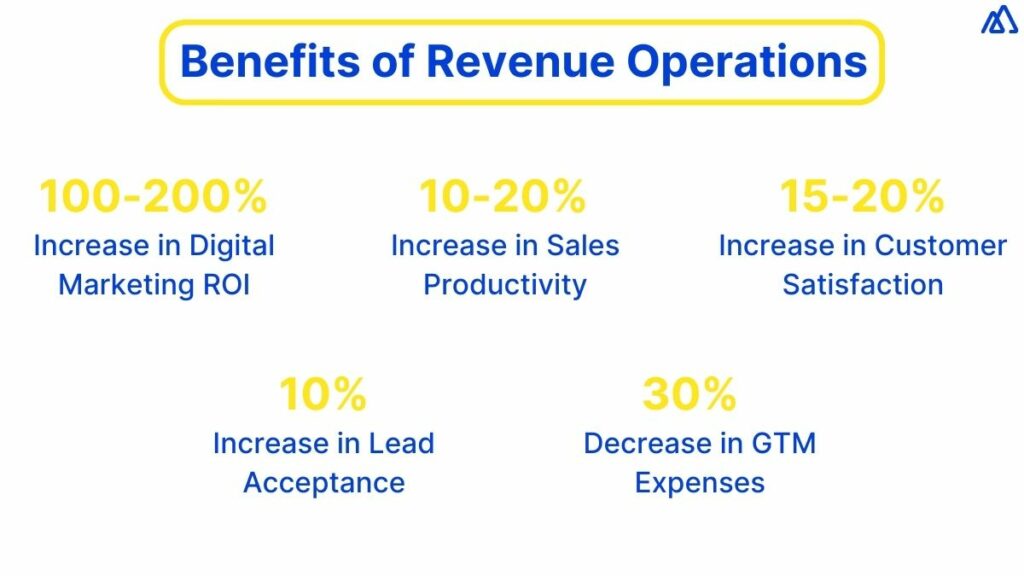 After exploring the concept in such detail, it is very evident that RevOps is vital for a business. The major advantage is the enhanced team collaboration and sales. But are these the only outcomes it achieves? The answer is no. RevOps has a plethora of benefits linked to it. To name a few, it causes a 10-20% increase in sales productivity, and a 3X boost in revenue. Let us now explore some of the other advantages this approach has for businesses:
It brings predictability to your revenue through consistent and accurate measurements. Such predictable business growth helps you plan your future activities, utilize your budgets well, and eventually expand your business.
Increases your adaptability to evolving market conditions and consumer mindsets. It is an agile and flexible strategy which supports seamless internal transitions and helps your teams cope with challenges.
It drives up the efficiency and productivity of your teams. All processes and data will seamlessly flow between departments. Incidentally, It reduces the scope of errors and time lags.
RevOps is a highly

customer-centric

approach. You can offer a top-notch experience to your customers with this strategy, which will positively impact your sales as well as

retention levels

.
---
How to Set up RevOps for Your Business
With these compelling benefits in favor of RevOps, you might have made up your mind to implement it for your business. The question consequently arises of how this approach can be implemented. It is theoretically easy to understand that marketing, sales, and customer support functions are brought together. But practically doing so is another ballgame.
However, there is a simple framework that you can follow to successfully set up Revenue Operations. Each of the steps here focuses on a different aspect of your business, which ensures a comprehensive and all-inclusive RevOps strategy. Here's a detailed breakdown of the framework: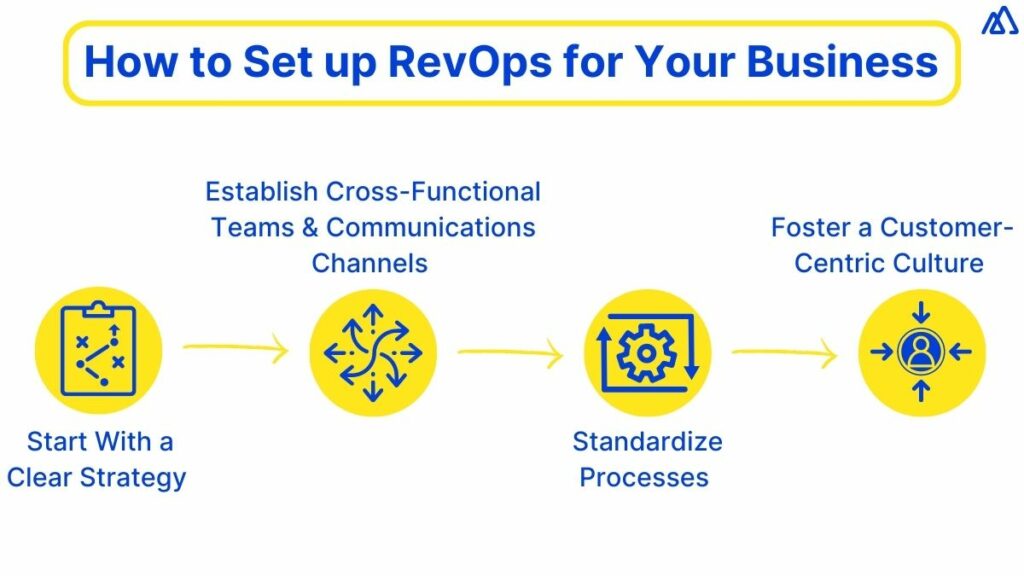 1. Start With a Clear Strategy
RevOps cannot produce successful outputs for you if you have not defined these outputs. It is thus essential to identify what you wish to achieve from it and start with a clear strategy. The strategy must encompass your business's goals and objectives, and the approach towards the same.
The approach should include all your internal processes, and tech tools that you need to implement such processes. It is also helpful to list down the key metrics and KPIs for evaluation of each team's performance. And lastly, because RevOps is centered around the customer, it is important to map out the customer journey across all departments while deciding upon your strategy.
2. Establish Cross-Functional Teams & Communications Channels
Every deal closure requires team-selling and the join efforts of all your departments. This cannot be achieved if all your teams work in silos without collaborating with one another. Thus, you need cross-functional teams with open communication channels. While their individual functions remain the same, the aim here is to unite marketing, sales, and customer support into a single revenue unit.
It is also essential that every team is aligned with the strategy you outline in the first step. For example, your sales team has been given the goal of a 30% revenue increase. But if your marketing team is not kept in the loop too, their efforts will not support or contribute to your goal being achieved. It will happen only if all your teams work towards the same outcome.
3. Standardize Processes
We have already established that Revenue Operations sits on top of all other functions. If each of your departments has its own set of practices, RevOps will never get a chance to streamline and optimize your operations. It can do so only if all your teams follow standardized processes.
You can adopt the best practices that other organizations have previously tried and tested. Alternatively, you can experiment on your own. The only requirement, however, is that all your teams adopt this chosen set of processes. You can create a playbook that outlines the processes, set up training for your teams, or even set custom workflows for standardization using a CRM system like Kylas.
4. Foster a Customer-Centric Culture
This is the most significant part of the framework. Though it appears last, this is your starting point. Your RevOps journey should go hand-in-hand with the journey of your customer's interactions with your brand. Hence, you need to keep the customer at the core and map out their lifecycle, right from the first inquiry till the time they become a referral for you.
Your strategy and processes should focus on delighting your customers. Every team should work towards not only making sales but also offering a good experience to buyers.
Check out this video for some expert advice and tips on how you can set up RevOps for your organization.
---
The Ideal Team & Technology for RevOps
You have implemented Revenue Operations with the above-explained framework. That will help your organization to a certain extent. The full spectrum of RevOps benefits is linked to the strategy being backed by the right team and technology. Typically, organizations do have a separate RevOps function, but if your business is in its initial stages of growth, you might not have adequate resources for the same. That should not be a cause of worry.
If you are looking to create a specific team for RevOps and invest in the right technology to support it, here are some things to consider:
RevOps Team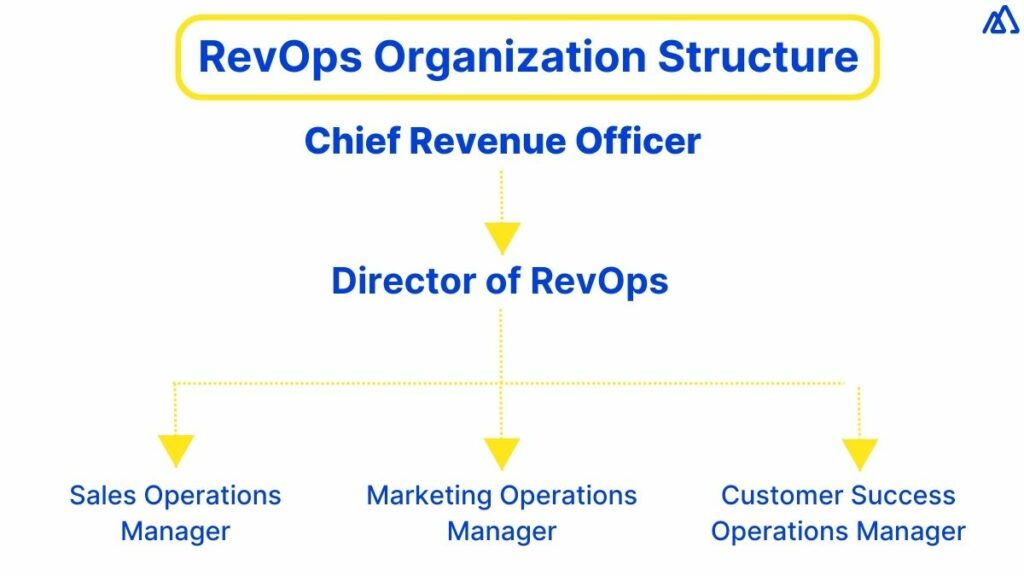 The size and requirements of your business should be kept at the forefront while forming your Revenue Operations team. However, the organization structure shown above has produced successful outputs for maximum organizations, and it can be a good starting point for you.
The structure follows a hierarchy system, wherein the Chief Revenue Officer of your business is at the top. At the interim level, between the CRO and the managers of various departments comes the Director of RevOps. You want to hire a jack of all trades for this position; someone with experience and certain degree of knowledge on the major revenue-generating operations of a business.
The next tier is a team of managers reporting to the RevOps director. Each of these managers should be specialists in their department and completely manage its functioning.
RevOps Technology
Technology is no longer a luxury for businesses, but instead has become a necessity. A strong tech foundation is crucial for your RevOps strategy too.
The main problems that technology solves are data mismanagement and limited bandwidth of teams. Tools like Data Management Platforms or Analytics Platforms will help you make informed decisions regarding your strategy, and help you monitor the progress of your Revenue Operations.
You can leverage tools like Workflow Automation Platforms, Collaboration Platforms etc. to optimize the work of your teams. It takes over repetitive tasks for them and allows them to work with one another. These outcomes are essential for a successful RevOps strategy.
You can get the power of many tech tools in a single platform like Kylas. It stores and manages your data effectively, and helps your teams perform their best. To experience how it can transform your operations, schedule a demo now!
---
Key Revenue Operations Metrics
In an ideal world, your implemented RevOps strategy will work smoothly right from the get-go and work its magic on your business. Although, in the real world, you must take measures to ensure that this happens. You cannot simply let your Revenue Operations run their course and must meticulously monitor it.
Since RevOps covers multiple aspects, there are thus various indicators of your strategy's success. Among all these, here are the key metrics that you should look at: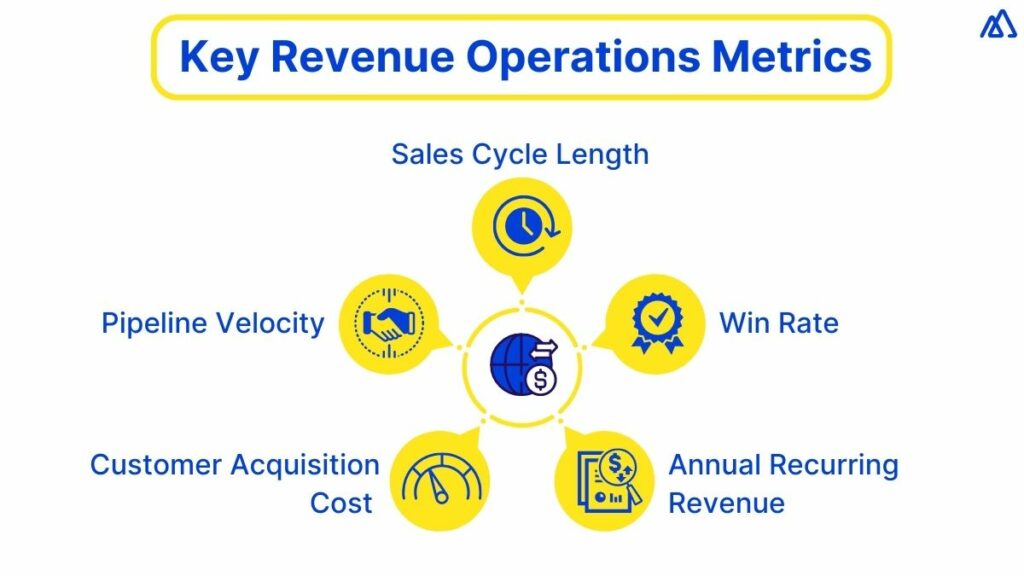 1. Sales Cycle Length
If your RevOps is working right, you should see a reduction in the length of your sales cycle. The elimination of silos and enhanced collaboration between teams will impact how quickly your prospects move through the various stages of your sales cycle.
2. Win Rate
This metric tracks the percentage of opportunities that you have converted to customers. It is a direct indication of how effective your sales process is, and how your other teams are supporting this sales process. A steady increase in win rate and effective Revenue Operations have a direct correlation.
3. Annual Recurring Revenue
Increased revenue is the primary outcome from RevOps. It is essential to monitor this by keeping track of the annual revenue you can expect from recurring billing cycles, subscriptions, contracts, etc.
4. Pipeline Velocity
This is closely linked to the sales cycle length. Pipeline velocity tells you the speed of movement of your prospects through your pipeline stages. It is useful to identify bottlenecks in your processes and leverage your RevOps to rectify these.
5. Customer Acquisition Cost
A truly successful RevOps strategy will optimize not only the above metrics, but additionally, will keep your acquisition costs low too. Tracking this metric will be useful to allocate your resources smartly and increase the profits you can gain from each customer.
Kylas offers robust reporting features that can help you stay on top of every metric. You can create customizable, multi-dimensional reports for every metric and gain actionable insights.
---
Ending Note
You're now fully equipped to set up an effective RevOps function for your business. Couple this with a high-performing, well-structured team and good technology, and your Revenue Operations will be unstoppable! It can set you on the path of exponential growth and drive up your sales.
Start 15-day Free Trial