When you are just starting out as a business, it's easy to maintain the records of your clients and contacts. Because there are only a few clients that your staff handles, it's not a painstaking task for them to manage business operations and processes. But as you grow, you add more customers and employees to your business. This is accompanied by more data, handling which becomes a complicated task over time.
Moreover, if your business information is spread across the company on different spreadsheets, sticky notes, and databases, your sales reps won't be able to get a clear picture of your customers. This will have a direct impact on customer service and you may even lose your precious customers.
Broadly speaking, who doesn't know that building great relationships with clients is the backbone of any business?
To develop and maintain relationships with customers, it's high time that every business, regardless of its size, realizes the importance of investing in CRM or customer relationship management software. This is probably why companies usually invest in CRM technology within the first 5 years. And if your competitors are too using a CRM, you can imagine where you stand in the race without a CRM.
Questions like how to choose CRM and what CRM questions to ask before you choose a vendor are normal and it's best to get all these answered before you make a choice.
If it's your first time in the CRM industry, you need a CRM like Kylas that is easy to set up, easier to use, and easiest to help win customers.
---
CRM Questions to Ask Before You Choose a Vendor
Buying a CRM is a big investment for your business. It's absolutely normal to have a list of questions that you want to clarify before making the purchase. It becomes essential to ask the right CRM questions when you have plenty of options available and choosing the best one is no less than any challenge.
We have compiled a list of CRM questions to ask at different stages of the buying process so that you are sure about what you are going to do and what you will get in return.
---
CRM Questions to Ask Yourself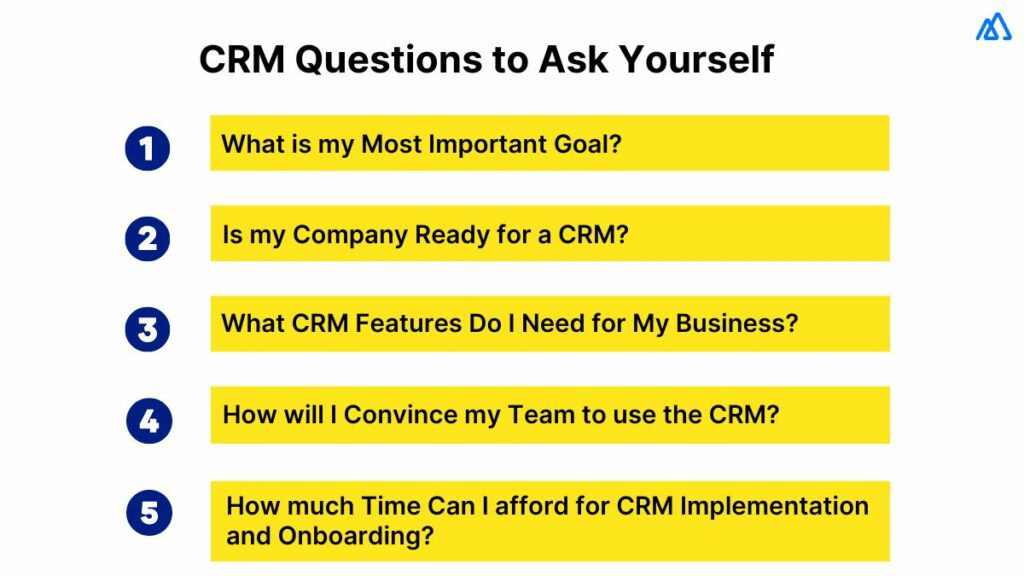 A CRM is not a magic wand that will solve your business issues by just turning it on. Well, it may be if you have a well-thought-out plan. If you do your research and ask the right questions today, you and your sales team will be grateful tomorrow. So, let's take a look at a few important CRM questions to ask yourself before you make any commitment.
1. What Is My Most Important Goal?
Undoubtedly, the most important question you should ask yourself before choosing a CRM is what you want to accomplish with a CRM. Be it boosting your sales, improving team productivity, tracking team performance, or enhancing customer experience, you will surely have a long list of reasons to use a CRM.
But if you give equal importance to each of these reasons, you may not be able to find the right tool for your business. This is why you must identify your most important goal and keep that in front while looking through options.
2. Is My Company Ready for a CRM?
Since you are here, it's obvious that you have made up your mind that you want a CRM for your business. But what matters equally is how the new system will be perceived by your team. You must consider things like your team's technological skills and company culture before you make the big decision.
3. What CRM Features Do I Need for My Business?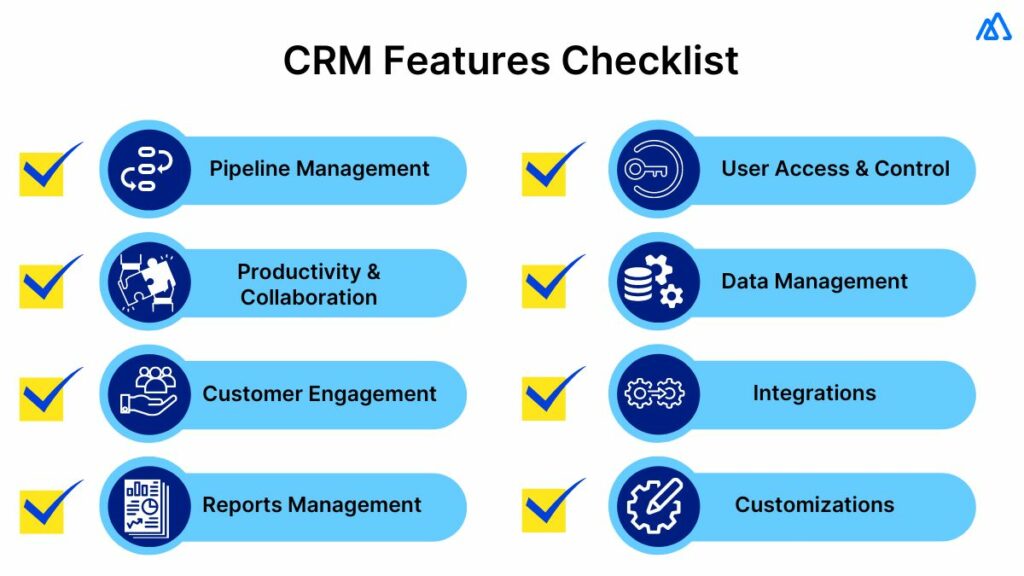 Without a doubt, different CRMs have different feature sets. Some features will be focused on improving the customer experience while some will be focused on improving team productivity. The features that you must look for in your CRM must complement the way your sales team works today.
Get a clear understanding of your workflows and determine where you invest the majority of your resources while choosing a CRM.
4. How Will I Convince My Team to Use the CRM?
The last thing you would expect is your team not using the CRM at all. When you buy a CRM, it is meant to help your team automate their redundant tasks and improve their productivity. It should not become a showpiece that does no good for your company. Before you buy a CRM, you must devise a plan to get your sales team to adopt it and get value from it.
5. How Much Time Can I Afford for CRM Implementation and Onboarding?
There is no denying the fact that CRM implementation and onboarding will take some time. You will have to organize training workshops for your team to get acquainted with the CRM and start using it full-fledged. Your team would also need some time to shift their manual processes to CRM. This is why you must determine how much time you can afford for the implementation and onboarding process.
---
CRM Questions to Ask Your Vendor
After you have cleared your mind and know that it's the right time to buy a CRM, the next step is to find a CRM that is suitable for your requirements. Now again, there will be a lot of CRM questions that you would want to ask your vendor before you buy from them.
To help you in making the right choice, we have compiled a list of questions you must ask your vendor to help you with your "how to choose a CRM" doubt.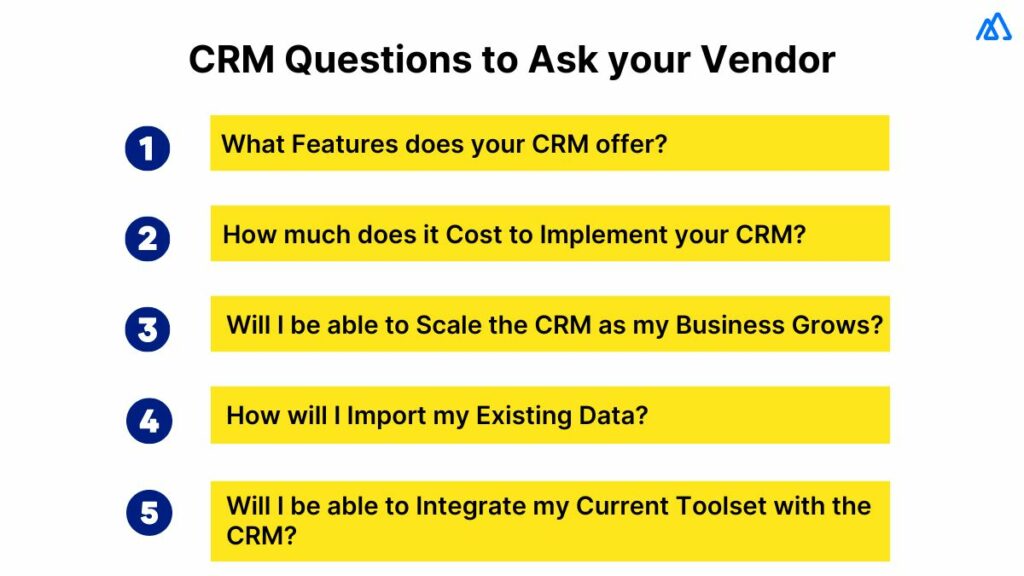 1. What Features Does Your CRM Offer?
Altogether, what matters the most is what features a CRM has got to offer. Checking the features offered by a CRM and matching them against your business requirements has to be your first step in the buying process. It will help you decide if the CRM is suitable for your requirements or not.
Features like pipeline management, reports and dashboards, sales automation, data management, security, and integrations are some key features that work for every business. As per Software Advice, 94% of businesses look for contact management in their CRM while 88% want to track interactions with their CRM. Based on your requirements, you can ask the vendor how their CRM features will be able to help you achieve your business goals.
2. How Much Does It Cost to Implement Your CRM?
Budget is an important constraint that can make or break a deal. It's completely fine to be budget-conscious and keep a budget aside for your CRM. Apart from the subscription costs, your CRM vendor would surely have other indirect expenses that get added up to the whole cost of the CRM.
Implementation, onboarding, training, data migration, and customization expenses are quite common for vendors to charge. Not all salespeople will educate you about these hidden costs and it's best to inquire about them upfront. This will avoid confusion and you will be able to make an informed decision.
3. Will I Be Able to Scale the CRM as My Business Grows?
Without a doubt, easy scalability is a key benefit of modern SaaS products. But it's always a good thing to clear everything beforehand. Do check with your vendor if the software allows you to add new users or remove the existing users. Also, ask how much time it would take for you to add a new user and the benefits that the vendor offers when you scale up.
The CRM that you buy today will be used for years to come. This is why you must ensure that it won't be a hassle for you to scale up and down as per the requirements. Ask your vendor everything related to scalability so that you don't have to face issues in the future.
4. How Will I Import My Existing Data?
If you have been running for years, you must be keeping your data safe in some kind of database. This means that you would need to transfer all this data to your CRM so that it is available as and when required. Manual data entry is not something that you would be interested in.
This is why you must ask for the features that the CRM offers to import your existing data. No doubt, most CRMs offer this feature but you cannot be sure about it until you ask your vendor.
5. Will I Be Able to Integrate My Current Toolset With the CRM?
You are looking for a CRM to make your and your team's job easier, not more difficult. So, you must consider the tools that you currently use and would want to use with your CRM too. The CRM you choose must be able to allow you to integrate different tools that you have already been using.
You want a CRM that collects all the required data automatically from different platforms. If you have to copy and paste everything over and over again, there won't be anything worse than this.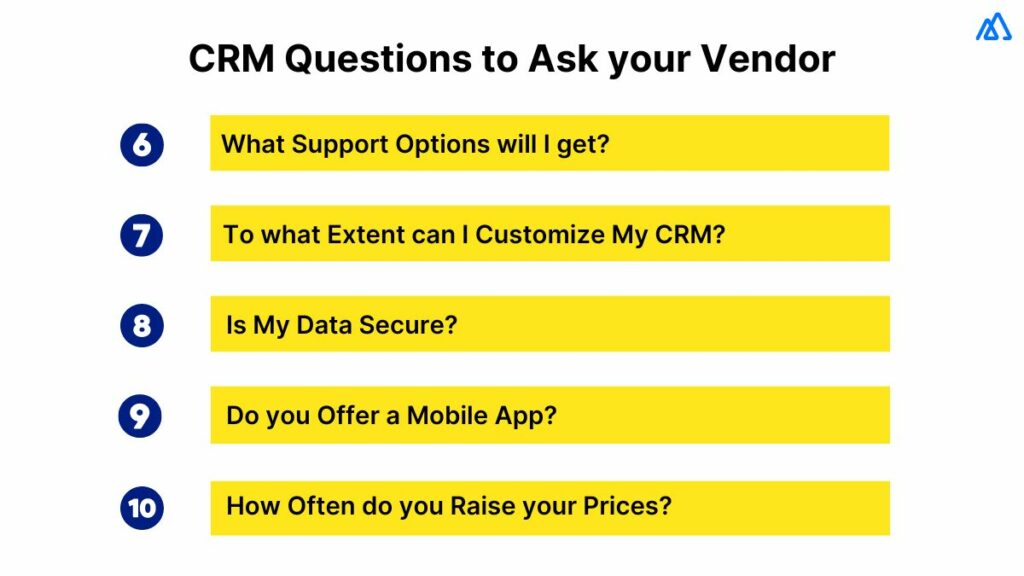 6. What Support Options Will I Get?
Being a buyer, you would want your CRM vendor to offer the best customer and tech support services. But the truth is that not all vendors are interested in providing the same level of services to all customers. In general, support services depend on the subscription plans you have and even if you can pay for premium support at an additional cost.
It's great if your current IT team is experienced in troubleshooting software issues. But at times, you would want CRM experts to help you with your needs. So, better ask your vendor about the level of support you will be given after your purchase.
7. To What Extent Can I Customize My CRM?
There is a limit to the level of customization that you can get. Most vendors may allow you to customize the interface layout, create custom workflows, and add tasks. Some may even let you create custom fields to let you accommodate more customer data. But you need to ask your CRM vendor what level of customization you will be able to achieve with their CRM.
8. Is My Data Secure?
When you are in a business that is built on trust, you cannot take a chance with data security. If you store all your customer information and interactions in a place, you want your customers to trust you with the information they share. This is why it is important to ask your CRM vendor about the data security practices that he uses to keep your customer data safe.
9. Do You Offer a Mobile App?
In the modern world, most businesses offer mobile apps. But you won't get full access to the mobile apps until you upgrade to a higher pricing plan. While you are taking a demo of the product, you must also ask the vendor to take you through the mobile app so that you can check the ease of use and the features that the app provides. Clear all your doubts about the mobile app features, pricing, and support with your vendor so that you can make an informed choice.
10. How Often Do You Raise Your Prices?
It's true for every business to raise their prices over time for obvious reasons. So, CRM vendors also raise their prices every couple of years. But to what extent you must expect the raise to be is an important question to ask. So, ask your vendor when the time was when they raised their price and by how much. If the raise is too frequent, you better look for another option.
---
Conclusion
Without a doubt, a CRM can prove to be a great asset for your business and help you achieve your goals like never before. But before making a big commitment, you must ensure that you are making the right choice. This is why we came up with a list of CRM questions to ask to help you with your "how to choose a CRM" anticipation. Ask these questions and many others that come to your mind and find a great tool to enhance your overall business productivity.
You can schedule your demo with the CRM experts at Kylas and ask them as many questions as you want during the demo to make an informed decision.
Start 15-day Free Trial