"Great things in business are never done by one person. They're done by a team of people."
This observation by Steve Jobs might be one of the reasons for the booming success of his empire. Businesses would go to any possible lengths to try to replicate even a portion of it and build strong relations with their customers.
Turns out, they can get a step closer to it by simply creating a strong team.
The Importance of Collaboration
Workplace collaboration helps you enhance customer relations and increase sales by up to 27%. Let us consider a practical example of this. Marketing, sales, and support are the primary customer-facing departments. In the initial stages of the sales cycle, utmost coordination is needed between marketing and sales to identify qualified leads, and nurture them by sending relevant content at the right touchpoints. Furthermore, the support team needs to be aligned with the ongoing work of the other departments to be able to resolve customer queries efficiently. If your teams cannot work well together, you can lose out on a lot of deals.
Though it is easy to understand the importance of collaboration, it is not as easy to implement it. If teams manually shared information and communicated with each other after every action, it would take up most of their day and cause chaos. However, there is a tool that can help you out here. It is none other than CRM! One of its use cases is creating a seamless network between all your teams. CRM collaboration can transform your business into a powerhouse of productivity! By smartly leveraging it, you can empower your teams for maximum success.
Kylas is an enterprise-grade sales CRM, designed to help growing businesses scale with expertise. It is reliable, easy-to-use, and cost-effective. To know more about how your business can grow with Kylas, get in touch with our experts!
How Does CRM Enable Collaboration?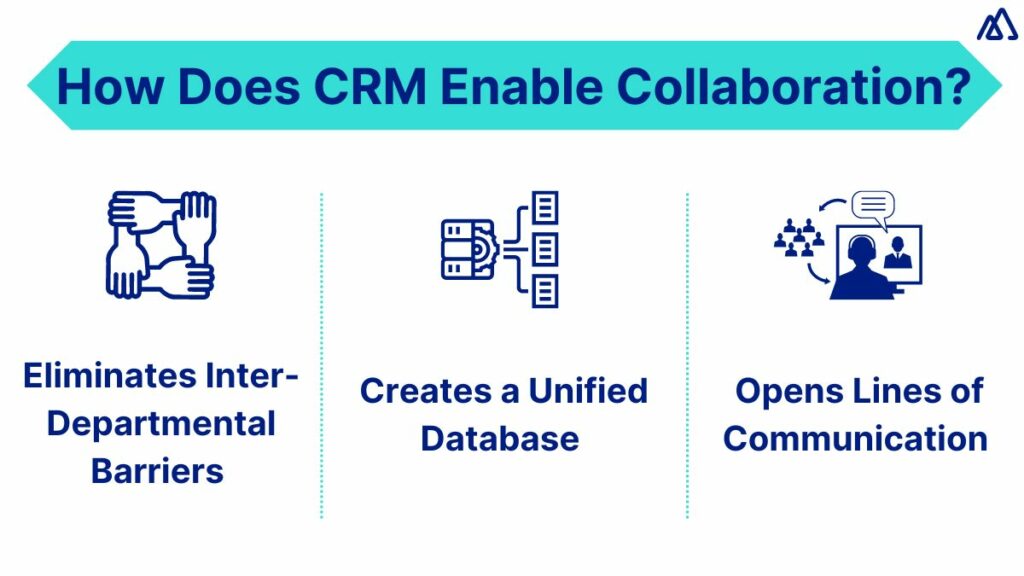 83% of employees swear by technological tools like CRM for collaboration. But we don't want you to simply take anyone's word for this! Through a series of examples, we can back these claims and help you understand how CRM enables collaboration.
Eliminates Inter-Departmental Barriers
Compartmentalization is necessary in a business. However, it needs to be done in a way that the work is segregated, but your teams are not disjointed. CRM helps to achieve this. For instance, marketing teams can access data of support tickets received and create content that can help resolve pain points of customers. Similarly, sales teams are aware of the discussions had with pre-sales teams and can accordingly pitch to clients. Your teams can thus handle their individual workstreams but without working in silos.
Creates a Unified Database
We have established that CRM breaks down inter-department boundaries. But which functionality makes this possible? The answer is data sharing. All data, including client details, call records, email responses, and other documents are managed within a single platform. CRM creates a shared database for all teams to access. It replaces individual files and records to maintain complete transparency. Without this, your sales teams would have to scramble for information during every client interaction. This will cause inefficiency, delays, and errors in their work. Instead, they can have every important input at their fingertips and close more sales.
Opens Lines of Communication
Now coming to the next aspect, tell us if this sounds familiar to you. Your teams struggle to communicate. Thus, their tasks get missed, and confusion takes over. If this is the state of your teams, you need CRM collaboration to help them interact easily. Sales teams should communicate easily with marketing to nurture customers at the right touchpoints. Pre-sales and sales teams also need a consistent line of communication between them to tackle incoming leads and secure more conversions. The saying 'communication is key' has never been truer than in the scenario of a business with multiple teams, and CRM helps to establish it.
These are the primary ways in which CRM collaboration works. They cover all the important aspects of successful teamwork and enable your organization to work like a well-oiled machine.
---
Benefits of CRM Collaboration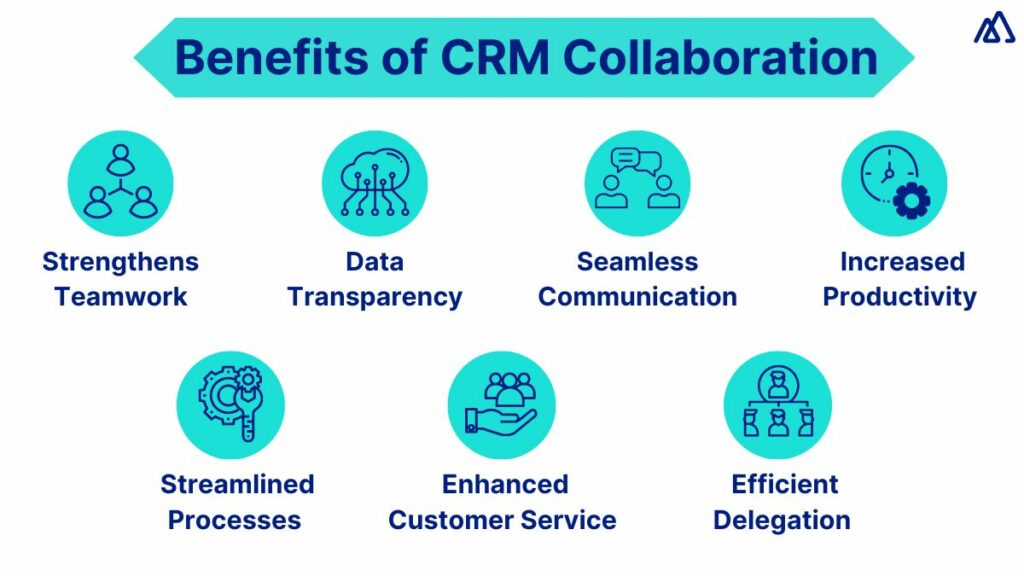 We're already aware that workplace collaboration can boost sales by strengthening customer relations. Your customers will remain delighted with your services, since your teams can work together to out their best foot forward. However, we have barely scratched the surface of all the good that it does for your business. If we look at the ways in which CRM enables collaboration with a different perspective, they all turn into advantages.
Firstly, it connects all your departments and brings them together as a cohesive unit. It is evident why this is a plus point for a business. Order and efficiency take over all operations and chances of errors are reduced, which is exactly what businesses strive for.
Next comes the benefit of creating a centralized database. Chaos would ensue if every team stored its data separately. Your marketing team might choose spreadsheets and regularly update them, but your support team might not be as prompt with their manual data entries. The result? Data would stay hidden with each team, and no exchange would be possible. It would compromise all your operations and deals would slip through the cracks. You get a shot at avoiding all this with a common platform for data storage.
And finally comes the seamless communication network that it sets up. CRM provides tools for efficient internal interaction. All updates can be communicated between teams through the platform itself, and records too can be maintained for future reference.
There are numerous other benefits linked to it too. All these complement one another, and work together to strengthen your operations and customer relationships to increase revenue. Let us explore these benefits:
Enhanced Customer Service
The relationship with customers is one of give and take. You give them enhanced services, and you take back their loyalty. Your priority, thus, should always be to provide them with a top-notch experience to foster lasting relations. A large part of this entails providing them with a hands-on team who can support them every step of the way. This is possible through CRM collaboration. It ensures that every team member has access to the history and real-time status of every customer. Your customer hence gets a seamless experience with your business, even if your internal team dynamics change.
With disconnected teams, you would be giving your customers a lot of excuses and shoddy services. This is bound to cost you the customer, especially in today's business landscape when customers have numerous options at their disposal. Instead, a well-coordinated team and smooth services will give reasons to customers for sticking around with your brand and making repeat purchases.
Increased Productivity
97% of employees agree that poor alignment among teams impacts the outcome of tasks and projects. You sure do not want your employees feeling the same, for it will hamper the results you gain from them.
CRM collaboration increases the productivity of your departments. Instead of each member being a lone player, it creates a system of harmony for everyone to work together. Selling is a team activity, and deals can be closed efficiently only with the combined efforts of all members. Productivity is thus bound to increase when a common platform is given for all teams to manage and execute their work from. Like the scattered pieces of a puzzle being brought together, CRM brings all operations to a single platform for all teams to have real-time updates. This helps them work faster and undertake more targeted efforts.
Streamlined Processes
Imagine this- You have numerous teams working on a deal, and it is likely that each team has its own way of doing things. Be it the way they record data, or the way they delegate tasks; but each team follows its own processes. When these teams come together, these multiple processes will cause chaos and miscommunication.
It is crucial for you to keep these two aspects away from your business, and hence you need streamlined processes. CRM regulates the work of all teams and creates a standard procedural framework. Uniformity is maintained throughout your operations, and they run like smooth clockwork. This will also contribute to your teams' productivity since there are standard processes set for them to follow.
Efficient Delegation
A 'one-man army' sure sounds impressive. But is it practical in the case of a business? If branding, advertising, pre-sales, sales, and customer support all had to be managed by a single individual, he would not be able to get anything done properly. This is the importance of delegation.
Delegating tasks and sharing the workload is an important part of collaboration. Without CRM, delegation would be done through traditional means like sending emails, dropping messages, written instructions, or even verbal. Tracking assignments through such channels is difficult for both the assignor and assignee. Instead, tasks can be efficiently assigned and easily tracked on CRM. By streamlining the delegation process, it empowers your teams to perform their tasks well.
These benefits brought by CRM collaboration positively impact the business at large, and also enable every team member to perform better. It is thus no surprise collaboration and teamwork are crucial for 75% of employees.
You need to choose the right software to make the most of CRM collaboration. But with so many players in the market, it is difficult to choose the best CRM tool. However, there are a few things that you can look for which choosing a system to help your teams collaborate.
---
Functionalities That Enable CRM Collaboration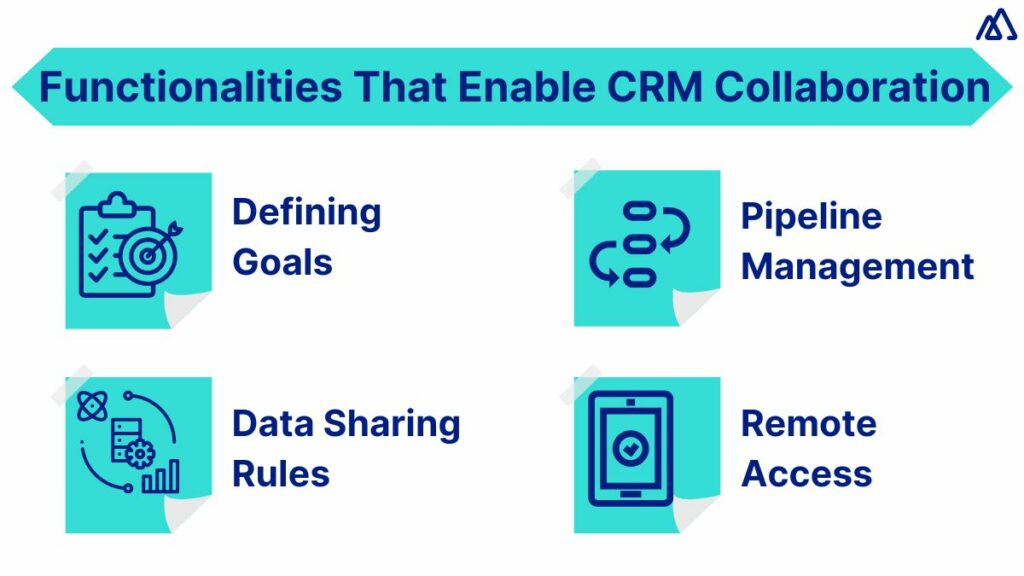 The capabilities of CRM platforms determine what they can do for your business. If your desired outcome is CRM collaboration, it will not help to choose a system that specializes in lead management or sales automation.
There are a few functionalities that are necessary for effective CRM collaboration. If your software offers these, you can be rest assured that it will help your teams work well together.
Defining Goals
Teams always perform their best when they have clear targets in sight. Let us consider an example in support of the same. You expect your support team to resolve 50 complaints in a day, but do not tell them the same. As a result, they tackle only an average of 30 complaints daily and dedicate more time for their other tasks. However, if they were given a clear target, they can use their time better and ensure that they are delivering the expected outcome.
This is possible by defining goals in your CRM. Systems like Kylas have specialized features to create and track goals for your teams. Every department's work can be organized and duplication can be eliminated. Team members can also set goals for one another, thereby helping them collaborate and delegate tasks better.
Pipeline Management
Pipelines are a visual representation of the movement of your prospects, right from an inquiry till a sale is closed. If you are confused about how they help collaboration, consider this. Without effective pipeline management, your sales team is unaware of the progression of the lead. They are assuming that it is still in a primary stage and have no way to verify. Thus, they will not be equipped to handle it to the best of their capacity when the lead eventually reaches them.
Pipeline management tells your teams exactly when they need to spring into action. They can use their time to study the client, track his past interactions, and bring their A-game when it's their turn to work on the client. With such a strategic approach for every team, your closures rates can soar.
Data Sharing Rules
We've talked in detail of how data transparency is useful for collaboration. But it's a fine line between having free data access and bombarding your teams with unnecessary information. Data sharing rules help to define this line.
CRMs enable you to maintain a firmer hold on your data and restrict access whenever necessary. A fine example of this is Kylas, which allows you to customize the data fields on lead forms that can be seen by different teams. They can only view the information pertinent to their work. Though it might not seem very evident at first but controlling data sharing is also essential for collaboration. Your teams can focus solely on their tasks without being caught in the chaos caused by large volumes of data.
Remote Access
Working in today's times is not confined to sitting at your desk. Business takes place from anywhere and everywhere, and a good collaborative CRM will support this.
Remote access lets your teams coordinate with each other even when they are on-the-go. Team members can get real-time updates of every update, and documents and data can be easily shared. It also enables constant and seamless communication. For instance, remote access will enable your field sales team to coordinate with marketing for the required material while meeting with a client. The work of your teams thus remains uninterrupted.
These features will help you narrow your search pool while choosing the right software. However, you must also consider other factors like the budget and ease of use. CRM collaboration can be achieved only if all your teams use it. A system with high per-user charges, or a difficult interface will prevent this from happening.
Ending Note
You can harness the full potential of your CRM system by using it for collaboration. It can turn every member of your team into an overachiever, since their work will be easier and more efficient. You can create shared goals and objectives and watch them working towards the same together. All this contributes towards elevating the customer experience you offer, and building stronger customer relations. Your teams can remain completely aligned with CRM collaboration, and you can ace your sales targets!
Start 15-day Free Trial