Nearly 71% of sales professionals say their top priority is to close more deals. But still, they feel that closing a deal is tough and rare. With over 5.7 million sales representatives all over the world, you have to deliberately set your goals and build your strategies with a crumb of this workforce.
Each member of your sales team is there to win over others by helping your customers with what they are in need of before trying to hit those numbers. If you know the art of convincing, you can dominate the market even if you are a blooming business.
When applying your sales closing techniques, you don't necessarily have to think about closing all the time. Instead of this, start by understanding the pain points of your customers and how well your brand can cater to their needs. Learn to ask the right questions from your customers and be ready with your answers as well.
Closing deals becomes a lot easier when you have all the information related to your leads.
What can work better than a sales CRM like Kylas that comes with in-built features like user management and access control to help you take deals to the finish line?
What Does Sales Closing Mean?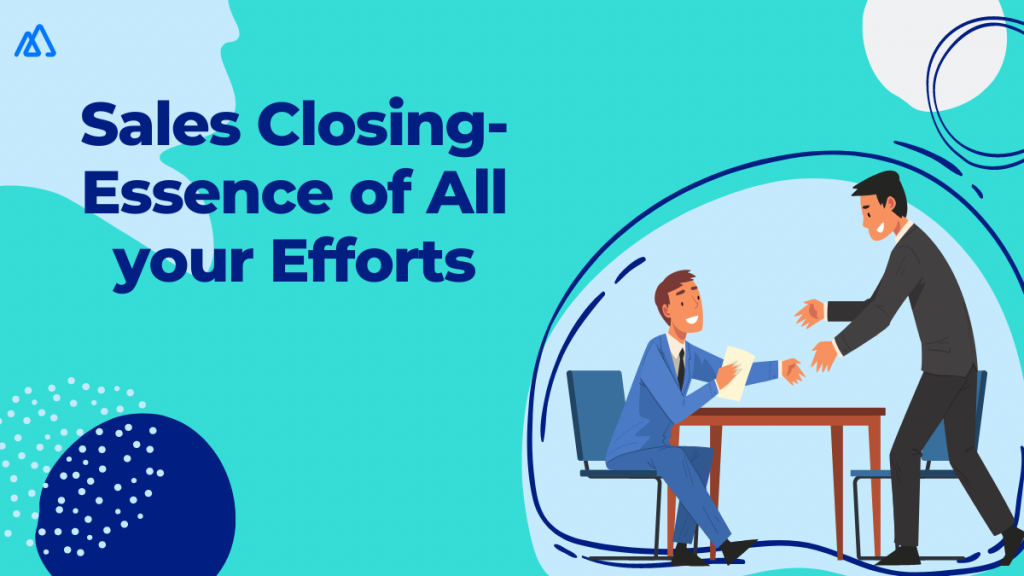 Sales closing is an important term used by businesses to keep track of their overall revenues. You close a deal when a prospect agrees to do business with you at a price that you both agreed to. It's truly the acme of all the efforts your sales reps have put into convincing your prospects to believe in your business, product, or service.
When the sales reps know the prospect's pain points, they have more chances of making the conversion happen when the iron is hot. To reach that yes, you will have to keep a lot of patience and persistence even after you have heard a no several times. You better know that 80% of sales require 5 follow-up calls after the meeting. But not many sales reps are ready for that. Also, around 44% of sales reps give up after 1 follow-up.
Regardless of the business, you are in, closing sales is the absolute thing for you. For this, you would need a determined, knowledgeable sales team that knows your business and several sales closing techniques that will make all the efforts count.
Why Is Sales Closing Important?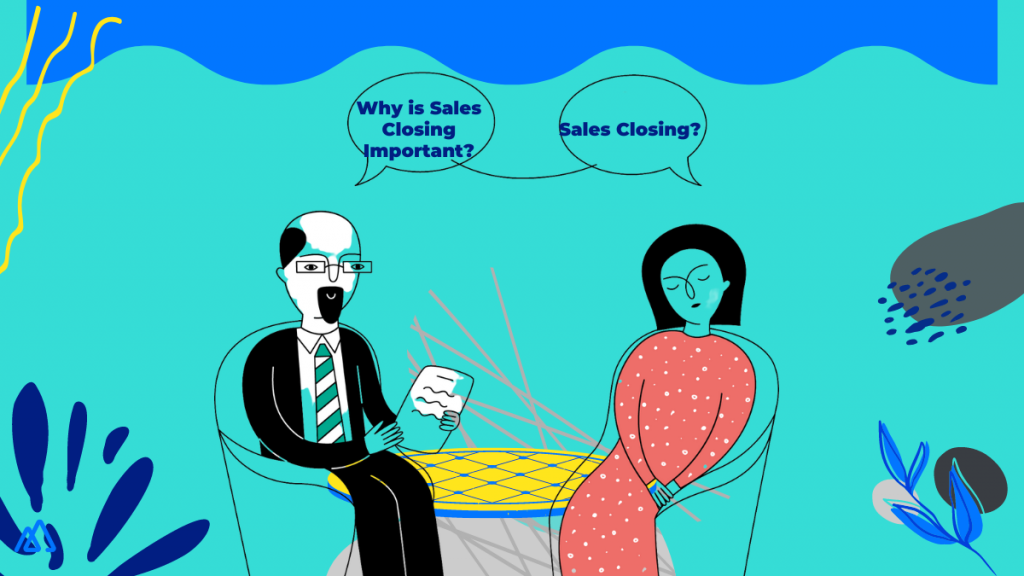 Sales closing should not seem like an unfamiliar word to your team because this is what all their efforts should ultimately lead to. For any business, success is counted in figures of two things- how many people know your business and how much revenue you make. That's it!
From all those sales calls and demos to lead qualifications and negotiations, it's eventually the transaction that bears fruit. Consider sales closing as the final cherry on the top without which your sales cycle is incomplete and all your efforts will go in vain.
The right sales closing questions can be a deal maker or deal breaker for your business as they help the customer realize whether they want or don't want your service or product. The salesperson can impress the customer to a level that he will at least browse through it even if he is not ready for a deal. And hence, this may uncover the hidden needs and result in a sale for your business.
How to Build a Team That Is Good at Closing Deals?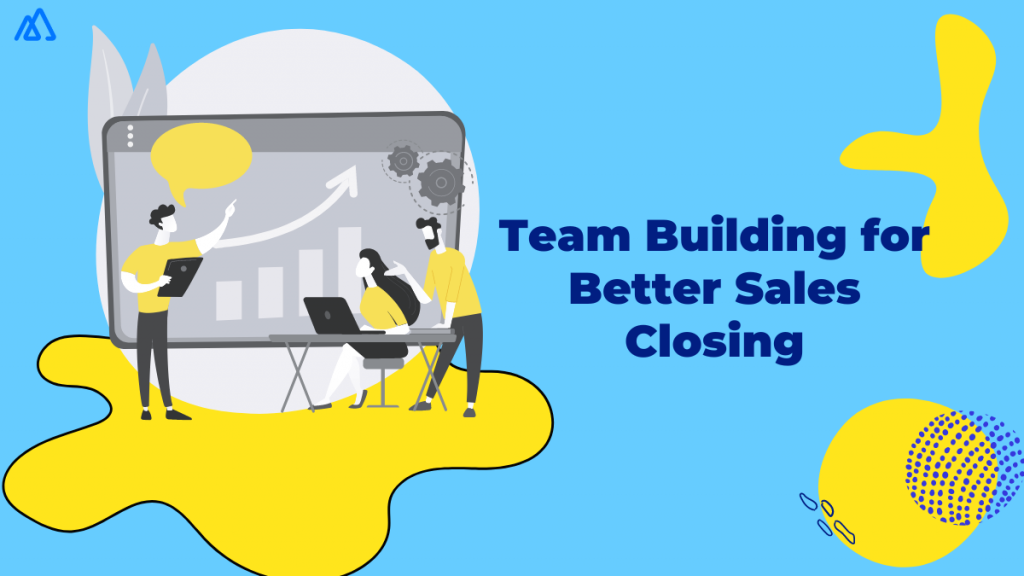 When it is about building a sales team that is beyond par at sales closing, businesses have to consider every aspect of their businesses. While it's essential to onboard the right people in your team, it doesn't stop here. Instead, there are a variety of areas that you would need to consider to hit your sales goals and generate revenue.
Let us now take a look at a few points that will help you in building the right sales team that you are in need to take a step forward.
1. Improve your Hiring Process
The success of any sales cycle depends on the people driving it. This makes it obvious and important for you to hire the right representatives for your business who have the ideal skills and experience. Identify key competencies so that only the right individuals are applying for the job.
While you would want your sales representatives to start working towards your goal, expect them to take at least nine months to reach expected productivity. Additionally, build programs to enhance their selling skills and competencies over time. Show them the path of productivity so that they know what they are needed to do in your company.
2. Structure your Business Process
While structuring your business, make the right choice. For growing businesses, assembly fits in as the best sales team structure that divides the entire sales process for your organization. In the structure, each step of the line defines the role of your sales team and reduces the complexity of the sales process.
You can make use of a CRM like Kylas to define roles for each team member and ensure that everyone is on the same page. Your team needs to understand what they are working towards and their individual and team goals. Basically, make your expectations clear on how you can all work together to achieve your goals.
3. Align Marketing and Sales Teams
You may have a splendid sales team but still, they can't do everything it needs for your business to grow. To make your sellers the best they can be, they need to align with your marketing team for better communication, avoiding gaps, and working towards a shared goal.
When marketers are involved in the sales process, they get well-versed in customer thought processes and hence, can make better strategies. When sellers and marketers work together, they can build better plans sales reps can use to move deals through the sale cycle.
4. Use the Right Selling Tools
For a successful selling job, certain selling tools are required by your sales representatives like a sales CRM. With Kylas as your CRM, you will be able to store all your prospect's information in one place and hence, can effectively keep an eye on all the activities and the status of the leads.
As sales technology has evolved over the last few years, it's essential that you equip your sales team with the right technology that leads to success in the sales process. There are several sales engagement tools and productivity apps that will empower your sales representatives to do more.
5. Create the Right Culture for your Team
Your company culture says all about what you are planning to achieve in the long term. Just because you have the right people in your team and they know what they are for in your company doesn't mean that you will reach success in your endeavors. The best sales team needs the best place to work.
Your road map to success shouldn't just tell your team what they must do but also encourage collaboration and ongoing feedback. As a business owner yourself, you must provide your team with the right business culture that they love spending time in. This will have a direct impact on their overall performance.
You can achieve your business goals only when you have the right salespeople working in the right sales environment. Map the entire sales process and see what you can do to convert maximum leads and generate more revenue.
What Are the Best Sales Closing Techniques You Should Know?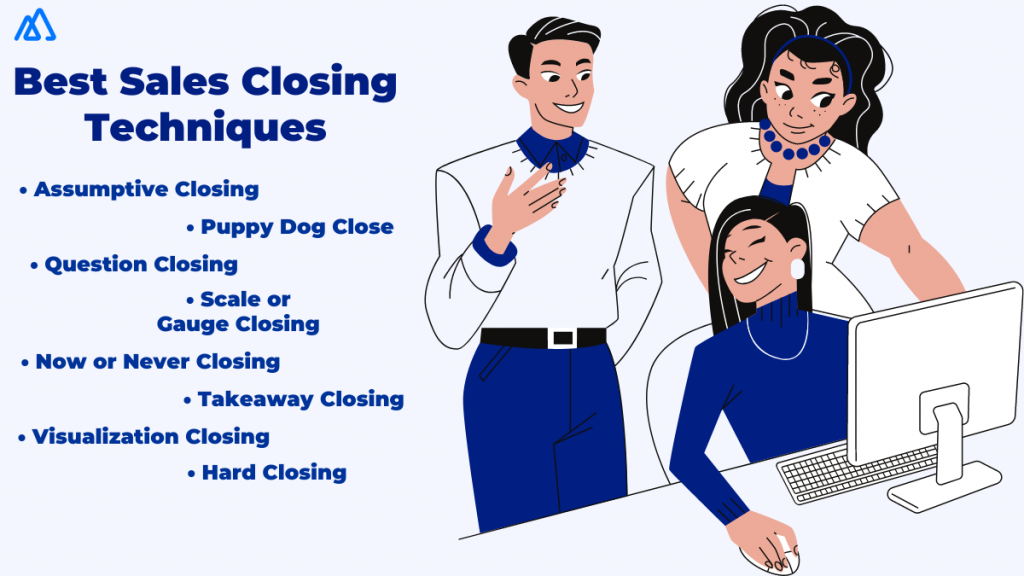 Before we start discussing different sales closing techniques, know that no one-size-fits-all. The technique you use will depend on the customer you are dealing with, the situation you are in, and of course, the prospects' needs. It is completely up to you if you wish to mix them up because all that would matter in the end is a closed sale.
1. Assumptive Closing
This has to be one of the most powerful and highly effective sales closing techniques. But this would require confidence in yourself and your product or service. As the name suggests, in assumptive closing, you take a step ahead assuming that the prospect is going to buy your product or service and the deal is almost done. You should not ask them if they are ready to buy your product or service or not. But when should the implementation be done or how many products do they want?
Before your plan to implement this sales closing technique, you must highlight the features of your brand clearly to your customer. Be attentive to what they have to say and help them with any queries they have. In addition to this, be assertive and not aggressive. Keep in mind that this type of closing must be done right after you have explained the benefits of your offer and they are fresh in their minds.
2. Question Closing
It's not just what you are telling them about your business but also what you are asking them about them during the conversation that can help with sales closing. You must ask the right questions to be able to know what is going on in the prospect's mind and if you are able to cater to it well enough or not. Try not to make direction questions like "Are you ready to buy the product or service?" Instead ask this, "Is there something I can help you with before you buy our product or service?"
Such questions will help you get an idea of the customer's mindset and you can help them better. Thereafter, try to eliminate all types of objections. Additionally, know one thing the right questions help you interact with your customer and get so deeply involved with them that you can find a pain point that can be addressed by your product or service.
3. Puppy Dog Close
This has to be one of the best deal-closing techniques that can close more sales than you would have anticipated. The idea behind this technique is that if you visit a pet store that lets you take a puppy out with you for a few days to test how it feels to own one before you actually adopt it, the chance is that you will fall in love with it and never return it. Likewise, you can offer your product or service for a free trial, no matter what it is. If your product actually adds value to their tasks, they would be happy to buy it from you.
You can implement this strategy when you can offer your product or service for a free trial or drive for some time and are kind of sure that the prospect would pay for it in the end. It's like helping your prospects with something that they don't have to pay for until they are sure about it.
4. Now or Never Closing
This one's a real classic. Sellers use this technique to create a sense of urgency among the prospects by tapping into their FOMO (fear of missing out). If you think that they are taking too much time to make a decision, you can simply tell them about the limited offer that they can grab. You can offer them a discount, gift, bonus, or add-on benefit to help them get over what is stopping them from making the transaction. Just make sure that you consistently the prospect about the features of your product or service.
Most people are not ready for a commitment even if they want your offer. The technique will let you simplify the decision-making process for them to your advantage. For example, "If you sign up today, you will get an additional 10% discount."
5. Scale or Gauge Closing
Start by asking the prospect about how interested they are in your product or service. Define extremes from 1 to 10 on a scale like "let's close the conversation here", let's get back on Monday", etc. With the help of this scale, you will be able to find out if you have communicated your product or service well to the prospect or not and you can also take advantage of the opportunity to address any kind of objections you would have come across.
You must learn the art of helping the customer with their requirements instead of just trying to sell your product or service. You must be curious to determine what they are trying to achieve and help them with those with your product. Consequently, all your efforts will go in vain if you are not listening.
6. Takeaway Closing
It's a lot like reverse psychology. You will tell them about the benefits of your product or service and then instead of giving them reasons to make the purchase, you will give them opposite suggestions. You can tell them how they will have to give up on the features of your products to save costs or how they might not be a qualifying company for your product or service. Therefore, the possibility of losing something they want can make them take an action.
This sales closing technique would work for you when you the prospect have already shown interest in your business but haven't yet taken any action. You can simply suggest rejecting or replacing your product or service that may trigger the purchase.
7. Hard Closing
As a seller, your goal would obviously be to sell what your company offers. But you never want it to look so obvious. But the hard close is a little too much in the face. The prospect would know that you are trying to sell your product or service and there is nothing that you are doing to hide this. So, as this technique would need you to have courage and confidence, not every sales professional is ready for this.
But make sure that you use this close only when you have nothing to lose. After all, it's not as easy as said to directly push someone to do something, especially when you are a newbie or just not ready for it. Otherwise, you must avoid it.
8. Visualization Closing
You will do well if your strategy and tactics are based on how the human brain works. In other words, you have to make the prospect visualize what they are going to buy and how it can add value to them. Sum it up in a concise way so that it's easy for them to understand what they are buying and why they should buy it. Let them see what you have got to offer them.
Most people will make a decision on the basis of the visual input data. As per the research, the human brain processes images 60,000 times faster than words. So, by creating visuals of your offerings, you will increase the chances of closing the deal.
And it's not just the sales closing that should matter. It's just the beginning as after you onboard a customer, you must make sure that you fulfill all your promises.
What Are the Sales Closing Mistakes You Should Avoid?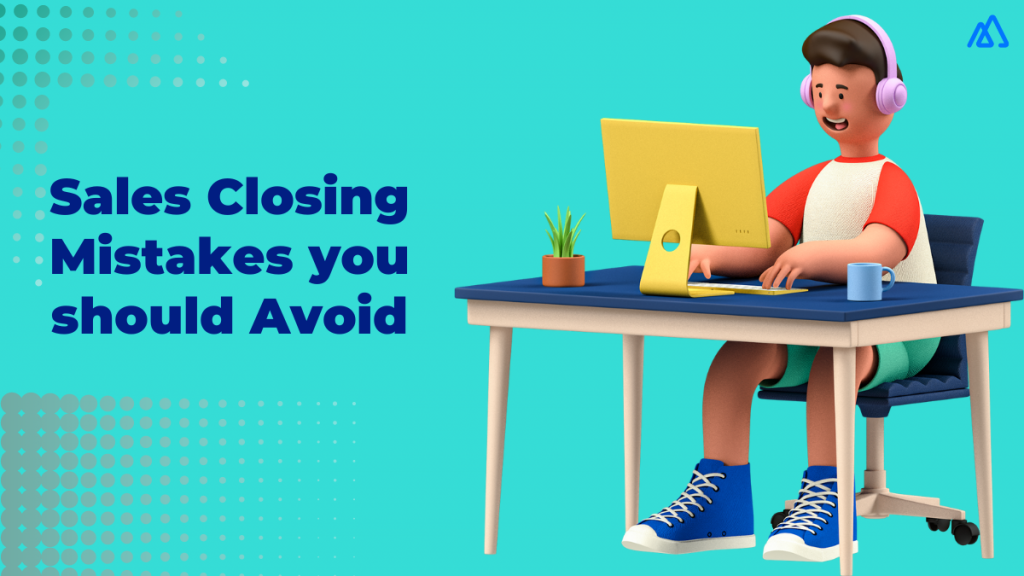 Your experience would help you figure out what worked for your sales closing and what didn't. Apart from that, here are a few sales closing mistakes that will help you become a rockstar at selling.
Using the Hard Closing Technique


As told earlier, the hard closing technique must be used only when you have nothing to lose. If you start by asking for a sale directly in the face, not many prospects would be interested in your product or service. It's not your daily sales quota that you have to fulfill. It's their requirements that need to be taken care of.
Not Asking for the Sale


No matter what, you have to ask for the sale. Your prospect will already be checking other sellers too. If you tell them to take their time, they make never get back to you. After you have told them all about your product, it's good to ask them if they are ready for the purchase or not. 48% of sales calls are ended without an attempt to close. Additionally, ask more questions to know their needs.
Closing at the End


It's tricky to determine when the right time to close is. But a smart seller would know that it is not something that should be done in the end. In fact, you should be closing throughout the sales process. You close for the next steps and their signatures are the conclusion of your closing process.
Try to be a smart seller than a desperate one who keeps closing a sale on top of the prospect's needs. Only 13% of customers believe a salesperson can understand their needs. Hence, if you can do that for your prospect, you have more chances of winning the deal.
How to Improve Your Tactics for Better Sales Closing?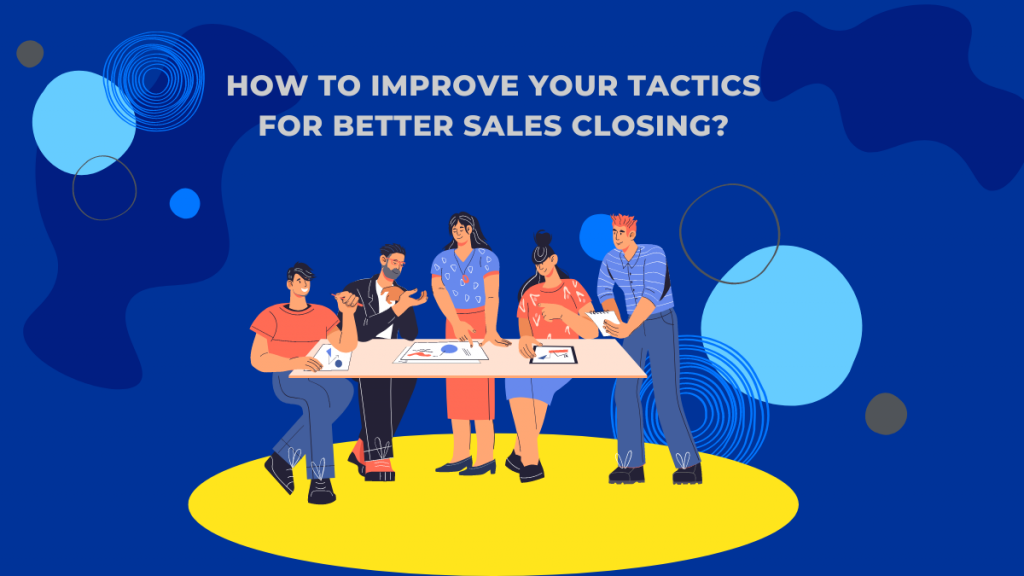 If you want to push your customers to make a purchase with you right away, you need to take a look at these tactics.
Make use of multiple sales closing techniques instead of sticking to just one.
Selling shouldn't feel like selling to your customer but helping with the issues they are facing.
Don't expect a deal to close after 1-2 attempts but make at least 4-5 attempts before you declare anything.
Be prepared with solid answers to tell your prospects about the competitive advantage of your product or service.
Know your customer, their worries, and woes before you expect them to become a buyer.
It's just not selling but winning a customer that would matter in the end.
Conclusion
Closing a sale is your ultimate goal but make sure that you are connecting with your customers throughout the process. Study your prospects from the very start to match their expectations and their needs. Sales closing is going to be a collaboration between you and your customer and so, strategize and plan all that you do. According to Caliper Corp, 55% of salespeople don't have the right skills to be successful. Hence, this requires you to obtain selling skills that will change the game for you.
In your journey to make successful closes, Kylas CRM can be your ultimate partner. It will save your time, track your productivity, and help you save all the information about your prospects for better communication at all levels.
Start 15-day Free Trial