Sales is not an easy arena. Convincing people to spend their money on a product or service requires exceptional negotiation skills. Because buyers can find a hundred reasons to hesitate before making a purchase decision and overcoming sales objections is an important part of every salesperson's job. Research states that 92% of salespeople give up after four "no's", but 80% of prospects say "no" four times before they say "yes".
Buyers are often paranoid about a lot of things, like the price you are offering or the value that your product promises to deliver. The only way to ensure that their insecurities are addressed and a sale is made is by learning how to handle objections in sales like a pro.
We will discuss in detail how to handle objections in sales. But before that, let us try and understand what kinds of objections you may come across in your interactions with prospects.
---
What Are The 4 Types of Objections?
Most sales objects can be categorized under four broad groups. These four types of sales objections are –
It is extremely important for sales professionals to know how to handle objections in sales relating to each of these categories.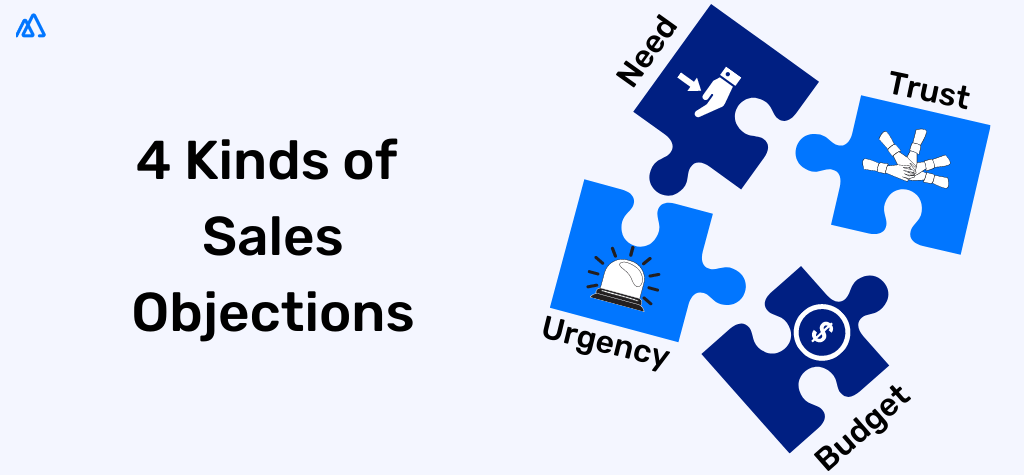 Sales Objections Based on Need
Sales objections related to 'need' refer to those objections that arise because the buyer still does not perceive the problem and hence, the need for a solution that you are offering. Even if the problem really does exist, the buyer either does not see it or refuses to acknowledge it.
The salesperson needs to be able to bring the broader problem to light and convince the buyer that they do need the product or service being offered.
Sales Objections Based on Budget
The price of the product or service is often one of the major factors contributing to sales objections. The price that you offer does not match the amount the buyer is willing to spend or the budget they may have allocated to this purchase. Aligning on the price that you can offer and the one that the customer expects is often difficult.
So how to handle objections in sales relating to budget? Do you always have to lower your price?
Wherever possible, salespersons may negotiate on the price without suffering a loss. But in most cases, lowering the price to fit into the buyer's budget is not possible. In such cases, salespeople need to reiterate the value that the product or service provides. If you can prove that the return on investment will be worthwhile, the buyer may be willing to expand their budget a little more.
Sales Objections Based on Urgency
Even if the buyer accepts that there is a need for the product or service you are selling, they may not see this need as very pressing. If the need is not urgent, they can wait before making a purchase decision. But the more time they take to make a purchase decision, the more options they would be weighing. And your chances of making a sale begin to get bleaker.
The buyer needs to be convinced that they need to buy the product now. To overcome this kind of objection in sales, the salesperson has to generate a sense of urgency and demonstrate why buying right now would be a better decision.
Sales Objections Based on Trust
Lastly, sales objections may arise because the buyer does not trust your brand, your products, or your services enough to invest money in your solution. This usually happens with new customers and mostly for new businesses. Returning customers usually won't have a problem trusting you, or they wouldn't have come back in the first place.
In any case, if the sales objection is based on a lack of trust, this is an opportunity for the salesperson to build trust in a new customer. You need to help the buyer get over this uncertainty and convince them that your solution will deliver on the promises.
---
Why Handling Objections is Important?
Objection handling in sales is an integral part of the whole process. Sales objection handling is when the salesperson responds to the buyer's concerns and inhibitions in a way that helps them overcome this hesitancy. The salesperson has to move the buyer closer to a sale without blatantly pushing them to buy, but rather by addressing their queries.
Effective objection handling is important because leaving these sales objections unaddressed for too long can cause your valuable prospects to slip through the cracks. The longer your buyers hold on to an idea or opinion, their belief in it is bound to grow stronger.
So if they have a doubt about your brand's trustworthiness or your product's value proposition, and you don't address it, they are likely to believe that their inhibitions are valid. Handling sales objections promptly and appropriately ensures that any misgivings or unfounded fears are eliminated as and when they arise. So the buyer can proceed to make an informed decision without any hesitation.
In fact, sales professionals must welcome questions and objections instead of avoiding them, as it gives them a chance to prove their brand's or product's value.
---
How to Handle Objections in Sales? – A 4-Step Approach
So the question remains. How to handle objections in sales? What is the right approach that salespersons must take in order to effectively alleviate buyers' apprehensions? Most industry leaders recommend taking a 4-step approach to handling objections in sales.
The four steps in this method are –
Listening
Understanding
Responding
Confirming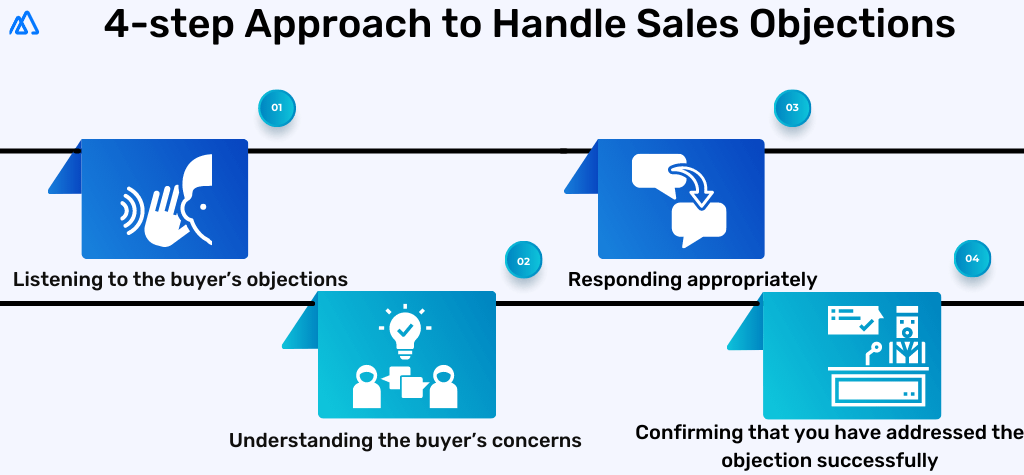 Step 1: Listening to the Buyer's Objections
The very first rule in sales is to approach it from a customer-centric point of view instead of focusing on the product. Salespeople, in a rush to close a deal, may tend to respond to an objection without even listening to their customers completely. But active listening can actually be beneficial for you in many ways.
Firstly, the buyer feels valued if the salesperson listens to their objection attentively. This itself is a small first step towards winning their trust and goodwill.
Secondly, taking the time to listen to the objection fully helps you gauge what the customer is thinking and helps you understand their concerns better.
It is also important that you don't get defensive immediately or react emotionally to any of the buyer's comments. Let them speak and make sure that your body language or gestures indicate that you are listening intently.
Step 2: Understanding the Buyer's Concerns
After listening to the objections fully, you need to understand what the buyer's concerns really are. The buyer may not always be able to communicate everything effectively. There may be underlying issues behind a concern that the buyer may not be able to put their finger on.
As a sales professional, it is your job to identify these issues or the root cause of their objection. Request the buyer for some time to ponder over their concerns and queries. Get to the root of the problem.
At this stage, asking the buyer some questions may also help you understand the objection better. Ask questions that go a little deeper into the matter. "Why" questions or "What more" questions should be able to give you more clarity on the matter.
Step 3: Responding Appropriately
This is by far the trickiest part of the whole objection handling process. Ultimately it all boils down to how you respond to the buyer's objection. Whether you are able to put forward a convincing response will decide if the buyer goes ahead with the purchase or abandons the mission.
The best approach here is to address the most serious objections first. That is the greatest barrier holding the buyer back, so getting it out of the way will make the rest of the process easier. In fact, once their biggest concerns are addressed, a buyer may even decide to ignore the other objections.
Focus on resolving issues if there are any. Don't make any false promises. Buyers can easily see through hollow promises, and if you are not able to deliver on them later, you are sure to lose the customer forever. So make sure what you say is honest and achievable.
For instance, if the buyer has an objection regarding the price of the product, you may have to reconsider the price you are offering. But when you respond to the buyer, don't state a price that you cannot offer practically simply to push them further down the sales funnel.
Keep your responses clear, concise, and sincere.
Step 4: Confirming That You Have Successfully Addressed the Objection
The job does not end at responding appropriately. It is important to ensure that the buyer is satisfied with your response and you have addressed all their concerns. You need to ask the buyer if they are happy with the solution you have provided. You also need to ask if they need you to further explain the solution.
If the buyer is convinced already, that's great. If they are not, though, you have to be patient and invest some more time in objection handling until the buyer confirms that all their concerns are addressed.
Often buyers accept your solution when you present it to them but later give it more thought and decide they are still not convinced. So they may not get back to you because they aren't satisfied with your response. It is your responsibility to follow up in such cases.
Now that you know quite a bit about how to handle objections in sales, let's look at some of the most common sales objections that you may come across.
---
The Most Common Sales Objections and How to Handle Them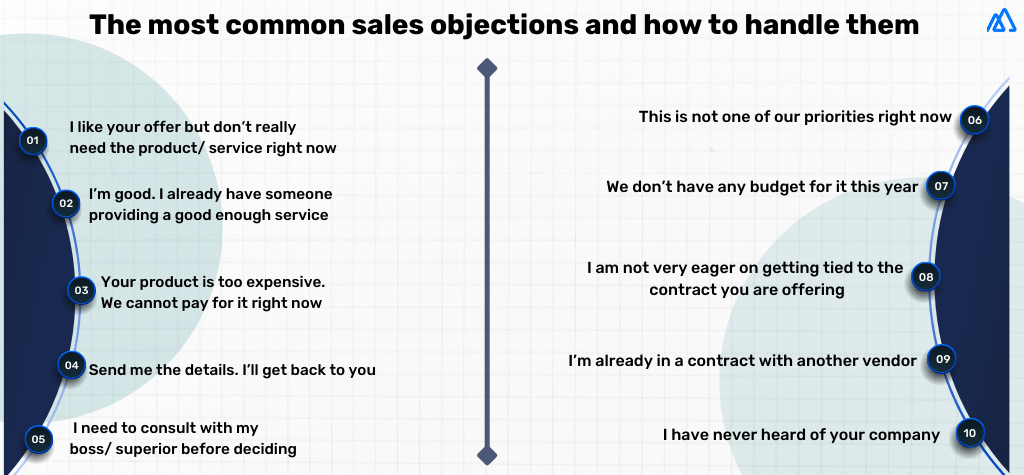 1. I like your offer but don't really need the product/ service right now
This is a sales objection based on need and urgency. And it is also one of the toughest objections to handle. If the customer says they don't need your product, how do you convince them that they do?
You can start by highlighting a problem that most other buyers in the industry face and how your solution has helped them. If the customer still isn't convinced, take this opportunity to recommend an alternative solution. You can even try cross-selling or upselling here.
Say something like, "I understand what you are looking for. Probably our other product would be a better fit for your business. If you would allow, I could walk you through the features quickly."
If this doesn't work either, you may have to come back later with a little more research.
2. I'm good. I already have someone providing a good enough service
This kind of objection is usually a prospect's way of avoiding further conversation. But when they say their existing vendor/ provider is doing a good job, there may be many things they don't know about the industry. As a salesperson, it is your job to make them see what they are missing out on.
Your value proposition has to be solid, and you need to highlight how you stand apart from your competitors. Show them how you can deliver more value at the same price.
3. Your product is too expensive. We cannot pay for it right now
Objections related to price and budget are quite common with most buyers. Everyone wants a better deal. The lower they can get the product/ service for, the better it is for their finances. So you have to be prepared for this objection.
How to handle objections in sales like this one? The silver lining here is that the buyer does not say that they don't need the product. They may have a need, but they just can't afford it at that price. You have to weigh your options and see what solutions you can offer.
If the buyer says they are unable to pay outright, you may offer them an easy EMI. So they can pay in smaller instalments over a longer period. If they say they can't pay this price at all, you may have to give them a realistic discount, but only if the deal is worth it.
For instance, if you expect them to be a returning customer or if the order volume is very big, it may still be profitable to offer a lower price for once.
4. Send me the details. I'll get back to you
Well, if you are a seasoned salesperson, you should know that they probably won't. If a buyer does not show any interest in the product/ service in the first interaction, they most likely won't come back. You need to make sure that you don't leave room for such uncertainty.
Respond by asking them when it would be convenient for them to schedule a meeting for discussing details. Or better still, suggest a date yourself. "Would you be available next Wednesday for a demo?", for example, can be your response.
5. I need to consult with my boss/ superior before deciding
This is not really an objection but more of a concern. The person you are interacting with probably does not have the sole authority to make a purchase decision. In such a case, you need to find out who the decision-maker in the process is, without disrespecting the position of the contact person.
Say something like, "If you could ask them to join the call tomorrow, along with yourself, I could explain the details to them as well."
6. This is not one of our priorities right now
This is an urgent objection. The buyer does not have an immediate need for the product/ service. But that does not mean they won't need it ever. You just have to accelerate the purchase by making them realize how they benefit from being an early bird.
Explain to them how and where they are going to need the product in a year or two and how prices may skyrocket in the meantime. Early adopters have a competitive advantage, so buying it now would give them an edge over the others.
7. We don't have any budget for it this year
In B2B sales, organizations have fixed budgets and cannot usually overshoot this limit. So if your product/ service is not within their budget, there's not much they can do. But you can always keep the avenues open. Ask them if they plan to add it to their budget next year. Or if they expect to receive any funding soon. And ask when can you schedule a call with them to discuss they're ready.
8. I am not very eager on getting tied to the contract you are offering
Negotiations on the terms of the contract are commonplace, so you should be prepared for this anyway. If the buyer has objections to any of the contract's terms, you should revisit it and see what can be done to come to an agreement.
Reply with, "I understand your concern. We can always sit together and discuss the terms of the contract to see what works better for you."
9. I'm already in a contract with another vendor/ provider
In this case, breaching the contract would cost the buyer, and they are obviously not willing to pay extra even if they like your product/ service. If the deal is worth it, the best solution you can do is to offer them a discount to cover the cost of switching to your business.
10. I have never heard of your company
This is a sales objection related to trust. If you are a new entrant in the market, you may be facing this concern quite often. So keep your answer ready and make it extremely convincing. You have to be able to capture the buyer's interest in just a few seconds.
Tell them what you do, how you've helped other buyers like them, and highlight a major pain point of the prospect that you want to discuss.
---
Conclusion
Knowing how to handle objections in sales is no less than a survival skill for salespeople. Planning ahead and staying prepared to at least handle the most common objections can give you more confidence in dealing with these cases. Remember to listen and understand the concern thoroughly before you respond. Your approach could make or break a deal.
What can help growing businesses like yours is a sales CRM software like Kylas that is designed to simplify sales processes and objection handling. Have a question or any case of objection handling that you like to discuss, please feel free to reach out by leaving a comment below.
Start 15-day Free Trial