Most business and sales leaders will agree that the function of 'sales' comes down to being as much an art as it is a science. So how much do you leave up to the innovation & skill set of your salespersons, and how much do you control?
Year by year, more sales theories, best practices, and advice from sales leaders inform and empower businesses. These, combined with prior experience, often lead leaders to create sales processes that they think will lead to success.
That, in its way, forms the sales strategy – a list/collection of sales processes built upon practices that have worked in the past + best practices in the industry today. The idea is that the more you control the sales processes with steps for the team to follow, the more you control the outcome.
Let's understand this concept a little deeper.
What Is a Dynamic Sales Strategy?
A dynamic sales strategy relies on the skills, competencies, and instincts of the salespersons to guide the way sales activities are conducted.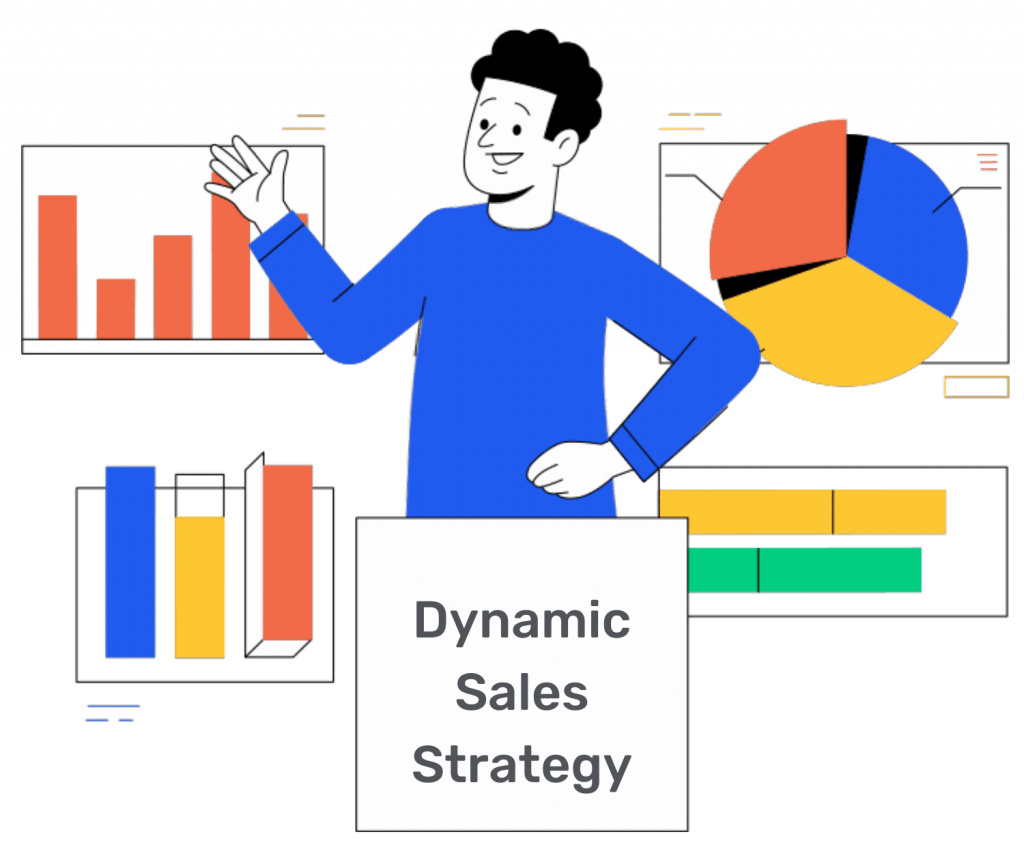 A dynamic sales strategy focuses more on sales enablement – equipping the sales team with the data, insights, and knowledge they need to leverage their art of selling to its best.
.
Specifically, sales teams are usually equipped with a host of data, regardless of their strategy.
This includes consumer research, marketing data, and data from the CRM – lead data, historical deal data, the ability to track and gain daily insights into pipeline progress and lead health, etc.
In a dynamic sales process, this information feeds into actionable next steps. Salespersons are guided on how to use the available data and tools (and a special focus is put on making them available) to create different potential next steps in their sales activities.
As a strategy, you can see why it requires a lot of trust on the part of the sales head. It leaves the responsibility of planning each sale more or less on the salesperson, ultimately, with the sales manager or head acting only as a guiding figure.
For small business growth, however, it could be more successful than you give it credit for.
The caveat to this definition: A dynamic sales strategy may also refer to a sales strategy that changes over time based on external factors or perhaps based on internal organizational changes.
For this blog post, however, let's assume a dynamic strategy to be one that changes more continuously based on the performance of the current deals and learnings in the sales pipeline.
Let's look at how it compares to a traditionally process-driven sales strategy.
Dynamic Sales Strategy vs. Process-Driven Sales Strategy
Dynamic Sales Strategy
Process-Driven Sales Strategy
Doesn't guide the sales team's selling activities/steps
It is based entirely on stringent sales processes & step-by-step sales activities
It depends on lesser involvement and a higher delegation from the sales manager/sales head/CEO
Requires the minute involvement of the sales manager/sales head/CEO
Requires a mature, self-driven sales team that may
or may not have different hierarchies
Requires reasonably competent salespersons at different levels of the hierarchy
Requires a high level of agility from the team as well
as the leadership
Requires some agility but depends entirely on the expertise of the sales manager/sales head/CEO
Consistent efforts: Depends on constant reviewing
& monitoring
Top-loaded efforts: Depends on heavy planning and periodic monitoring
Is well-suited to a dynamic, people-driven work culture
Is well-suited to a process-driven, top-down work culture
Difference between Dynamic Sales Strategy and Data-Driven Sales Strategy
---
Is a Dynamic Sales Strategy a Good Idea for Small Businesses?
As we mentioned earlier, a dynamic sales strategy may be just the approach a small business need! Most small businesses have the perfect working environment, leadership styles, and people culture required by a dynamic sales strategy.
.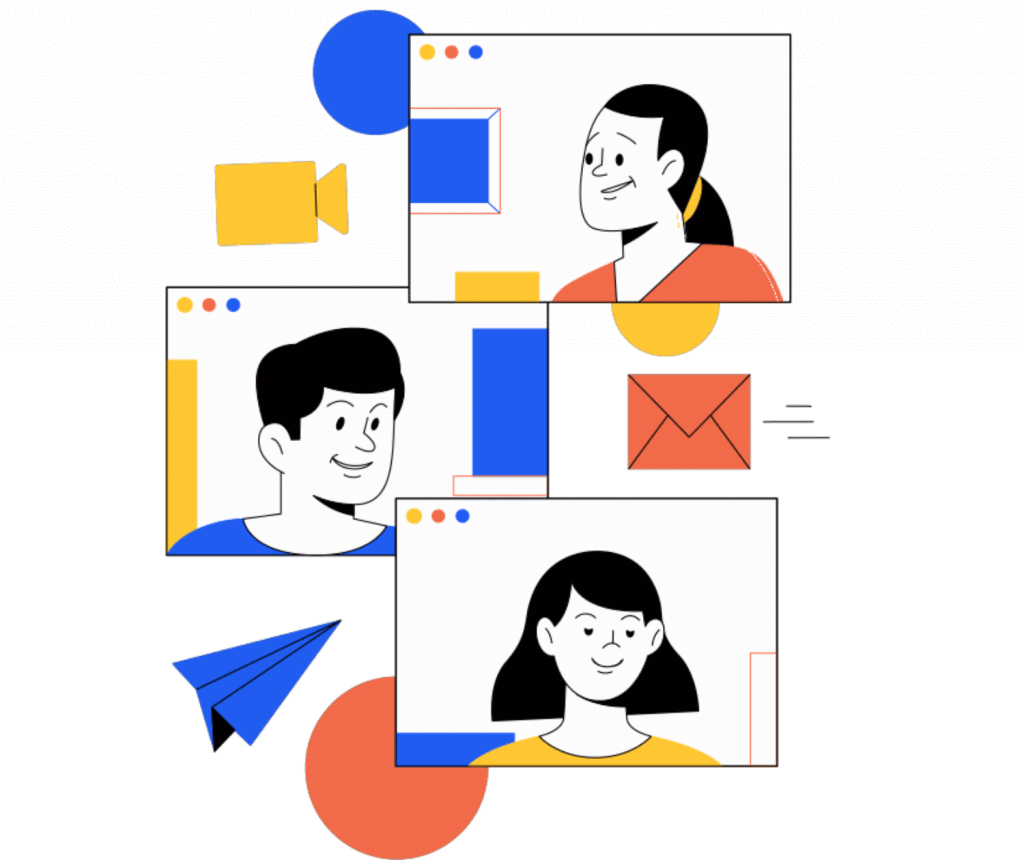 A horizontal hierarchy, collaborative work culture, people-driven processes, an agile approach to working, quick turnaround times, and an inclusive decision-making culture are just a few of the factors required for successful small business growth today. It's these very attributes that lend themselves to a dynamic sales strategy.
What a dynamic sales strategy needs in a business to thrive and produce results:
Conscious, people-driven leadership at all levels of the organization
A

collaborative work culture

that encourages consistent learning (and learning from each other)
Quick decision-making skills at every level of the organization (including junior executives)
The prioritization of competency and culture fit in the hiring strategy for the sales team
A proactive, ownership-driven approach to work
Agility: The ability to quickly turn around strategies, make tough decisions, and scrap what isn't working
An open-door policy where the leadership works with the sales team executives rather than dictating to them
---
Prioritizing Processes in Implementing a Dynamic Sales Strategy
If the image drawn in the above section gives the impression that a dynamic strategy is all about going with the flow, you'd be wrong to assume that. The backbone that keeps a dynamic sales strategy on the path to success is…process!
For your sales team to be successfully dynamic – for you to see results from leaving so much on the way forward to your sales professionals – you need to have frameworks in place that keep things moving in the right direction. Think of it as the 'science' of selling, effectively empowering the 'art' of selling.
Let's look at a few processes that help you successfully implement a dynamic sales strategy:
1. Regular Report-Building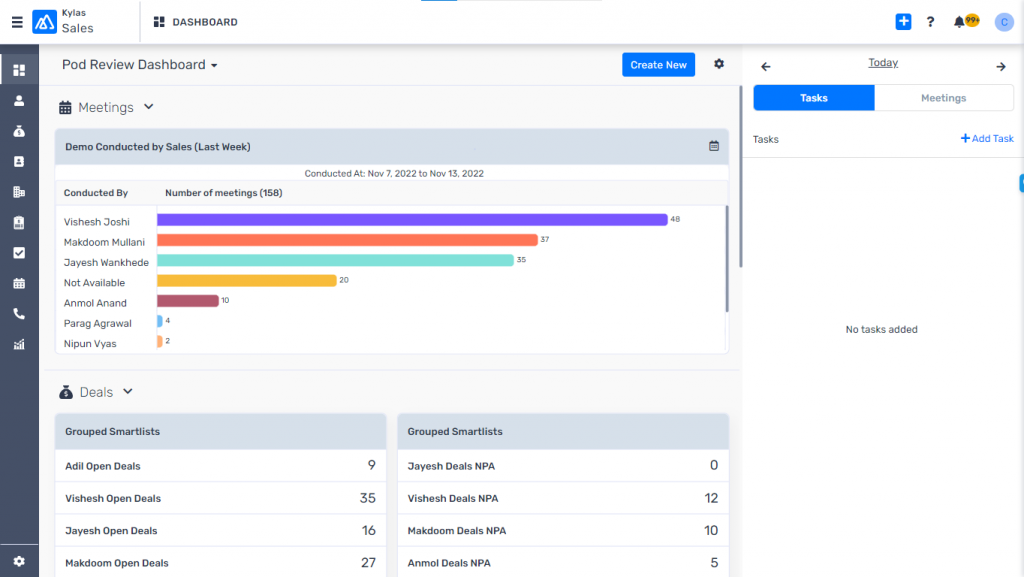 Insights form a massive part of decision-making at every level in sales. For example, if a particular deal has taken too long to close and the prospect is consistently passing the buck, your Sales CRM will reflect it – always a good sign to take stock and decide to shift focus to another deal instead.
If leads from a particular marketing channel consistently generate unqualified leads, you know it's time to move focus away from that channel.
Such insights – ones that influence everything from your day-to-day sales activities to your marketing/sales directions – are only possible when you consistently check reports generated by your sales CRM and sales team.
These reports, for a dynamic sales strategy, come down to much more than sending in updates to your superior – they form the basis of how your sales representatives sell, handle & prioritize their tasks, talk to prospects, and so on.
A few reports you need to check in on on a daily/weekly/monthly basis:
Communication reports (engagement with your email drips & so on)
2. Consumer Research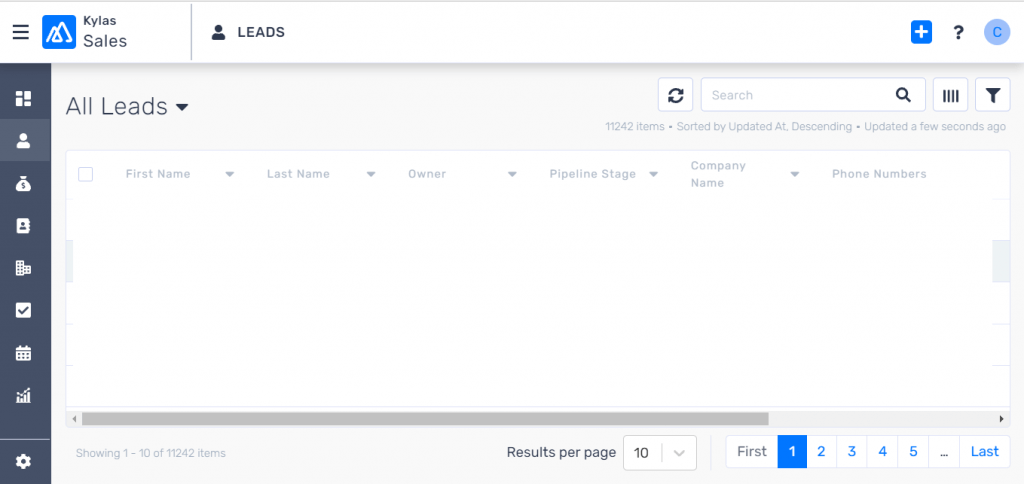 A lot of the art of selling comes down to changing your selling approach based on what each customer needs. As a salesperson, you need to know your product and the market as thoroughly as your consumers.
For a dynamic sales strategy, where your salespersons have more leeway in dealing with each customer, consumer research becomes all the more important. We're not talking consumer market research here – although that is also very much necessary as a sales enablement tool & knowledge-sharing session for your sales team.
We're talking about on-the-go, constantly updated consumer research that can be collected by way of two processes:
2.1. Data Gathering
You probably use sales tools such as a CRM that help you keep track of your lead data. This is where you can genuinely gather rich information on your customers/consumers – their demographics, psychographics (pain points, aspirations, habits, preferences, etc.), organization details, related contacts, social profiles, and so on.
Unfortunately, this is also where many sales professionals procrastinate entering data – turning that data gathering, and recording into a process helps create the backbone they need in terms of consumer research, so they can better adapt their selling approach.
Without keeping data recording as a process, however, your team will be unable to generate the insights required for dynamic selling.
2.2. Active and Social Listening
Since one of the main drivers of a dynamic sales strategy is to be consumer-led, actually listening to your customers is of the utmost importance.
This is not information that a report or research document can pass on; your sales representatives need to listen to what your customers say (to them or the world in general).
Enter the process of listening – active listening on sales calls and in sales meetings for data & insights that can inform the sales process and activities, as well as social listening for data & information that your prospects are putting into the world.

How is this a process, you wonder? By requiring your sales executives to constantly maintain a log, meeting notes, and update the consumer profile in your CRM, you can turn data gathering via active and social listening into a process that will benefit their sales approach.
3. Setting Good Habits – Not Sales Activities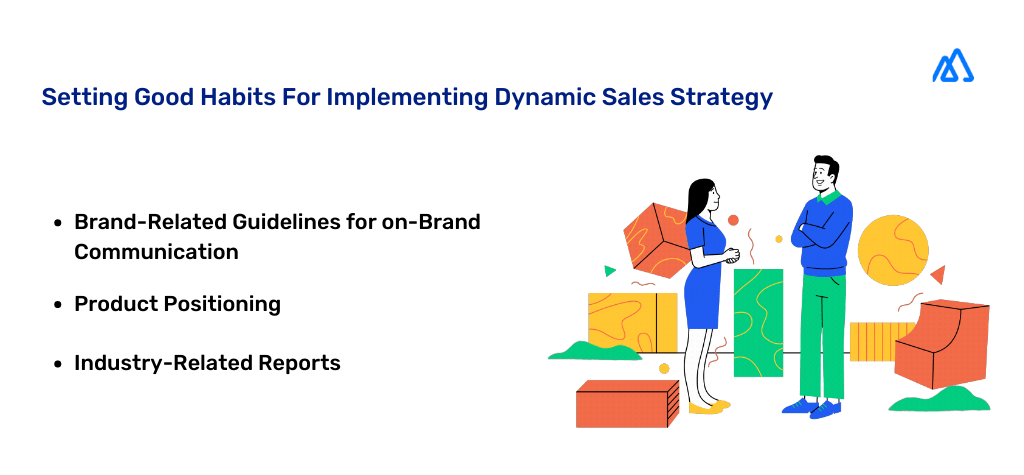 The trap of a micro-managed sales strategy is that each sales activity is turned into a process.
How many follow-ups need to be made at each stage, what needs to be covered as communication in sales calls, when to take meetings, etc., are all set into processes based on best practices observed to bring results.
When it comes to a dynamic sales strategy, a better process to put in place is the process of good sales habits. Good sales habits for your company, for your industry, and in general for sales can be turned into somewhat of a "guide" or "toolkit" that your sales representatives will follow while conducting sales activities and planning their sales approach in different situations.
Most importantly, such a guide or a toolkit ensures that your sales team is constantly adherent to your brand experience – an essential and often overlooked part of selling.
How should someone representing your brand speak and present themselves? What should the tonality be? What are some approaches that may be off-limits? All of this gets covered under the "good sales habits" process for your team to follow.
To make this thought a little more objective for you, allow us to list out some types of selling habits that must be turned into processes:
3.1. Brand-Related Guidelines for on-Brand Communication:
Company/product information that's off limits
3.2. Product Positioning
When you create a product, you do it with a certain purpose, thought process, and creation process. In fact, at times, there are different thought processes behind how the product benefits different customer cohorts as well.
But by the time the product information reaches the sales team for pitching to clients, a lot of this essence can get lost. Turning this information into guidelines involves covering:
A note from the product design team
A technical breakdown of the product process
Campaign notes, if any (So that the sales pitch or approach can align with the campaign experience)
Marketing collaterals are used in promoting the product. It always helps to know what the customer has seen before they enter your sales pipeline)
3.3. Industry-Related Reports
Every salesperson must be on top of their game regarding what's happening in the industry, the latest developments, what the competition is providing, and so on.
This informs how they pitch the product, break down any barriers to purchase and guide the prospect toward making a beneficial sales decision.
The process, in this case, would be to have a knowledge repository that keeps your sales representatives informed and in the habit of using that information. This repository must include:
Research reports or survey reports from authorities in your industry
Constantly-updated competitor analysis
Compilation of market research reports from your industry
Mandatory Google Alerts set for pre-determined keywords/keyphrases relevant to your industry
While it may sound contrarian to have processes as the backbone of a dynamic business strategy, it benefits small business growth by providing some backing.
A small business sales team is often enthusiastic, enterprising, and eager to experiment. Using processes empowers them and gives them a sense of where the boundaries of their approaches and activities should lie.
---
Getting Started With a Dynamic Sales Strategy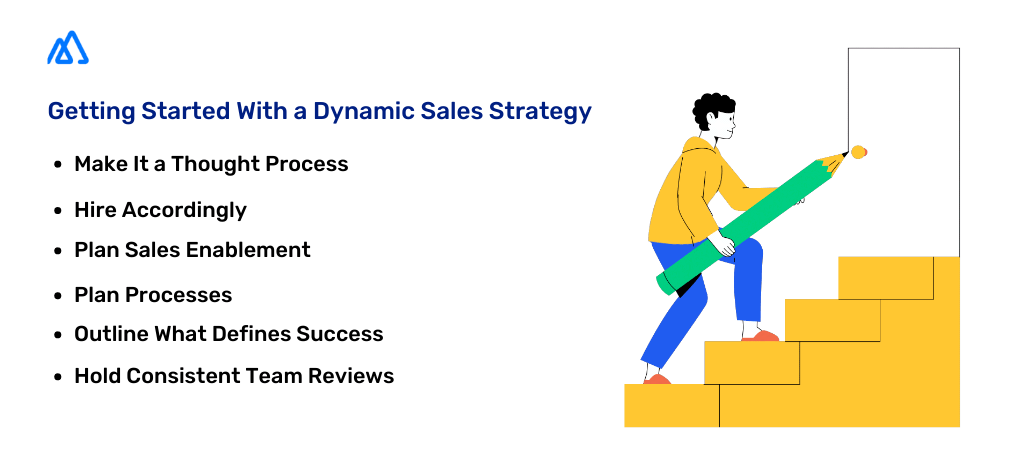 To round off this blog post, let's quickly compile a checklist on how you should get started with a dynamic sales strategy:
1. Make It a Thought Process and a Culture – Create Manifestos if You Must
As a sales strategy, this needs to be adopted by everyone, right from the CEO to the Sales Head, Sales Executives, Customer Service Executives, and so on
2. Hire Accordingly
While you can't and shouldn't replace everyone you have on the team who fits into your strategy (that's where the manifesto comes in, to help guide change in behavior), you must change your hiring strategy to meet the demands of dynamic selling.
3. Plan Sales Enablement
What reports, training sessions, workshops, guidelines, and such will you need to create to empower your sales team to do what they do best? Take a significant amount of time planning and putting that in place.
4. Plan Processes
As we mentioned earlier, processes will form the backbone of a thriving, dynamic sales strategy. Plan those processes and guidelines so you, too, have a sense of your expectations.
5. Outline What Success Will Be Defined By
From a full lead pipeline to a prospect moving to the next stage to actual closures – a dynamic sales strategy requires you to celebrate smaller and larger wins, as they all represent the success of each sales approach or activity planned by your sales representatives.
6. Hold Consistent Team Reviews
With a dynamic sales strategy, you're placing a great deal of responsibility and trust in your sales team. This means you need to invest a greater amount of face time in guiding them, holding individual and team reviews, and ensuring they feel supported.
---
We hope you feel ready to put your dynamic sales strategy into gear! Above all else, it requires a change (or an inculcation) in the thought process across your entire company.
You'll often find, however, that when done successfully, it proves extremely beneficial for small business growth in every way – in terms of sales numbers, a healthy work culture, and employee satisfaction.
If you have any questions about how a dynamic sales strategy works or how to put one in motion, feel free to reach out in the comments section below! We'll have our sales strategy experts get back to you right away.
Start 15-day Free Trial