If you haven't been in a sales role for long, this situation will sound quite familiar to you-
You're reaching the end of a conversation with a prospect, having told him/her all about what you have to offer and why it will make their lives easier…he/she has been nodding or agreeing with you throughout the conversation, so you're fairly sure that they seem interested.
But they haven't said so – they haven't even acknowledged the idea of putting in order yet – so you reach that awkward "Well, are you convinced enough to give me your money yet?" thought in your head.
But how do you navigate that awkward moment? How do you put your foot forward first into that no man's land?
Don't worry, it needn't be tough or embarrassing. Here are a few sales techniques that will help you get over your hesitation and 'ask for the sale'.
Top 5 Sales Closing Techniques for Every Scenario
1. The Assumptive Close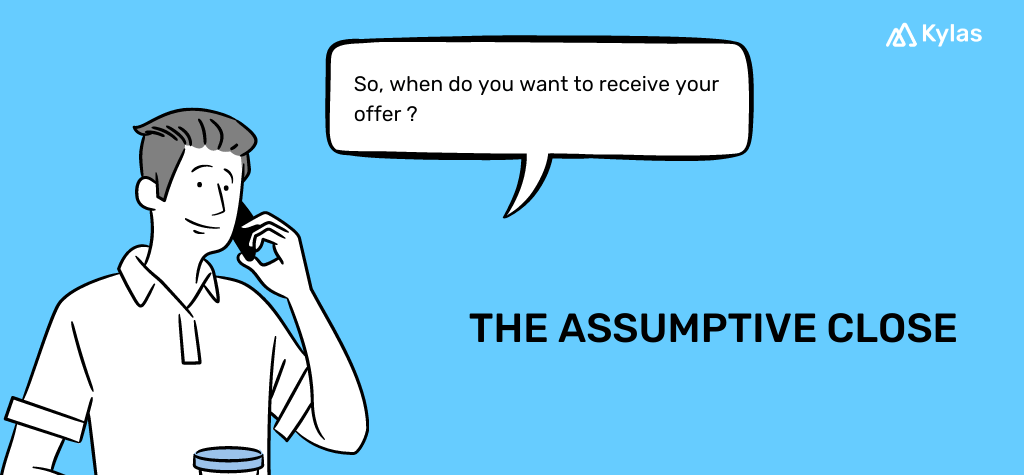 This is a very powerful and highly effective closing technique, wherein a sales rep assumes the deal is as good as done.
This technique can be used for prospects that have completed each step of the sales process but have not confirmed the deal yet.
This technique works by gently nudging the prospect for making a decision and not allowing the prospects to sit on the offer for long. For this technique to be successful all you have to do is be uber-confident about your product. For more impact try creating your own set of assertive statements.
2. The Urgency Close / Now or Never Close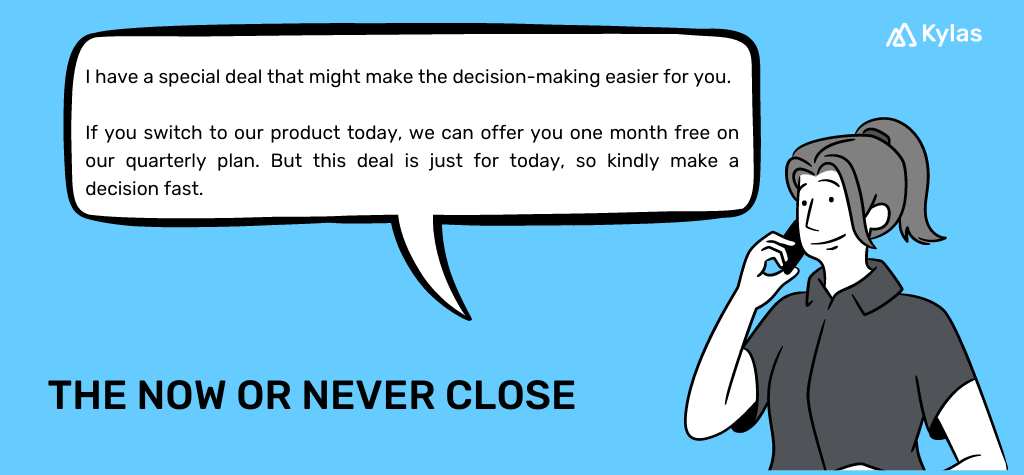 This strategy works best for prospects who are interested in buying your product/ services but are somehow hesitant to say yes.
It is a traditional sales close that promises extra benefits for immediate purchase.
In this technique, you need to make your prospect a short-term one-off deal (discount, gift, bonus, attractive quotes, etc.) that activates only when you say agree to purchase within the given amount of time.
With less time to reflect or seek alternatives, this strategy induces urgency and pushes your prospective customers to make the buying decision right away.
3. The Question Close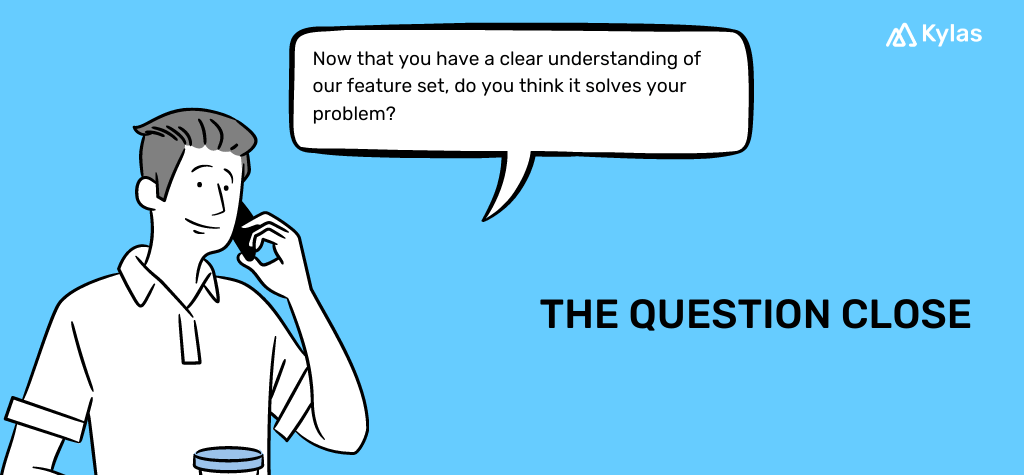 During negotiations it is always a good idea to ask a series of questions, to solve all the queries that might hinder a conversion.
If a sales rep is successful in addressing objections, the odds of them getting a commitment from the prospect increases.
Also, questions urge people to act and help you to discover whether your product appeals to your prospect or not.
4. The Puppy Dog Close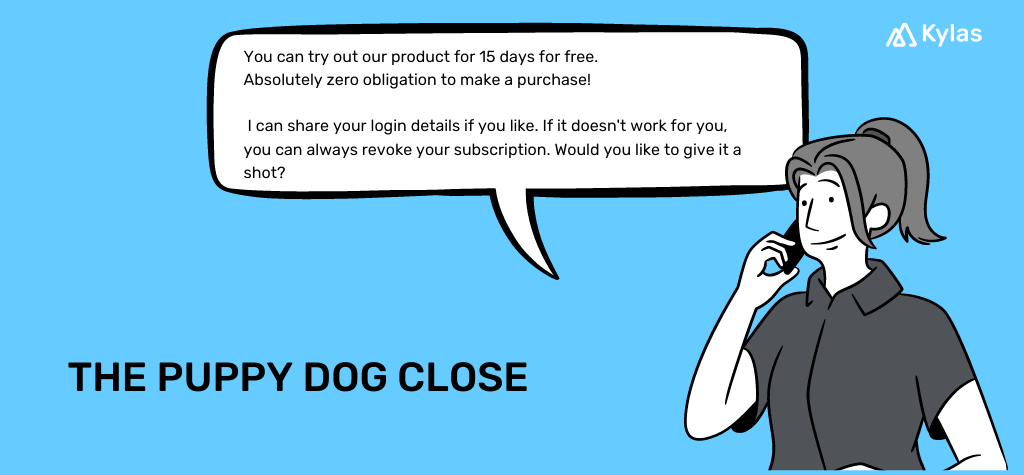 The puppy dog close builds on the idea that if a prospect loves your product or service it will get them to buy it.
It is a simple yet effective sales closing technique where you allow your prospect to 'test-drive' the product (whatever it may be) before they agree to close the deal.
This technique works because:
Clients are able to experience an authentic experience of your product or service.
They get to work with your product or service on a low pressure environment, helping them in making a well-informed decision.
However, for this technique to work you will have to figure out the following:
What features would you want your customers to try during the trial
The ideal time period you would like to give for trial
5. Hard Close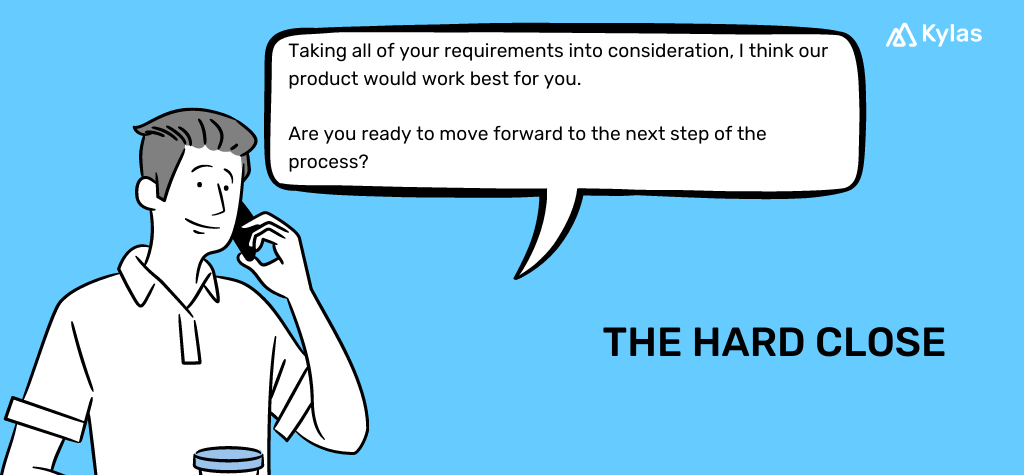 This technique should be used only when you have nothing to lose and is meant to be your last resort as a salesperson. That's because using this technique too early in the sales process can kill the deal completely.
In this technique, you directly push your client into buying your product, period.
It is a technique that is widely used by sales masters as it requires quite a lot of courage and confidence.
---
5 Easy Sales Closing Tips
1. Give Yourself a Talking-to Before Each Call
There's nothing to be embarrassed or hesitant about in asking for a sale – remind yourself that you're simply doing your job, this is not personal. The person at the other end of the line is also doing his job in trying to find the best product/service that fulfills his requirements.
That said, also remember that the sale – and your company's growth – is dependent on you, so it's down to you to make the first move and ask if the prospect would like you to draw up an order.
So, use this sales technique and psych yourself as it's time for some tough love. Tell yourself you need to do what it takes to make that conversion happen.
2. Practice Multiple Closing Lines That Work
Here are some lines that are easy, natural-sounding, and clear on the objective –
"How would you like to take this forward?"
"Shall I draw up an order form/expression of interest/proof of concept for you?"
"Shall I move ahead with the paperwork?"
"Which pack/bundle/offering would you like to proceed with?"
"It seems like our product/service is a good fit for you. Would you like to go ahead?"
If your prospect doesn't seem completely convinced – or if you see some roadblocks – you can still ask for the sale –
"If we're able to [sort or address issues for you], would you be able to confirm the order by [particular date/week]?
"I can [sort out this issue/add in this value/give you a negotiated price]. Would you like to move forward in that case?"
"I can add in [value-add/additional time access/additional product] if we move forward with the contract today. Is that something you'd be interested in?"
Sales techniques aren't just about the lines though, it's where and how you use them.
3. Conduct Mock Calls With Your Teammates
This is especially useful if you've just joined the firm you're working with and are still getting acquainted with the products/services or if this is your first sales gig.
Request a half-hour or hour for your colleague to conduct mock conversations, where your colleague plays the role of a very vague, 'difficult to convince' client. The tougher they make it on you, the easier it will be in real life!
Remember, take the feedback your colleague gives you without defending yourself – just make a note of it on paper, figure out where and take the time to go over it later.
(If you are new to sales, then this blog on shattering sales myths can help you improve your sales technique better.)
4. Practice, Practice, Practice
One way to get over your fear of rejection is to constantly put yourself out there – you'll either see that rejection doesn't come by as often as you'd expect, or you'll learn to deal with it.
Focus on your top of the sales funnel and make sure you follow up on every single lead so that you maximize calls and practice.
5. Work on Your Confidence
Confidence is the key to smoothly and seamlessly asking for the sale, and you'll notice that all the top salespeople have it in spades. A few ways to build your confidence as a salesperson include-
Make a great first impression (we've got a whole bunch of tips on that here)
Be presentable – even when you're working from home, get dressed in your work best
Start the day doing something that keeps you feeling like a winner – exercise, tidying up the house, and finishing off the smaller tasks on your list are all small yet effective triggers.
Don't worry if you've been having trouble with asking for the sale so far – it's something almost all salespeople face at some point in their careers! The fear of rejection and lack of confidence are surprisingly common hurdles in the field.
---
Now that you're armed with our tips and techniques, we're sure you'll do great! Let us know how it goes and if you've faced the awkward task before, do share your tips on how you overcame it in the comments section below. We'd love to hear from you!
Start 15-day Free Trial