Every purchase has a 'buying journey'. Think about the last time you made a purchase – an electronic appliance, perhaps, or even just a new mouthwash you hadn't tried earlier.
You most probably looked for it online ('Best TVs in 2020', or 'alcohol-free mouthwash') before you came across one particular product that piqued your interest.
Then you probably compared it with the other products in its category, checked out the brand and its quality, the customer reviews and so on. This means you took a lot of steps and invested a bit of time before you finally bought the product.
By general rule of thumb, the more expensive the product the longer the buying journey and more the involvement.
Mainly because the more expensive the product, the longer you need to go over its features, compare it to its competitors, put together the financing, etc.
You might still be wondering though –
What is a Sales Funnel?
The sales funnel is the customer buying journey from the perspective of your company.
Every time someone buys your product, they go through the different steps- research, comparison and consideration before they decide to make the purchase.
These steps are what make up the sales funnel stages.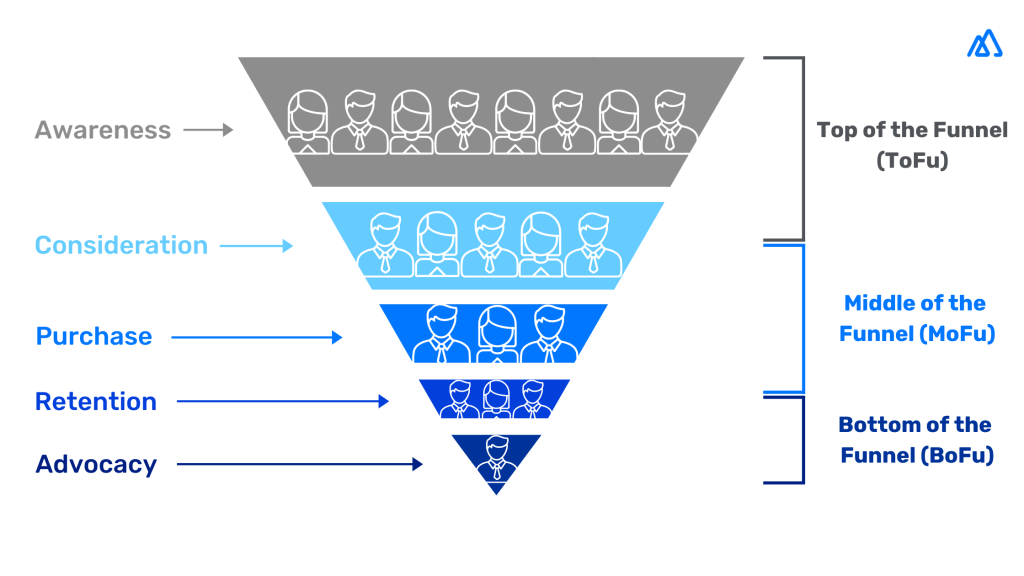 When it comes to selling, the sales team usually gets involved in between the consideration-purchase phases, when customers have expressed interest in some way but not yet made a purchase.
At this point, it's the sales team's responsibility to qualify that lead, convert it and pass it on to the customer success team for retention.
Why Is It Important to Understand the Sales Funnel?
When you understand the sales funnel, sales funnel process, and how your customers move through it (how long do they tend to take at each step, where do they usually face hurdles, etc.) your marketing and sales teams can take the appropriate steps to convert as many potential customers as possible.
You'll find that the number of qualified leads will multiply, the quality of your marketing will improve and you'll ultimately close more deals and meet higher sales targets.
All in all, it's an organized way to approach prospecting and conversion, so you can maximize the end output.
Deep Dive: The Different Sales Funnel Stages
Let's take a look at each stage of the funnel – Awareness, Consideration, Purchase, Retention and Loyalty – in detail.
Awareness
This is when a prospective customer first becomes aware of your brand or your products.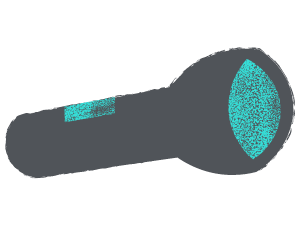 It could be when they're looking for a product like yours online, or simply when they're browsing the internet and they come across your ad. It could also be because they're looking for a solution to a problem that your product offers.
Most of the work at this stage is, majorly, the responsibility of the marketing team – their job is to widen the top of the funnel, ensure that your brand captures the attention of as many prospective leads as possible, to increase chances of conversion.
At this stage, you're looking to position your product/service in front of people specifically looking for such a solution, as well as in front of people who aren't yet aware of their need or requirement for such a solution.
Generating awareness about your product is not solely the marketing team's domain. You can play a key role in this stage too.
After all, the more leads or prospects you generate, the greater your chances of meeting your sales goals.
To know more about widening the Top of the Funnel, head over to this blog.
Commonly-used tools at this stage include:
Digital ad platforms such as Google & Facebook | Social media | Landing pages
---
Kylas Pro Tip– This is not the stage at which you're pushing your product or service – use this stage to talk about problem statements and benefits in order to strike a chord and build engagement.
---
Consideration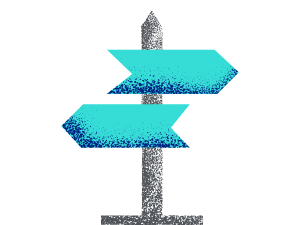 In the consideration phase, your prospective customer is conducting research, comparing competitor products/services and looking for reviews. They are, quite literally, 'considering' buying your product but haven't made a decision yet.
Landing pages create lead generation touchpoints that help gather data at this stage, even before a purchase.
Gated content such as case studies, newsletters sign ups, offer downloads, etc. all help generate lead data for you without making the customers feel invested in a purchase decision.
As a brand, the idea behind this phase is to make a case for your products and services.
You want to make a lasting impression, and use all the channels and platforms you can to convince prospective customers to choose your brand over any others – the more you are able to convince them in this phase, the easier it will be to convert them in the next.
Commonly-used tools at this stage include:
Website – case studies, blog posts, brochures, product/service pages, newsletter sign ups | Re-marketing ads | Live chat | Social media | Review forums | Advertorials | Influencer marketing | Sales calls | Email & SMS marketing
---
Kylas Pro Tip– This is the stage at which you – both marketing and sales teams – aim to inform and empower your potential customers.
---
Talk first about your value proposition, differentiators, benefits (really make an impression with your brand experience) and then plug in your product/services.
When it comes to generating demand for your product, collaboration between marketing and sales is key – as a salesperson, you need to be well acquainted with the concept of demand generation so you can do justice to your part in it.
---
Purchase
If you haven't generated a lead in the consideration phase, this is when you will first establish direct contact with a lead.
At this stage, your prospective customer makes a decision to buy your product or sends in an enquiry.
This is where the sales team's prowess really comes into play.
Along every step in this phase, especially for B2B products, a sales professional is working on call to convert the lead.
To supplement this interaction, you also need to make sure you nurture that lead towards a final purchase – send out engaging emails, product details, case studies and more to nudge him/her towards the final decision.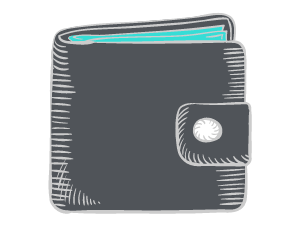 This is the most critical phase of the sales funnel – only hot leads make it this far, and losses are felt deeply. So, you need to make sure you're analyzing your lead's every interaction, assigning it a lead score and being systematic with your follow-ups.
Commonly-used tools at this stage include:
Sales calls | Email & SMS marketing | CRMs & other such lead management platforms
---
Kylas Pro Tip– Using technology really takes your sales games up a notch and ensures that all leads with any potential of closing get their due attention, taking your sales numbers to the next level.
---
Shameless plug- The Kylas Growth Engine has been designed to get your business on the growth track, with a Sales CRM software– at its core.
Lead management, deal management and contact management form the base of what is a cohesive way to optimize your entire sales funnel from one place!
---
Retention
In today's crowded & competitive world, retaining customers has become as difficult as drawing in new customers.
A company's work doesn't end with a purchase.
A lot of companies today base their incentive structures on retained customers for a reason – the true benefit of a conversion/ sale lies in the satisfaction and lifetime value of the customer.
This is the phase where the customer success team usually takes over from the outside sales team (it is, however, the outside sales team's responsibility to thoroughly handover all relevant information to the success team).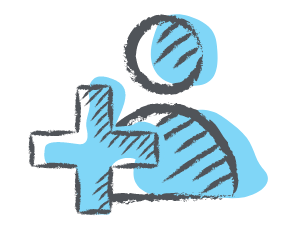 In some funnels, this phase is appropriately called 'delight' – this is when you look to create beautiful experiences for the customer, with regular updates on the purchase order, prompt responses to questions or concerns and a genuine inclination to help make their experience a pleasant one.
Customers can always tell how important the sale feels to you.
Is their business growth, and their satisfaction important to your brand?
Show it and have customers coming back for more!
Commonly-used tools at this stage include:
Email | Phone | Help desks | Manuals, guides, other such supplementary content | Training or introductory videos
---
Kylas Pro Tip– Besides your customer success scripts, have a tonality guide and best practices guidelines for your customer success team to stick to – this helps customers have a uniform, pleasant experience at all times.
---
Loyalty/Advocacy
Did you know customers referred by a friend are four times more likely to buy your product/service?
When your customers go from being happy to delighted consistently, they turn into brand loyalists and then brand advocates.
First, they will continually buy from your brand because they are happy with the quality and the experience and you've built a certain amount of trust with them.
Consequently, their loyalty comes to a stage where customers will become advocates for your brand – they'll recommend your brand to friends, family and anyone else they come across that might benefit from your products or services.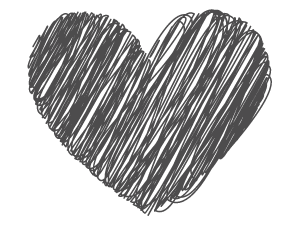 That, right there, is the sweet spot you should be aiming for – brand advocates will bring in more reliable business for you than any other medium, and since there's no marketing, it won't cost you a dime to acquire those new customers.
Commonly-used tools at this stage include:
Email marketing | Newsletters | Value-added benefits | Member-special benefits | Phone & help desks | Supplementary content
---
Kylas Pro Tip– Plan activities to turn your happy customers into loyalists – don't just wait for that magical relationship to cultivate itself with a lucky few!
---
Analyzing & Optimizing Your Sales Funnel
When you're using a sales funnel, you need to constantly monitor the performance of each stage.
When your marketing and sales activities at each stage are working at an optimum, that's when you'll see the most success.
Awareness: Monitor the performance of your ad campaigns (the CTR and CPA, for example), the engagement on your social media pages (likes, follows, mentions, shares, comments) and the engagement on your website (CTR, time on site, bounce rate, audience behavior, etc.)
Consideration: Keep an eye on the number of downloads for gated content, the open rate and click rate for email & SMS marketing, the engagement on your live chat, and lead engagement and lead score during your sales calls.
Purchase: Revenue! But in addition to that big number, don't forget the micro conversion metrics in your CRM, and open rates and click rates for email & SMS marketing that will tell you more about why purchases may not be happening right away.
Retention: Customer lifetime value is what you need to look at to get insight into your customer retention. Don't forget to check engagement across email marketing, downloadable content and training resources to know where the stickiness is lacking.
Loyalty/advocacy: Most businesses dream of having referred customers and referred sale value. So, keep an eye on the engagement with the collaterals you send to customers, usage of member-special benefits and interaction on social media.
We hope you're ready to take on your own sales funnel! We'd be happy to answer any questions you may have – or to sign you up for a free trial to Kylas – so feel free to reach out.
Start 15-day Free Trial